Remembering Tom Frost (1937-2018): The Full Perspective Interview
Heading out the door? Read this article on the new Outside+ app available now on iOS devices for members! Download the app.
Ed. Yosemite climbing legend, photographer, and gear designer Tom Frost passed away on August 24, 2018. He was 81-years-old. In his honor, we're republishing the interview below, where Frost reflects on his life in his own words. This text originally ran in 2009.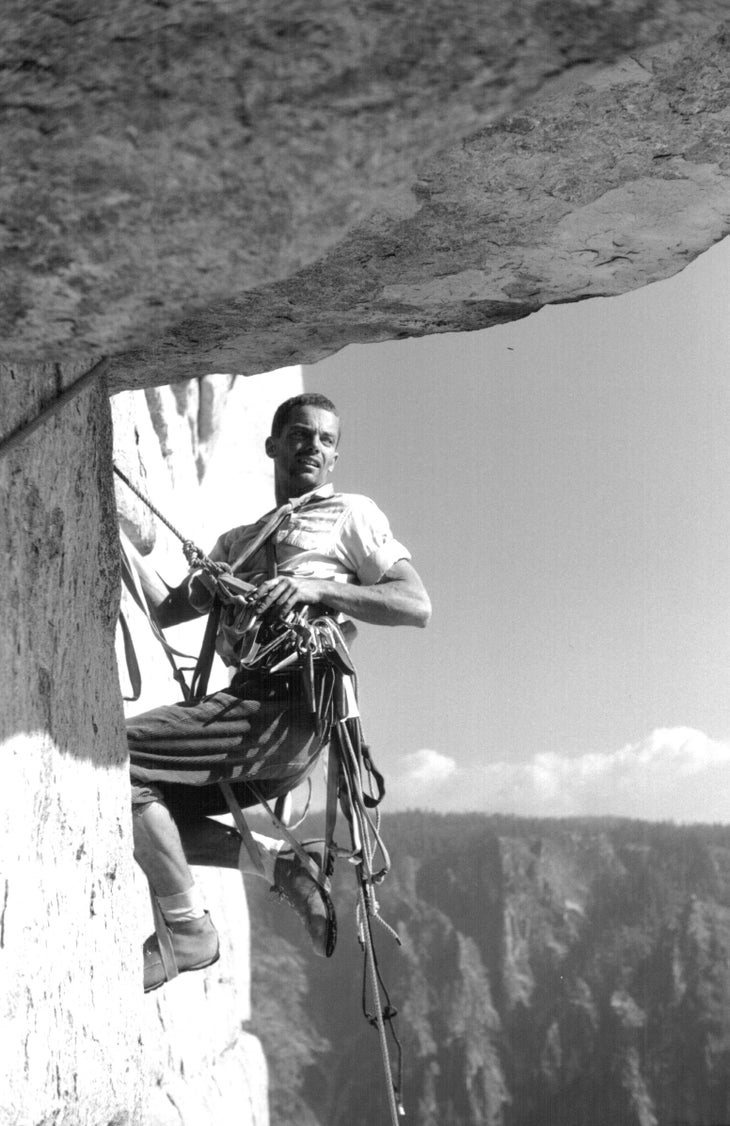 In the Yosemite annals, Tom Frost, of Oakdale, California, looms large. When El Capitan was a blank canvas, Frost swung leads on the FAs of two of the world's finest big walls, the Salathé Wall (VI 5.9 C2; Royal Robbins, Chuck Pratt, Frost; 1961) and the North America Wall (VI 5.8 A2; Robbins, Pratt, Frost, Chouinard; 1964). Frost has always been a steadfast proponent of clean climbing—his two main partners and life influences were, after all, Robbins and Chouinard.
Through his photography during those early ascents (Frost lugged a Leica up Yosemite's big walls, producing some of the most iconic climbing shots ever taken), Frost set the highest standard for adventure photographers. In 1972, he worked with Chouinard to invent essential gear like Stoppers and the RURP, forming Great Pacific Ironworks. In 1997, Frost started Frostworks, making Sentinel Nuts and Power Draws. Frost has stayed close to the mountains, with stints in Colorado, Bishop, California, and now on the western slope of the Sierra with his wife, Joyce.
Tom Frost, in his own words:
Rock presents us with an opportunity to climb. Through our efforts, we learn how to do it. It becomes a team-player relationship. There is great companionship between you and your partners, but you eventually come to realize that the true team relationship is between the climber and the rock.
Traditional climbing is relevant because of what we come to experience through it changes our lives. That's good. I've sometimes lamented not having a handbook of instructions for life, because it takes so long to figure it out (even for a climber!). I finally realized the instructions were so novel, in my face, I couldn't see them. Now I get it. Nature is our teacher, the instruction book, and the mentor. Nature nurtures, shows the way, and is always there. Climbers benefit most from the association with nature, with the wall, with the rock. The lessons can serve us a lifetime.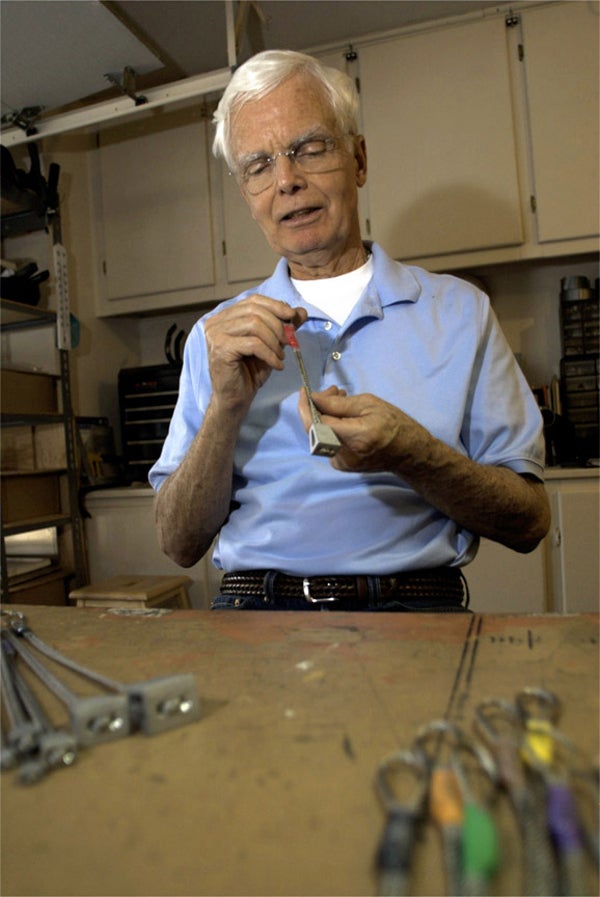 I see two sets of laws out there: natural laws and artificial laws. Nature, ever the unifier, ever the team player, holds the cosmos together harmoniously. Aware of a relationship with nature, traditional climbers know that the relationship works best when we diligently learn (namely how to climb), demonstrate that we have learned it, and then give back our appreciation. Artificial law is man's law. Artificial law is dualistic. For every five degrees of plus acquired artificially, five degrees of minus eventually and irrevocably slams you. On Earth we are currently experiencing a harvest season of slams resulting from our previous choices and wholesale application of artificial law.
In our Camp 4 days we felt humbled, and also empowered, by the walls. Climbing was so big for us. We wondered how much of what we gained from it was, or would be, transferable to "real life." Over the years our experience faded but who we were, who we had become, continued with us. Looking back, I realize that traditional climbing, and the whole Camp 4 way, is a very good model for life.
We knew, in the bigger picture of things, there were only two styles of climbing: natural and artificial. The natural climber uses all of the natural features to move upward and to protect himself.– whether it be by free or by aid technique. The artificial climber employs artificial devices, such as expansion bolts,– whether for protection or for aid, and defaces the rock in so doing. In life it is the same. Look around—always the differences and always the choices between natural and artificial solutions. These choices affect everyone.
Everyday, large crowds gather at El Capitan Meadow because they know something significant is happening up there, and that there is something there for them. For me, the longer I look and the more I see, the more I believe that learning to be a team player with nature is very, very big.
Robbins had a big effect on me. He believed how you climb something is crucial. I believe: "How you do anything is how you do everything." Climbing can put us on a good path.
I believe it is essential to have a spiritual base, whatever it is,— to help you deal with the larger difficulties in your life. People can't tell people what to do. It is relevant to figure out why we are here and what we ought to be doing about it the best we can. Those who have risen to the top, they have an ingredient of inner strength that comes from having connected to the greater nature. Ricardo Cassin comes to mind, and John Bachar. Decades later we meet them and feel their energy, their spirit, their connection with the cosmos. They understood all that stuff.
In the 1960s, looking up at El Cap, there was only one line. Harding and his guys put it up. I was about 24, sitting with Robbins in the Meadow and thinking about the second ascent of the Nose. Royal had said no to Harding on the FA. Harding's style was not the style he wanted to do it in.
The Golden Age was really very interesting. Epochal, but very basic. You could distill it to Robbins and Harding. Two men looked at the same problem and saw opposite solutions. This is one reason the Golden Age holds interest. Harding's values were external: big epics and big media results. It had a downside. Robbins climbed for internal reasons, such as to remember and to become who he wanted to be.
I loved climbing with Robbins. We tried to show by our actions, in the climbs we did, something that would benefit the community, but it was absolutely essential to us to demonstrate the style to ourselves. We wanted to adhere to the highest standards of exploration, to leave no trace, leaving the climb for the next party in the same condition we found it, and returning our appreciation. I liked being on Robbins' team.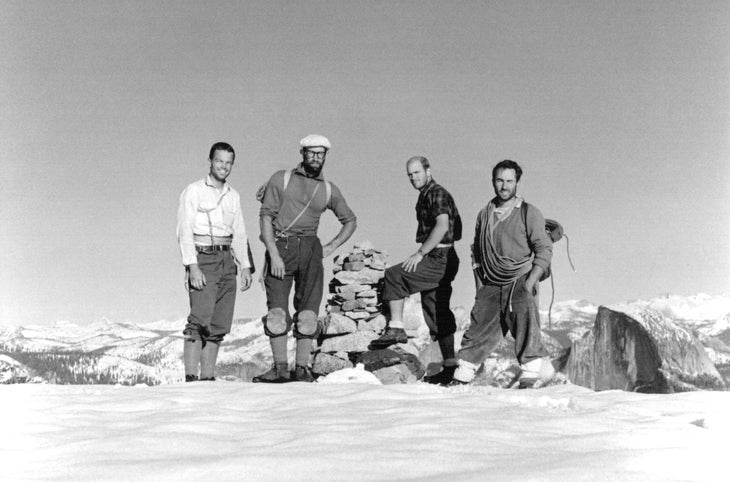 When we had the fight to save Camp 4, Bruce Babbit made an analogy in his speech that the original Camp 4 climbers were like the Founding Fathers and Independence Hall. At the time, I thought it was overstated, but then realized he understood Camp 4 better than I did. The Founding Fathers had tried to set a standard we could live by, and the pioneers of the Yosemite had a similar vision for the climbing community.
I used to think that the best thing to happen to climbing would be that everybody would be respectful of natural resources and take care of them. Climb clean and keep the level of adventure high. I used to think stuff like that. But I have to go on to today, right?
Robbins, Pratt, and Chouinard—we had such great adventures! We wanted everyone to be able to experience that first ascent experience until the 7th generation. My new answer? I've grown up. Doug Robinson and Sean Jones, via their FA on Half Dome in 2007 [Better Half], tackled the dilemma of how to climb something. As did they, it helps to listen to the rocks. The old answers aren't all the answers. We climb for very different reasons. Yet, nature is here for all of us. Mother Earth is a sentient being. The relationship is real.
Ron Kauk said El Cap is a sacred place. Why is that? We can find ourselves up there and discover why some label Earth our mother.
I picked up the camera because I had discovered a world in Yosemite so much more beautiful than I'd ever seen. This prompted me to take pictures. Rock came first, the pictures second. I love taking pictures, in part because it is an impossible challenge, like riding the perfect wave, but also because it is inspired by nature. Photography helps me look deeper.
Because we grew up in the backyard of Ansel Adams, there was no way [we] wouldn't [shoot] black and white. With my photos, I was trying to help preserve, make visual recordings to inspire a few generations of aspirant climbers who would grow up on these images. I was trying to show nature, Yosemite, El Cap for what it is and as beautiful as it is—a real challenge.
I went to engineering school at Stanford. Later, I really enjoyed designing and building climbing equipment with Yvon Chouinard. I started the company Chimera because my partner, Gary Register, and I saw a need in the lighting industry and were inspired to build lighting equipment better than the heavy and inadequate gear available at the time.
I love engineering. The challenge for me is to work long, hard, and inspired enough to discover solutions that are clean, simple, and functional—and that do not hurt the environment. What's cool is that nature shows us optimum.
I am concerned about preserving quality. The rocks were pristine before they were climbed, with crystals, lichens. In Europe, they have seen climbing areas destroyed and disappear. Areas can get compromised and used up. Nature is complete with recycling capability, but humans can damage and overwhelm locally or globally. Excessive bolting in some areas has lead to closures [that make] climbing illegal. But the upside is that none of us learn without going through the process.
It is interesting to see how similar and how different we are in terms of stewardship and style. Harding vs. Robbins. The truth is, we can do more for the whole world, the universe at large, by conducting our own lives in the best manner we can. Do we live with appreciation or with anger? Appreciation is a natural law. When we live with appreciation for the rock, Mother Nature blesses us with the finest feeling of enjoyment it is possible to have. If we are pissed off we have trouble getting up. There is an opportunity to learn in climbing, and it will extend to the whole world.
We cannot ignore problems. We need to recognize them as opportunity, recognize what is good about living in accordance with nature's law —that will make a difference.
There have been a couple of times while climbing when I said, 'What am I doing here?!' But I never had any bad experiences. I liked my companions. I was at home on the wall; I loved wall climbing. When approaching a wall, I never go up without my luggage thinking I will bring it up tomorrow. I never think or talk about going down. I prepare well, know the rocks and myself, stay tuned to the feeling, and know everything will be fine. I love nature and know that my being on the wall is approved and appropriate.
One aspect of a traditional climber: he/she has to be experienced and have a spiritual foundation. They have to know things they don't know. This is absolutely essential. Looking at Ricardo Cassin is like looking at John Bachar. The presence of the man overwhelms you. They know things they don't know; they are connected all around. There is no other explanation to explain what they did. Even when we were starting up the first Ascent of Salathé Wall, we knew the wall better than most modern climbers do today. From El Cap meadow, we studied the wall for days, the cracks and alternatives on every pitch. When we started up, we knew the rock better than the modern climber with his numbers on a topo. Robbins knew things we didn't know.
Gifts from the rock are like that from a good marriage. Growth, joy, happiness—these all come from the simple harmony of the mechanics of teamwork.
The main attribute of a traditional climber is appreciation.
My list of heroes starts with Robbins. In the early days, he affected my philosophy most. He was a leader of the Golden Age, and on a personal level became a leader of me. I liked why and how he climbed, and I enjoyed climbing with him. The experiences of a lifetime!
Another hero is, of course, Joyce, my wife. I like the way she thinks and does things. She is an inspiration. She has taught me matters of climbing and life that I couldn't have gotten any other way. The lads in Yosemite who've met her know what I am talking about.
Greg Mortenson and Abe Lincoln are heroes for showing that one man can make a difference.
My son Ryan is a great climber. I struggled through 25 or 30 years of marriage, life, and business. One day Ryan said, 'Dad, lets go climbing.' The best thing a son ever said to a dad. We did a get-in-shape climb, Eldorado's Rosy Crucifixion. Ryan led. It was airy and beyond my comfort level, but I lived. Then we bought out Neptune, packed everything into the Porsche and headed for Zion and then Yosemite. The year was 1997; one of my best ever! We tried to get in shape on this and that but failed. Finally, we decided, 'Let's just start up the Nose.' Parties were queued up at the base. Then it began raining and, to our astonishment, we had the Big Stone all to ourselves. Beginner's luck. Sweet!
So I hadn't climbed El Cap for 37 years, and then climbed it with my son, imbuing Ryan with lofty Golden Age wall philosophies of traveling light, not much water or clothing (because it's always hot). After four days on the Nose, with rain beginning in the Stovelegs, the storm totally freezing us, my son informed me, "I'm no longer taking advice from pioneers."
We spent three months in Yosemite and ticked the Nose, Lurking Fear, the West Face, and the North America Wall. Oh, what joy!
You can't tell someone else to climb in a certain style. We were all already climbing in the best style we can. But role models are inspiring—like John Salathé was for us. We didn't want to disappoint him. Some ascents are a disaster, others brilliant. Its all a day's climbing.
Climbing is an internal game. Commitment is the reality. There is no avoiding this. Going up means we have to face ourselves. That is why there is so much respect in the Camp 4 community,– in ways the average person cannot understand.
Development of the Lost Arrow piton was quite meaningful for me. They required craftsmanship in the user to get the best placement, and craftsmanship from us to make them. The first ones were hand forged by Chouinard, myself, and others. Those early ones were beautiful but are not made that way anymore.
The Lost Arrow evolved, and the design got better over the years. We went from hand-forging to using die-forged blanks and the die kept wearing out, so each time I would re-think the piton design and improve it. When we moved to clean climbing, I really liked designing the Stoppers and Hexentrics … my current Sentinel Nuts are an improved iteration over the original Stoppers.
It was a process to move to clean climbing. Robbins figured it out ahead of the rest of us. He had gone to England and climbed on nuts in the 60s, earlier than anyone else, and came back praising clean climbing. Most of the rest of us weren't getting it. In 1970, I went to Annapurna and then England and climbed with nuts, and understood. I came back and told Chouinard I could design them. Royal and Doug Robinson were the earliest supporters.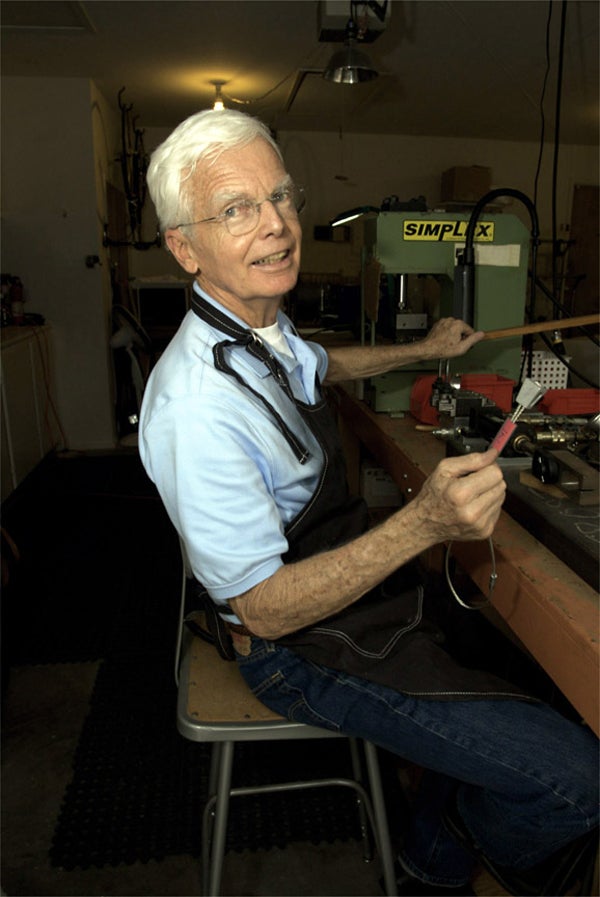 With Chouinard, we liked climbing and making gear equally. It was the whole thing—being involved in a small business with a partner going the same direction, believing in the same values. In business, that is a rare experience. We did a fair bit of climbing together, too. We repeated all of Salathé's routes together, looking for one of his pitons. Chouinard had one; — we were looking for one for me. Designing was as much fun as the climbing. Yvon was the idea man, and I was the engineer. Yvon would show up at a climbing area, open his trunk, and sell his pitons and carabiners a couple of years before we met. I worked on the tooling for production, and the business grew slowly but steadily.
When we developed the RURP (Realized Ultimate Reality Piton, a brilliant name that Yvon came up with), it was because Yvon and I had done a climb on Kat Pinnacle in Yosemite and couldn't finish the last pitch. For the incipient seam, a crack not yet formed, we needed a special piton. We took a power hacksaw blade from a machine shop, broke off the end, and fitted a sling in the hole. We climbed the route to the last pitch, and as Yvon attempted to pound it, it shattered into a million pieces! So we realized it had to be made of chromoly instead of hard steel.
In 1997, when Ryan and I were getting in shape for Yosemite, we traveled there from Colorado and stopped at a couple of sport-climbing spots. My feeling is that if you have some good rock that can't be protected naturally, then it's appropriate to bolt it. I can count on one hand how many times I have sport-climbed. I went to climbing gym once. I didn't take to it, so I never went back.
I still take photos, but only in the mountains when I am hiking or climbing. I only shoot black and white, and with film. It works in Yosemite. When I was climbing El Cap in the 60s, I took pictures to document. Back then, if you could do the climb, you could take the photos and you were already in a good place. It's not like today, where most things are set up. I was first a climber, then a photographer. Our pace back then was slow, not like today where it's a big rush to get to the top. We were taking it all in — we were at home. My favorite photo is my shot looking down on Royal at El Cap Spire.
Yvon and I, Royal, and those great philosophers from the "old era" were passionate about stewardship and taking care of the rock, the beauty of it and nature. We were all about Royal's philosophy—how it's not what you climb but how you do it that matters and most important to us was to leave the route in precisely the same excellent condition you found it in. We would leave no pitons behind, trying to apply the philosophy learned from Salathé. We tried to teach by our actions, and by our words.
I had been in Colorado for years, and it had been 37 years since I had done the Nose [second ascent]. I knew deterioration was an issue but was aware climbers had turned over to clean climbing. In 1997, I found the Nose in excellent condition. There were some minor issues that inspired me to write my piece for the AAJ, published in 1998. The last thing I wrote after that was my address at Innsbruck.
I never had a really scary moment. There are a couple of spots, though. I come unglued a little at the Cyclops overhang on the North America Wall. And when Royal and I went back to do the second ascent of the Salathé, the idea was for each of us to lead the pitches we followed the first time. He made me lead the Ear. The thought of it was terrifying, but it turned out to be easy — just a mental problem. I'll admit the roof at the start of the Salathé headwall is a little scary, too. But as I look back at the photos, I realize I really loved it up there. It was like going home every time we climbed El Cap. It was home.