Traversi Climbs The Story of Two Worlds (V15)
Heading out the door? Read this article on the new Outside+ app available now on iOS devices for members! Download the app.
3/26/13 – Carlo Traversi has made an ascent of The Story of Two Worlds (V15) in Cresciano, Switzerland. Dave Graham established this famed problem in 2005, and it sat unrepeated until Japan's Dai Koyamada climbed it in 2010. Paul Robinson, Slovenian climber Jernej Kruder, and now Traversi round out the list of repeat ascensionists.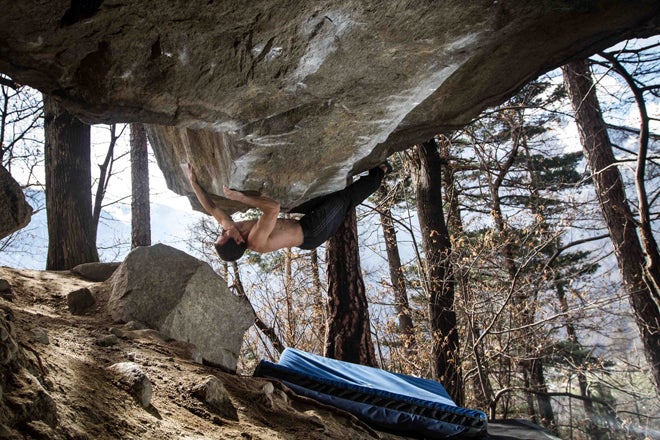 The Story of Two Worlds links V13/14 moves into The Dagger, a V14 put up by Toni Lamprecht. There was some dispute surrounding The Story's first repeat. In 2010, Koyamada actually started one move in (higher) from where Graham pulled off the ground, which prompted many to declare his ascent invalid. Koyamada returned in June 2012 to make the full ascent, starting a few moves lower than where Graham started (see video below). Koyamada didn't take credit for the second ascent—that went to Robinson, in 2011. However, Koyamada believes his new "low start" could add a grade, yielding a V16.
Traversi took no chances with his ascent. He pulled off the ground two moves lower than Graham's start, which he thinks "is the most obvious place, in my opinion, to begin the boulder. Definitely adds to the overall difficulty." This is Traversi's fifth V15, yet he calls The Story his hardest ascent so far, and "the most I've battled for a send. Mostly a mental battle because today the send felt easy. Such is life."
Date of ascent: March 25, 2013
Sources: 8a.nu
[The video of Dai Koyamada's low-start ascent in 2012.]
「The Story of Two Worlds low start V16」 from project_daihold on Vimeo.