Heading out the door? Read this article on the new Outside+ app available now on iOS devices for members! Download the app.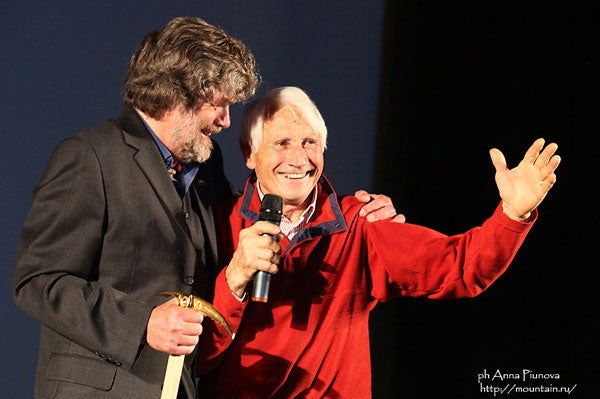 When Walter Bonatti died on September 13, at age 81, it was hard to know what to say. Few climbers have been so far ahead of their time, setting the standard in so many disciplines: alpine rock (the east face of Grand Capucin and a solo new route on the Petit Dru); winter alpinism (first winter ascent of the north face of the Grandes Jorasses and a solo new route in winter on the north face of the Matterhorn), and extreme high-altitude mountaineering (first ascent of mighty Gasherbrum IV). Bonatti quit climbing after his Matterhorn ascent, in 1965, and focused on other forms of exploration. But his legacy remains utterly inspirational.
It's hard to find the right words to do the man justice. But, happily, the always-excellent website Planet Mountain has collected the thoughts of many well-known climbers from around the world, adding some shape to Bonatti's CV. I particularly liked this quote from Hervé Barmasse, the great Italian alpinist who lives below the Matterhorn. (I've corrected one typo.)
"During an interview, Enzo Biagi asked Walter Bonatti how he would like to be remembered after his death. Without hesitation, as determined as when he managed to breach walls others believed impossible, he replied "a man who lived life to the full." I was fortunate enough to get to know him personally and understand fully that, apart from his great alpine achievements, what rendered Walter Bonatti the best alpinist of his era was his moral integrity, his infinite humanity and his great teachings. I like remembering one in particular: 'Nowadays technically everything is possible in the mountain, it's been proven. Dotted across the globe there are peaks and faces, unclimbed, which sooner or later someone will certainly climb. So, I say, at least in the mountains let's leave more room for man than technique, and let's distance ourselves from what reduces, confounds, impoverishes.'"
Planet Mountain's Vincio Stefanello also published an excellent piece about Bonatti in ALP in 2007; it was translated and posted on the website after Bonatti's death.
SIMILAR STORIES