The True Cost of #Vanlife
Heading out the door? Read this article on the new Outside+ app available now on iOS devices for members! Download the app.
One thing that has always frustrated me about social media documentation of hashtag-van-life is the lack of transparency when it comes to money. We see these rad adventure mobiles parked in beautiful locales, captioned with some quote about how the mountains are calling, buying the ticket to take the ride, maximizing your one wild and precious life, or being mad to live, mad to talk, and mad to be saved. Poor Jack Kerouac and Mary Oliver didn't know their words would become the mantra of entitled trustafarians with a penchant for the Lo-Fi filter on Instagram. Yes, you have a rad van, a hot outdoorsy significant other, and the ability to climb anywhere, but how exactly are you paying for that? I'm not talking karma points in life; I'm talking cold, hard cash. As I've started dipping my toes in this world of what I call "regular extended mobility" (aka spending a few weeks at a time in my van every month), I decided I want to share my experiences as openly as possible, to help other van-dwelling hopefuls understand what it really takes to be part of this idealized but sometimes oversimplified community.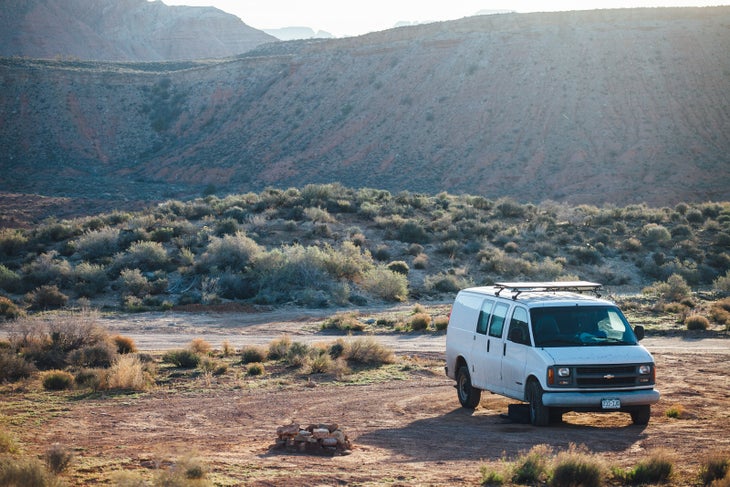 Salary-wise, I'm not pulling in the big bucks. I make far less than an entry-level engineer and less than a fresh-out-of-school journalist at another publication, but trust me, my job has perks that no other position has (like being able to work from the road, go climbing and call it "work," write this blog post, etc.). As a writer and photographer, I'm able to pull in some extra freelance income, and after taxes, healthcare, insurance, expenses (rent, utilities, phone, gym membership, etc.), I was able to net about $1,200 a month for the van. Some months I took my dog to the vet or bought a plane ticket or had to replace the brakes in my car and couldn't contribute as much to the van fund, but luckily that wasn't every month, so I was able to squirrel "leftover" money away for vanny things over the course of a few years.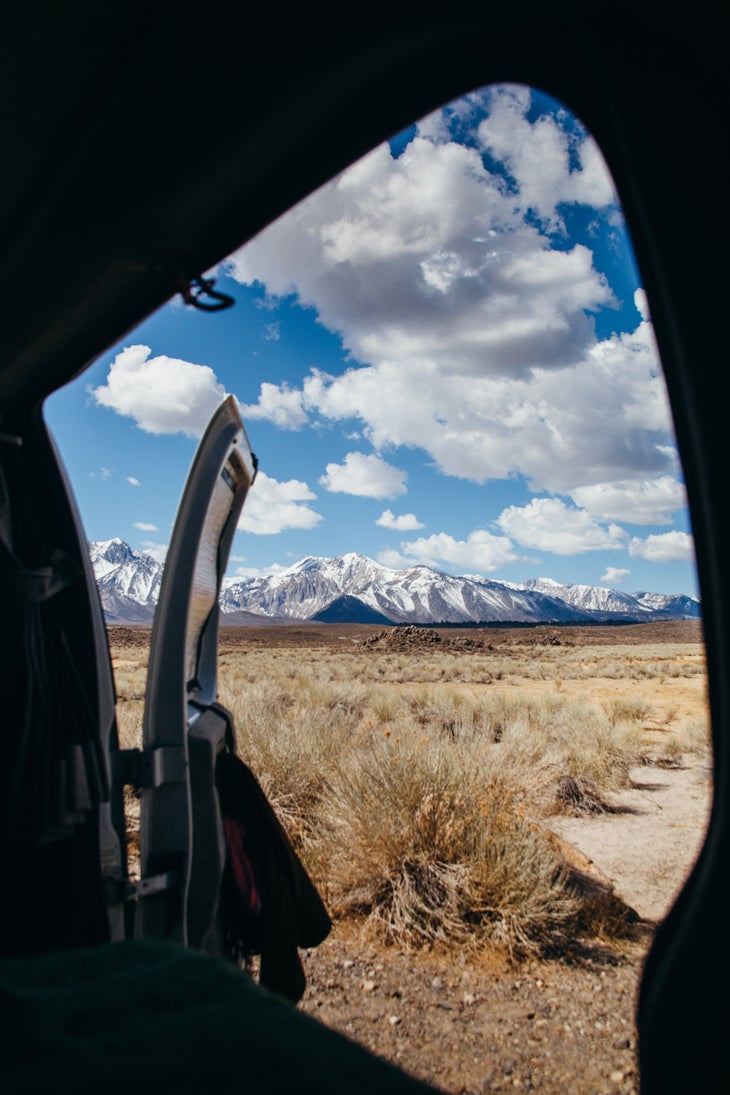 We're told our whole lives to save money in order to buy a house, to get married, to have kids, to buy a new car. But when I really thought about it, I don't need or want any of those things, so what am I personally saving for? What is my house/car/spouse/baby equivalent? Why, a beat-up old van, of course! After saving for a few years, in October 2013, I bought a 1999 Chevy Express 2500 Cargo Van with 111,000 miles on it for $5,000 cash. Well, I say "saving," but what that really means is "not spending," because I didn't have a savings plan really; I just didn't spend money on non-rent, food, utilities, insurance things. Yes, I went to the movies here and there, occasionally ate an expensive meal, regularly bought beer, and sometimes threw down for a ski pass, but every time I went to spend money on something that wasn't a necessity, I thought to myself, "Would I rather have this or a freaking sweet van?!" More times than not, the van won. I'm lucky to have no major debts, no school loans, and no car payment, and all my extra freelance income went straight into savings for the van.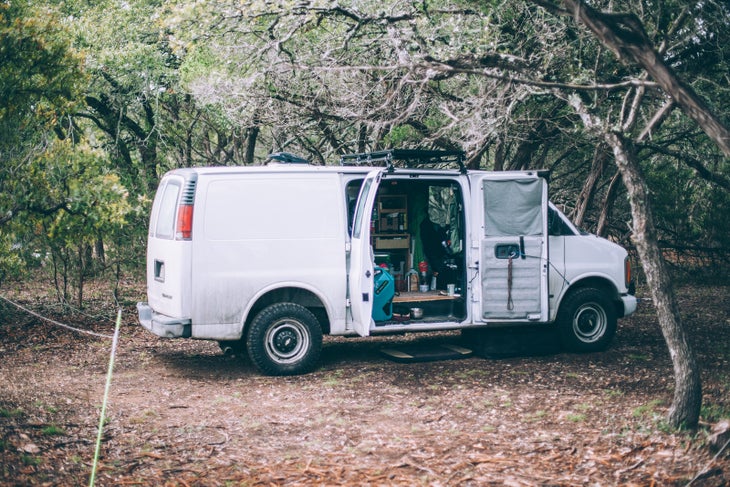 The true beauty of this particular vehicle cost-wise was that it was already decked out for one person to live in, with insulation, powered lights and a fan from an auxiliary car battery, a bed, storage, shelves, a cooking area, and the coup de grâce: a TV that unfolds from the ceiling, which we weren't necessarily seeking out, but who is gonna say no to that?! We named her Bertha and have had many great adventures from Bishop to Alabama to Zion and dozens of places in between. Along the way, we have done some upgrades and renovated the interior layout for two adult humans and one very needy pit bull mix (read: the dog bed on the floor next to the human bed is just for looks). Below are the costs of everything we've put into the van over the last year and a half.
Cost of Van: $5,000
This is obviously the biggest expense, but it's also where you have the most wiggle room. Most people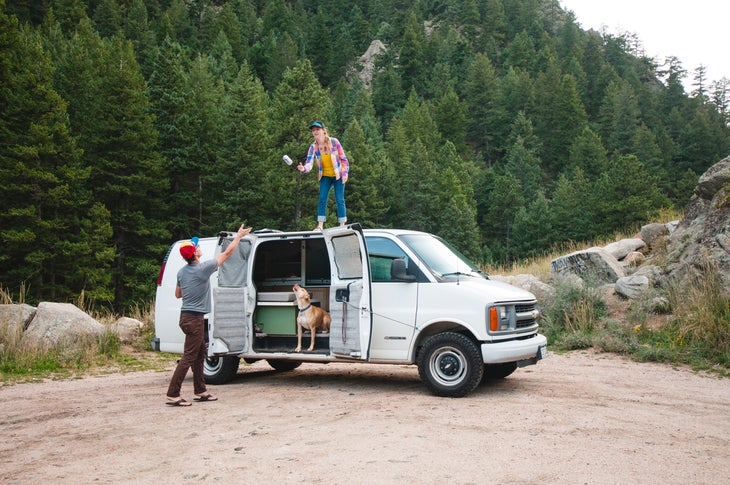 don't need a brand-new $40,000 Sprinter. The best advice I can offer is to decide on a budget and stick to it, including the potential costs of changing or updating the inside. You might be able to do everything yourself, which is going to save some cost (but add a lot of headache), or you can do what I did and find a van that's finished, then customize it with smaller, less expensive changes. Bertha came with a lot of basic necessities already installed, plus some extras, but I got a nice folder of paperwork that details her history, maintenance, and interior customization, so I've listed the prices of a few professionally done features (keep in mind the following numbers are part of her $5k price tag, so I didn't pay these on top of the initial cost). Complete insulation and carpeting ($2,600), fully wired auxiliary battery plus lights and fan ($1,370), and a wrap-around front curtain, which I've found to be crucial for sleeping in Wal-Mart parking lots ($350).
Renovations: $675
We tore out the carpet flooring (trust me, it got GROSS very quickly) and replaced it with inexpensive laminate hardwood-lookalike material that's durable, easy to install, simple to clean, and looks surprisingly nice ($110). The bed now sleeps two people comfortably with storage ($60) plus the various hardware and parts to put it all together ($130), and we added a roof rack from RockyMounts in Boulder for the solar panels ($375).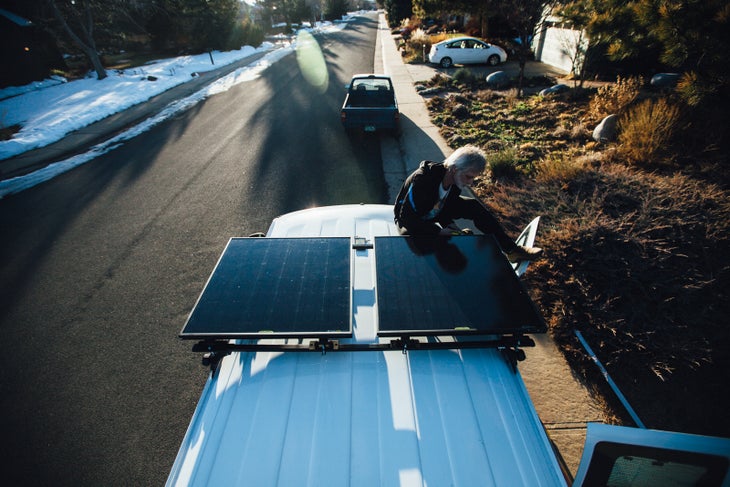 Goal Zero Boulder 90 Solar Panels (2): $900 ($450 each)
Goal Zero Yeti Generator 1250: $1,400
I am paying these off with a trade for services, as in, doing writing and photography work for Goal Zero in exchange for the panels and generator. While this is the second priciest item on the list, it's also not necessary for short trips or people with fewer power needs. I work on the road for weeks at a time, powering laptops, phones, camera batteries, and a fridge, so this is a required addition.
Electrical Work: $400
I needed some serious help with the panels, generator, and figuring out how to replace the existing power supply and wiring with the new solar-powered equipment. Some people might be able to manage this on their own and won't need to incur this expense, but you definitely want the wiring and electrical systems up to code! Big thanks to friend and longtime Front Range climber Phil Broscovak of Nuance Lighting in Louisville, Colorado, who did way more work than this $400 suggests. He's a certified electrician and lighting expert, as well as one of the nicest people ever, so I highly recommend him for any custom lighting needs!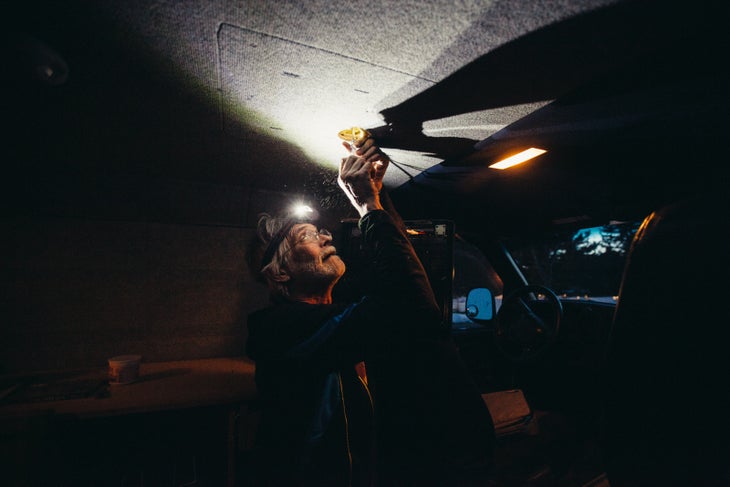 New Tires, Struts, Shocks, and Brakes: $2,000
Since Bertha was going to be bouncing along the pitted tracks of Indian Creek, buzzing on the washboard grading of Buttermilk Road, and traveling 1,500 miles at a time on the interstate, I consider this a very important investment.
Fridge: $730
The 42-quart refrigerator/freezer is a must-have any time I'm spending more than three or four days on the road at a time. Dealing with a cooler and getting new ice every other day is a real pain in the butt.
Swivel Seats for Passenger and Driver: $460 ($230 each)
These were a Christmas gift from my parents, but that's one way I was able to spend less: by asking for van-related gifts for holidays and birthdays, including gift cards from Home Depot. These aren't 100% necessary either, but they really open up the 57-square-foot space and make it feel much bigger, in addition to doubling the seating area.
Various: $500
This includes a small piece of metal as a backsplash for cooking, spice rack, dish tub, bins and drawers for clothes and gear storage, an electric stove, and other small storage and organizational items.
Total Cost of Kitted-Out Van: $12,065
What I Actually Spent: $9,305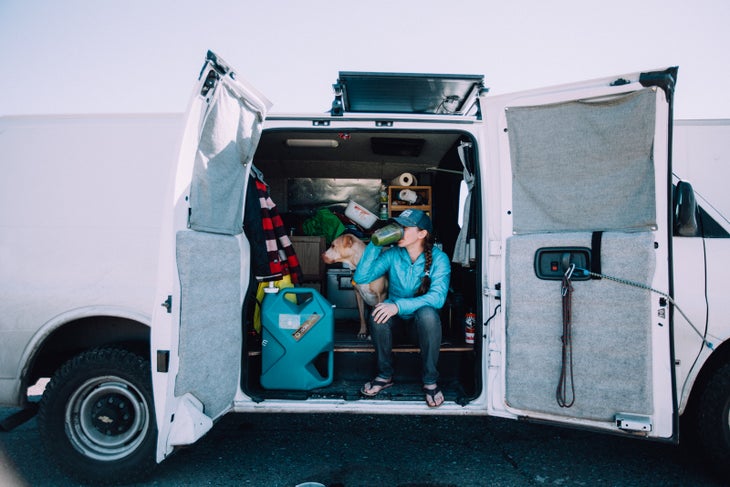 Looking at the above totals, I kinda can't believe I was able to spend that much, but doing it in small steps over the course of a year and a half (after saving for a few years) and having a full-time job and regular paycheck (however small) made it manageable. We, meaning my boyfriend, my brother, and myself, also did most of the construction ourselves (except the initial insulation and wiring work) with borrowed tools from friends and family, saving labor costs. It goes without saying that these numbers will vary by person, van, region, preferences, etc. You might make twice as much as me, or maybe you still owe $10,000 in student loans, but you also might not need a solar power setup or swivel seats or new tires. I just wanted to give an accurate depiction of my actual costs for getting started in van life. One thing I learned is that it won't happen all at once, but if you focus on your goal and take it one step at a time, it's a completely attainable dream.
As Senior Editor Julie Ellison (Instagram: @joolyhart) hits the road on assignment for Climbing mag, she'll be touching on various topics like expenses, climbing, life on the road, and other van stuff.