Two New Routes In Patagonia
Heading out the door? Read this article on the new Outside+ app available now on iOS devices for members! Download the app.
The line of the Northeast Arête of Aguja Quatro Dedos in Patagonia.Photo courtesy of Bean Bowers.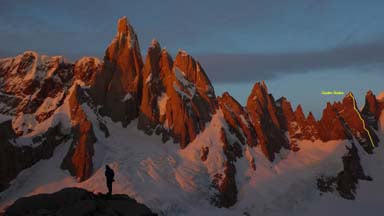 The Canadian-American trio of Chris Brazeau, Crystal Davis-Robbins, and Jon Walsh have climbed two probable new routes on peaks north of the Cerro Torre group in Patagonia. On January 15, the three climbed the 1,600-foot Northeast Arête of Aguja Quatro Dedos by a 5.11 route, said to be "cryptic and high-quality."
Four days later, in warm weather, they returned to climb a 2,000-foot line on the South Face of Domo Blanco at 5.11 A1 in a two-day round trip. Falling rocks and ice battered the team, leaving Davis-Robbins bruised but not seriously injured.
Last Patagonian season, Davis-Robbins became the first woman to complete the North Pillar of Fitz Roy, climbing with Walsh. The two went on to climb Aguja Poincenot less than two days later. In September 2006, Walsh and Brazeau climbed a new route on the North Face of Mt. Alberta in the Canadian Rockies.
Dates of Ascents: Aguja Quatro Dedos, January 15, 2006; Domo Blanco, January 19-20, 2006.
Source: Bean Bowers