U.S. National Bouldering Championships
Heading out the door? Read this article on the new Outside+ app available now on iOS devices for members! Download the app.
Courtesy of www.podclimber.com.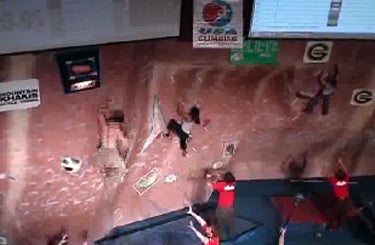 Daniel Woods and Alex Puccio repeated as the U.S. bouldering champions at the ABS 8 National Championship. The three-day competition at the Earth Treks gym in Maryland determined the U.S. champs for adult men and women, as well as five age-group categories of younger climbers.
In the final round of the men's and women's open, the problems were easier than the qualifiers, or maybe the competitors were just too strong. Four men and eight women flashed all the final problems, forcing a jumbo superfinal round. Then, three men flashed the superfinal problem, requiring a second superfinal that was set with all three climbers watching. No one got anywhere on that one, so judges had to count back to the qualifiers to determine the final ranking. Meanwhile, Alex Puccio reached a clear high point in the women's superfinal, a slightly tweaked version of the men's first final-round problem.
See video and listen to podcasts from the comps at www.podclimber.com. Find full results at www.absnationals.org.
Male Open 1. Daniel Woods 2. Paul Robinson 3. Sean McColl (CAN) 4. Matt Bosley 5. Ethan Pringle
Female Open 1. Alex Puccio 2. Elizabeth Asher 3. Angela Payne 4. Kasia Pietras 5. Tomoko Ogawa (JAP)
Male Junior 1. Ryan Roden 2. Bryan Hopkins 3. Bret Johnston
Female Junior 1. Catherine Pietras 2. Elizabeth Broun 3. Laura Lingeman
Male Youth A 1. Mike Foley 2. Ryan Sewell 3. Brian Antheunisse
Female Youth A 1. Marah Bragdon 2. Tiffany Hensley 3. Emily Ziffer
Male Youth B 1. Gregor Peirce 2. Julian Bautista 3. William Butcher
Female Youth B 1. Francesca Metcalf 2. Sasha DiGiulian 3. Jena Lupia
Male Youth C 1. Joshua Levin 2. Andy Lamb 3. Charlie Andrews
Female Youth C 1. Cicada Jenerik 2. Sierra Blair-Coyle 3. Dana Riddle
Male Youth D 1. Calvin Wagner 2. Liam Vance 3. Wade Walker
Female Youth D 1. Sera Busse 2. Callie Walter 3. Maddie Rafkin