Unbelayvable: Tunes Over Safety
SCARY (AND TRUE) TALES FROM A CRAG NEAR YOU
Heading out the door? Read this article on the new Outside+ app available now on iOS devices for members! Download the app.
Every Monday we publish the most unbelievable stories of climbing stupidity submitted by our readers. See something unbelayvable? Email unbelayvable@climbing.com and your story could be featured online or in print. For more Unbelayvable, check out the Unbelayvable Archives.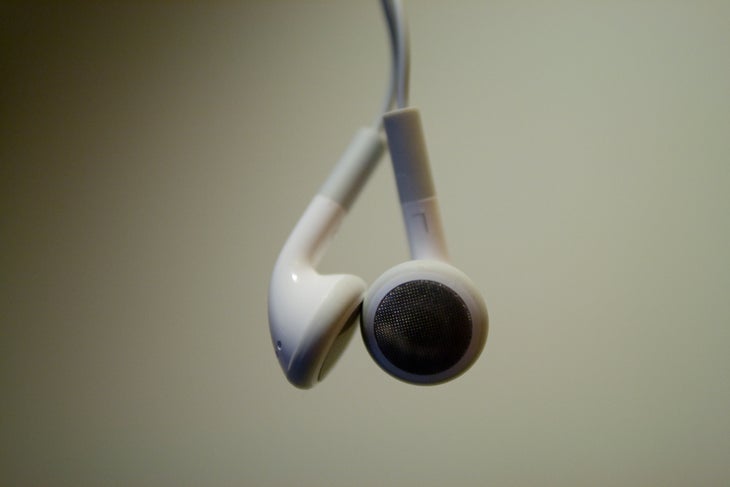 I was climbing at a popular sport crag in Boulder Canyon. When my partner reached the anchor of her route, another belayer startled me. He was frantically trying to get his climber's attention by shouting her name over and over. Someone in their group chimed in, "She can't hear you; she has her headphones in." She was totally oblivious, and her belayer was making it difficult for other parties to communicate over the commotion. When she finally took out her earbuds, the yeller instructed her to set up a toprope anchor using two quickdraws.
—Matt, via email
LESSON: If you can't pull moves without Anthony Kiedis's angelic voice wailing "Californication" directly into your brain, stick to bouldering or auto-belays in the gym. It's crucial that you maintain the ability to communicate with your partner. They may have something important to tell you, like, "Fix the rope so it's not running over that sharp edge" or "You back-clipped the quickdraw, gumbo." That said, you should also minimize the need for communication. These climbers should have agreed on their anchor and descent strategies before she was on the wall. Miscommunication about rappelling/lowering are one of the most common causes of climbing accidents. Discuss your plan on the ground so you don't have to hope your partner can hear you from 100 feet below.
We want to hear your Unbelayvable stories!
Email unbelayvable@climbing.com and your story could be featured in a future edition online or in print. Unbelayvable photos are welcome, too.