Undisputed: Yosemite's Iconic Buildings Revert to Original Names
Heading out the door? Read this article on the new Outside+ app available now on iOS devices for members! Download the app.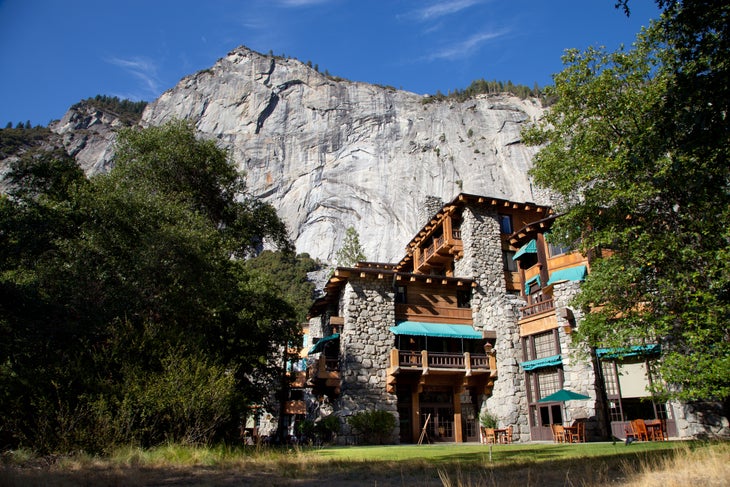 Finding the pizza deck after a long day climbing on El Capitan or running around in the boulders of Camp 4 can be exhausting. While not geographically large, Yosemite Valley is a labyrinth of looping one-way roads. A few years ago, the confusion was further compounded when iconic sites like Curry Village (home to the pizza deck), the Ahwahnee Hotel, and other locations had their names changed by the National Park Service due to a trademark dispute. Fortunately, the dispute has been permanently settled.
"The historic place names in Yosemite National Park have been restored today due to a settlement agreement between Delaware North, Inc., Aramark, and the United States Government," Jaime Richards at the NPS public affairs office told Climbing Magazine on July 15, 2019, in regards to the estimated $12 million settlement.
Delaware North, a global food-service and hospitality company, had been silently trademarking the names of Yosemite icons since 1993 when they first won the contract to provide concessions in the park. Delaware North had bought some of the names from the previous concessionaire, the Curry Company, when they took over, and then began registering additional landmarks, slogans, and strategies with the US Patent and Trademark offices. When Delaware North's 16-year contract with NPS ended, they estimated that the names and other intellectual property were worth $51 million. Delaware North wanted the NPS and the new concessionaire, Aramark, to buy the names, as they had done from the previous concessionaire. However, the NPS estimated the value at closer to $3.5 million and changed the names of the areas in question, some of which had been in place since the 1800s, while the dispute was settled in court. U.S. District Judge Patricia E. Campbell-Smith told the various parties that they had until July 2019 to announcement a settlement plan or to file motions advocating for their side.
A white "Half Dome Village" sign hung over the Curry Village sign for three years, but that changed yesterday when the Half Dome sign was removed, returning the area to its original name. The San Francisco Chronicle reported that the NPS would be paying Delaware North $3.8 million for the names, while Aramark would pay $8.2 million.
"Signs throughout the park are being changed, and it is expected to take up to several months to restore all signs and other materials," wrote Richards in an email. The Ahwahnee, Curry Village, Wawona, and Badger Pass will all revert back to their previous names. The dispute is indicative of the complicated relationship between corporations, the government, and park visitors, who hold place-names and the recent traditions of the park to be sacred.
Related: