US Competition Climbing's Funding Problem
For U.S. competition climbers, getting into the Olympics is far from the biggest hurdle.
Heading out the door? Read this article on the new Outside+ app available now on iOS devices for members! Download the app.
When it comes to climbing, representing your country on the world stage can be an expensive proposition. American climbing athletes competing in an international world cup circuit can expect to spend between $5,000 and $10,000 of their own money on competitions every year.
A lot of that goes into the travel required to make it to the events—in 2018, for example, the lead climbing and bouldering World Cups each featured seven stops, most of them in different countries. Speed climbing had eight events, likewise scattered across the world.
Climbers have tried a variety of strategies to find the money required to compete. For example, Alex Puccio created a crowdfunding campaign to cover her World Cup expenses in 2015. The issue of climbing athletes funding their own competition season, however, is unique to the United States.
"We receive no governmental support [for climbing], whereas, all the other nations I'm aware of receive governmental support for the running of the sport in their countries," says Marc Norman, CEO of USA Climbing. [Ed. Many other countries do not fund their climbing teams, but when comparing the top ranked athletes in the World Cup, the countries that do tend to perform better on average.]
That's the way things were originally set up in the U.S. with the Ted Stevens Act, which in 1978 granted authority to the U.S. Olympic Committee and individual Olympic sports' governing bodies—and determined that they would receive no federal funding.
As a result, North American climbers (Canadians face the same challenge) can only afford to attend about a fourth of the events that the world's top athletes can, even with sponsorship and USA Climbing's efforts at private fundraising.
"On average, the top 10 athletes in the world competed in 14.75 world cup events in 2018. Our athletes competed in just 4.25 world cup events on average," Norman says. That's a lot less time in a competition atmosphere, a lot less time practicing on competition routes, and a lot less time standing on podiums. And, potentially, it could mean giving up a spot in the 2020 Olympics, for which qualifying rounds have not yet begun.
The Ice-Climbing Case Study
Funding is an issue in traditional competition climbing, but the gap is even more evident in competitive ice climbing, for which the U.S. has just put together an official team for the first time. [Disclosure: The author of this story will compete on the U.S. team at this year's Denver World Cup event.]
Competitive ice climbing has existed for over 100 years, and has a long history in places like Russia and Korea, where athletes are state-sponsored and tend to dominate the field.
Competition ice climbing today involves using ice tools and lightweight boots with bolted-on frontpoints (called "mixed boots") to ascend overhanging walls and free-hanging obstacles like swinging logs. Due to the hard-to-find gear, the specific training facilities required, and the danger inherent in taking lead falls with ice tools and crampons, it's lagged behind traditional rock and ice climbing in popularity in the U.S.
However, the unique look and apparent danger of the sport might just be its saving grace. The International Olympic Committee (IOC) has been on the lookout for sports that are visually appealing in an attempt to revive its sagging TV viewership among younger audiences. Officials at USA Ice Climbing and the American Alpine Club are hopeful that ice climbing will be considered in a future winter Olympics, perhaps riding the coattails of traditional climbing, which was added to the program for the 2020 games in Tokyo.
That's part of the reason the American Alpine Club stepped up this year, taking charge of team PR and organizing the Denver World Cup Finals. The official team selection process and big-city venue are both new—the last time the U.S. hosted a World Cup ice event, it was held in a Durango brewery parking lot. And the year before that, it was held in the small town of Bozeman, Montana, where the competition structure blew over in a windstorm.
But, as in traditional competition climbing, interest, even a lot of interest, is only half the battle.
Running up Credit Cards
Despite the press releases and AAC approval, American ice climbing athletes are having a harder time with funding than traditional competition climbers. Take Tomas Gehrlein for example. He's competing in the Ice Climbing World Cup for the first time this year, and he's quitting his job—and planning to run up his credit cards in the meantime—to make it happen. Even with smart planning, like using saved miles to book flights and sharing hotel rooms and rental cars with both American athletes and competitors from other countries, Gehrlein expects to spend $5,000 of his own money to attend all six of the World Cup events. That includes travel, lodging, and competition expenses like travel visas to Russia and China, which cost him $280 and $331 respectively.
There is prize money to be had, but an athlete would have to consistently podium to break even, let alone profit. For example, the purse for placing first in the lead event in Cheongsong, South Korea, this year is 2,000 Euros, or about $2,300, and that's one of the bigger events of the circuit. Prizes are much less for speed climbing, the only Ice Climbing World Cup event an American has won.
"I think the experience will outweigh the potential financial outcome," Gehrlein says. "I just hope I can find a job when I get back so I can pay it off later."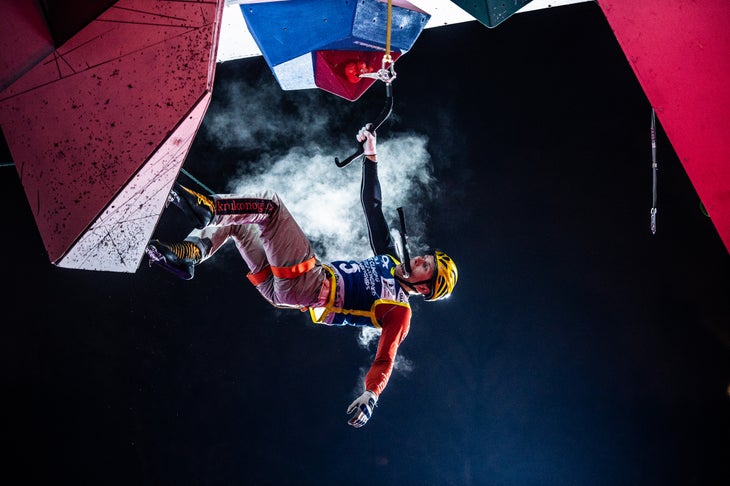 Other athletes are expressing more frustration with the particulars of the funding issue. Tyler Kempney, who works as a climbing coach and a buyer for Rock and Resole in Boulder, Colorado, plans to use all his vacation time plus a week of unpaid leave to attend four of the six world cup events.
"It's an interesting thing because we're technically a team, but there's no coach, no training facility, and no funding," he says. "So we're calling ourselves a team, but in reality, it's every man for himself to find a way to actually get to these events."
And, in some respects, the American Alpine Club's hand in the matter may have  complicated the funding problem even more.
"The AAC has arranged for us to get team-sponsored jerseys from Adidas, which is great," he says, "But they're not providing us with any financial support. And if they provide us with uniforms, we can't try to go after apparel sponsors."
Solutions on the Horizon
"The Denver World Cup Finals is a break-even event for us," explains Vickie Hormuth, the AAC's director of strategic partnerships. The AAC has had to fundraise 100 percent of the money required to put on the competition.
"We'd love to be able to provide support for the athletes for travel," she says. "It's hard to say we're doing a great job of supporting the team without that piece, but we're just not there yet."
Part of the reason the AAC is stepping in to assist with the competition is that USA Ice Climbing, the sport's equivalent to USA Climbing, is in its fledgling stages and lacks the financial backing and staff to support such a huge event. When USA Ice Climbing is ready, the AAC hopes to hand the event over to them. At the current rate of growth in American interest in ice climbing, Hormuth expects it won't be too long.
That's especially true if the promise of the Olympics pans out the same way it has for traditional competition climbing. For the first time this coming year, USA Climbing will seek to cover all the World Cup and World Championship-related expenses for their 8-person Overall National Team, in addition to several athletes in individual disciplines. They've also launched a new High Performance Division in an attempt to secure better training and coaching for their athletes.
"We're not guaranteed any spots on the Olympic team," Norman adds, saying that part of the push to secure funding for athletes is to make sure American climbers have a shot at qualifying.
The same feelings drive the athletes of the 2019 American Ice Climbing team as they scrape together funds for their own events.
"Isn't this every athlete's dream?" asks Kempney, "To have the opportunity to represent the United States of America?"
In the meantime, they'll have to fund it the American way: A crowdfunding campaign.
To support the underdog American Ice Climbing Team, contribute to their crowdfunding campaign here.