Heading out the door? Read this article on the new Outside+ app available now on iOS devices for members! Download the app.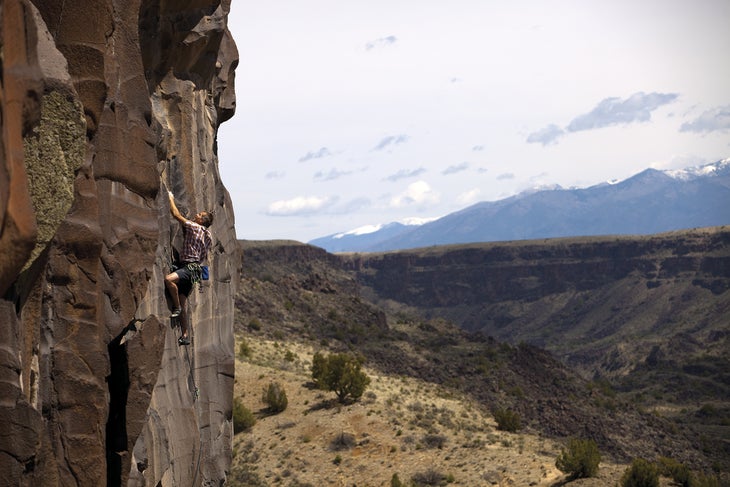 Taos: a basalt, granite, and conglomerate paradise in northern New Mexico
They say you can tell a lot about a climber by his dog. And if Jay Foley's German shepherd, Lupita, is any indication, he's put up a lot of routes.
We're near Taos, northern New Mexico, on a hot May afternoon — 85 F, blistering for 7,000 feet elevation on a plateau lapping against the Sangre de Cristos (Rockies). The setting's the Rio Grande Gorge, a 70-mile serpentine fissure — the bottom floor of the world's second largest rift valley. My wife, Kristin, and I arrived with the photographer Andrew Burr to document this recently exploding cragger's mecca. A tricultural city in miniature (5,265 in town; 31,398 residents in the county), Taos is surrounded by hundreds of routes and boulder problems — on basalt (the Gorge), volcanic conglomerate (El Rito), and stonker granite (Tres Piedras, Questa Dome), among other places. This is classic Southwestern climbing, a multi-cliff zone that's also an area of cultural interest.
Foley has brought us to Miners Crag, east facing, 30 meters tall and a quarter-mile long, a two-tiered wall of shattered-looking but solid basalt that twists like taffy, with sinuous cracks and helixing headwalls. In the last year, Foley and his small, core crew of new routesmen have been hard at it, rapping from piñons past stegosaurus plates to drill the upper headwalls, or going ground-up on the lower crag's appealing cracks to drop in midway anchors and install sport climbs. It's quiet in the accordion folds, with mostly 5.9, 5.10, and 5.11 faces and arêtes — and then some of Foley's turbo 5.12s. Two days before, farther north at the crack-lover's Wild and Scenic area, we saw a black bear swim the river and, in the gloaming, swallows swarming their mud nests. The air is rich with sagebrush, the snowmelt-fed Rio Grande charging through the depths.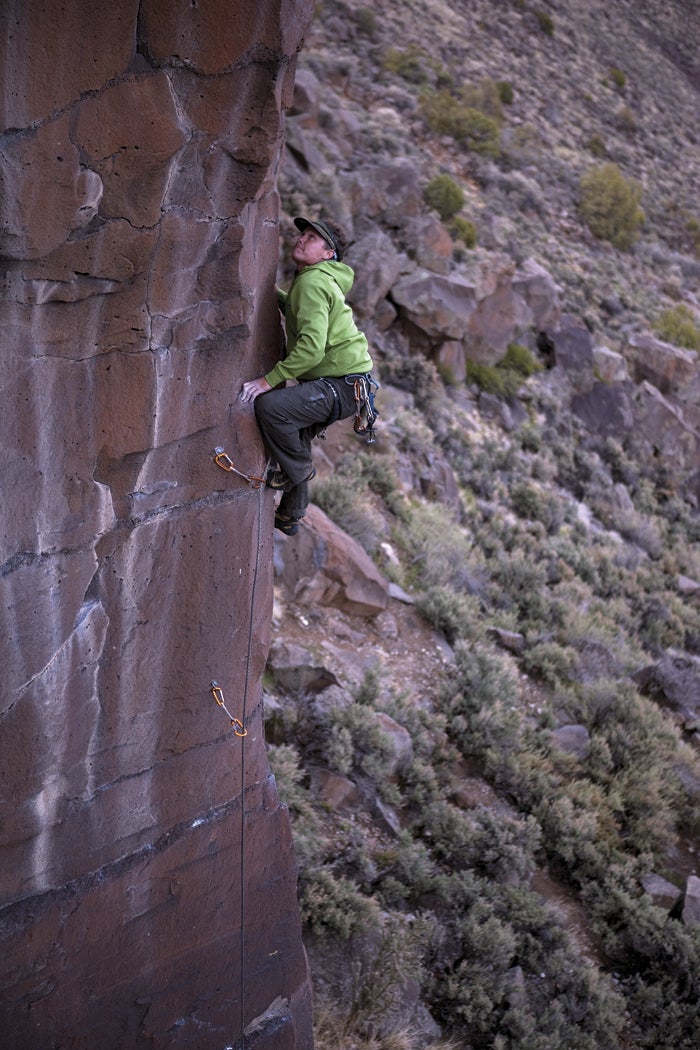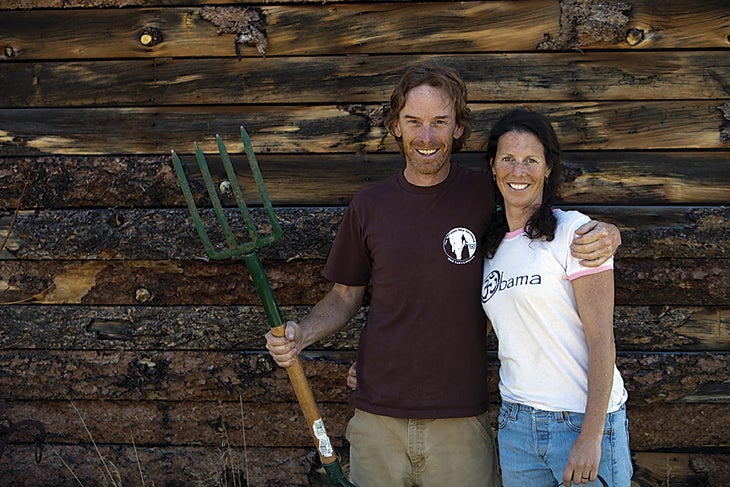 Foley shoes up for Claimjumper, 5.10+ edges up iron rock. And that's when Lupita moves…100 feet away, to watch warily.
"Lupita likes to watch you climb," Kristin tells Foley. "But from far away."
Foley laughs. "Too many rocks dropped near her…" he says. "Too many days where it was just me and her when I was pulling off choss. She knows better." Foley — an ex-Valley boy, guide based out of Arroyo Seco, and a rigger for Hollywood films — is also an avid first ascentionist. (You'll find his routes at Ko Yao Noi, Thailand, and El Salto, Mexico.) In 2005, he authored his Taos Rock, the area's first proper guidebook. Its 190 pages detail 311 routes and dozens of boulder problems. Since publication, Foley estimates 220 new rock climbs and dozens more boulder problems have gone up. That's a blistering pace considering you can probably count active Taos climbers on two hands, and first ascentionists on one.
But that's the Taos thing — there's no one here. Even with 30 years of climbing history, 300 days of sunshine, endless stone, and grand motivators like Foley and Bob D'Antonio leading the charge, climbers still don't "get" Taos.
Taos is quintessential New Mexico — multicultural, eclectic, bizarre, a not entirely frictionless olio of poverty and wealth, all lorded over by a brilliant sun that arcs from behind the sacred Taos Mountain (12,300 feet) before dropping into the sagebrush flats that rip westward across the gorge. Three primary cultures live here — the Native Americans (the Tiwa-speaking, Anasazi-descended residents of Taos Pueblo), Hispanics, and the Anglos — making Taos one of the unique spots in our world. It's a bit like Jerusalem, and the ubiquitous adobe architecture reflects this singularity — hell, even the McDonald's is pueblo style.
The Anasazi arrived around 1,000 AD, carving pit houses into the arroyos and streambeds, and then building their pueblo 350 years later. This mud-walled fortress/village, they named "Tua-Tah." (Ten minutes from town, it's the oldest continually inhabited community in the United States, and a United Nations World Heritage Society site.) Next came the Spanish in 1,540 AD with Don Hernando de Alvarado, who mistook the pueblo for one of the fabled "Golden Cities of Cibola," mythical cities of great wealth said to have been founded by Spanish bishops fleeing the Moors 400 years earlier. Against the natives' occasional resistance, the Europeans staked their claim, putting in place the acequias (waterways) still used to irrigate crops. Then French and American trappers arrived in the early 1800s. The name Taos originates with the Tiwa word "towih," for the red willows along the rivers.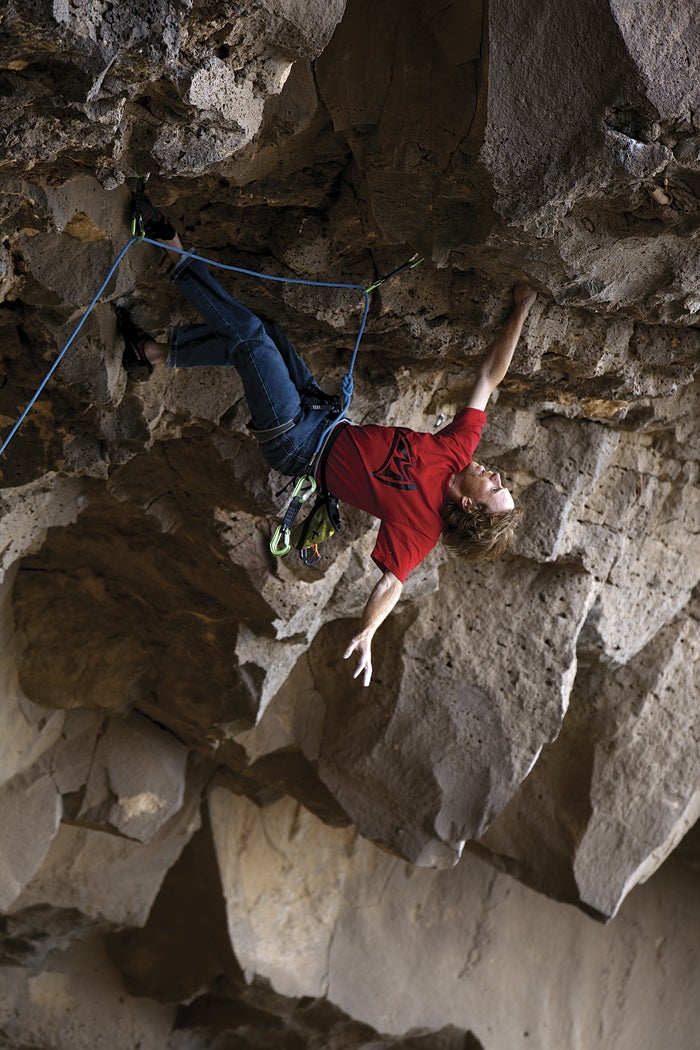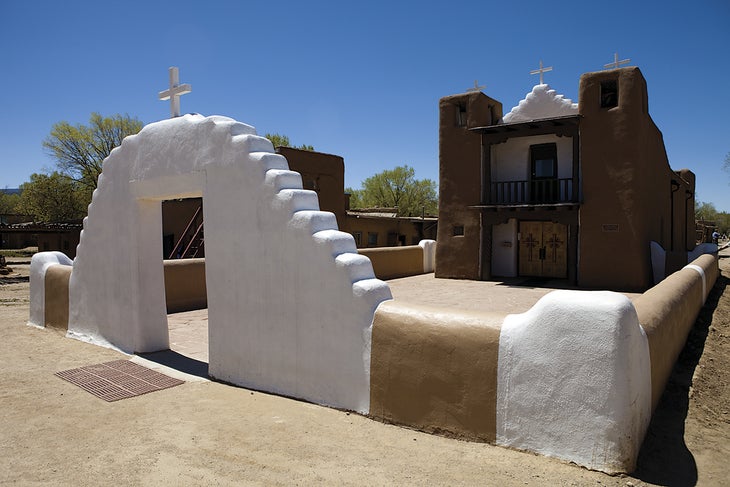 For a century, Taos has been an art center. In 1898, the artists Ernest Blumenschein and Bert Phillips embarked on a sketching trip from Denver, with a tip from a fellow artist — Joseph Henry Sharp — about the Taos magic. When a wagon wheel broke 30 miles north of town, Blumenschein lost the coin toss to head in on horseback and have it repaired. He thus took his first view of Taos valley, rapt with the otherworldly light, later co-founding the Taos Society of Artists. The town's since been a draw for the cultural elite (Georgia O'Keefe, DH Lawrence, Ansel Adams, etc.).
In the 1960s and '70s, the hippies arrived. If you've seen Easy Rider, then you might remember that the film's commune was inspired by the New Buffalo "Back to the Land" Commune in Arroyo Hondo, seven miles north of town (and in the same canyon housing Taos' venerable John's Wall and the newer Foley areas The Solar Asylum and The New Buff Wall.) A few Taos landmarks — hot springs, the pueblo, and the jail's interior — appear in the flick. Founded in 1967, New Buffalo was New Mexico's first hippie commune and endured through the 1980s, its members surviving on organic agriculture, free love, Peyote ceremonies, and handcrafts, though also raising the locals' ire as "freak people." From 1992 to 2004, one of New Buffalo's founders, Rick Klein, and his wife ran a bed and breakfast here. ("This place is historic," Klein said in the book Taos: landmarks & legends. "It's where the hippies met the Indians.") Klein's son Joaquin was once a first-ascent, climbing, and guiding partner of Foley's, and a close friend of the family.
So that's the Taos blend — Native Americans, Anglos, Hispanics, hippies, artists, freaks, dropouts — all in a little city surrounded by world-class mountain biking, skiing, river running, fishing, and rock climbing. Taos is said to be one of the world's "energy centers": like Sedona, Arizona, or Machu Picchu, Peru, possessing a spiritual pulse. There's even the "Taos Hum," a low-frequency (30-80 Hz) sound of unknown origin that's been likened to the idling of a distant diesel engine. (A mid-1990s study of 1,400 Taoseños revealed that 161 heard the hum, translating to roughly two percent of the population.)
And in the mix, climbers — really on a handful — but a tight-knit, open, hard-working, and understated group of New Mexicans who've quietly turned the area into one of the Four Corners' major destinations.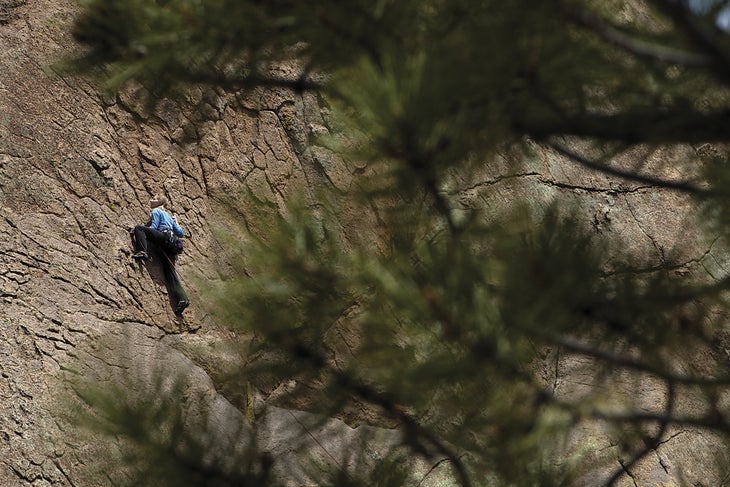 Taos you either love or hate. It's one of those rough-around-the edges New Mexico towns that either grabs your heart or sends you screaming for the exit, away from the raw desert, the oddball people, the silent peaks, the blinding sun. It's a place you're either born into or stumble upon. Folks who come here hoping to reinvent themselves in a utopian artist's vision often bail — it's as if, as the locals say, "The mountain asks you to leave."
Like many a transplant, the "Mad Bolter" (more later) Bruce Holthouse — now 61 and probably the name most associated with the bullet-hard granite domes of Tres Piedras — came by accident. A So Cal native, Holthouse in 1970 was finishing college at Western State College, in Gunnison, Colorado. En route back to school from California, he picked up two Taos-bound hitchhikers. Driving State Road 68, Holthouse and his passengers crested the final rise west of the city and took in the expansive view of town, the Sangres, and the gorge.
"I really felt the curvature of the Earth," says Holthouse. "And I realized coming from a city, from Southern California, 'Oh, we're on a planet.'"
In 1973, Holthouse two years out of college and uncertain what to do with his life, headed solo into California's Mojave Desert, plunked down his tent, drew a circle in the sand, and forced himself not to breach it until he had an answer. "It was hard to sit there … and not do anything but just sit and stare," says Holthouse. But after three days, it came to him: he'd move to a mountain town and get a job ski patrolling — why not Taos?
Hippied-out, with a "long beard and long, shaggy hair," Holthouse rolled in, walked up to Ernie Blake, the founder of Taos Ski Valley, and asked for a job — "I want to work here," said Holthouse. "I might be here for my whole life. I can ski the mountain. I'm sure I can ski it as good as anyone…I'll work for a week for nothing." Blake, a no-bullshit Geman expat who'd assisted General George Patton's Third Army during WWII, tracking down and interrogating Third Reich officers in alpine Bavaria, looked Holthouse over and said, "You don't look very good but you sound pretty good. I think I'll give you a job." Holthouse patrolled the valley for 10 years before working as an outdoor educator, and then as a contractor another 25. Along the way, he met and learned to climb from the reclusive Mike Roybal, New Mexico's top dog in the 1970s. (In 1974, Roybal climbed the state's first 5.12, The Nose, at The Y near White Rock.) The two worked together from 1983 until 2008, mostly in construction. It was with Roybal and Peter Prandoni that Holthouse first visited Tres Piedras.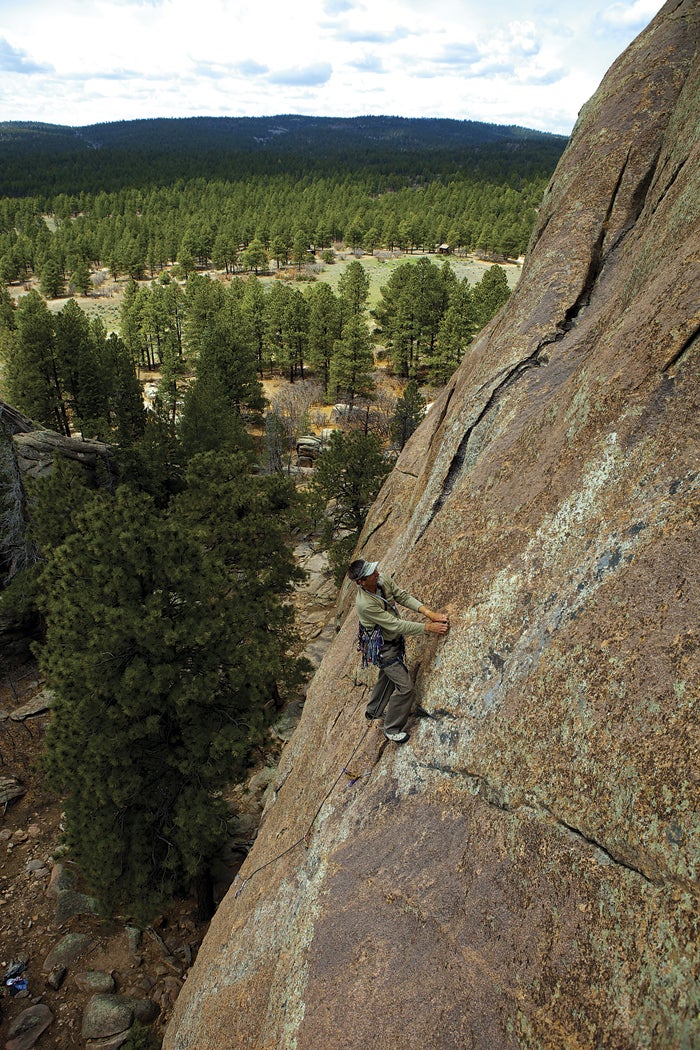 If you haven't been to Tres Piedras ("Three Rocks"; TP), perhaps you've driven past, zipping along, say, from Albuquerque to Penitente on Highway 285, slowing for the blinking light to glimpse granite immediately west. Or maybe noticing the little breadloaves, walls, and spires that dot the piñon, juniper, and ponderosa forest here along the eastern swell of the Brazos Range. Maybe you've even stopped the car, stretching your legs among the up-to-200-foot domes.
Tres Piedras looks like Vedauwoo — granite blobs spiking from a semi-forested plateau — but it's probably lithically closer to the good stuff (Astro Domes) at Joshua Tree, or even Tuolumne. There are 80 climbs, few cracks, only a handful of "sport" routes, and about 10 distinct bouldering zones at or outlying the main rocks. Some of the original bolts, from the late 1970s/early 80s, have been updated, but other heady 5.10s and 5.11s still sport quarter-inchers. The granite quartzite is magical, patina'ed and chickenheaded, dotted with stance knobs, ripply crimps, and the occasional plugger horizontal. The walls mostly face south or west, but the wind kicks hard against the heat.
To get here, you drive 30 miles west from Taos along Highway 64, crossing the Gorge Bridge, 650 feet above the Rio Grande and the scene of Mickey and Mallory Knox's wedding in Natural Born Killers, an epic aerial battle in Terminator: Salvation, and more than a few real-life suicides. It was also here in 1998 that two thugs launched their still-living victim over the guardrail after carjacking him. New Mexico can be heavy that way.
When Holthouse, Roybal, and Prandoni first started visiting, in the late 1970s and early '80s, there were, recalls Holthouse, only a couple obvious trad leads (the Dirty Diagonal and Serpent Crack), occasional topropers, and no bolts. The western nose of South Rock strikes an appealing pose, a slabby, grey skyline rising 200 feet. Some time around 1979, Holthouse climbed partway up a crack to where the buttress steepened, but then retreated in the face of a horrorshow runout. "So I phoned Peter and I said, 'Bring up your drill and let's finish this.'" Prandoni, the more experienced climber, came back with Holthouse and tapped in two bolts by hand (and one on runout terrain down below), and the climbers completed their Yike's Dikes, Tres Piedras' first bolted climb. "That summer I started putting in some bolts here and putting some routes up," says Holthouse. Holthouse's four TP masterpieces are Yike's Dikes;Clean Green Dream (CGD; sporty 5.9), a stretcher single pitch on Mosaic Rock; Serpent Face (5.10d R), a zigzagging line reminiscent of Figures on a Landscape, just downhill from CGD; and Holthouse to Hell, a taxing 5.11 right of Serpent Crack, again on the same wall.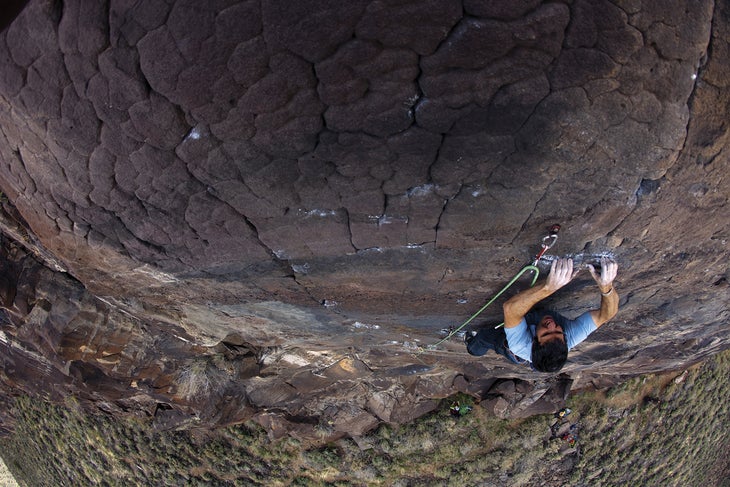 He tells me this on a nice May morning below CGD. CGD starts with a cranky overlap, moves up a crack, and then busts rightward onto burnished chickenheads. This climb is the Solid Gold of New Mexico, stacks of thin-face protected by bolts and sporadic gear placements. It's immensely popular — a landmark lead — and when Holthouse himself added a bolt to the traverse a few years ago, an unknown vigilante immediately chopped it. (New Mexico can be heavy that way; see mountainproject.com for an ongoing discussion of TP ethics.)
Holthouse's period of greatest activity was 1979 to 1988, the California transplant focussing on TP and El Salto. (Access to this area above the ski valley road is tricky, though Foley's Mountain Skills — climbtaos.com — does have a guiding permit.) His style, like that of his peers on nearby Questa Dome — a brilliant 500-foot swath of Tahquitz-white granite in the Latir Peaks north of Taos — was ground-up, drilling by hand, placing quarter-inch split bolts. For most of his TP forays, Holthouse would teach non-climbing friends to belay, luring them out with a picnic lunch. "And so I'd have several different partners just on one one-pitch climb over the space of two months," he says.
Holthouse is a bold climber. On his first trip up the 1,800-foot Gothic Arches Buttress, an 1,800-foot 5.8 on the Brazos Cliffs near Chama (access is tricky — don't ask!), a falling rock halved his rope on the first pitch. Shit, Holthouse told his partner, let's tie the ends together, go up a few pitches, and check things out. As the designated leader, Holthouse had to run out the first 75 feet on each pitch because of the knot. "I led the whole thing," says Holthouse. "I said, 'You know, we can always rap. … We'd leave a lot of gear, but if we get to one pitch or move we don't like, we'll just rappel.'"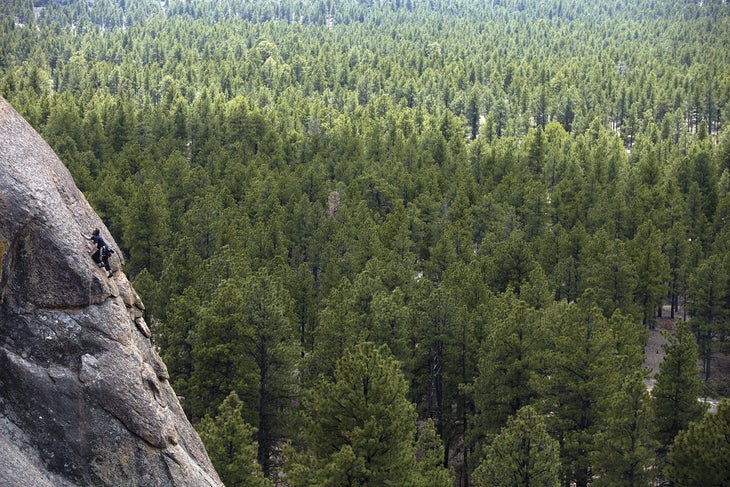 Out at TP, Holthouse honed his boltcraft under Prandoni and Roybal. Holthouse's method was simple: 1) Find a knob (he preferred stance drilling to hanging on hooks). 2) Hand-drill, alternating feet to de-pump his calves during the, usually, 45 minutes. 3) Fill the hole with Duco rubber cement, to guard against water. 4) Drive in the bolt. 5) Tighten the bolt and cover the nut and hanger with more Duco. 6) Resume climbing. On partnerless days, Holthouse would build an upward belay and rope-solo, tying off knots every 10 feet. On one 1980/'81's Holthouse to Hell, Holthouse spent four or five days drilling.
The route follows a bulging face right of Serpent Crack, with four bolts through the mid-height crux. "I'd tie off a good anchor with an up pull…go step up onto that face and clip into the first bolt, and just agonizingly work my way up," recalls Holthouse. "I don't think I ever did but one bolt, or sometimes I didn't even get a bolt in. I'd stand on the knobs for the longest time and work my way up it, and then put in another bolt." So anguishing was the process that Holthouse swore off hard solo ascents. Today, the most attractive draw for hardpersons are the four brilliant, safe-enough 5.11+-to-5.12- crimp climbs on the Painted Wall. (FA of all four: Lee Sheftel, Doug Coleur, ground-up with a power drill. "I'm glad we did them mixed, instead of just rap bolted," says Coleur. "Although not 'hard' by today's standards, they are really interesting.") But other climbers — Kasey Weber, Ed Jaramillo, Todd Bibler, Chuck Rose, Prandoni, Mark Hesse, and Doug Bridgers — have left their mark at TP over the years, too.
After a 10-year hiatus, Holthouse is back on the rocks, sometimes with his 20-year-old son, Harrison, an avid boulderer/sport climber. The two recently ground-up drilled a six-pitch 5.10+, Hidden Staircase, above Taos, taking two years (with a delay caused by Harrison's ankle-damaging 25-footer onto a ledge on the fifth pitch, a section since retro-bolted). Because two sections wandered, the father-and-son team returned to reroute them on rappel, a hybrid of the old- and new-school ethics.
"I don't know what [this style] is called or how other people are doing it, but I didn't have anyone else to consult and I didn't have to," says Holthouse. "I just felt like, I'm doing this with my son, and nobody else is out here."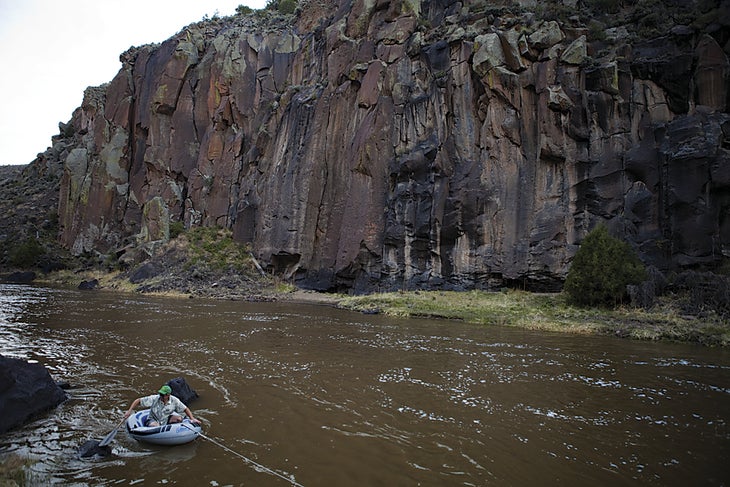 If, like Holthouse, "nobody else" is your thing, then the Rio Grande Gorge, coursing with the upper waters of the 1,800-mile long river, is the place.
Here, it's not that the river carved the canyon, though the water has polished the lowest blocks obsidian smooth. It's that 27 million years ago, the earth literally began to separate as the North American and Pacific plates scraped against each other, giving the waterway a home. Accompanying volcanic activity, still visible in the area's burbling hot springs and an occasional mini-tremor, filled the canyon with basaltic magma, which cooled to form the untold cliff bands, talus blocks, and scree fields lining the gorge from its head, at the Colorado border, southward to its end, 12 miles north of Española.
The Gorge is a place of still beauty, a zigzagging lacuna varying from 500 feet deep to 800, visible only head-on or once you rush upon it. When pumping full flow, the Rio Grande churns out Class V rapids, and a raft or kayak is often the only access to the Upper Gorge save unimproved rim roads. (Besides the Gorge Bridge, only the John Dunn Bridge, in Arroyo Hondo, and the Taos Junction Bridge, near Pilar, cross this stretch.) Navigating the side walls can be hellish, the basalt oozing with heat; sage, piñon, juniper, sotol, cholla, and cacti clawing at your pant legs; talus rolling underfoot; and man-sized poison ivy lining the river banks. Side canyons run in, the Red River, the Rio Hondo, the Rio Pueblo joining the tumble. Throughout, the gorge is layer-caked with basalt cliffs, some formed sublimely of black, red, and chocolate iron stone; others of bubbly, pocketed lava rock; and still others of sugary grey death-choss or Jenga-stacked blocks. Some cliffs have a bit of it all, which for the first ascentionist can demand a heroic commitment to cleaning. Lining the walls you'll find Indian petroglyphs, cowboy petroglyphs, and the rare modern graffiti.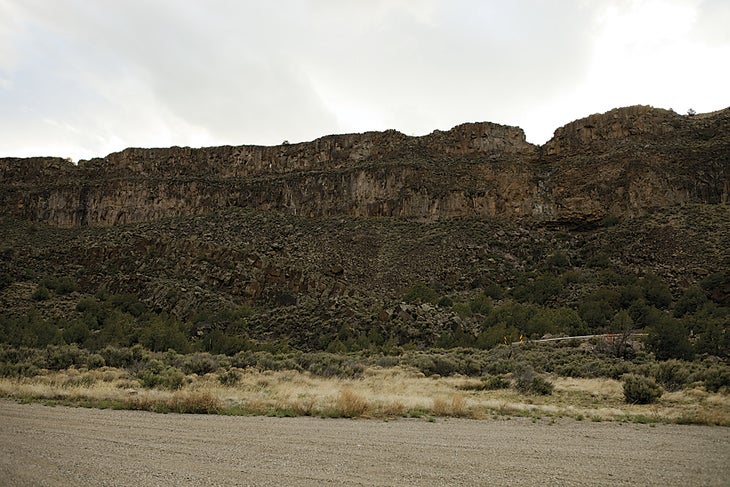 The board-flat West Rim Trail heads south from the Gorge Bridge, dead-ending after nine miles at a BLM parking area hard off New Mexico 567. It makes for a great run, especially in winter, when the sun's anemic and a cooling breeze glides over the west mesa. A five-minute hike from this lot takes you to the Dead Cholla Wall, that rim-top progenitor of Gorge sport climbing.
It was Ed Jaramillo and Cayce Weber who got the Gorge ball rolling, in 1989. Boating guides and ski patrollers, the pair sought sports action close to Taos for the mud seasons. Soon they and crew had installed 20 short (40-to-60-foot) climbs on good, red-brown basalt, following technical faces and arêtes with subtle moves to flat edges and blind pockets. The climbers kept Dead Cholla on the DL — only word of mouth or the Xerox'ed, stapled guide Taos Dead Bolt Society (TDBS), kept behind the counter at Taos Mountain Outfitters, got you here. The climbing scene was so small then, the guide listed the locals' names and phone numbers. Today, the cliff boasts 37 routes, the gaps having been filled in.
Dead Cholla is a good cliff, but it's by no means great. Still, from here the vista opens on the junction of the Rio Grande and the Rio Pueblo. Hard above the Taos Junction Bridge, the eye moves south to an unbroken, quarter-mile-long cliffline with an upside-down bowl on its right end. This is the Vista Verde Crag and the Bat Cave, which are really what modern Taos sport climbing is all about.
Taos would have next-to-zero modern sport — and for that matter, trad — climbing without the indefatigable Jay Foley. Now 44, Foley moved to Taos in winter 1992, lured by Jaramillo, whom he'd met in the Valley. (The two got rippin' drunk on the Mountain Room beer Jaramillo had earned for stripping a new rope left by an inexperienced party on Lost Arrow Spire.) A onetime YOSAR boy, Foley began climbing at the Shawangunks, only a half-hour from the boarding school in Poughkeepsie he was shipped to after flunking out in Manhattan. Today, Foley, with his wife, Donna Longo, runs the guiding outfit Mountain Skills, based out of their tidy adobe near Arroyo Seco. The pair has a daughter, Milan, 5, just old enough to be bugging her dad to go climbing.
Foley is Taos' resident hardman, wiry, friendly, and a talented, efficient all-around rocksmith who bears no small resemblance to Chuck Norris. Longo says Foley's been mistaken for the actor everywhere from New Zealand, to Italy, to Colorado. Once, when the couple attended a Willie Nelson concert at Red Rocks Amphitheater, the opening act Jerry Jeff Walker announced, "We're glad to have Chuck Norris out here in the audience." Foley has even found himself fleeing camera-wielding fans of "Walker, Texas Ranger."
A 5.13 climber, Foley tore through all the routes in TDBS his first full year in town. By then, the Jaramillo/Weber crew was phasing out, and the motivated Foley found himself near partnerless, dead-ended. The only way to keep climbing, it seemed, was to put up routes. Foley had had his first taste of new-routing on his, Al "Slab Dude" Swenson and Brian Warshaw's 1991/'92, four-day first ascent of The Chief (VI 5.12-), the first route up the remote Yasoo Dome, in Yosemite's Tenaya Canyon. Foley hadn't been especially enraptured, but in Taos, he realized, "If I want to climb something hard and something new, I've got to put it up — because it ain't here." The gorge seemed like the place.
First up was the quality Mystery Crag, across canyon and downstream from Dead Cholla. Foley, with his partner the tomato farmer Paul Judges, secured permission from a landowner — a Vietman vet — to drive across his property. Things were going well, with the climbers slamming in anchors atop a handful of routes, before the landowner, for unknown reasons, "just turned" says Foley. The climbers had found the cliff during a flyover with Judges' father, Harvey, manager of the Taos Airport; now the landowner, known for shooting at helicopters zipping by, had denied rim-top access.
Says Foley. "Every route we put up, I'd be, like, 'This sucks, this is bullshit.' It felt like work, and I just wanted to climb." Meticulous, trad-headed, and new to the bolting game, Foley would deliberate for hours about each placement — "We were too in our own heads: should we even do it? Is it even right?" he says — sometimes vacillating so long that Long would bring a magazine to read during belay duty. In 1995, Foley and Judges plucked the prime splitter Kid in a Candy Store (5.11) and an adjacent line at the Wild and Scenic Area west of Questa, where 30-meter rope stretchers follow intimidating corners and split overhanging walls. But soon thereafter Judges drifted into "naked bouldering," says Foley, later moving to Albuquerque, so Foley again found himself partnerless. At times, he considered leaving Taos.
From the mid-1990s onward, Foley recruited a series of partners, mostly the teenage kids of Taos' original hippies. Some of Foley et al.'s efforts then included filling in the blanks at Wild and Scenic. But Taos through the fin de siecle lacked the route density to lure visitors. Sure, the volcanic conglomerate an hour southwest at El Rito had gone gangbusters, with its 60-odd sport climbs on steep cobbles. But that was an hour away — in another county. And sure, the locals Tim Naylor and Mike Freebourne had circa 2000 started things rolling in the Arsenal-steep Bat Cave, home to about a dozen routes. And sure, there were even a handful of completed cracks (Weber, Sheftel) left of the Bat Cave, on what's now known as the Vista Verde Crag. But nothing had crystallized.
Then, in 2002/'03, Foley, with support from various partners, developed a chossy-looking but ultimately climbable south-facing cliff in Arroyo Hondo: the Solar Asylum, devised as a training ground for a trip to Spain. With 13 climbs, three of those 5.12, this unassuming "pile" (as Foley calls it) was to point the way toward the basalt revolution in the last three years, the one that's appended more than 200 new climbs onto the 106 Gorge routes from Foley's 2005 guidebook. It showed that, with diligent cleaning and an eye for a line, potential was nearly limitless.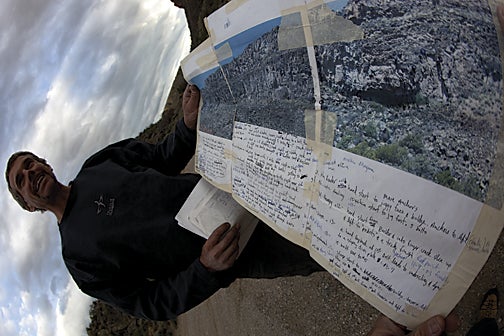 I don't know about you, but I get a knot in my stomach when I pull into a crowded sport area these days. The dillbags, scenesters, and mouth-breathing frat boys spilling out of their sticker-plastered cars; the scorecard heroes, and wannabe gangstas — it all seems a bit antithetical to my reasons for climbing. But then again, I'm happiest playing XBox in a dark room…or climbing in places like Taos.
Here's one thing you can still do in Taos: climb onsight. Not modern onsight — you know, holds so chalked you can Beta-map each move from the deck; Internet video-blog footage surreptitiously committed to memory; a "helpful" onlooker chiming in with a "That's it!" when you stray into the correct sequence. No, Taos has old-school, figure-shit-out-yourself onsighting. On the lonely basalt, wind and rain quickly strip the chalk, and a fine silt washes through the cracks or over the crimps. All unchalked holds looking equally good (or bad) from below, you can incur a 5.13a pump trying to onsight 5.11+. Try it — you'll see.
Drop into the gorge. Here are the known cliffs: Vista Verde, Dead Cholla, Utopian Vistas (a great zone upstream from Dead Cholla, many the work of Bob D'Antonio and the ER doc Mike Howard), the Arroyo Hondo Crags (The Solar Asylum, John's Wall, River Wall, Old Stagecoach Road Wall, The New Buff Wall), Miners Crag, Wild and Scenic. But I've also excluded certain newer zones where the crew remains hard at work, sometimes rap bolting, sometimes coming from the ground, sometimes putting bolts near crack-like features, sometimes not — whatever works.
Vista Verde is the most appealing cliff. On a "crowded" weekend, you might see three other cars in the lot — hikers, there for the Vista Verde Trail. That's it. The crag faces east and the rock is dark, so it's suicide to slog up before noon if it's hotter than 70 F. Once there, walk the cliff base north to south: the Bat Cave is a smaller Arsenal, dense with a dozen climbs (5.11 to 5.13) on bubbly rock, the best being Foley's thuggy 5.12c/d Fang Shui. Around the corner is a newer spread of 5.10/5.11 corners, cracks, and arêtes — the Time Bandits and Gold Rush walls, both great places to warm up. Immediately adjacent is the tall, appealing Afterburner Face, home to rope-stretcher 5.12 faces — some of the original Vista Verde sport routes. Now pass a broken area, ambling south through the sagebrush and cacti to where the cliff picks up again at an intimidating amphitheater: Monster Wall, with tall, unrelenting 5.11+ and 5.12 face and arête climbs. At the far south end lies Wayne Manor, a concentration nonpareil of older crack routes and newer sport gems, the best being the headwall-splitting tips crack of Wrendezvous, a 5.11c. Close to 50 routes total, most barely chalked, the cliff base a bench of ancient, silent repose.
It's also here that we should wrap up our Taos tour, because after the eye-opening Bat Cave, which inspired Foley to develop The Solar Asylum, it was at Vista Verde, only three years ago, that things truly took off. Because that's when the personable Bob D'Antonio, 56, one of the most prolific first-ascentionists in America (1,500 or so FAs; thank him for his climbs at White Rock, Penitente, Shelf Road, Aspen, the New, and Boulder Canyon) and a man whom Howard calls the "Johnny Appleseed of sport climbing," moved to town for year and a half to manage The Old Blinking Light restaurant. D'Antonio estimates he put up or helped put up about 100 climbs during his stay. Until then, not much went on at Vista Verde. Naylor, then a carpenter, and Freebourne, had done their Bat Cave thing in 2000/01, coming out on their "rest days," after four-day pushes doing drywall work together, to install the routes. And they'd even put in the Afterburner Face's first two climbs, the 5.12a/b's Afterburner and Slow Burn. But the locals mostly ignored the crag, deterred by a 10-foot, mid-height choss band not uncommon in the gorge. Still, the cliff had been on Foley's mind all along, and he'd installed the insta-classic Frankenstone (5.12), and with Naylor, the aesthetic Hefalump (5.12) and Cracula (5.11).
"I marched Bob right up to Vista Verde, and Bob was like, 'Oh, my God! Oh, my God! This is the next Cactus Cliff! Holy shit!" recalls Foley. "It" — to borrow a line from the crappy sci-fi flick Ultraviolet — was "on." (Says D'Antonio, "There were probably only eight routes there at the time. I think I have a decent eye for a line, but I was, like, 'My God, there's a lot to do here!'" He estimates there are 50 or 60 other Vista Verde-type crags yet to untapped in the gorge.) Foley, his mellow partner-in-crime Joel Tinl, Naylor, Howard, and D'Antonio now entered a full-bore, amicably competitive "Gold Rush." D'Antonio could put up three routes a day, so efficient, says Foley, he chalk-dotted bolt placements his first time through on toprope. This, in turn, spurred Foley to pick up the pace. And Tinl, an Ohio transplant in Taos since 1987, and Dr. Mike Howard, a local ER doctor, also caught the bug, firing in climbs of their own. Three years, a handful of guys, 200 new routes — think about it. As D'Antonio, reflecting on a single day at Utopian Vistas during which four or five new climbs went in, says, "A lot of routes went up in a pretty short time."
Naylor, who recently spent five days prepping the 5.11 Lode, at Miners Crag, details some of the drawbacks of basalt FA'ing: the rat droppings on the crack section of Vista Verde's Rat Run (5.11a), so thick you "had to drive your fingers down into it"; the silky volcanic dust that rains onto the holds when you pull off a loose block; dead birds lodged in cracks or cactus stuffed there by the rats; the mesa-top dirt that can wash over during the rainy season. But nothing nearly as industrial as the multi-week cleaning/gluefests at, say, Rifle. No, because really what you have here is also a product of the environment. That is, with so few climbers in Taos, it's often easier to come out solo and do bolting/cleaning work than to round up a partner.
Which is how it should be. This is New Mexico, after all, a state with only 16 people per square mile. When Foley and crew rock up to the crags, it's in the spirit of fun, an iPod stereo often playing, everyone walking slowly, stopping frequently to point out blank spots on the lithic map.
"We like to come out here, and sometimes we won't get much done. We'll just trip out on the birds flying overhead, and look at the mountain, and go for a nice hike," says Tinl. "Taos is pretty low key, and I think it always will be. Solitude — it's a huge part of it, man."
Matt Samet, raised in New Mexico, is editor-in-chief at Climbing.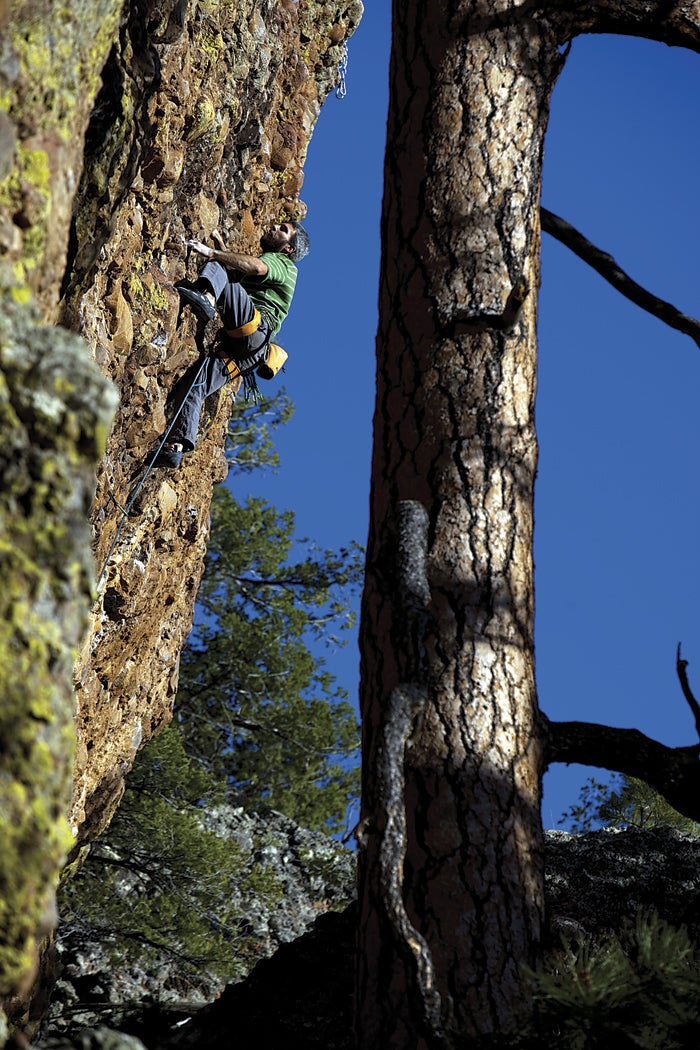 Taos 411
By Krisitin Bjornsen
Season: Year-round. Hit the sunny, sheltered Rio Grande Gorge on winter mornings (most cliffs face east) or on afternoons in the warmer months. In high summer, find cooler temps at Tres Piedras, Questa Dome, El Rito, and Comales Canyon.
Guiding Service: Mountain Skills Climbing Guides — climbtaos.com, (575) 776-2222
Guidebook:Taos Rock, by Jay Foley ($19.95, sharpendbooks.com); mini-guide addendum due out in 2009 (TK INFO).
Gear Shops: Taos Mountain Outfitters — taosmountainoutfitters.com, (575) 758-9292; Mudd 'n' Flood Mountain Shop — (575) 751-9100.
Eats: The World Cup Cafe, on the Taos Plaza, has the best espresso in town. In Arroyo Seco, the Taos Cow is the place for java, lunchables, and ice cream. For muy delicioso New Mexican fare, Orlando's, in north Taos, serves some of the state's best chile (say, "Go Christmas," when ordering, for half-green and half-red). Willing to spend a little more? Check out The Love Apple, built in an old, chapel just east of Taos and serving fresh, locally grown, mouthwatering meals (try the quesadilla with egg).
Camping: Most crags have camping on National Forest and BLM land. Particularly primo are the improved Orilla Verde Recreation Area campgrounds, right along the Rio Grande —$7 per night, blm.gov/nm, (575) 751-4899.
Lodging: Why rough it when you can stay in a lux adobe? Donna Longo, Jay Foley's wife, rents two va