Heading out the door? Read this article on the new Outside+ app available now on iOS devices for members! Download the app.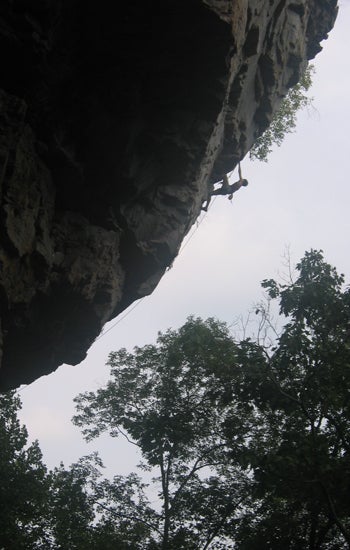 If that's not enough, she can dry tool with surgical precision at VI/M5; and that's when she is meant to be resting. Whilst on her climbing marathons she smacks the balls of lesser men into oblivion; leaving those left in the group to collapse beside the nearest boulder. Who cares whether she just missed repeating Fawcett's 100 Extremes in one day of daylight? Fawcett's average was E2/5.10a, Chrissy's was E3/5.10b until rain stopped play on route 93: even Mark dipped out on route 92 when some weird hormonal pills started to get the better of his de-hydrating exertions.
If that's not enough, take my word for it. I met with her just after she'd returned from Beinn à Bhuridh, where she had led the first free ascent of Papal Condoms,theundercut pinnacle that soars out to the right of Vatican City. We made the interview whilst linking the best Cairngorm crags in a two-day hike, climbing in Mescalitos and choosing nothing less than 4b/5.6 on each of our 6 multi-pitch routes.
I've never experienced such intensity and drive from one individual, yet all the time I was with her, I couldn't get Mark out of my head. Also, I knew that he was the one subject sure to evoke a mood swing of gargantuan proportions. So, in our headlamp-illuminated cave under Carn nan coire Lurcher, just before dawn signalled my first lead of Day 2, I popped the question: "Where is Mark, Chrissy? He just vanished from the scene leaving an unmatchable legacy of beautiful routes and then you appeared; what's happened to him?"
The ensuing tense silence was quietly broken by Chrissy as she slam-dunked British climbing history into meltdown. Turning round, she slowly peeled off her rock pants, and it was with a cold sweat of realisation congealing on my face that I was drawn to the violent scar on her thigh. How much more life changing could Mark's absence have been?
*"Vivre la difference," from Boys Will Be Boys by The Hooters