Walltopia Headquarters in Bulgaria Suffers Arson Attack Following LGBTQIA+ Support
Heading out the door? Read this article on the new Outside+ app available now on iOS devices for members! Download the app.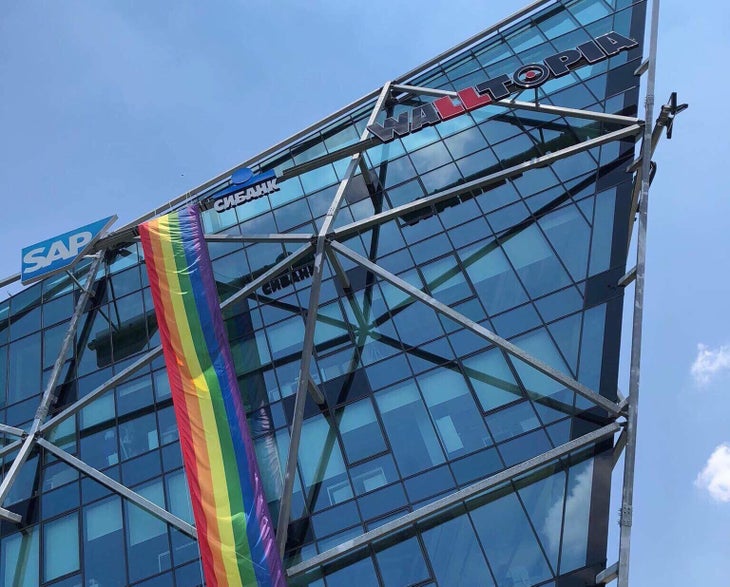 On July 9, Walltopia, the world's largest climbing wall manufacturer, reported that their headquarters in Sofia, Bulgaria, had suffered an arson attack. On July 3 at roughly 3 a.m., security cameras captured four individuals using incendiary liquid to set fire to a 21-meter rainbow flag on the facade of Walltopia's building. The flag had been hung temporarily in support of Sofia Pride.
"The crime recorded by the security cameras can undoubtedly be defined as an arson," reads a statement from Walltopia. "The motive of the four attackers is clear—hatred of the Pride movement, the members of the LGBTQI community, and their supporters in the face of Walltopia."
Walltopia began supporting Sofia Pride in 2018, both hanging the flag and contributing financially to the pride parade annually. The organizers credit the climbing wall manufacturer as being the first major Bulgarian company to support the parade publicly and financially.
"I realized that they felt unaccepted and because of their difficult situation they are trying to find their own happiness. That's why we decided to support Sofia Pride—people should not be afraid to be themselves no matter what," Ivaylo Penchev, executive director of Walltopia, told Sofia Pride in 2018.
The statement from the brand concluded:
"At Walltopia we believe in the right of every human being to be who they are and we firmly stand by their right to be free and happy, regardless of their gender, sexual orientation, race or ethnicity. That is why we see the crime committed against us as a crime against all those who identify with the same values. We remain hopeful that law officers will find the perpetrators and they will take responsibility for their actions."