Wild Ben Nevis Route Completed
Heading out the door? Read this article on the new Outside+ app available now on iOS devices for members! Download the app.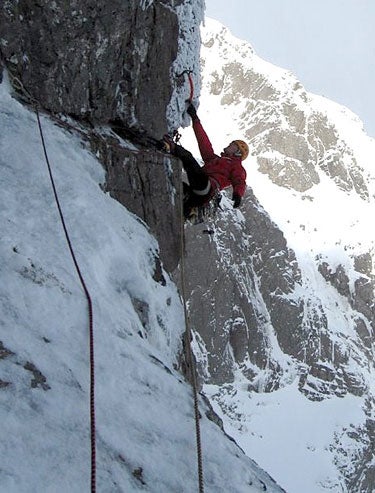 After making news earlier this month for his free solo of a possible 5.14b in Spain, all-star all-arounder Dave MacLeod returned to his home in Scotland, where he finished off one of the hardest winter routes in the United Kingdom.Don't Die of Ignorance (275m, XI,11) is an eight-pitch line up the Comb Buttress of Ben Nevis, with a wild crux passage of dry tooling and thin ice across an undercling crack and over a roof. It took MacLeod six tries over three years to succeed on the climb. On Friday, March 14, he managed to climb the roof for the first time, but fell off just above. Two days later, he returned and completed the entire route, with Joe French.
On his blog, MacLeod described his exciting two-and-a-half-hour lead of the crux second pitch: "By 10 a.m. I was back once again, staring at that grim undercut crack disappearing round the prow into no man's land. Just like Friday I desperately struggled to seat my axe in the crux tin-opener [an upside-down ice-tool move, similar to a stein pull]. I screamed to Joe to expect a fall and released my left axe, cutting loose onto one arm. The axe slid and jerked a centimeter. My heart missed a beat and the jolt nearly made me fall, my hand sliding down the upside-down axe to the head and rolling onto three fingers. A dynamic match and kung fu allowed one foot to swing onto the wall to the right and up to the peg I got in on Friday. The vertical wall above was climbed in an utterly 'go for broke' style, axes ripping, dropping onto one hand and gasping with pump, and shrieking for slack. All a bit full on."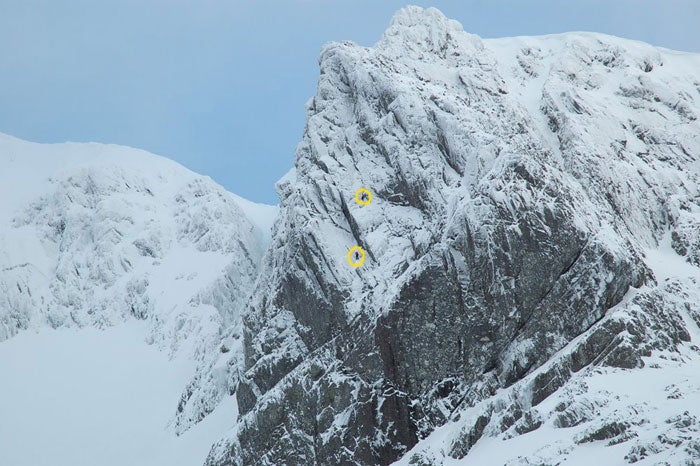 The excitement wasn't over, as French popped off while following the traverse and was left dangling by one wrist loop, unable to move. Eventually, using a jumar, he was able to free himself and slowly climb to the belay, where MacLeod had gone mildly hypothermic after stripping down for his lead. The two regrouped and finished the climb by starlight.
Don't Die follows the general line of an aid route climbed in 1987 by Andy Cave and Simon Yates, with a more direct line at the crux. If the grade holds up after repeats, Don't Die of Ignorance will be Ben Nevis' hardest winter route, and one of the hardest in Scotland. In 2005, MacLeod put up The Hurting (XI,11) in the Cairngorm Mountains.
Date of Ascent: March 16, 2008
Sources:Davemacleod.blogspot.com, Velvetantlers.co.uk, Climbing 262