Woods, Puccio Reigning Champions at ABS 14
Heading out the door? Read this article on the new Outside+ app available now on iOS devices for members! Download the app.
2/22/13 – Daniel Woods and Alex Puccio are once again victors of the ABS National Championships. Not only are they the defending champions, but this is Woods' and Puccio's seventh time winning each.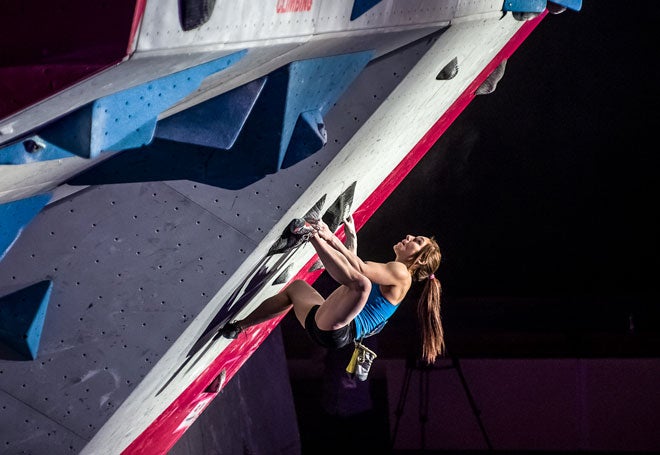 Woods and Puccio were the clear winners in their respective categories, being the only climbers to top out three problems each. Woods, having recently returned from The North Face Cup in Japan (and having done the second ascent of Hydrangea, a Dai Koyamada V15), had a somewhat slow start, taking three attempts to finish #1, but quickly gained steam and flashed #2. Ian Dory, the second-place finisher, completed two problems, including a flash of #1. In third place was Vasya Vorotnikov, who also finished two problems and flashed #1 (he had one more attempt than Dory, hence the bronze).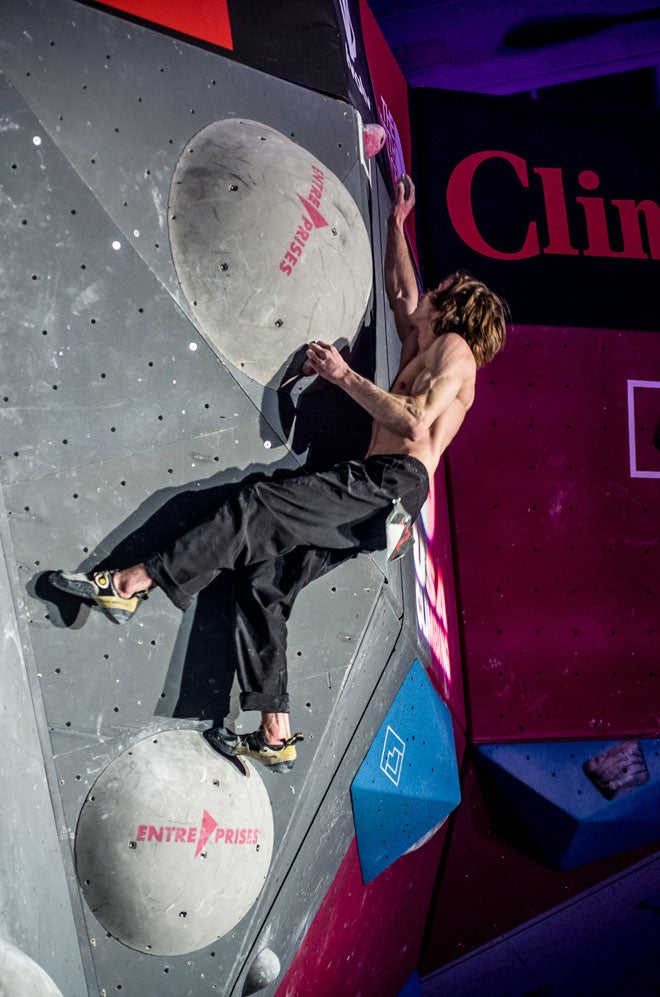 Puccio also had a disappointing first problem, not topping out. Second- and third-place finishers, Andrea Szekely and Isabelle Faus, who each topped out two problems, completed the first problem after several attempts. On problem #2, Puccio came back strong; she was the only woman to top out problems #2 and #4. Megan Mascarenas, in fourth place, gave a strong showing on #2, falling only two holds short of a top. Five of the seven finalists completed #3, but many women got stuck low on the final problem, stymied by a few powerful moves.
Woods and Puccio are unquestionably the most successful ABS competitors to date, having won a total of 14 national events. Puccio has won the last four in a row; below is a breakdown since Woods' first win in 2005:
2013: Daniel Woods, Alex Puccio

2012: Daniel Woods, Alex Puccio

2011: Sean McColl, Alex Puccio

2010: Daniel Woods, Alex Puccio

2009: Daniel Woods, Alex Johnson

2008: Paul Robinson, Alex Puccio

2007: Daniel Woods, Alex Puccio

2006: Daniel Woods, Alex Puccio

2005: Daniel Woods, Portia Menlove
Many other big names competed but didn't make semi-finals or finals, including Paul Robinson and Dave Graham. Final results below.
Women's:
Alex Puccio

Andrea Szekely

Isabelle Faus

Megan Mascarenas

Angie Payne

Alex Johnson

Lisa Chulich
Men's:
Daniel Woods

Ian Dory

Vasya Vorotnikov

Garrett Gregor

Carlo Traversi

Peter Dixon