The Wright Stuff: What Valley Uprising Missed
Heading out the door? Read this article on the new Outside+ app available now on iOS devices for members! Download the app.
This article was originally published in 2015.
Each fall, Reel Rock delivers what I consider to be the world's biggest and best climbing films. If you are a climber and haven't heard of Reel Rock, where the hell have you been? And congrats, because you have some great films to watch. Each year, they masterfully weave together famous climbers, epic routes, and most importantly a real, honest-to-God story. They give us compelling reasons to care about the people and places of climbing, not just the climbs.
Storytelling is easy to talk about but damn hard to do, and that is the biggest thing lacking from most other climbing media today. There's an overabundance of shirtless dudes in beanies cranking double-digit boulder problems to techno on YouTube. If that is the virus, then Reel Rock is the antidote.
This year Reel Rock debuted the feature-length "Valley Uprising," which in many ways is their magnum opus. Seven years in the making, it's an ambitious chronicle of Yosemite Valley climbing history, starting with the iconic rivalry between Royal Robbins and Warren Harding and leading up to the present day. I'll be the first to say that it delivers. It's one of the best and most important climbing films, since… ever. It captures the rebellious and adventurous roots of climbing, and some of the eccentric pioneers that pushed the limits of what was humanly possible. Plus, it glorifies the dirtbag lifestyle, something for which anyone who has been following this column knows, I am a religious proponent.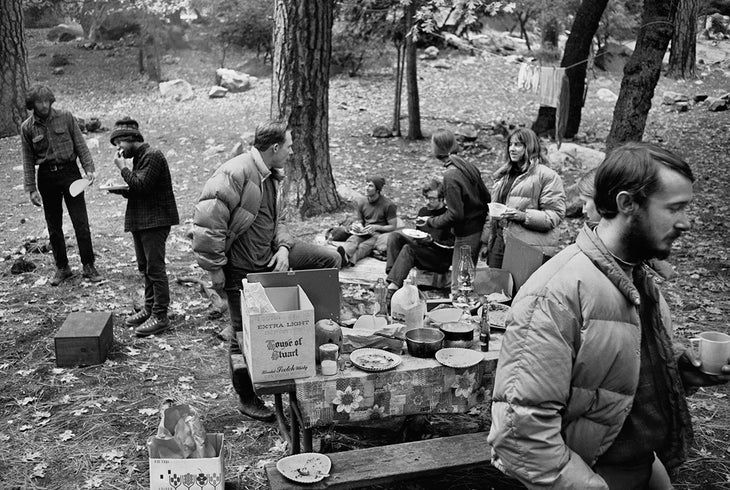 But this isn't a review. I'm writing to warn you that this film is dangerous. As a climber, the DVD belongs on your shelf, but don't think of it as a comprehensive (or absolutely accurate) chronicle of Yosemite history. It's just a really good story. As a filmmaker myself, I loved the film, but as a Yosemite climber and history buff, I felt like I had just read the Cliff Notes of a great novel.
As co-director Nick Rosen puts it, "You can't exhaustively cover a 60-year history of amazing climbers in a 90-minute movie." Many key figures and climbs are left out of the story for the sake of clarity and continuity for a mainstream audience. As the credits roll, this fact is acknowledged by the filmmakers, and a huge list of climbing heroes who didn't make the cut moves quickly past.
For me, part of the allure of Yosemite climbing is its rich and diverse history and the fact that, if you are dedicated and obsessed enough, you might just get to add to it.
So, because I love Yosemite and its rich tradition of motley but masterful misfits, I have assembled a timeline of what are, in my opinion, key moments that "Valley Uprising" missed.
Yosemite Events Not Included in "Valley Uprising"
Prehistory The Ahwahnechee Natives almost certainly did some adventurous scrambling in search of food and perhaps excitement. I like to think they soloed Astroman for entertainment.
1869 John Muir deserves a shout-out, too. His onsight free solo of Cathedral Peak, with its fourth class section that people still rope up for, was Honnold-level badass in its day.
1877 George Anderson drills his way up Half Dome, establishing the Cable Route still used today, thus introducing aid climbing (and questionable style) to Yosemite!
1930s The Sierra Club begins to organize outings to Yosemite and introduces cutting-edge rope techniques learned from Europeans, like the running hip belay and the dülfersitz, a very uncomfortable but useful way to descend a rope by wrapping it around your body.
1934 Using 38 pitons (and big balls), Jules Eichorn, Richard Leonard, and Bestor Robinson climb Higher Cathedral Spire (Regular Route is 5.9), arguably the first major technical climb in Yosemite.
1936 Led by Morgan Harris, who biked from the Bay to Yosemite, Kenneth Adam and Kenneth Davis climb Royal Arches (5.10). The first major face in Yosemite is climbed!
1937 Richard Leonard and the famous environmentalist David Brower establish one of the first free climbs in Yosemite with their ascent of a 100-foot spire next to the Falls Wall, at the heady grade of what would become 5.5.
1940s World War II squashes climbing dreams.
1950 John Salathé invents the steel piton for Yosemite's impenetrable cracks and climbs the North Face of the Sentinel with Allen Steck.This route is now known as the Steck-Salathé (5.10), a mega-classic.
1960 Yvon Chouinard and Tom Frost invent the RURP (Realized Ultimate Reality Piton) and establish Yosemite's hardest aid climb on Kat Pinnacle.
1961 Chuck Pratt and Mort Hempel climb the Crack of Doom on Elephant Rock, ushering in the grade of 5.10. Pratt heroically risks huge falls on a route that is still difficult with modern protection.
1963 The first speed-climbing rivalry unfolds on Steck-Salathé when Layton Kor and Steve Roper cut two hours off Robbins' 10-hour time. Robbins and Tom Frost return to climb it in 3:14!
1964 Frank Sacherer and Pratt take free climbing to a new level, climbing Salathé's Lost Arrow Chimney (5.10) in a day. This is widely considered by modern climbers to be more demanding than Astroman, and I consider it the first big wall free climb in Yosemite.
1964 Jeff Foote and Steve Roper do the first one-day ascent of the Regular Northwest Face of Half Dome. Eric Beck does the first solo of the same route shortly afterwards.
1967 Let's hear it for the ladies. Liz Robbins has a standout year.With Royal, she establishes Nutcracker, a stout 5.8, and the first route to be climbed completely on passive protection instead of pitons. She also climbed the Regular Northwest Face of Half Dome, becoming the first woman to climb a grade VI.
1972 Charlie Porter climbs The Shield (A3 5.8) with Gary Bocarde. The Shield Headwall is still one of the most imposing and exposed features in the Valley. The same year he solos the first ascent of Zodiac (C3+) on El Cap. Later he would establish the world's first grade VII. On Baffin Island. Solo. Charlie was the man!
1973 Hugh Burton and Steve Sutton do the first ascent of Magic Mushroom (VI A4 5.10).
1973 Sibylle Hechtel and Bev Johnson accomplish the first all-female ascent of El Cap via Triple Direct (5.9 C2-).
1975 Jim Bridwell, Bill Westbay, Jay Fiske, and Fred East establish the Pacific Ocean Wall (A3 5.9), the hardest route on El Cap at the time.
1975 "Hot" Henry Barber brings the heady grade of 5.12 to Yosemite with his ascent of Fish Crack.
1976 Jim Erickson and Art Higbee free climb the Regular Northwest Face of Half Dome at 5.12.
1977 Molly Higgins and Barb Eastman make the second all-female ascent of El Cap, the first on the Nose (5.9 C2).
1977 Ray Jardine free climbs Yosemite's first 5.13, The Phoenix, using the camming devices he invented, called Friends, to protect the crack.
1978 Ron Kauk climbs Midnight Lightning (V8). John Yablonski's acid-filled vision that "it would go" leads to the first attempts.
1980 Bill Price establishes the hardest free route in Yosemite at the time: Cosmic Debris (5.13), an overhanging finger crack.
1986 Peter Croft and John Bachar climb El Cap and Half Dome in a day!
1987 Jim Beyer solos the West Face (5.11c) of El Cap in a day, its first-ever solo one-day ascent.
1987 Dave Shultz and Walt Shipley do the ground-up first ascent of the virtually blank South Face of Half Dome via Southern Belle (5.12d R), with huge runouts and bolting from hooks on lead. Shultz returns with Scott Cosgrove to free climb the route.
1987 Peter Croft free solos Astroman (5.11c).
1988 After much work and rehearsal, Todd Skinner and Paul Piana free climb the first major route on the main face of El Capitan via the Salathé Wall, with multiple 5.13 pitches.
1989 Steve "Shipoopi" Schneider makes the first one-day solo ascent of the Nose. Shipoopi was an Original Gangster.
1991 Croft and Dave Schultz climb the Nose in less than five hours. The next year, Croft and Hans Florine climb it in 4:22. Hans would go on to have a love affair with the route, climbing it more than a hundred times and holding and losing the record several times. Hans holds the record today with Alex Honnold.
1992 Eric Kohl establishes Get Whacked (VI A5 5.10). Fueled by Olde English and a boldness never before seen in Yosemite, Eric put up numerous extremely dangerous routes on El Cap and the surrounding walls. Many of his routes are unrepeated for good reason.
1993 Lynn Hill free climbs the Nose. "It goes, boys."
1995 The Huber Brothers arrive from Germany with leather pants and luxurious flowing hair to revolutionize El Cap free climbing, establishing Golden Gate and Corazon at 13b, El Nino at 13c, and Zodiac at 13d.
2000-present Tommy Caldwell begins a long love affair with El Cap that is still alive today. Tommy repeats all of the Huber routes, and then sets to work establishing his own testpieces, including the first 5.14 on El Cap, the Dihedral Wall with Justen Sjong. Tommy returned to free most of these routes in a day, and after using fixed ropes on El Cap, adopts a strict "everything must be free bottom to top without returning to the ground" ethic.
Perhaps nobody more than Ammon McNeely represents the modern renegade spirit! When he wasn't running from the rangers and getting tased, he developed his reputation as the "El Cap Pirate" by flying the Jolly Roger on many of his ascents. Ammon establishes more speed records on El Cap than anyone.
Then, we have the handsome, intellectual Yosemite persona. By living in his truck on the SAR site, eating saltines and butter packets, with rippling muscles and an unparalleled physique, no cliff was safe. As long as it wasn't 5.14. Or too scary. Or he wasn't being lazy and getting high in the meadow. Hmm. I wonder who this is? Well, I also established free climbs on the North Face of the Sentinel and notched the first free ascent of the main face of Liberty Cap: Mahtah (V 5.12d).
Tomorrow YOU! You could be the next Yosemite Legend, vying to knock Caldwell and Honnold from their thrones. All it takes is tons of talent mixed with hard work, passion, and a dash of good luck.
Cedar Wright is a professional climber and contributing editor for Climbing.