Yeti Airlines gets new Aircraft – Pilatus Porter
Heading out the door? Read this article on the new Outside+ app available now on iOS devices for members! Download the app.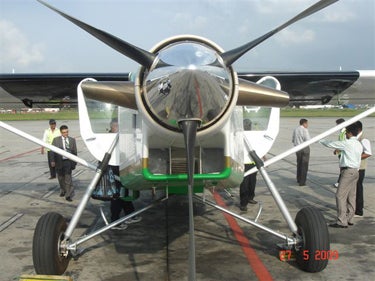 We believe that this is an opportune moment for us to thank all our patrons as we receive the delivery of our second brand new Pilatus Porter aircraft that has flown direct from the factory to Tribhuvan International Airport today. The aircraft abbreviated as PC 6 landed at the airport on July 08, 2009 in the afternoon.
Yeti Airlines established in May 1998, started its flight from KTM to LUKLA, the gateway to Mt. Everest, the highest point on earth. The airline has served the isolated population of Nepal living in faraway mountain areas by providing the only means of transportation and connection to the outside world. It has the widest domestic flight network and flies to almost all destinations in Nepal.
It is interesting to note that fifty years ago, during the "Swiss Dhaulagiri Himalaya Expedition" May 1960, the Pilatus Porter (PC-6) was used for transportation of climbing equipment. The name of the PC-6 at that time was "Yeti Himalaya". It is a coincidence that the airline bringing the Pilatus Porter to Nepal after 50 years is also "Yeti Airlines". Now, Pilatus Porter is celebrating 50 Years of its productions. Yeti Airlines is planning to bring in the third PC-6 in the near future. It has PT-6A-27 engine made by world renowned engine manufacturer Pratt & Whitney. There are 266 PC-6 in operation all over the world.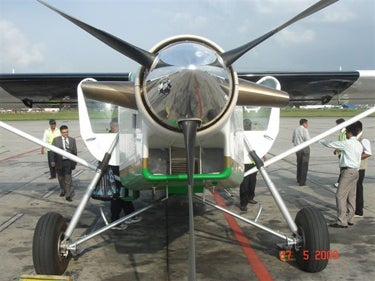 "Pilatus Porter" has excellent STOL- (short take off and landing) performance; it is a multi-purpose airplane designed and built since 1959 by Pilatus Aircraft Ltd in Stans, Switzerland. First flight was operated on 4 May 1959.
PC-6 is practical for almost each function as a sky cab. It is used for passenger and material transport, medical and emergency service, measurement and photo flights, with spraying equipment for agricultural work and for fire fighting. It can land equipped with skis on glaciers and with floats on water and it is an ideal airplane for parajumping also.
PC-6, fixed wing aircraft has made the first world record of landing at the highest elevation 5750m in 1960.
Nepal Airlines Corporation (NAC) operated 3 Pilatus Porter from 1961 to 1998. Yeti airlines is planning to revive PC-6 operation in the remotest areas of Nepal. It will use the currently unused airports such as Syangboche, Jiri, Langtang, Dhorpatan, Kalikot which have enough runway to serve the operations of PC-6. Yeti Airlines is confident that such operation in remote areas will definitely contribute in local development and tourism promotion in Nepal.
—Vijay Shrestha, Executive Director / www.yetiairlines.com