Zion's Touchstone Free-Climbed
Heading out the door? Read this article on the new Outside+ app available now on iOS devices for members! Download the app.
Mike Anderson and Rob Pizem in ZionPhotos by Rob Pizem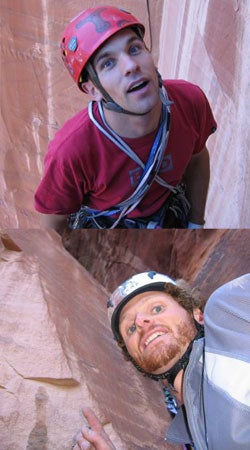 Mike Anderson and Rob Pizem have free-climbed Zion's classic Touchstone route, using a new variation to the second pitch. The eight-pitch route is one of the most popular moderate aid climbs in North America.
Anderson and Pizem freed the right-hand of two popular starts to the route at 5.13a. This pitch had been toproped free previously by removing fixed pitons and pulling on pin scars, but this year the two climbers moved only one fixed piton and did not alter the aid-climbing difficulty. Anderson said, "I'm sure the pitch could be made easier if more pins were removed, [but] the pitch does not rely on pin scars as much as you might think. There are actually quite a number of face holds on the pitch, which makes me wonder what kind of face holds might have existed before the pitch was climbed and hauled by thousands of aid climbers."
After attempting to free-climb the aid route's crux second pitch, the two opted to explore a new variation rather than rely on that pitch's fragile face holds. They drilled six bolts on lead to create a 5.13b face-climbing variation straight above the first anchor, finishing with a sketchy traverse to a thin seam through a small roof, using the aid route's old fixed pitons for protection. From a no-hands stance just above the roof, they then freed a long finger crack at 5.12d; Doug Heinrich had free-climbed this pitch earlier from an anchor 30 feet higher, at 5.12b. The rest of the climb consists of 5.9 to 5.11 crack and face climbing.
In the past year and a half, Anderson has freed six Zion routes, mostly with Pizem as a partner.Comment on this story