2015 Golden Pitons: Bouldering
Daniel Woods, The Process
Heading out the door? Read this article on the new Outside+ app available now on iOS devices for members! Download the app.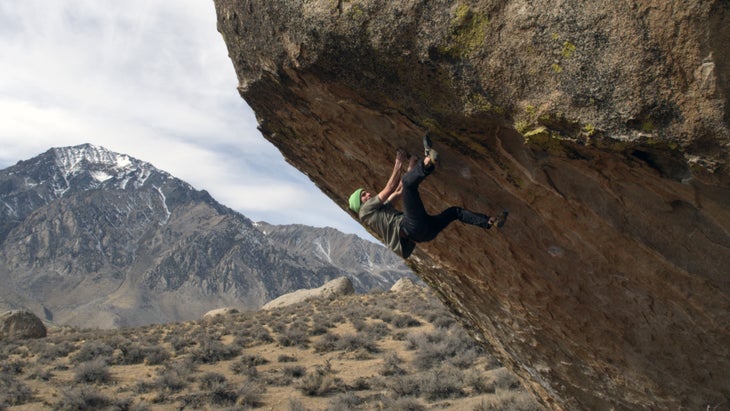 Twenty-six-year old Daniel Woods thought he might have done a V16 first ascent way back in 2010, when he climbed The Game in Boulder Canyon after two years of attempts. But later climbers found better beta—and a few holds improved through aggressive brushing—and The Game got downgraded. It took Woods five and a half years—and nearly two dozen V15 first ascents and repeats—to climb another problem he believed worthy of the V16 grade.
The Process, a.k.a. "the Bishop mega project," was an open project on the Buttermilks' Grandpa Peabody boulder, cleaned and nearly completed by Dan Beall. The problem crosses a 20-foot, 60–70° overhang, starting with Social Distortion (V13) and followed by a three-move V14 sequence capped by a wild, foot-swinging move 20 feet above the ground. Above this is a V10 highball on a slightly overhanging wall, and then a 20-foot 5.9 friction slab to the top. Everything had to come together for the send: an architectural stack of 25 pads, a slight breeze, and 42°F temperatures—the ideal conditions were found only at night, using lanterns, headlamps, and photographers' lights to illuminate the route. It made for an impressive segment in Reel Rock 10.
"The Process was my biggest mental challenge ever, which has changed how I approach other aspects in my life," Woods told Climbing. "It taught me how to manage fear, which I can apply to other 'fearful' situations that arise in everyday activities. There is not one individual stopper move but stopper sections that will spit you off or have you questioning if you want to break yourself or not. It is very difficult to commit to the dyno to the lip as fatigue creeps in and a 20-foot belly flop awaits."
Dan Beall also came very close to sending The Process soon after Woods, but then broke a key hold. Good news for future crushers: Beall has done that move with the broken hold, and, anyway, Woods said the broken piece wouldn't affect the way he used this hold (as a mini-pinch). "Hopefully, it has finished shedding some chunks, but that is just the nature of the rock in Bishop," he added.
Daniel Woods previously won a Golden Piton for Bouldering in 2010. Don't miss his excellent "deep dive" into the climbing and grade of The Process, written for the North Face: Read it here. 
Recent Bouldering Golden Piton Winners
Alex Puccio (2014)
Jimmy Webb (2013)
Tomoko Ogawa (2012)
Daniel Woods (2010)
Nalle Hukkataival (2009)
See the rest of the the 2015 Golden Piton winners: