2015 Golden Pitons: Mountaineering
Nikita Balabanov and Mikhail Fomin, Ukraine
Heading out the door? Read this article on the new Outside+ app available now on iOS devices for members! Download the app.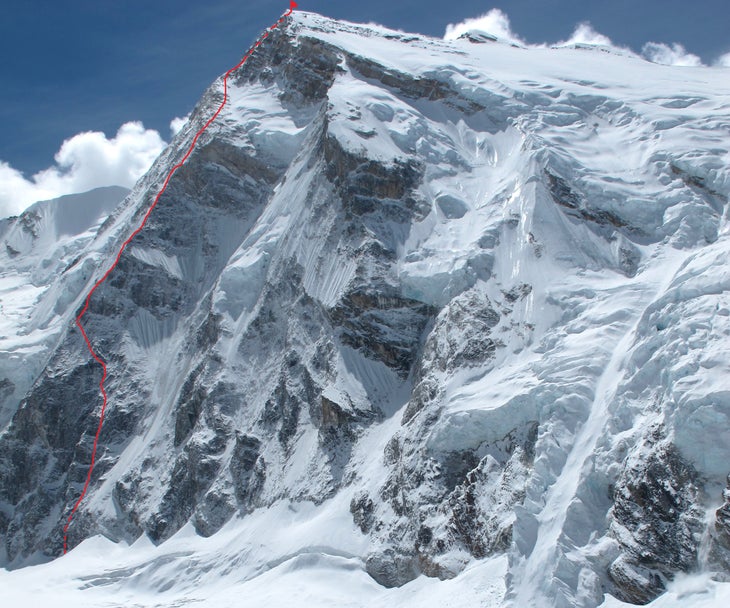 In mountaineering achievement, altitude still counts for a lot. Modern alpinists are doing climbs of extraordinary technical difficulty on the lower peaks of Alaska, Patagonia, and Asia. But once you climb into the rarified air around 7,000 meters (just under 23,000 feet), it's a whole new ballgame, with oxygen deprivation, bitter cold, big packs, and bulky clothing making every move much, much harder.
This is why the alpine-style new route on 7,349-meter Talung in eastern Nepal, by a pair of Ukrainian climbers, stands above all other mountaineering ascents in 2015. The super-steep, 1,700-meter pillar (roughly twice the height of El Capitan) had been attempted at least four times since 2002, but no team had gotten even halfway up the buttress. Nikita Balabanov and Mikhail Fomin had proven their ability to climb high and hard in the Himalaya in 2014, with the six-day first ascent of Snow Queen on Langshisa Ri in Nepal. Now they aimed to climb a mountain nearly 1,000 meters higher and even more difficult. The extreme climbing started with a crux pitch right above the bergschrund, and the angle didn't ease until nearly the top—they were sill climbing M5 and AI5 on the fourth day of the route, at well over 6,600 meters. In all, the route took five and a half days, plus another day and a half to descend, and the Ukrainians graded it ED2 M6 AI6 A3.
"We didn't expect to face so technical terrain on such a big mountain in the Himalaya," the climbers told the American Alpine Journal. "However, despite the technical and psychological difficulties, each of us got great pleasure during the climbing. We changed leaders day by day, and each of us, while seconding with the heavy pack, was envying the leader and looking forward to his turn to lead."
Recent Mountaineering Golden Piton Winners
Ueli Steck (2013)
Kyle Dempster and Hayden Kennedy (2012)
Simone Moro, Cory Richards, Denis Urubko (2011)
See the rest of the the 2015 Golden Piton winners: