2016 Golden Pitons: Alpine
Marc-Andre Leclerc, Squamish, British Columbia, Canada
Heading out the door? Read this article on the new Outside+ app available now on iOS devices for members! Download the app.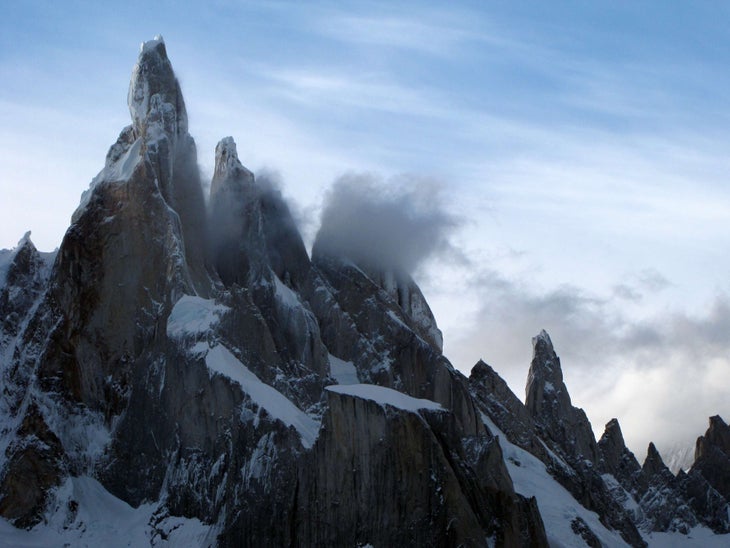 This year's Golden Piton for alpine performance goes to Marc-Andre Leclerc for his hard alpine ascents and solos in recent years, culminating in the solo of Torre Egger in Patagonia. At 24, Leclerc has completed the solo trifecta of the Cerro Torre group, all amidst several seasons of other record setting alpine ascents.
A long time coming for Leclerc, this award could apply to any one of his ascents in recent years. Though he only dreamed of being in the mountains when he started climbing at the age of 10, Leclerc has propelled himself to the forefront of alpine climbing, completing massive link-ups and setting a new standard for solo ascents in Patagonia and beyond.
By the age of 15, Leclerc was working to dial in his aid-solo tactics on multipitch routes, and by 20 that work had more than paid off. In 2013, he aid and free soloed 32 pitches on The Chief, the large granite feature that looms over Squamish, B.C.—in just 17 hours.
Just a year later, Leclerc was bringing that same fast and light attitude to bigger mountains. In August of 2014, Leclerc soloed three routes on Slesse Mountain in the Coastal Mountains of British Columbia for a total of over 7,000 feet of technical terrain in 12 hours.
Slesse Mountain became a favorite for Leclerc. "It has that 'close to home' meaningfulness," he said, while talking about his solo ascent of the Northeast Buttress of Slesse in the winter of 2015. The climbing was delicate with up to M5+ and near-vertical ice, and "was in such spectacular conditions at the time, plastered with neve" Leclerc said.
In 2015, Leclerc took his skills to Patagonia. Just two weeks into the new year, Leclerc and Patagonia veteran Colin Haley made the first ascent of the "Reverse Traverse" of the Cerro Torre range, the south-to-north link traverses over Aguja Standhart, Torre Egger, and Cerro Torre.
Later that season, Leclerc aid and free soloed the Corkscrew route on Cerro Torre, the hardest route to be soloed on the peak. In October of the same year, he returned to solo Aguja Standhardt, making the first known free solo of the Tomahawk to Exocet Link-up.
If that wasn't enough, Leclerc had one more objective in mind. "Once I had done two it seemed logical to move on to Egger and complete the [solo] trio. They are such incredible peaks," Leclerc said.
This past September, Leclerc returned and completed an aid and free solo of Torre Egger, claiming the first winter solo-ascent and finishing the trifecta of solo ascents in the range.
Though a solo of any one of the Cerro Torre group peaks is impressive, the combination of all three, with the added prestige of completing the first known solos of his chosen routes on Cerro Torre and Aguja Standhardt, made for an incredible string of Patagonia seasons.
So what's next for Leclerc? "Right now I'm the most psyched on exploring the winter climbing in the North Cascades. The walls on Slesse in particular…it's so scenic and quiet out here in winter. I like the off the beaten path feel of it."
But he's not ruling out more Patagonia climbs. "Especially on the harder faces of the Torres, and out in the icecap itself. El Chalten is like the portal to a full-on ice universe."   
See the rest of the 2016 Golden Piton winners: