2016 Golden Pitons: Boldest Move
Nalle Hukkataival, Helsinki, Finland
Heading out the door? Read this article on the new Outside+ app available now on iOS devices for members! Download the app.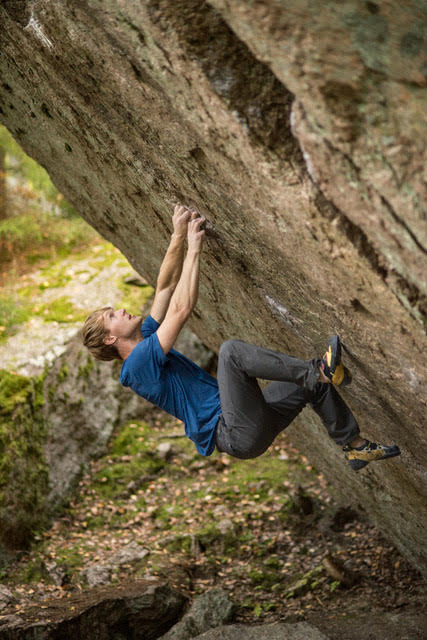 This year we're awarding a Golden Piton to Nalle Hukkataival for climbing Burden of Dreams (formerly the Lappnor Project) and having the courage to call it V17.
Boulderers has always had trouble defining the upper grades. Many of the first V16's have been downgraded to V15. In fact, very few lines have kept the V16 grade, and even fewer have seen enough ascents to confirm it. To make matters more complicated, the pool of climbers with enough experience to claim those grades is slim. But Hukkataival is one of the few people capable of doing just that.
"Grading Burden of Dreams is something that I had years to think over and continuously put into perspective with other top-end boulders," he said. "As far as controversy goes, if we let something like that influence our objective, well-thought-out views based on decades of experience then where would we be at?"
Just this past year, Daniel Woods expressed a similar sentiment when grading his latest Rocky Mountain National Park creation, Creature from the Black Lagoon. Woods said, "We can either acknowledge what is a level up from the standard of 15 (based off of consensus over the years) or continue climbing V15 for another decade."
Perhaps Hukkataival isn't one to contemplate the philosophical implications of new bouldering grades, or maybe he's just too busy climbing them. He's repeated the notably hard Gioia and has established V15 testpieces around the world for nearly a decade.
"When he found something that has taken him multiple years, and he's done 8Cs [V15]…in a few days sometimes, you have to realize that yeah, this could be the next step, because it's challenging him so much, and it's in his style, too," said Woods in an interview with EpicTV during a visit to the project.
Maybe we should chalk it up to work ethic. Instead of touting a particular piece of beta, training regimen, or any "aha!" moment, Hukkataival described his biggest breakthrough on the project as just being motivated to go out each day, regardless of how the previous day went. "Nothing else matters as much. Not even the day I climbed it. Because without all those sessions leading up to it, that day would have never come," he said.
So, could it be? Hukkataival's hard first ascents like Livin' Large (V15), a 30-foot highball in Rocklands, South Africa have given him a reputation for finding and climbing routes that stand the test of time. We actually gave him a Golden Piton for it in 2009. Since then, Livin' Large has seen only one repeat by Jimmy Webb, who did not suggest a downgrade. The problem went unrepeated for six years, despite attempts by Adam Ondra and many others.
For now, the grade stands, but that's not to say the world's hardest route hasn't probably made it onto several tick lists for 2017. If it lives up to its reputation like Livin' Large, we'll be here in seven years, giving Nalle a Golden Piton for a new next-level climb, just a year after someone finally repeats Burden of Dreams.
To watch the full film of Nalle's V17 ascent, visit The Lappnor Project.
See the rest of the 2016 Golden Piton winners: