A Bit Manic: Joel Brady is Pennsylvania's Tireless Family and Renaissance Man
Heading out the door? Read this article on the new Outside+ app available now on iOS devices for members! Download the app.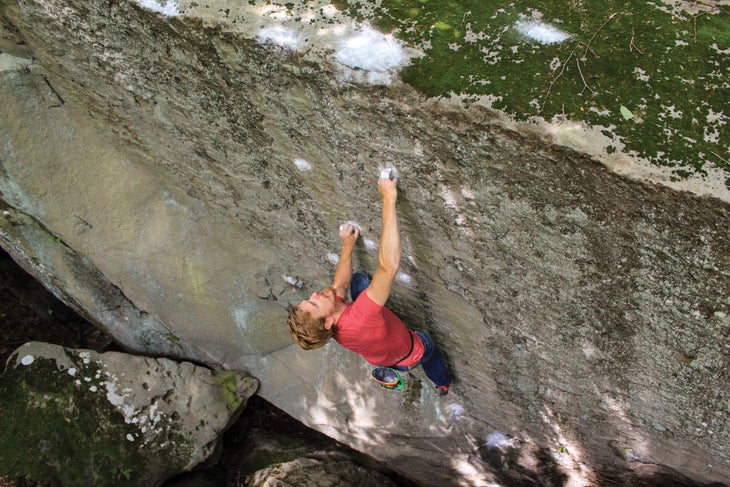 Joel Brady, 38, wakes up early most days at his cozy home in Pittsburgh, Pennsylvania. He usually has a long day ahead, helping his wife, Peg Madonna, get their four children ready before his one-hour commute to the University of Pittsburgh where he teaches religious studies. If Brady has a free lunch hour, he'll eke out a gym session at Ascend Pittsburgh, campusing and hangboarding. Or, that evening, if the bug hits him, he'll drive almost two hours to the gritstone-like boulders of Coopers Rock near Morgantown, West Virginia, and boulder all night by headlamp. Then he'll return to his daily routine without sleep. Twenty years into a climbing career that saw him do his first 5.14s and double-digit problems as a teenager, Brady is still as committed to the rock as ever—despite the many other directions life pulls him in.
"Sometimes," Brady says, joking about his flatlined career arc, "even I'm amazed at how little I've improved in all that time."
Brady was born in Atlanta, Georgia, but resided in Japan for two years when his parents lived there as missionaries, then in Tennessee before ending up in Pittsburgh. He has one younger brother, Daniel; his father is a longtime Presbyterian pastor; and his mother is an interpreter for the deaf. At age 14 during an outing to a "little swatch of something at Westminster Highlands Presbyterian Church camp" in Pennsylvania, Brady climbed for the first time. Back home, he joined Climb North and The Climbing Wall, both Pittsburgh gyms. It was, recalls Brady, the "standard gym story: I didn't climb outside much, but my first day sport climbing at the New River Gorge I onsighted a 5.12b [Ministry at Kaymoor]."
Brady has long been an East Coast fixture. Highlights include the second ascent of Mango Tango (5.14a) at the New 10 years after Scott Franklin's first ascent; the first ascent of Still Life (5.14b) at the New; a second-place finish for the Professional Climbing Association's 2000 season; and the late-90s FA of The Allusionist, probably, says Brady, "the most repeated and misspelled V7" at Coopers Rock. Brady has long been driven by first ascents, particularly on boulders—"Especially if it's a little spicy—there's something satisfying about pushing past your fear and topping out the FA of a kingline." Some classic Brady FAs in that vein include: Golden Bough (V11) Breakneck Rocks, Southwestern Pennsylvania (SWPA); The Big Heist (V11), The Vault, SWPA; and Bradiation (V9/10), HP40.
These days, he boulders closer to home on the myriad sandstone boulders of SWPA, at areas like Coll's Cove, Casparis, The Vault, and a handful of secret spots. He also oversees the Southwestern Pennsylvania Climbers Coalition (SWPACC). SWPACC's most recent project has been to coordinate with the PA State Game Commission to re-equip dozens of routes at Lost Crag, which is seeing a revival thanks to the SWPACC, local climbers, and governing land managers.
Brady is also an archival researcher in multiple languages (French, Russian, Ukrainian, Slovak, German, Greek, Rusyn, and Polish), semiprofessional storyteller, writer, comedian (with some standup experience), American Ninja Warrior competitor, musician (banjo, fiddle, piano, and voice), and an astonishingly good dancer on roller skates. As a regular contributor to the now-defunct Deadpoint Magazine, Brady skirted "that fine line between well-intentioned humorous provocation and irritating pro climbers enough to nearly shut the magazine down"—for instance, his mock interview with Tommy Caldwell's severed index finger, with the premise that while Caldwell had gone on to achieve great things, the finger had been forgotten. (Recalls Brady, "I asked Tommy if it was OK, and he said sure, but I never quite knew how he felt. A couple months ago, Tommy rolled through Pittsburgh on a book tour and I asked him if he remembered that interview. [His] answer: 'It would be hard to forget.'")
One of Brady's latest projects is a dynamic V13 highball on a house-sized boulder high on an SWPA ridgetop. This ultimate traversing project is long enough that it's tough to pad, with a few terrible landing spots, requiring both a solid head and wicked power-endurance. Brady is close to ticking the problem, and has been training like a fiend both outdoors and at Ascend Pittsburgh to make sure it happens. As he puts it, "My wife has described me as a bit manic—when I get obsessed with my pursuits, I dive in." 
Q & A
How long have you been at the University of Pittsburgh?
I've been there either as a student [he holds a PhD from the school], staff, or faculty since 2000, and teaching since 2009. I work full-time in our Teaching Center where one of my roles is to teach a graduate seminar in pedagogy, and I also teach as "part-time faculty" in several departments: Slavic Languages and Literatures/Religious Studies/History. I'm also an adjunct prof at Byzantine Catholic Seminary where I teach church history.
Do you take your kids climbing?
My wife works weekends as a nurse, so pretty much every weekend I've got them. Since there's four of them and they're close in age, they're good about entertaining each other, which means I get a lot of climbing in. The flip side is they're kind of take-it-or-leave-it with climbing. They like swinging on ropes and swimming in the river. I should probably find a better way to get them psyched on climbing.
What might people not know about the bouldering in SWPA?
There's confusion about the distinction between State Gamelands, State Parks, and State Forests. We have climbing on all three, and people don't always understand the variations in [climbing] policy. As climbers, it's our responsibility to be aware of the prerogatives of landowners and stakeholders, so that we can interface respectfully with them.
5 things you didn't know about Joel Brady
He teaches a class called "Vampire: Blood and Empire," which is "consistently the class your parents are angry about you wasting their tuition money on."
He reached the American Ninja Warrior Vegas finals, competing as "The Vampire Professor," aka #vampireninja.
He regularly performs live storytelling for The Moth (themoth.org).
A line he once wrote in an article—"I've almost climbed stuff close to that hard, like, a bunch of times"—found its way onto T-shirts still worn today "by some random dudes in California."
He claims that "Both my bravery and humility are renowned."