A Climber We Lost: Antonis Sykaris
Each January we post a farewell tribute to those members of our community lost in the year just past. Some of the people you may have heard of, some not. All are part of our community and contributed to climbing.
---
Join Climbing
Create a personalized feed and bookmark your favorites.
Join Climbing
Create a personalized feed and bookmark your favorites.
Join for free
Heading out the door? Read this article on the new Outside+ app available now on iOS devices for members! Download the app.
You can read the full tribute to Climbers We Lost in 2022 here.
Antonis Sykaris, 60, April 22
Antonis Sykaris didn't begin climbing at an early age. It wasn't until the Greek was 28 years old that he trekked to the summit of his first mountain, Parnitha, a 4,636-foot crag north of Athens. In the 32 years since, however, the Greek mountaineer wasted no time. He embarked on nearly 70 mountaineering expeditions across the globe, and managed to climb six of the world's 8,000-meter peaks, more than any other Greek climber in history. He also led a dozen major expeditions on 6,000, 7,000, and 8,000-meter summits, beginning with Nepal's Pumori (7,161m/23,495ft) in 1996.
Sykaris, 60, was born in Egaleo, Athens, Greece, on May 13, 1962. He attended school in Egaleo and spent the rest of his life in the same neighborhood. As an adult, Sykaris founded an eponymous chain of electrical appliance stores (SYKARIS), which eventually expanded to 28 locations around Athens and employed over 400 staff.
After he fell in love with the mountains while hiking in the Parnithas, Sykaris immediately set his sights on the big ranges, said his wife, Kalliopi Koni. "From the first day that he started climbing, he was dreaming of climbing the 14 peaks above 8,000 [meters]," she said. 
The same year, Sykaris went to climb in the Russian Caucasus, and returned hooked on mountaineering, immediately setting a goal to tackle a different Greek summit every weekend. He soon began climbing throughout Europe, in the Alps, and further afield. He was also an avid cyclist and runner, with 15 marathons and a number of cycling races under his belt. 
Throughout the next three decades, however, Sykaris kept his sights on tackling the 14 8,000ers. It was a goal he doggedly pursued until the day he died—on Dhaulagiri (8,167m) on Tuesday, April 12, 2022. After Everest (8,848m), Kangchenjunga (8,586m), Manaslu (8,163m), Lhotse (8,516m), and Annapurna (8,091m), the mountain was his sixth 8,000er, and he had made three previous attempts on it in 1998, 2018, and 2021.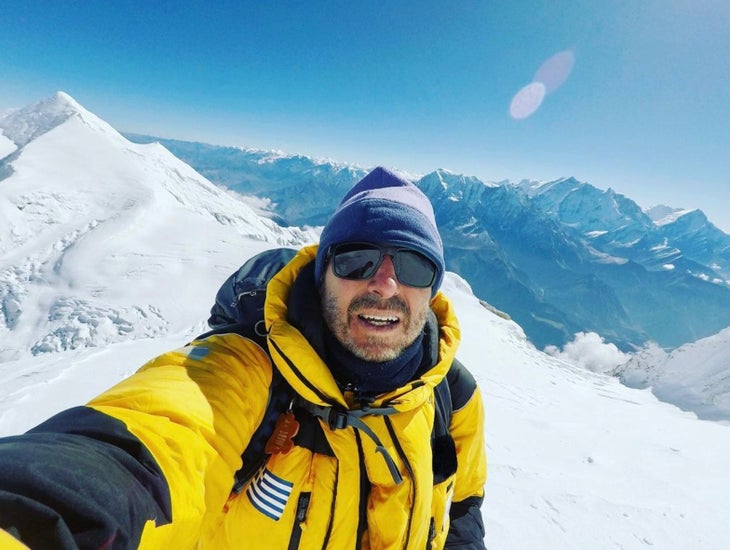 Sykaris, 60, collapsed half a day after summiting the peak, while descending to Camp III around 7,400 meters (24,280ft) with longtime friend and climbing partner Dawa Sherpa. The pair were alone on the upper section of the mountain. 
Sykaris had declined an offer from Seven Summits Treks team leader Mingma G. to go for the summit the previous Thursday, stating that he was not sufficiently acclimatized. However, with a good weather window set to roll in Monday, Sykaris and Dawa made a long push from Base Camp to Camp III over the weekend, ultimately summiting on Monday, at 12:40 p.m. local time. He passed 15 hours later, at approximately 4:00 a.m., though he managed to send his family a message from the top before falling ill.
"The official medical report that was sent to us [indicated] 'high altitude sickness,'" said Kalliopi. "We know no more than this … When he passed away, he was with Dawa until the end." Dawa was ultimately assisted down the mountain by a party from SST. 
Kalliopi said that in addition to climbing at the 8,000ers, in recent years Sykaris enjoyed climbing in the Alps, and had another goal to summit all 84 peaks over 4,000 meters (13,100ft) in Europe. At the time of his death, he had summited 63 peaks in the Alps over 4,000 meters, as well as 50 peaks over 3000 meters (9,842ft), and 29 peaks over 2,000 meters (6,560ft).
His wife said that, ironically, her husband's favorite climbing accomplishment wasn't actually a victory at all, but a failed 1992 attempt on Kongur Tagh (7,649m/25,095ft) in the Pamirs. Though ultimately Sykaris and his team were unsuccessful, "he was very proud that [they] managed to stay for a couple of days above 7,000 meters without oxygen," Kalliopi said. She added that in recent years, however, Sykaris always used supplemental oxygen anytime he climbed over 7,000 meters, including on Dhaulagiri.
"My Antonis was a great man, a wonderful husband," Kalliopi said. She spoke of his boundless optimism, and good will towards others. "He always [seemed] to see in people only good things and good thoughts." 
Though he was proud of his status as Greece's most accomplished high-altitude mountaineer, she said that Sykaris wasn't particularly concerned with record-setting, and that though he was goal-oriented, he set these goals mostly for his own personal fulfillment. Kalliopi indicated that Sykaris simply loved being outside and in the mountains, whether an 8,000-meter peak in the Himalaya or a small summit in his backyard. "He was in love with the beauty of the mountains everywhere, and with nature," she said. "Almost every weekend he was in the mountains."
Sykaris saw his climbing as a font of inspiration both for himself and others, as well. He believed, "very much in people and [the] strength that we all [have] inside of us," Kalliopi said. Sykaris was a regular TedX speaker, and also gave motivational speeches at schools and businesses. "He was an honest, funny person, and spent [much of his life] trying to show people the beauty and power of the mountains."
Kalliopi said that although in his homeland of Greece Antonis was wildly popular and well-loved, he was above all else a dedicated family man. "My Antonis was a very popular and inspirational man in Greece, but he was very [committed] as a father and husband. He believed very much in the power of family and we [were married] for 36 years."
"Many of us have known Antonio for years," wrote mountaineer Chris Warner when ExplorersWeb reported Sykaris' death. "Our memories of Antonio are of a gracious, generous and happy person. Yes, he had the drive of an 8,000-meter climber and clearly pushed super hard on Dhaulagiri, but it was the acts of kindness and friendship that defined him as a climber. Quick to laugh, always smiling, Antonio inspired us all to enjoy every step of the journey. Our prayers are with his family—boy did he 'brag' about his wife and kids. He was a proud papa and grandfather."
In addition to Kalliopi, Sykaris is survived by his son, John, daughter, Violet, and two grandchildren, Irida and Orpheus. The latter, his grandson, was born five months after Antonis passed.
—Owen Clarke
You can read the full tribute to Climbers We Lost in 2022 here.