A Climber We Lost: Chason Russell, June 17
Each January we post a farewell tribute to those members of our community lost in the year just past. Some of the people you may have heard of, some not. All are part of our community and contributed to climbing.
Heading out the door? Read this article on the new Outside+ app available now on iOS devices for members! Download the app.
You can read the full tribute to Climbers We Lost in 2021 here.
Chason Russell, 41, June 17 
Chason Russell—with Brian O'Neill, T.R. Youngstrom, Lance McDonald, and James Harvey—claimed the first descent of Rolling Mountain in Colorado's San Juan Range: 2,500 feet of absolute no-fall skiing with technical route finding and a seven-hour approach. He was 15. A sophomore at Telluride High. I'd never heard of the kid, and, in my astonishment, I wandered around Telluride until I found him on the town bus just to shake his hand. He was sheepish. 
"Oh, yeah, that was a long day," he said.
That was how Chason lived his life, undertaking massive adventures while keeping a low-key attitude.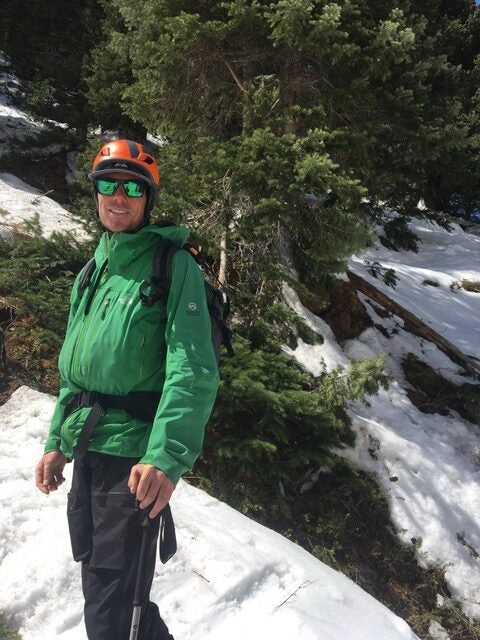 "Chase Dawg" never stopped. He spent months on the road at a time, climbing, skiing, and kayaking across the continents. He accomplished more in a single trip than most aspiring adventurers would hope for in a decade. In 2010 or 2011, Chason and Stan Pritchard drove from Silverton, Colorado, to Haines, Alaska. They'd drive a day, ski a day, and drive a day, picking off couloirs and unnamed peaks from the Tetons through Canada. 
Stan says. "We packed four days of driving into three because we stopped to ski so much." Upon arrival in Haines they met Joe Epler, Stephen Eginore, Chris Trimble, and Will Wacker and flew to a glacier for two weeks of exploratory ski adventures. One summit—which they named Project A—involved a 12-hour ascent and one of the most memorable descents of their lives. Was it a first descent?  
"Probably," says Stan Pritchard, "but that was never the real point. I can't even remember the exact year. We were just on the road. That was Chason."  
Of a trip with Chason and Keith Bosscher to ski the mountains of Mongolia, Jordan White recalled, "We spent days just traveling to the area, long bumpy flights and endless Russian van rides, talking about life, the next big adventure…. We skied a lot of things that trip, but the East Face of Eagle Peak really stands out. It wasn't the biggest peak, or the steepest line, it was the combination of perfect snow, a ridiculous view into China, and a great day out in the mountains with my friend."  
When asked if it was a first descent, he gave me the same answer, "Probably. Who knows? That wasn't really the point." As to what year it happened, he said, "Umm, I think 2017? I'll have to get back to you."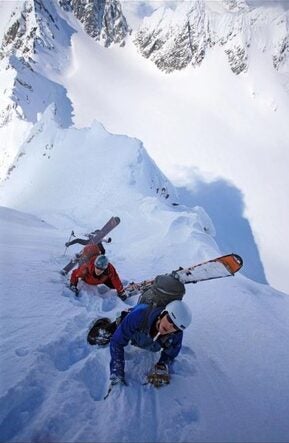 Chason was also an accomplished rock climber. He always referred to himself as a "5.9 climber," although to anyone out cragging with him it was clear he meant in the 1970s sense of the term: Chason was safe and solid on climbs far harder than 5.9, daring as hell above gear, and climbed many classics in Yosemite, the Needles, and Red Rocks. On a multi-sport trip to Mexico, while waiting for surf to come up, Chason and Stan Prichard tackled a sea stack in the state of Oaxaca. There were no signs of previous ascents. "It was pretty chossy," said Stan. 
Chason skied, kayaked, and climbed in the U.S., Canada, Mexico, Columbia, Peru, Ecuador, Argentina, Chile, Costa Rica, India, Nepal, Italy, and Mongolia. Stan says, "It all blends together. What I'm left with is gratitude for the time I spent with my friend and a huge hole left behind by his loss. It's not every day that you find a partner who shares your drive, ideas, motivation, and style. It's something that you grow together over a lifetime." 
Chason was also a talented teacher and guide, and a volunteer for Mountain Rescue Aspen; he was a big mountain ski coach in Telluride and Aspen; he worked for the Telluride Academy; and he worked for a family in Aspen, leading them on adventures all over the world. His ability to connect with young people and teach them the stoke lives on in the towns he called home. The Telluride Academy, for which he led mountaineering, kayaking and other trips, posted this in a remembrance: "His legacy will carry forth every time those now adults scale a rock wall, summit a peak, paddle a river and/or sleep under the stars."
Barely more than a week before he passed away in a kayaking accident on the Crystal River, near Aspen, on June 17, Chason married his longtime friend and the love of his life, Jessica Lockwood. He is also survived by his mother and father, Sally and Jim Russell, and his brother Garrett, as well as all the people he touched along the way.
I am one of those people. For me, the measure of a person is not "tallied" by their list of accomplishments but rather the style in which they lived. Chason Russell was the most competent, kind, humble, and resilient badass that I've ever met. He'll live on in our powder days, and our river trips, at our trailheads and our crags. On the longest section of the longest slog of the sickest day to the coolest spot. In our hearts we'll hear Chase Dawg ask us, "What's next?!"
The journey continues.
Please consider contributing to the Chason P. Russell Outdoor Education Scholarship Fund, which aims to provide greater opportunity for families and individuals to carve out a sustainable livelihood in mountain communities.
—Josh Borof
You can read the full tribute to Climbers We Lost in 2021 here.