A Climber We Lost: Kirt Cozzens
Each January we post a farewell tribute to those members of our community lost in the year just past. Some of the people you may have heard of, some not. All are part of our community and contributed to climbing.
---
Join Climbing
Create a personalized feed and bookmark your favorites.
Join Climbing
Create a personalized feed and bookmark your favorites.
Join for free
You can read the full tribute to Climbers We Lost in 2022 here.
Kirt Cozzens, 59, January 1
Kirt Dee Cozzens was born March 25, 1962, in Provo, Utah. He was the oldest son born to R. Dee Cozzens, Jr., and Julaine Johnson Cozzens. The family soon moved to Billings, MT, where they would welcome Kirt's brothers—Chris, Todd, and Tyler—into the family. From Billings, the family moved to Lovell, WY, where these four little boys would soon become big brothers to their little sister, Tiffany. Kirt remained living in the Powell/Cody area until January 1, 2022, when he died from pulmonary edema caused by kidney failure.
Kirt began climbing with the Boy Scouts around 1976. These young gents were mostly into rappelling, and it didn't take him long to figure out that somebody had to scramble to the top to get the ropes set up. Young Kirt would enthusiastically volunteer. It was during this time that the embers for climbing began to smolder in Kirt's heart. Kirt and his lifelong friend, Monte Madsen, began formal rock climbing and met Mark Defourneaux, a seasoned climber who lived in Cody. Defourneaux helped advance the pair's climbing, and the trio climbed together in the local area, Devils Tower, and Vedauwoo.
Kirt graduated from Cody High School in 1980. Upon graduating, he now had the freedom to pursue climbing on a higher level. He had a huge influence on his brother, Todd, and his best friend, Monte. Together, they explored and pioneered many climbs throughout Northern Wyoming. Kirt was always larger and bolder than life and became the driving force of the climbing community in Northwest Wyoming.
Kirt and Monte spent a tremendous amount of time bouldering and establishing trad routes in the Shoshone Canyon, just west of Cody, WY. The two introduced "sport climbing" to Cody by bolting Seam Dream (5.11a) and other Bridge Band routes. Kirt's younger brother, Todd, started tagging along in 1979 when Todd was approaching his 14th birthday. These were the days when sticky-rubber shoes did not exist, and spring-loaded cams were just being invented. Kirt believed that if you had a pair of Chouinard Canyons, affectionately dubbed "Blue Suede Shoes," then you had the best climbing shoes ever made.
Todd recalls the tales of Kirt and Monte's "epic road trips" to the Black Hills, Devils Tower, the Tetons, and beyond and he couldn't wait to become part of the story. Before Todd was able to legally drive, Kirt had "drug him up" the Bastille in Eldorado Canyon, multiple spires in the Black Hills, the Walt Bailey Memorial on Devils Tower, and ultimately introduced Todd to mountaineering. Kirt knew several "famous" climbers and introduced Todd to many of them before he graduated from high school.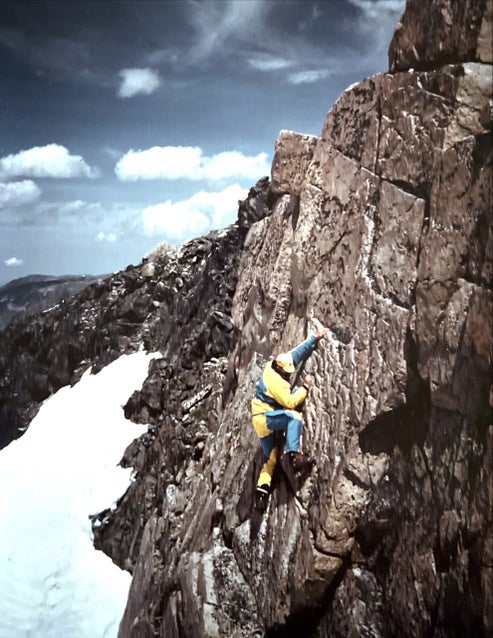 Kirt was instrumental in the early development of climbing the frozen waterfalls in the Southfork of the Shoshone River. Much of his spare time was spent dancing with waterfalls that would later become known as some of the best ice climbs in North America. He, along with Madsen, explored and established first ascents including Bozo's Revenge (WI 3+) and Miami Ice (WI 4+). Kirt wrote the first guidebook of the climbs in this area. During his climbing years, Kirt had the privilege to climb with legends including Todd Skinner, Paul Piana, Mark Twight, Mark Wilford, Malcolm Daly, Fred Beckey, Jack Tackle, and many others that he revered as great climbers and great friends.
In January of 1985 Kirt was involved in a plane crash deep in the wilderness above his home in Cody. This near-death experience changed Kirt's life and dampened the hunger he had for risk taking. He continued to provide the local climbers with inspiration for another handful of years through his retail store in Cody, Alpine Style. Kirt always had the very best in climbing, biking, and ski gear.
Kirt was always in an adventurous mindset. He often stated to Monte, "We should just stick our nose in and go for it!" His love for adventure never ceased. In 1995, Kirt met his wife, Janet, and her daughter, Chelsea. In 2001, Kirt would have his first son, Brinson Dee. In 2002, his second son, Cache Moran was born. Kirt would continue to live his adventurous life through hiking and backpacking trips. He and his wife and kids spent great amounts of time hiking in the Beartooth and Bighorn Mountains. One of Kirt and Janet's most memorable trips was a week-long backpacking trip through the Wind River Range.
Kirt's legacy lives on in the rock around the Cody area and the ice in the Southfork Valley, but mostly it lives on in the family and friends he left behind. He is greatly missed.
—Janet Cozzens
You can read the full tribute to Climbers We Lost in 2022 here.