A Climber We Lost, Mason Stansfield, May 3
Friends and family all seem to have a Mason story, and all laugh while telling them. But beyond the laughs, those close to him remember his kindness. 
Heading out the door? Read this article on the new Outside+ app available now on iOS devices for members! Download the app.
Mason Stansfield
28, May 3
That Mason Stansfield became a rock climber with a love of high places surprised none of his family members: He was always scheming up wild stunts. At age 8, Mason roped his father, Jeff Stansfield, into helping him set up his trampoline so that he could launch into a 4-by-8-foot leaf-filled utility trailer on the other side of a tall fence. In high school, he would careen down hills in shopping carts or juggle flaming objects, "determined to be the next generation of 'Jackass,'" his sister, Erica Rose Stansfield, said.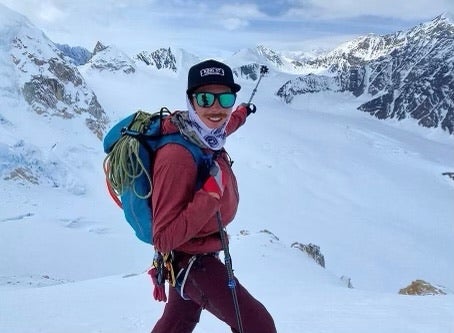 "He just came out adventurous," Jeff said.
As an adult, Mason pursued a career in guiding, allowing him to share his stoke with climber clients from Colorado to Alaska. 
Stansfield, 28, died on May 3, after a fall into a crevasse on the Eldridge Glacier, in Denali National Park, Alaska. He was on a ski expedition with his girlfriend, Tessa Lightfoot, and they were skinning up a slope on easy terrain, unroped, when he fell.
Friends and family all seem to have a Mason story, and all laugh while telling them. But beyond the laughs, those close to him remember his kindness. 
"Mason genuinely cared about any person he met and made them feel like they were the most important person in the world," Erica Rose said. "No matter what … he was there to listen and be there with whoever he was interacting with."
Stansfield grew up in Utah, before moving to California with his family when he was 10 years old. There he took lessons in surfing—something he had always wanted to try—and his instructor also introduced him to rock climbing. Seeing Mason's face light up whenever he climbed, his father even built a small climbing wall in their backyard. "It's still there and the handholds are still on it," Jeff said. 
In high school, Mason ventured outdoors more, climbing in Malibu Creek and Point Mugu. When he moved to Colorado to study evolutionary biology at UC Boulder, he started down the guiding path. He moved to Ouray, Colorado, in 2017, and worked for San Juan Mountain Guides. Quick to make friends, Mason soon became part of the fabric of the small town.
Nate Disser, co-owner of San Juan Mountain Guides, told the Anchorage Daily News last May that Mason had "become really reliable, well rounded, well respected" as a guide.
"As he got a little bit older, he just became a bit more experienced—he was kind of coming into his own," Disser said in the interview. "He'd really developed his skill set in a well-rounded and future-oriented way."
In 2018, Stansfield began working for the guiding company Mountain Trip. He guided at least three trips to Denali, and summitted twice.
At only 28, Stansfield was a consummate all-arounder. He was an AMGA rock guide, a skilled backcountry skier, and a gifted ice and alpine climber. He had climbed dozens of classic Colorado ice routes, from Bridalveil Falls to Ames Ice Hose. According to his close friend Andrew Plagens, one morning Stansfield even onsight soloed Lower Cascade Falls, the obvious ephemeral and rarely-in line above the town of Ouray.
Last summer, Plagens drove down to the Sierras to meet Stansfield, who had convinced him to do the Evolution Traverse even though it meant missing some work. Stansfield had tried the traverse several years before, solo, but had bailed off the top of Mount Darwin. 
Stansfield and Plagens succeeded, taking one day to approach, two for the technical traverse, and a second day to hike out. "That was the last big climb we did together," Plagens said. "I'm really glad I bailed on the Tetons to go do that with him."
As much as Stansfield traveled—whether to Alaska for guiding, around the American West for personal climbing, or down to Mexico for a last-minute sailing trip with his father—he had made a wonderful home and community for himself in the San Juans. After his first year in Ouray, Stansfield bought a small cabin outside of town on Hastings Mesa, with sweeping views of the Sneffels Range. He poured his heart into work on it, adding solar panels and a back-up generator, building a shed out back. 
"When I first saw it, I was like, 'Dude, you're freaking insane for buying this place,'" Plagens said. "But he really cared about it and wanted to make it a really cool place, for himself and friends. And he did." 
Said Erica Rose, "He was just a phenomenal brother and uncle. He would take my kids climbing and on other adventures. He is very missed." 
In addition to his sister, Erica Rose, and father, Jeff, Mason Stansfield is survived by his mother, Tracy Off.