A Climber We Lost: Todd Paris, December 8
An early protagonist for Crane Mountain, Indian Lake Region, and initiator of the second Annual Southern Adirondack Rockclimbers' Festival.
Heading out the door? Read this article on the new Outside+ app available now on iOS devices for members! Download the app.
You can read the full tribute to Climbers We Lost in 2021 here.
Todd Paris
51, December 8
A quiet pillar of the Adirondacks rock-climbing scene is gone.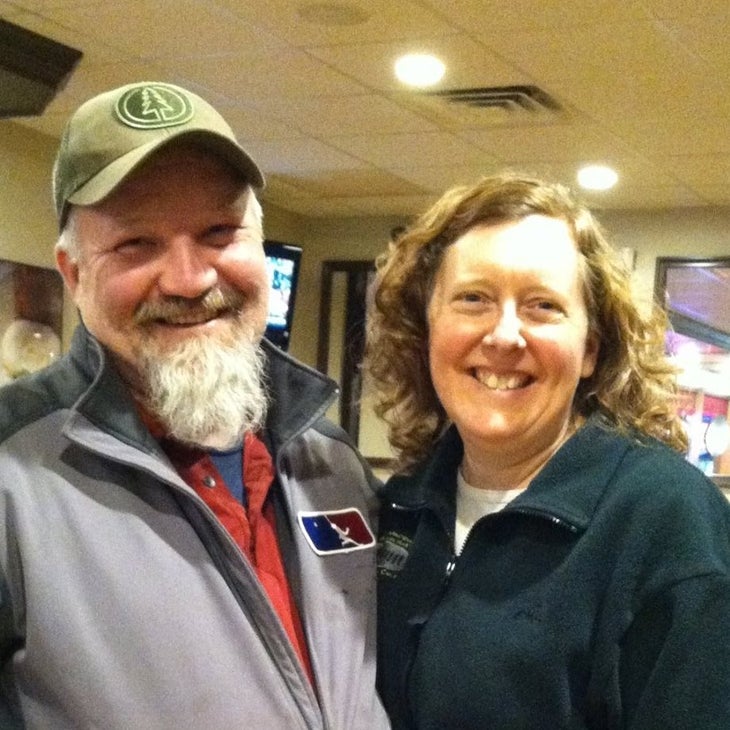 To look at Todd Paris, one wouldn't immediately think "climber." Todd was … stocky. He had short, big fingers—perfectly suited for not going in cracks—and he was a bit under average height. But the appearance concealed an immense amount of sheer strength, both physically and mentally, and a heart that could commune with any character or creed. His name is sprinkled among the pages of the guidebook Adirondack Rock, for first ascents, but he did so much more.
Jim Lawyer, guidebook author, posted, "His loss is huge, as he affected so many in the community."
Mark Meinrenken tells us, "He was a truly great mentor and advocate for the sport."
For years while still here in New York (Todd moved to Kentucky several years ago), Todd was inspired to find and develop new routes and crags. In addition to a few on or near the Nestle Wall at Chapel Pond, in the Keene Valley, he discovered the cliff near exit 29 known now as the Little Johnson Wall, and made the long trek to Hayes Mountain, Central Adirondacks, to put up its first ice route. He worked with Tim Trezise to transform the Pleasant Lake Quarry cliffs in the Indian Lake Region into a good locale for group climbing instruction. Todd rediscovered Ensign Pond, also at Chapel Pond, where together we put up a few new ice lines, sparking renewed interest in the crag.
Todd was an early protagonist for Crane Mountain, Indian Lake Region. Initiating the second Annual Southern Adirondack Rockclimbers' Festival, Todd spent weeks doing trail work, buffing established lines, cleaning projects, and marking out bouldering options. He belayed for the last-minute sends of Parallel Passage and I Am Legion, as well as sending H1N1 himself. Even after the festival, Todd continued exploring, unearthing features on a trailside cliff that would become the TeePee Wall. There he sent the crack line Peney for Your Freedom (5.8+) and, after thoroughly scrubbing it, handed the reins to Tom Lane for the send of the notorious Oddy's Crack of Horror. A tad impatient, he attempted an unscrubbed Chicken Soup for the Sole in a snowstorm, in approach shoes; paying the price in a grand fall, barely escaping serious injury and sending his belayer rocketing upward.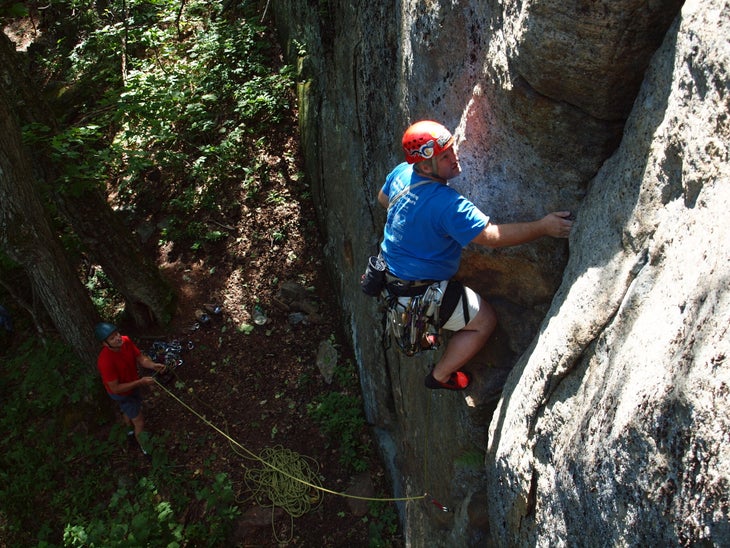 The Southern Adirondack Rockclimbers' Festival that he started was held for 10 years beginning in 2008. Together (and nearly alone) we held the first one at Shanty Cliffs; but the event would eventually attract over a hundred climbers and achieve its main objective: drawing attention to the amazing climbing in the park's southern half.
As a community leader, he could be relied upon. Jeremy Haas recalls attending a public meeting about the State Land Master Plan. Preparing to present a statement on behalf of Adirondack climbers, he called Todd to seek support.
Jeremy recalls: "He agreed to be my wingman. He was such a steady soul and could cast a commanding presence in any room. Leaving his house, however, I needed to remind him to put on a pair of pants and wear some shoes!" 
Todd was a Christian and a frequent participant in building connections between various Christian organizations and the climbing community. As a member of Climbers for Christ, he invited the group to hold its annual meeting near Poke-o-Moonshine in 2011. He was involved in outings with several area church youth groups, helping instill good climbing, camping, and canoeing skills.
Todd freely shared his love of the climbing and the outdoors with everyone, offering instruction, advice, and sage observation to beginners, climbing visitors, and anyone else who asked. Where he worked, he would inevitably coax fellow employees out for an introductory day on a cliff. Where he worshipped, he would extol climbing's virtues and make parallels between it and his faith. Where he went, the people he met would hear about the thrill and inspiration of climbing. There's an echo of his voice in the hearts of everyone who shared a rope with him.
Todd died of covid in a medical center in Winchester, Kentucky. He is survived by his wife, Kristen (Mott) Paris, and parents; his son, Gideon Paris; his daughters, Rachel (Micah) McQuillin, Jennifer Paris, Melissa Paris, and Moriah Paris; three brothers and four grandchildren.