A Climber We Lost: Urken Lendu Sherpa, January 21
Each January we post a farewell tribute to those members of our community lost in the year just past. Some of the people you may have heard of, some not. All are part of our community and contributed to climbing.
Heading out the door? Read this article on the new Outside+ app available now on iOS devices for members! Download the app.
You can read the full tribute to Climbers We Lost in 2021 here.
Urken Lendu Sherpa
27, January 21
In late 2020, Urken Lendu Sherpa made the first ascent of Luza Peak (5,726 meters), a striking pyramid of rock in Nepal, with Pemba Sharwa Sherpa and Lhakpa Gyaljen Sherpa. Urken was the epitome of the new generation of Sherpa—a climber at the vanguard of those developing new routes in the Himalaya.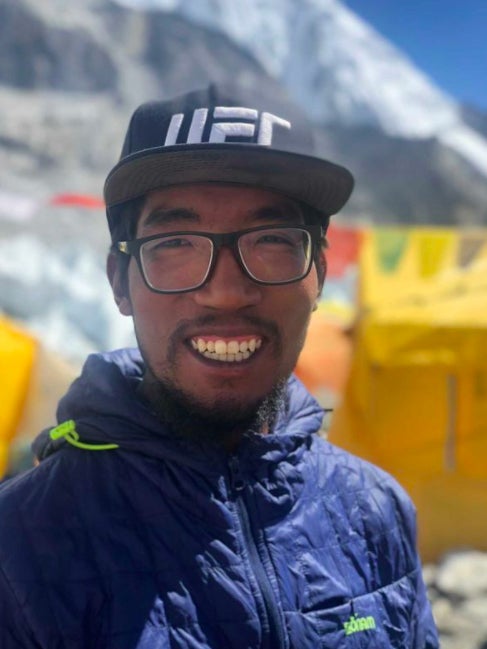 "He really represented the transition of Nepali climbing culture going from a vocational to an avocational one," Conrad Anker told Climbing. Anker was one of Urken's mentors at the Khumbu Climbing Center, founded by Anker and Jennifer Lowe-Anker. "He climbed because he wanted to climb, because he was psyched to go climbing. He was incredibly strong, and admired by many in his community," he said.
Urken died on January 21, in a fall while climbing near his home in Phortse, Nepal. 
He had grown up in Phortse, a town that has produced more Everest summitters per capita than anywhere else on Earth. He at first became a monk at Tengboche Monastery, before starting his training at the Khumbu Climbing Center, where he also helped with building and decorating the facility.
"He did a tremendous amount of painting," said Anker. "He did so much of the detail painting, and he was always the volunteer to do the scrappiest, most dangerous job—climbing up on makeshift scaffolding with an angle grinder to cut off exposed rebar or something of that nature." 
That construction savvy served Urken well as a member of  the 2019 National Geographic and Rolex Perpetual Planet Everest Expedition, when he helped install the two highest weather stations in the world. A statement from the National Geographic Society called him a devoted leader, and read: "He had an infectious, positive and can-do attitude, quickly becoming an expert in the assembly of the weather stations and working tirelessly to ensure that their emplacement was successful. Urken also led the efforts to secure the two highest weather stations to bedrock and was invaluable in the safe return of all the expedition team members." 
He reached the summit of Everest four times: three from the Nepali side, one from the Tibetan side. He also climbed Manaslu (8,163 meters) four times, Cho Oyu (8,188 meters) once, and Ama Dablam (6,812 meters) once. 
In fall 2018, Urken was a member of Hilaree Nelson and Jim Morrisson's expedition to ski the Lhotse Couloir. Preparatory to their first ski descent of the couloir, Urken was part of the rope-fixing team. He was the first person to summit Lhotse (​​8,516 meters) that season.
Following the news of Urken's death, Hilaree Nelson wrote on Instagram, "He was a brother, a son, an uncle, a friend, a mentor and an inspiration. I will never forget his howls of joy through the radio when he summited Lhotse for the first time, solo, on Sept. 29th, 2018, at the age of 25. I'll never forget returning to Camp 2 after skiing Lhotse, so exhausted, when Urken gave me a huge hug." She would "sorely miss," she wrote, "his smile, his energy and curiosity."
Urken himself wrote on Instagram: "No one taught or trained [us] but we got it……. We don't just climb for living and fulfill someone else dream, we got it on ourselves … we got that talent and we do want to go further."
Urken Lendu Sherpa is survived by his parents; a brother, Tenzing Gyalzen Sherpa, Everest Base Camp manager for the 2019 expedition; and a sister.
You can read the full tribute to Climbers We Lost in 2021 here.