Climbers Come Unclipped At Anchor, A Life-Saving Body Belay Ensues
A tiny ledge three pitches off the ground. The anchor is unclipped. Your belayer has just fallen over the edge. Now what?
---
Join Climbing
Create a personalized feed and bookmark your favorites.
Join Climbing
Create a personalized feed and bookmark your favorites.
Join for free
Note: This is part five of a 10-part story, which will be released weekly. Visit Ordinary Heroes to find the other parts as they are released.
Unless you're part of a search and rescue team, you don't head out for the day expecting to be thrust into a life-or-death situation. Heroism, like the accidents and epics that might prompt it, is something you can't plan for.
Yet because of experience and training, innate ability and fortitude, or just instinctive reactions in moments of crisis, average climbers can respond to deadly emergencies in extraordinary ways. With courage, calm, stamina, strength, and ingenuity, on a day when nobody expected anything but the simple pleasures of climbing, they end up saving a life.
What would you do in a similar situation? How would you perform? Research psychologists have determined that heroes share a few common traits: Many are open to new experiences, dependable and disciplined, extroverted, compassionate, and emotionally secure. They usually have strong feelings of morality and responsibility. In addition, according to a 2012 article in the Wall Street Journal, "Heroes tend by nature to be hopeful, believing events will turn out well. They consciously try to keep fear from hampering their pursuit of goals, and they tend to block out the possibility of injury or material loss." They sound a lot like climbers.
We combed through dozens of stories of climbers helping other climbers to find the five amazing examples reported here. Hopefully you'll never have to respond to a similar crisis. But if the proverbial shit hits the fan, it just might help to know that other climbers have been there before.
Part 5: The Ultimate Body Anchor
Roger Putnam
Keeler Needle, California
July 2011
A tiny ledge three pitches off the ground. The anchor is unclipped. Your belayer has just fallen over the edge. Now what?
The Scene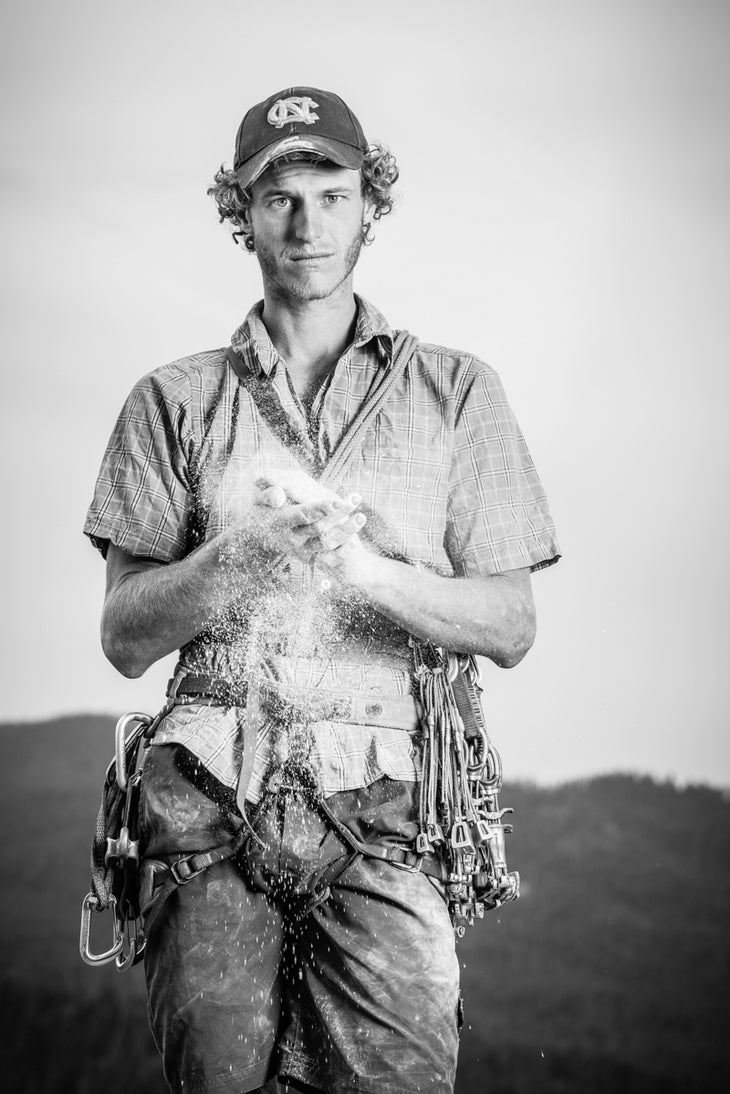 Harrison Forrester and Roger Putnam were seasonal employees in Yosemite National Park and in terrific shape. They didn't expect much problem with the Harding Route (5.10+) on the east face of Keeler Needle. They camped near the base of the 14,260-foot satellite peak of Mt. Whitney in the southern Sierra Nevada, approached pre-dawn, and expected to be up the 1,500-foot route by noon.
Forrester and Putnam, both 27 at the time, were swinging leads, and Forrester quickly dispatched the 5.10 double cracks of the third pitch. In the cramped alcove below the wide crack of the next pitch he plugged a No. 1 cam into a crack and slung a horn for an anchor. He doubled his cordelette before throwing it over the horn, and then tied a figure eight on a bight with both strands, thus making two clip-in loops. Forrester clipped his daisy chain into both loops, backed them up with the cam, and called "Off belay!" to his partner down below. However, he neglected to back up his connection to the anchor with his lead rope—the first in an intertwined series of errors that would soon lead to a near-fatal accident.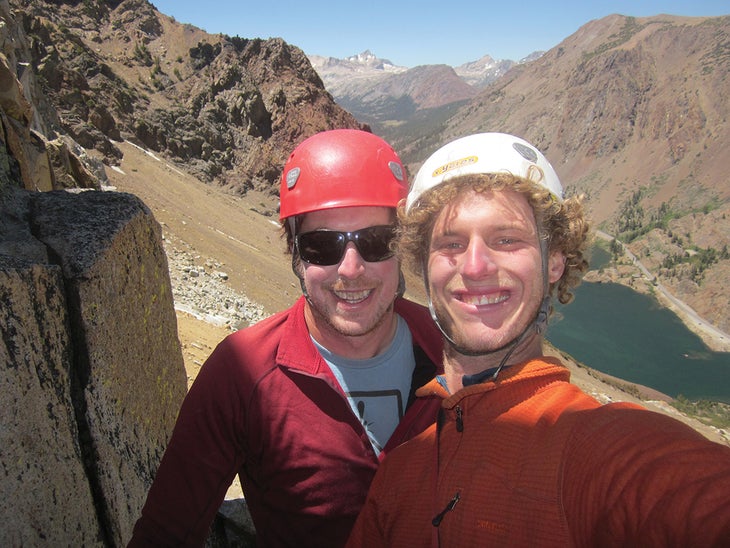 When Putnam reached the stance, he looked up at the next pitch, and both climbers commented that the offwidth didn't appear as hard as they'd expected. Putnam clipped a locking carabiner into the power point of the anchor—the two loops protruding from the figure eight knot on the cordelette—and tied in with a clove hitch. Or, at least he thought he had attached himself to the anchor. Instead, he inadvertently clipped his locker between the loops instead of through them. The only thing keeping Putnam attached to the anchor was Forrester's daisy-chain carabiner, clipped properly through the loops—that carabiner was outside of Putnam's biner, thus closing the chain. Error No. 2.
As Putnam racked for the next pitch, Forrester took their small daypack and clipped it to the figure eight loops on the cordelette with a locking carabiner. Since he had to find room for this biner next to Putnam's, he ended up clipping it in the same orientation—between the two clip-in loops instead of through them—thus inadvertently mimicking his partner's mistake. Error No. 3.
One more potentially fateful mistake remained. As Putnam prepared to set off on the next pitch, Forrester realized the lead rope was running under his daisy chain and the loops of rope he had flaked over it, and it would be difficult to feed out as Putnam led. "I need to fix this," Forrester said, as he grabbed the anchor with one hand and unclipped the daisy with the other in order to move it underneath Putnam's lead rope. "Be careful! You're not in on anything else!" Putnam cautioned. Forrester realized Putnam was right—he had forgotten to back up his anchor connection with the lead rope—so he quickly moved to reclip his daisy chain. Since the clip-in loops on the cordelette had dropped a little out of reach, he figured he might as well clip into the locker holding the backpack. But now that he had unclipped his daisy chain's carabiner from the anchor, there was nothing preventing Putnam's carabiner nor the backpack biner from simply sliding out from between the two loops. Both men were effectively unanchored. Forrester leaned back to weight the anchor and immediately fell backward off the belay ledge.
If you find that description hard to follow, here's a video explanation of the accident:
The Response
"Just like you hear," Putnam recalls, "time slowed." He remembers watching his partner fall, realizing that he was no longer clipped to the anchor, wondering if he had time to pull a sling off his harness and clip himself back in, and then deciding he didn't have time and he had to hold on.
Putnam shoved his arms down through the loops of the cordelette and tried to squeeze himself into the alcove. "I'm a tall, scrawny guy, maybe 160 pounds, and my partner is this big guy, over 6 feet and 190 or 200 pounds," he said. He braced for the impact of what he expected to be a 200-foot fall that likely would pluck him from the ledge like a hand-tied fly snatched off the surface of a stream by a fisherman's backcast. Putnam remembers thinking: "You HAVE to hold this!"
As Forrester fell, the rope whipped through his belay device as if he'd let go of a rappel—the friction possibly slowed the fall a little. He also bounced off at least one ledge, slowing his fall a little more. About 70 or 80 feet down, still a couple of hundred feet off the ground, the loops of extra rope Forrester had stacked by his waist at the belay stance snarled and jammed into his device, and he bounced to a stop.
Eighty feet overhead, Putnam's arms were wrenched against the cordelette so violently that his shoulder is still "tweaked" three years later. He was pulled down onto the ledge, shins slamming into the rock and leaving gouges that are still scarred. But he held on.
"Grab the rock! Get your weight off the rope!" he screamed down to Forrester. Coincidentally, Forrester had come to a stop by a small ledge. He stood up, wondering what the hell had gone wrong. Putnam fixed the rope at the anchor beside him, and Forrester carefully rappelled down to the next anchor. Once reunited, they continued down to the snowfield below the face and assessed Forrester's injuries: He had rope burns and a badly sprained ankle, but was otherwise unharmed. He limped out to the trailhead that day.
Afterward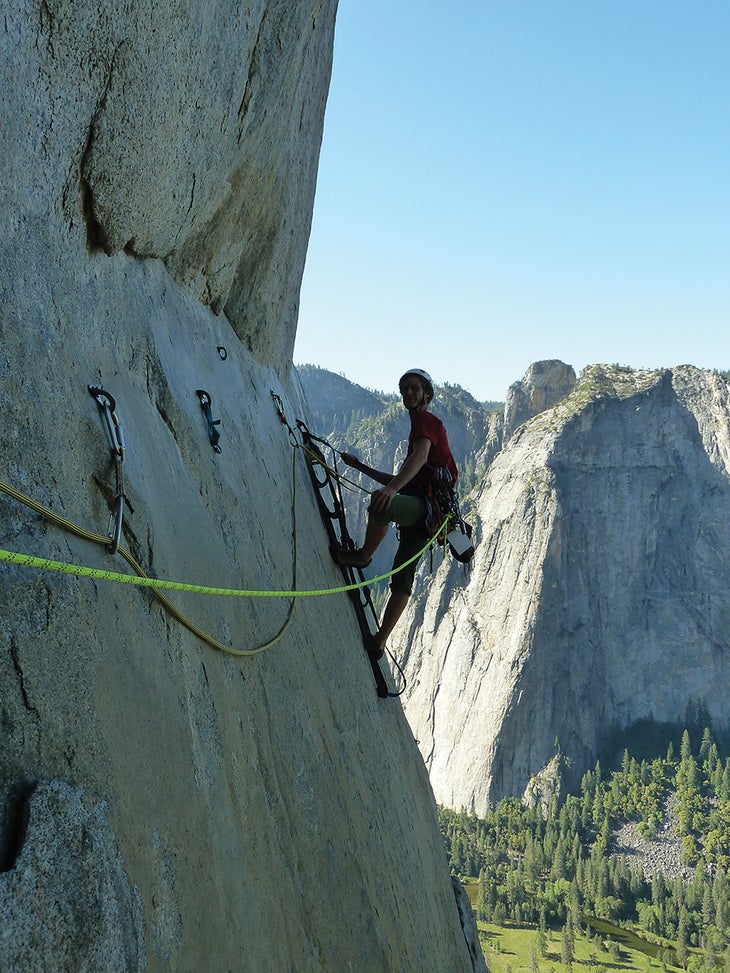 "Immediately afterward I swore off climbing, but only for a few weeks," Roger Putnam said. "But it was a wake-up call for me. I was definitely more reckless and fast in the mountains before. Now I'm a lot more careful."