Adam Ondra, Sport Climbing Superstar
The Czech wunderkind is both a top-end sport climber and boulderer, and the only person in history to have sent a proposed 5.15d climb.
Heading out the door? Read this article on the new Outside+ app available now on iOS devices for members! Download the app.
This article is part of Climbing's ongoing Who's Who biographical study of climbing's all-time greats, achievers, and, in the case of Aleister Crowley, most notorious. 
---
Adam Ondra (February 5, 1993) is a Czech climber who has received acclaim both for his prolific and hard sport ascents on rock and his competitive career on plastic. 
Ondra is often referred to as the world's strongest climber. His unrepeated route Silence in Flatanger, Norway, is the world's first (and currently only) proposed 5.15d. In addition, Ondra was both the first person to climb a route graded 5.15c (Change) and the first to flash 5.15a (Super Crackinette).
While he is most famous for his sport climbing achievements, Ondra is also an accomplished boulderer, with several V16 problems under his belt.
Early Life
Born in Brno, Czechia, Ondra was raised by climbing parents and was reportedly climbing in some capacity by the age of three. He managed to lead his first 5.10 in Rovinj, Croatia when he was only six years old. 
Ondra's rise to fame as a rock prodigy was both rapid and undeviating. By the age of 10, he had onsighted 5.13b. By 11, he onsighted 5.13c. By 12, he onsighted 5.13d. 
In 2006, when he was 13 years old, Ondra was able to redpoint 5.14d (Martin Krpan in Misja Pec, Slovenia). He was also competing in earnest in youth competitions during this time, winning the IFSC World Championships Youth B (ages 14-15) in Lead both in 2007 and 2008. In 2009, he won the Youth A (ages 16-17) Lead Championships, and also entered Adult competitions for the first time.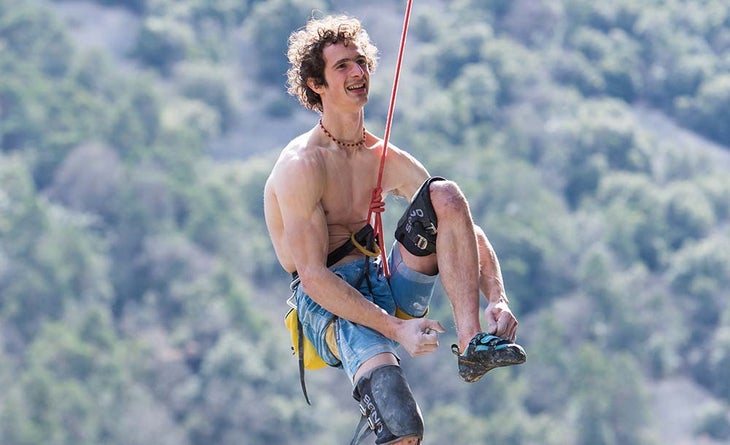 Competition Career
Ondra's first year competing in the Adult IFSC World Cup circuit, 2009, saw the 16-year-old win gold both in overall Lead and Combined, and take a silver medal in the Climbing World Championships Lead competition at the end of the season. The following year, he proved he was an all-around crusher by topping both the rankings of the Boulder World Cup and the Combined category, netting 3rd place in Lead as well. 
In 2014, Ondra made history after winning the Climbing World Championships in both Boulder and Lead, becoming the first (and currently only) person to win both disciplines in a single year.

To date, the 29-year-old has podiumed 35 times in IFSC World Cup competitions, including 15 Lead gold medals and six Boulder gold medals.
Sport Climbing in the 2020 Olympics
Ondra was one of 40 climbers to qualify for the 2020 Tokyo Olympics (postponed to 2021 due to COVID-19). The competition was held in a combined format featuring Speed, Bouldering, and Lead. 
Though he managed to set a personal best in Speed (the category considered his weakest) during the Olympic finals, Ondra struggled in the Boulder competition. He only managed to top one boulder, and could not reach a zone point on the second problem. 
Though he put up a stout performance in Lead, coming behind only Austrian Jakob Schubert, who topped the route, the aggregate scoring system saw him finish sixth overall.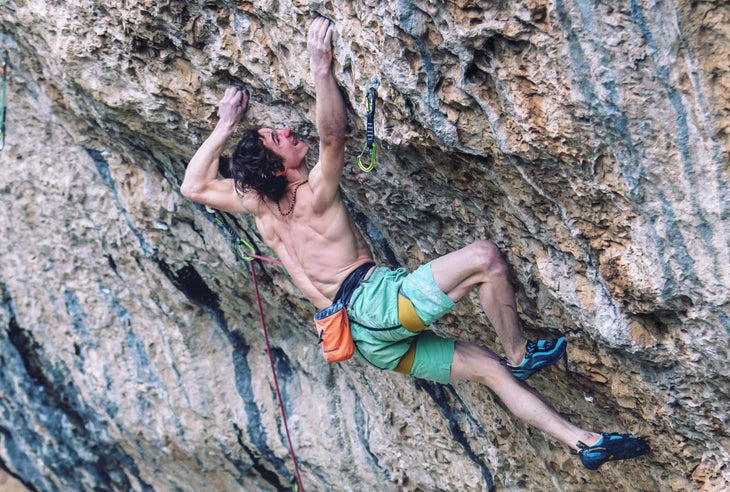 Outdoor Climbing Exploits
Despite Ondra's lengthy and successful competitive career, his accomplishments on rock are more well known. In 2012, Ondra became the first person in history to climb 5.15c, with Change in Flatanger, Norway. The following year, he tackled Chris Sharma's longtime project La Dura Dura (5.15c) and Vasil Vasil (5.15c), both first ascents. To date, only two other climbs have received grades of 5.15c (Perfecto Mundo and Bibliographie).
In 2016, he made the second ascent of Tommy Caldwell and Kevin Jorgeson's 32-pitch big wall route Dawn Wall (5.14d), in a mere eight days. In February 2018, Ondra became the first person to flash a 5.15, with Super Crackinette (5.15a) in Saint-Léger, France. 
A 2020 Rock and Ice report authored by Willis Kuelthau of 99Boulders noted that "numbers here don't lie—Adam Ondra is far and away the best sport climber in the world. He has well more than twice the ascents and FAs of the next most prolific hardman [Chris Sharma]."
The World's First 5.15d
Perhaps Ondra's most spectacular achievement to date is his September 2017 ascent of Silence, in Flatanger, Norway. The project took Ondra approximately four years of effort. He recommended a grade of 5.15d, making Silence the first route proposed at that grade in the world. 
The 150-foot route, which is almost entirely overhung, has yet to be repeated, so the grade remains unconfirmed. Famously, Ondra wore two different climbing shoes (a Miura on his left foot and a Solution on his right) to send the climb, as well as a pair of kneepads.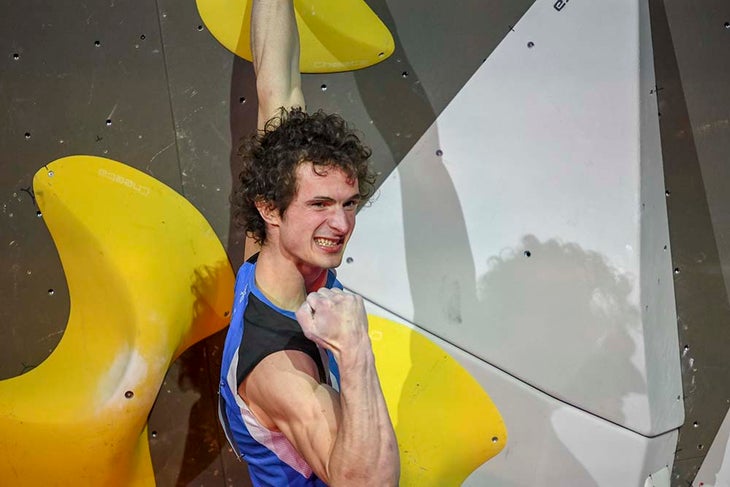 Climbing Accomplishments
Ondra's sport climbing ticklist is the longest ticklist of hard climbs in the world. He has completed more than 60 routes rated 5.15a and harder. Of the six hardest routes in the world (5.15c and 5.15d) he is the first ascensionist of four, and lone ascensionist of two. Below, we've documented a handful of his hardest or most noteworthy sport sends, but for a full ticklist, readers can visit his website. 
Sport Climbing
Change

(5.15c), Flatanger, Norway (2012)

La

Dura Dura

(5.15c), Oliana, Spain (2013)

Vasil Vasil

(5.15c), Sloup Cave, Czechia (2013)

Dawn Wall

(3,000 feet, 5.14d), Yosemite National Park, California (2016)
Silence

(5.15d proposed), Flatanger, Norway (2017)

Super Crackinette

(5.15a flash), Saint-Léger, France (2018)

Total 20 routes rated 5.15b

Total 43 routes rated 5.15a
Bouldering
Big Paw

(V15), Chironico, Switzerland (2010)

From the Dirt Grows the Flowers

(V15), Chironico, Switzerland (2010)

Monkey Wedding

(V15), Rocklands, South Africa (2011)

Pata Ledovce

(V15), Holštejn, Czechia (2011)

Practice of the Wild

(V15), Magic Wood, Switzerland (2011)
Cháron

(V15) Petrohrad, Czechia (2011)

Terranova

(V16), Holštejn, Czechia (2011)

Gioia

(V16) Varazze, Italy (2011) 

Ghost Rider

(V15), Sloup Cave, Czechia (2019)

Nunavut

(V15), Sloup Cave, Czechia (2019)

Pučmeloun

(V15), Sloup Cave, Czechia (2019)

Ledoborec

(V16) Holštejn, Czechia (2020)

Brutal Rider

(V16) Sloup Cave, Czechia (2020)
Competition Climbing
First Place, Youth B, Lead, IFSC Climbing World Championships (2007, 2008)

First Place, Youth A, Lead, IFSC Climbing World Championships (2009)

First Place, Adult, Lead, IFSC Climbing World Championships (2014, 2016, 2019)

First Place, Adult, Boulder, IFSC Climbing World Championships (2014)

First Place Lead Overall, IFSC Climbing World Cup (2009, 2015, 2019)

First Place Boulder Overall, IFSC Climbing World Cup (2010)

First Place Combined, IFSC Climbing World Cup (2009, 2010, 2015)

First Place, Rock Master Duel, (2011, 2015, 2016)

21 total medals Lead IFSC World Cup (15 gold/first place)

14 total medals Boulder IFSC World Cup (six gold/first place)