Adam Ondra's Power Secret? Drink Warm Water.
The world's best all-around climber shares his philosophy on diet and nutrition, the stuff that's powered him behind and in front of the scenes.
Photo: Dimitris Tosidis / IFSC
Heading out the door? Read this article on the new Outside+ app available now on iOS devices for members! Download the app.
I was fortunate to interview Adam Ondra about his diet and philosophy on nutrition for my new book Nutrition for Climbers: Fuel for the Send. Ondra, who climbed 5.14d at age 13, established the world's first 5.15d, made the first ever flash of a 5.15a, and has climbed over 60 5.15s, is widely considered the world's best climber of all time. In competitions, Ondra has amassed 21 gold, 10 silver and four bronze medals in World Cups. He also, in 2015, made the second ascent of The Dawn Wall (VI 5.14d) on El Capitan, widely regarded as the most difficult big wall route in the world. In short, whatever Ondra eats must be working—perhaps we can learn from him and up our games, too.
MM: Have you found that nutrition and hydration play an important role in your climbing and training?
Ondra: Yes, definitely. I do feel that the right nutrition helps me to climb harder, most notably in making the recovery much faster. So actually, when I am training, I feel that nutrition is even more important than when I am about to give a performance. Hydration: that's something that's pretty obvious—I need to drink a lot and I mostly drink just water. For Chinese medicine, I drink a lot of warm water. It is easier to digest for my constitution and I drink a lot of herbal tea and black tea, especially in the morning.
MM: What do you consider important for your nutrition?
Ondra: I feel it is mostly about the speed of recovery. What is the right nutrition? Of course, there are so many different opinions. I have experimented a lot, and what I feel most important is eating real food. I believe in Chinese medicine. It is something that helps me.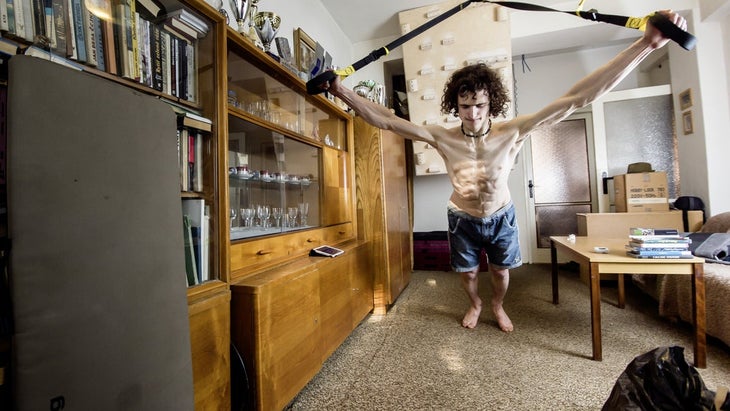 MM: What do you enjoy eating for training and competing?
Ondra: I mean, for training, it's important to eat real food, and the diet has to be complex, so, more or less eating everything, as long as it's real food. For breakfast I usually have something warm, so I usually have some oatmeal with some spices, usually cinnamon, that is easier to digest, with some sort of proteins and fat, like seeds and nuts, with maybe honey or some homemade marmalade. And if the training day is going to be hard, I increase the volume of protein by using some vegan protein powder. I use vegan protein because it is the best to digest for my stomach.
In between breakfast and lunch, and in between lunch and dinner, I usually have some really small snacks. Usually consisting of dried fruits, and maybe a little bit of nuts and seeds. Lunch, even if I'm at the crag (which is sometimes complicated), I would cook at home usually some kind of cereal or lentils, or chickpeas with some vegetables. Vegetables, especially in the wintertime, I eat vegetables that are cooked or baked. As for my constitution, it definitely makes me feel better. And for dinner I would usually have some animal protein, mostly fish, with a little bit of cereal such as quinoa or brown rice, and some vegetables again.
And if the training is very hard, right after training I would eat some sort of protein and carbohydrate, so I would have a little bit of protein powder mixed with oats and eating it as fast as possible. So that's what I do on a regular day.
MM: Do you use any supplements?
Ondra: Yes, I use BCAA [branched chain amino acids] and protein powder, nothing more. All the rest that I am trying to eat is 100% natural.
MM: Is there anything else you would like to share about nutrition and hydration? Do you have any stories about a time where you felt like it really helped? Or if you had poor nutrition and you felt a difference?
Ondra: For example, if I am not really following the instructions for Chinese medicine in winter, I definitely feel much colder. Of course, if I train super hard and I don't eat very well, I don't recover—but that's pretty logical. It's the whole complex really: if you train hard, you should eat well, you should recover well, you should sleep enough. There are all these kinds of things that help you recover faster, and eating well is one of them. Overall it is something that will help you to feel healthy. But as I said, what is eating well? That is very individual. Everybody has a different point of view. I think, looking at it from the most complex point of view with the most years of experience, and for me that's traditional Chinese medicine. Hydration is a very important part of Chinese medicine. There are many people that don't drink enough because they don't feel thirsty. I drink a lot. I feel it's most important to drink during the morning, so I always start the day with almost half a liter of warm water before I eat anything. That is a nice start of the day and all of the sudden you feel much better.
Author's note: Adam Ondra is following individualized nutrition and supplement plans based on his own health needs and preferences. If you are thinking about including any of his tips into your own climbing routine, check with your doctor before adding supplements or changing any part of your diet to make sure it is right for you. 
Adam Ondra and Tommy Caldwell Discuss the Dawn Wall and Big Wall Free Climbing