Advice: How to Live Free and Climb Hard
What it takes to live the life of a modern dirtbag
Heading out the door? Read this article on the new Outside+ app available now on iOS devices for members! Download the app.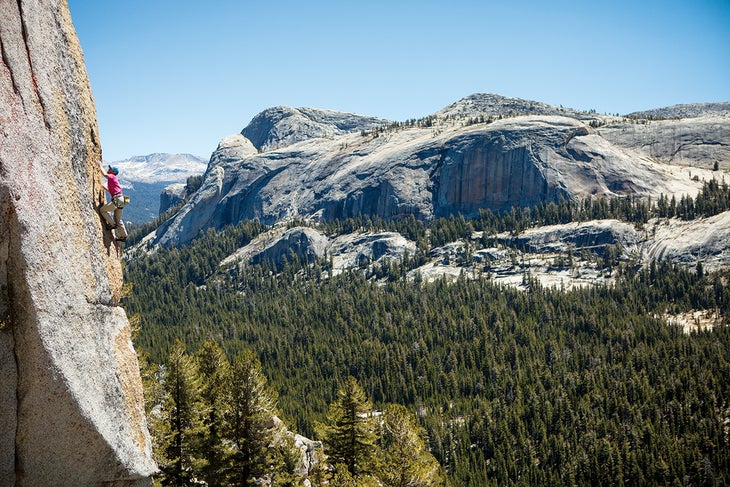 The below article was originally published in the August 2014 issue of our print edition. We're excited to announce that author James Lucas is making the move from dirtbag to desk job. (Isn't it usually the other way around?) He's taking on the role of Associate Editor here at Climbing.
For the past 13 years, I have been dirtbagging. I've lived out of a tent in Santa Cruz, in caves in Yosemite, and the back of my station wagon in Rifle. There have been brief periods of financial prosperity, times when I could afford fancy fruit smoothies without checking my balance first, but there have been more days of rubbing nickels together to make a quarter. However, the struggle pays off in miles upon miles of granite, thousands of routes, and an endless string of fun days climbing with friends.
But back to the struggle. In 2004, a half-dozen monkeys and I lived in the dirt below the Bridger Jacks. We spent our time grinding our skin away on the sandstone cracks of Indian Creek. My thin wallet and burning desire to climb wide cracks required me to consume large quantities of protein. Free protein. One afternoon, we drove to Moab and found an entire case of expired eggs in the dumpster behind the grocery store. We took them and stored them in our "refrigerator," a cardboard box in the shade of a small juniper tree. After two weeks of eight eggs a day, I managed to fight my way up Big Baby, a 5.11 offwidth at Battle of the Bulge. I dry-heaved for an hour after the ascent. The next day my friend puked. He stopped eating the eggs, but the rest of the group soldiered on. I've evolved since then.
Now the payoffs. A few years ago I tried to free climb Moonlight Buttress (5.12d) in Zion. After a friend and I failed, we took a break for a few days to sport climb. The cracks worked us. Then a professional climber I'd met there called and asked if I wanted to give Moonlight another shot. I sent the route with Brittany Griffith. Then earlier this year, I was sport climbing a few hours west of Zion when Brittany's husband Jonathan Thesenga (Black Diamond employee and former editor of Climbing) called, looking for a Moonlight partner. We freed the route as well. Meeting and climbing with those two was a wonderful opportunity that wouldn't have happened without dirtbagging. I wouldn't have had the time or the ability to climb with them. And as I write this, I'm deep in my 13th season at Yosemite. Not too bad.
How I've Stayed on the Road so Long
1. Less dreaming, more doing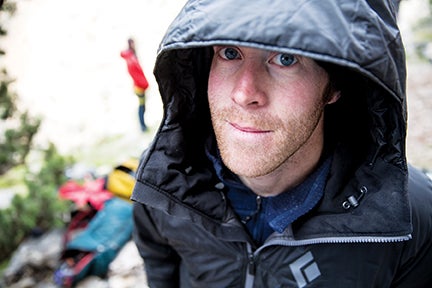 If you want to climb all the time, the best thing to do is to start doing it. Get in your car right now and drive to the crag. No car? Bike. No Bike? Walk. Being a dirtbag isn't about eating somebody else's leftovers. It's about realizing your goals. In the immortal words of heavyweight bodybuilder Ronnie Coleman, "Everybody wanna be a body builder, ain't nobody wanna lift no heavy-ass weights."
2. Eating well
We've all heard tales of the gourmet score from a Trader Joe's dumpster, but food is usually out of pocket. Vegetables, fruits, and nuts cost a bit more than an ice cream sandwich from the Yosemite Lodge, but the better, long-lasting energy will keep your body from breaking down over the course of so much climbing. Eating well is like preventive health care: Spending a bit more on good grub is saving in the long run. You are less apt to get sick, your body will be stronger, and ultimately you will climb harder.
3. Remembering My motivation
Earlier this spring, my Saturn station wagon died just outside Yosemite. I lost my wheels and my home. Werner Braun, one of the original Stonemasters and a member of Yosemite Search and Rescue, pronounced my rig dead after a few days of working on it. Having no money, no car, and no home is a legit reason to weep. But that's not why I'm out here. It motivated me to climb harder than ever. When you have nothing, you go climbing. The rock knows no difference.
4. looking good
You don't have to look or act homeless just because you don't have a home. It makes other climbers avoid you, and the authorities will look at you with more scrutiny. I shower and shave every couple of days. It makes it easier to fly under the radar. As notorious dirtbag Chongo wrote in The Quotable Chongo, "If you wash your hands frequently, then you get more babes…and you live longer (a fact)… which means that you can get even more babes."
5. Knowing karma is real
Earlier this year, I pulled 600 feet of fixed line off El Capitan, and I replaced a number of the fixed lines to Heart Ledges. The physical toiling worked me, but Yosemite climbing ranger Ben Doyle offered to belay me on my project halfway up El Cap as a result. Being a crag steward fully paid off. Replace webbing, switch out bad biners, and clean up trash. Good stuff happens to good people.