All the Way Down and Out: Lessons From the Colorado Alpine
---
Join Climbing
Create a personalized feed and bookmark your favorites.
Join Climbing
Create a personalized feed and bookmark your favorites.
Join for free
Heading out the door? Read this article on the new Outside+ app available now on iOS devices for members! Download the app.
My legs were falling asleep. Shivering and soaked, Dal and I hung in our harnesses under a granite roof, relatively sheltered from the screaming tempest. Water cascaded off the lip inches behind us, 700 feet off the deck on the northeast face of the Spearhead in Rocky Mountain National Park. We were treading water in the middle of the ocean with no life raft, no exit plan. Our mellow day out climbing had become serious.
The booming thunder and one-hundred-million raindrops splashing on the granite face weren't loud enough to drown out the nagging voice of retrospect. Why did you only bring a single 60-meter rope to the Colorado alpine? Why didn't we descend an hour-and-a-half ago when the drizzle began and we were 300 feet closer to the ground? Why did you hit snooze four times in the bivvy cave this morning?
We heard muffled shouts from the summit. Our friend Mat had made it to the top unscathed. He'd soloed the North Ridge, a seven-pitch 5.6, while Dal and I roped up for Sike's Syckle, a seven-pitch 5.10a. The Syckle was an easy route for Dal and I—only one pitch of 5.10a climbing—which we pursued despite the forecast, figuring we'd be walking off the top long before the thunderstorms began. And we would have, had the rain started at 11 a.m. as predicted instead of 9 a.m., or had we risen the first time the alarm went off.
So there we were, cold, wet, and feeling helpless as we waited out the unrelenting weather. We knew it would be stupid to continue climbing. But the thought of being exposed on the face for God-knows-how-many single rope rappels? There were no good options.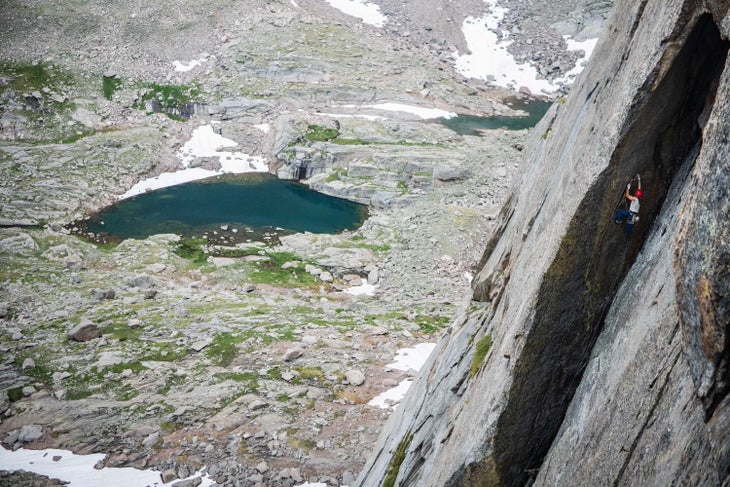 Dal's restlessness welled to an unstoppable force. "Fuck this place, man. Give me the rack. Let's get to the top."
I fed off his energy. There were two pitches left before the summit. A 5.10a chimney pitch—the weakness in the roof—and a 5.7 pitch. The 5.7 was R-rated unprotectable slab, but it was 5.7. I didn't think much of it.
Dal pulled himself into the wall and yanked like an animal. He plugged a cam in the roof, put his back against the Spearhead and his feet on the opposing chimney wall, clipped a fixed nut, shimmied and corkscrewed around, then threw to a horn above the roof. He kicked his legs into space, fighting for dear life, pulling then pressing, mantling his way to freedom.
The crux. He'd thrown it down like nothing. Dal went out of sight, then I struggled to feed rope as he ran up another 50 feet. Watching his mammoth effort lit a fire inside me.
"Off belay!" I heard from above.
My turn.
I fist jammed the roof crack, pulled on the fixed nut, and threw around for the horn. Seven-hundred feet of air and fog breathed below my feet. I marveled at how good these moves would feel on a bluebird day.
A ramp lead up and left above the roof. I ran up it and joined Dal, belaying off a horn. The rain eased slightly, but water still ran like a river down the face. We were 100 feet from the summit. My mouth was salivating.
"Are you OK with this pitch?" Dal asked as I unclipped cams from his harness.
I looked at him. "It's 5.7."
"Yeah, man. R-rated 5.7." It was the first time either of us had acknowledged, out loud, that this lead would be dangerous. If I fell, I would get hurt.
"It's 5.7," I repeated, dripping with hubris. "I won't fall. We're getting the hell out of here."
We bumped fists.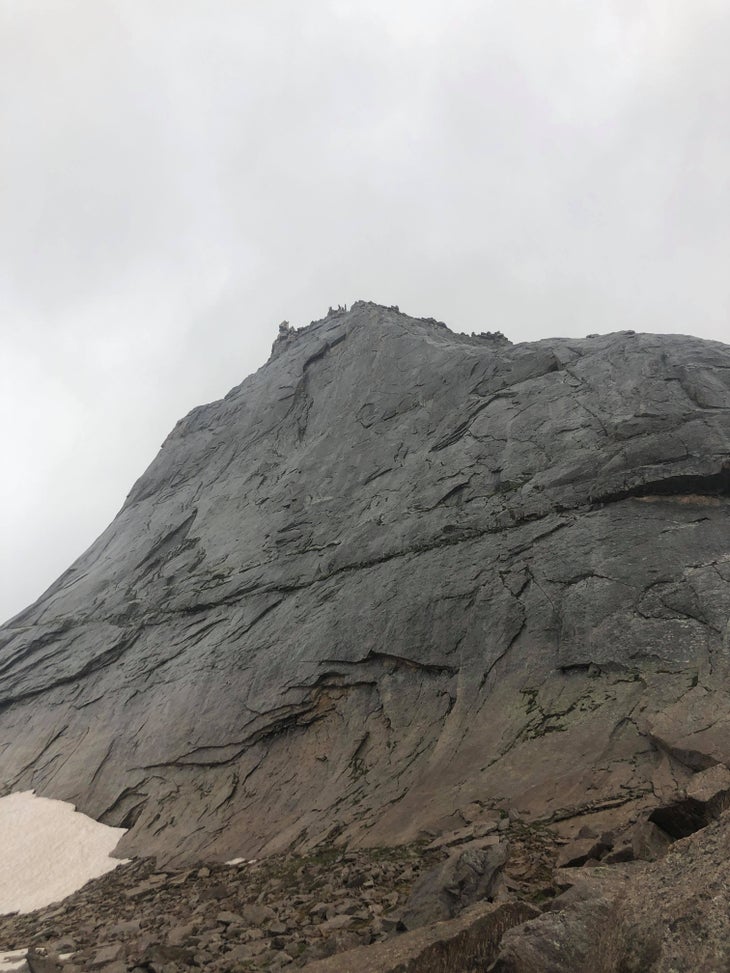 The ramp continued for 25 feet then reached an apex and ledged out. I clipped a bolt from the ledge—one of two bolts on the entire 800-foot route. Above me was 30 feet of low angle slab-turned-active-waterfall. There were no cracks, fissures, or features to place gear in. Above the bolt, I would rely on my wet shoe rubber and my wrinkled fingertips before reaching a shallow roof and crack system. I took a breath and pulled on.
I made several delicate and desperate moves up the slab. The bolt was three feet below when the holds disappeared. My right foot was on a thin edge, my left foot flagged on the wall, and my fingertips sat on two minuscule crimps. I looked up at the roof, still fifteen feet away. I knew that if I could just make it there we would be home free.
But I couldn't do it. I knew I couldn't. I tested the crimps. Terrible. I knew that to move upwards I would need to smear my feet on stone that was frictionless in its current condition. I knew I would fail. I knew I would fall. And I hadn't forgotten about the ledge ten feet below me. But I was committed.
I felt myself scream. I felt an impact somewhere in my body. The rope yanked me to a halt, and I opened my eyes to a new perspective. Looking north over the valley, the rain was falling upwards from my feet past my face. I was upside-down. I righted myself and shuffled over to the ramp.
"I'm alright!" I shouted, meaning: "I'm not unconscious!" I stood there for a moment to let the swell of adrenaline settle and re-centered. "I'm alright," I whispered.
My right foot began to throb with pain—less than two minutes after the fall I was unable to weight it. When my foot hit the ledge, it shredded all the tendons and ligaments in my ankle in a horseshoe shape around my achilles, while badly bruising my heel and ankle bones.
Dal lowered me back to the belay ledge as the adrenaline dissipated and the horror of our situation set in. We were more than 700 feet up this swath of stone with one 60-meter rope and seven miles away from the car. My ankle surged with pain and my thoughts became muddled and incomprehensible—I felt as helpless as an infant.
We heard Mat's muffled echoes come from below. He'd descended safely back to the valley and heard my blood-curdling shriek. "Are you boys OK?"
"Bennett took a big fall! His ankle might be fucked!" Dal yelled back down.
"What are you going to do?" Mat responded.
Dal looked me in the eyes, "What do you want to do?"
"I don't know," I shook my head and mumbled. "I don't know. I might need a rescue." I was in over my head, and the thought of a helicopter plucking me off the face and dropping me at the ER in Estes Park was as comforting as hot cocoa on Christmas morning.
"Are you sure?" Dal asked supportively.
I said nothing in response.
"Mat!" he yelled down. "We might need a rescue!"
There was a moment of silence before Mat's response. "Are you sure?"
A wave of courage overtook me as the word "rescue" reverberated through the valley. The thought of endangering other people's lives to save me from the mess I created was the psychological defibrillator I needed to shock me back to coherence. "Fuck a rescue!" I screamed. "We're coming down!"
Dal put his hand on my shoulder. "We are getting out of here," he said. "I will lead all the rappels—don't worry about a thing. We are going down."
I tried again to weight my ankle and but the pain was blinding. "I'm gonna need a horse to carry me out when we touch the ground."
"When we get off this thing," Dal said, "between Mat and I, we are a fucking horse."
He looped a single sling around the horn and fed the rope through it. Thus began our descent into the mist. The raps melded together into a painstaking and painful blur. Not a single anchor felt solid—lots of slung blocks, old tat, and loose nuts. And not a single rap was straight down, so I had to swing through excruciating pendulums, trying not to bash my right foot against the wall. Dal was a hero on that descent. Rapping into the abyss, making giant swings in search of fixed pro or any stance for the next rappel. His confidence instilled a calm in me that was imperative to get down safely.
Three-and-a-half hours after my fall and nine or ten rappels later, I touched terra firma. Once my feet hit the ground the risk of death fell from tangible to negligible. This filled me with a nearly-paralyzing sense of relief and gratitude, relief that only lasted until the back-breaking enormity of the next phase of self-rescue set in: crawling seven miles back to the trailhead.
Mat met me at the ground, looking shook. He had a meat stick and a bottle of water—the entirety of our first aid kid.
"I cannot explain the anxiety I went through just sitting down here for three hours knowing you boys were in trouble and I couldn't do anything about it," Mat said.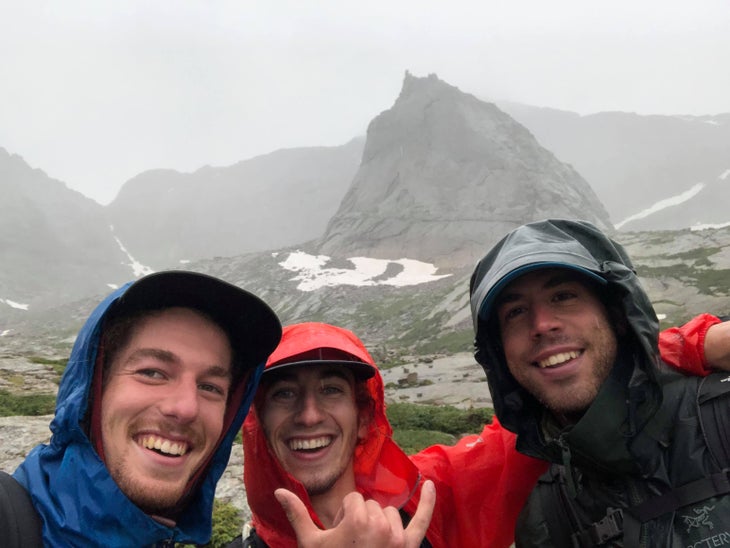 I began butt-scooching down the wet, precarious talus slope, a three-legged-crabwalk, right leg extended. Behind us, Dal was just touching the ground after having lowered me down the final rappel. I wouldn't know it until long after, but he burst into tears right there at the base of the Spearhead.
It took us six hours to get back to the car—just barely quicker than one mile per hour. On uphills I crawled. On downhills I scooched on my butt or hopped on my left leg. Where it was relatively flat Mat carried me, piggyback style. Dal carried all three of our backpacks and climbing gear. Nine hours after the incident we arrived at the parking lot. I could have cried if I let myself.
You can choose any moral you want; there are lots of them. Always take two ropes to the alpine so you can easily bail—that's a good one. When the weather turns sour go down—there's another. Friction climbing on wet 5.7 is hard. Take weather forecasts with more than a grain of salt. Bring a first aid kit everywhere. Don't snooze on alpine days (has a nice ring to it).
My favorite moral though is this: Several hours into our hike out, I was on Mat's back as he was huffing his way down the trail, sweat dripping down his forehead. He said, "If someone asked me earlier this week, 'Hypothetically, how far do you think you could carry Bennett,' I'd have said, 'Half-mile, tops.' But here we are. I've carried you like three miles at least by now." In the face of adversity, we are capable of much more than we could ever imagine.