Are Route Names Pointless?
The words we attach to climbs have power—and every once in a while, are unworthy.
Heading out the door? Read this article on the new Outside+ app available now on iOS devices for members! Download the app.
This article was originally published in Gym Climber, Fall 2020. It is republished here because the message it conveys is important for all climbers. For more insightful commentary that affects the sport and you, and to keep abreast of indoor climbing, go to gymclimber.com
Names matter, in climbing and life. My name is Taimur. My parents thought it was something Americans would be able to pronounce. What a joke. It isn't even pronounced how it's spelled, unless you know the rules for translating Urdu into phonetic English. "Tai" sounds like "t" plus the "a" as in apple. The "mur" is emphasized and sounds like moo from a cow plus an "r" at the end.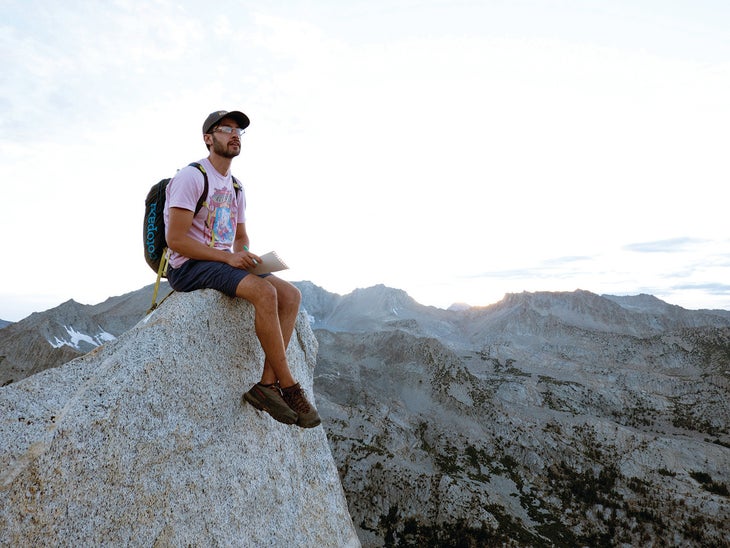 By elementary school, I'd learned how to set people at ease as they stumbled through my name. They'd try pronouncing it, and I'd quickly step in with a simplified pronunciation, Tuh-More, that was good enough for all of us.
Don't worry about it, I assured everyone. That's fine. It's not a big deal.
Yet even as I handed out a simplified version, I loved my name. It set me apart—I've never met another person with my name, in America at least, my whole life. My name puts my identity front and center every time I meet someone.
As I grew up, I stopped giving out the dumbed-down version. It just felt wrong to excise the high, sliding "a" at the beginning, that smooth double "o" sound at the end. By trying to put others at ease, I was making myself uncomfortable.
So I stopped cold turkey, sometime in high school, though to this day I'm OK with anyone sticking with a simpler pronunciation. For the 95 percent of people in my life who know and love and respect me, but still don't say my name right—well, ultimately, it's me as a person, and not as a random two-syllable sound bite, that they know, love, and respect. I exist independently of my name, which is ultimately just a few vibrations traveling through the air. A name does not define me, but it has shaped me, and for the many people I've met throughout my life, I have shaped it. By living my name, I change it from something unintelligible, confusing, maybe even a bit intimidating, to something familiar and tangible.
That's what happens when we name a climb—it starts to become more real. A few years after college I took a trip back to the place where climbing all started for me: the Bighorn Range, in Wyoming. My first time there, I'd never touched rock before. This time, my partner and mentor Arno Ilgner and I hoped to do a 1,000-foot first ascent on the East Face of Cloud Peak.
We've woken up to the fact that, whether we meant them to or not, the words we attach to climbs have power.
This trip was coming full circle for me: at age 15, I went on a NOLS course in the Bighorns. It was the first time I'd seen snow in summer, hiked off trail or caught and eaten my own trout, and tried rock climbing. The trip blew my mind. What seemed unremarkable to me as a kid from New York City was that one of my instructors, James "KG" Kagambi, was a Black man from Kenya. It never even registered with me then that he with his dark skin and I with my Muslim name might not be a typical presence in rural northern Wyoming.
At the end of the course, KG urged me to pursue a career in the outdoors. I asked him why.
"Because there's not enough people like us out here," he said.
That was a new idea to me, an awakening of my own racial consciousness in the outdoor setting, a jarring realization that we carry our social baggage with us into wild places that couldn't care less what we look like or who we are.
My 2018 return to the Bighorns was glorious—tough, empowering, exhausting. I asked Arno what he wanted to name our route. He chose In Honor of Crazy Horse as an homage to Crazy Horse and his people, who for uncountable generations had lived in the Bighorns before their violent displacement. As KG had, in that same mountain range, almost a decade prior, Arno crystallized something for me: Names have meaning.
The name doesn't change the climb—the stone is the same either way. But by imposing our own worldview on that piece, we etch something into it that reflects our own psyche and can affect the psyche of others. Arno wanted to show his respect for Crazy Horse and his life.
Shortly afterward, I moved to Bishop, California, to try out the dirtbag thing. To my surprise, I wound up getting a "real" job. I'd just come off two years of working on recreation policy in D.C., where I also got to know the folks starting what we now know of as a movement—early climbing-affinity groups like Brothers of Climbing, Flash Foxy, and Brown Girls Climb. At the time these were just Instagram accounts. Now they're leaders in our community. While lobbying for pro-environment bills in Congress, I saw what change looked like at the federal level; and I saw what change looked like at the grassroots level while collaborating on events with Brown Girls Climb.
During my stay in D.C. I'd also spent a chunk of time working with the Access Fund on climbing-policy issues. When their policy director learned of my plan to get a job at the local Bishop hostel and survive on rice and beans, he offered an alternative: Combine the policy work and grassroots diversity work you've been doing in D.C., and work for the Access Fund. I am climbing, too, and have started putting up routes around Bishop and in the High Sierra with my friend Tess Smith. We're an odd pair, two Eastern transplants to the high desert, a woman and a half-Jew, half-Muslim from NYC, who in the beginning were so clueless about new routing that it once took me five minutes to realize I didn't have the drill on hammer mode—then Tess realized she'd forgotten the hammer. We named one new line Unconscious Incompetence.
Names can be funny. Names can be pointless. They can be profound or personal, rude or racist. That's what we're grappling with right now as a community. We've woken up to the fact that, whether we meant them to or not, the words we attach to climbs have power—and every once in a while, are unworthy.
But names can be affirmative, too, enriching the climbing experience and our community. One of the best summer crags in the Bishop area is called the Planetarium Wall. It's stacked full of 5.12s and 5.13s, many named after famous astronomers and philosophers: Galileo, Aristotle, Copernicus. After a summer of climbing through the routes on the wall, I realized there was potential for a direct start to Copernicus. I put up the route and named it al-Shatir, after a 14th century astronomer from Damascus who influenced the work of Copernicus. I wanted to put a big scary Muslim name on the wall, just like others—and I—had put my own big scary Muslim name on me. I wanted there to be a brilliant brown scientist on a wall full of brilliant white scientists. I'm calling another line the Insha'Allah Project—for "God willing," a phrase universal throughout the Muslim world.
 In one other way I've been trying to leave my mark in the Sierra. I love peak bagging, and scrambled up mountains all summer. I sign my name in the summit register twice, once in English and once in Urdu. I do this for the same reason I named my route al-Shatir: showing the world that "we" get out here, too.
 In a few decades that summit register will probably be nothing but specks of tattered paper blowing over the Great Basin. In a few centuries, or probably far sooner, my own name and the memory and life that will have gone with it will be dust, and long forgotten. But in that moment, as I write the Arabic characters next to the English ones, it feels important.
---
Taimur Ahmadis a climber and environmental advocate. He is the JEDI and Policy Associate at the Access Fund. He got his start bouldering at Rat Rock in Central Park, New York.
---