Are Climbers Today Better Than They Were 50 Years Ago?
Heading out the door? Read this article on the new Outside+ app available now on iOS devices for members! Download the app.
Margo Hayes's 5.15a. Ashima Shiraishi's V15. Dawn Wall. The first El Cap free solo. Adam Ondra breaking open 5.15c, then 5.15d. Nalle Hukkataival and the world's first V17.
If you follow climbing media, it's easy to believe the sport's upper limits are growing at an exponential rate. Maybe this inspires you, or maybe you grumble that Instagram is conspiring to make you feel bad. Maybe you respond by hitting the hangboard, or by eating cake. Or, if you're like me, you self-soothe by making spreadsheets to see what the numbers are really telling us.
Aggregate all the hardest known climbs by year since 1940, and the data reveal what, deep down, I secretly hoped: For the past 70 years, climbing progress has hummed along at a fairly steady rate.
"I don't think that we're in a particular golden age of difficulty," says Alex Honnold, despite his own accomplishments (he's both the El Capitan speed record-holder and only person to free-solo the monolith). "Things are just progressing as they always have." That is to say, incrementally. In fact, if you look at the past 20 years alone, it looks like progress could be slowing.
Have climbing grades stagnated?
In the past eight years, Adam Ondra has almost singlehandedly dished out new grades since he took the torch from Chris Sharma (who gave the world its first 5.15b), establishing the first 5.15c (Change in Flatanger, Norway, in 2012) and 5.15d (Silence, also in Flatanger, in 2017). Ondra points out that the time span between the world's first 5.14d, Wolfgang Güllich's Action Directe (FA: 1991), and the first 5.15b, Sharma's Jumbo Love (FA: 2008), was 17 years. The next two-point gap, between 5.15b and 5.15d, closed just nine years later with Silence. But even if these cherry-picked data points do represent a burst of growth, Ondra says it won't last long.
"I think there is a lot of room for improvement in sport-climbing grades, but that it will be slower and slower," he says.
Ondra sees the biggest growth potential in training methods, which he says are "way too young." Right now, climbing is in an awkward growth spurt, caught between wanting to be the rebels-only, dirtbag escape of old and an Olympic-caliber sport. "There are a lot of climbers who are really nonscientific [about training]," says the Yosemite legend Peter Croft. Even elite climbers get injured because they refuse to warm up properly, or scoff at the injury-prevention routines of more mature sports like track or gymnastics, he says.
Graph: Hardest known sport climbs, by year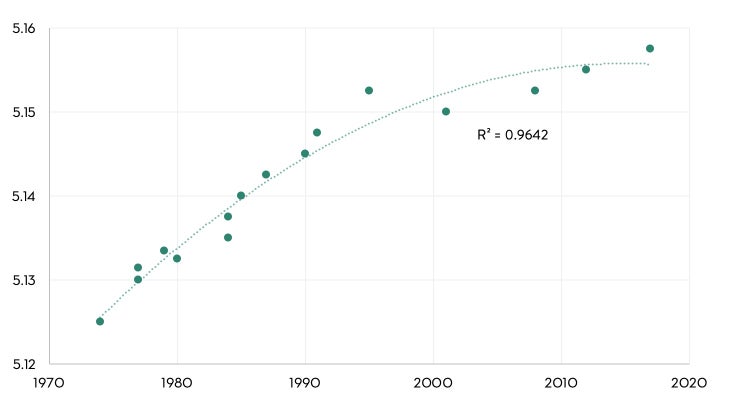 Human psychology is another hang-up. In 1945, the Swede Gunder Hägg clocked a 4:01.4 mile. His world record stood for nine years before someone could break four minutes. In the following 10 years, four people broke the record. Climbing coach Steve Bechtel says that's exactly what happened with 5.15 and V15: For years, those grades were only hypothetical. But once established, they quickly saw multiple repeats—belief in the possibility of an achievement often comes from seeing someone else do it first. That's why, historically, to break through grade plateaus it's taken a super-strong visionary like Güllich, the first to establish 5.13d, 5.14a, 5.14b, and 5.14d in the 1980s and '90s; or Josune Bereziartu, who pushed the hardest female redpoint from 5.14a to 5.14d/5.15a between 1998 and 2005.
Compared to that psychological momentum, physical fitness actually matters much less than people think, Bechtel says. He's run strength tests—including peak force on a 20mm edge, 20mm-edge hangs to failure, and pullups to failure—on the full spectrum of climbers. In general, 5.12 climbers performed much better than 5.11 climbers, but after that, most climbers' results were about the same. Bechtel theorizes that the difference between someone who redpoints 5.12 versus 5.14 often comes down to experience, economy of movement, technique—and confidence.
The rise of women
According to Lynn Hill, the first woman to climb 5.14a (Mass Critique in 1990), women have only recently broken through the often-subconscious belief that they can't be as strong as men. That's in part due to the work of leaders like herself and Bereziartu. "We all look to each other for encouragement, and there are a lot more women in the community now," Hill says. (The Outdoor Industry Foundation, for example, reports a 7 percent increase in women in sport climbing between 2017 and 2018 alone.) If you graph the first female ascents of each grade over the past 35 years, you'll see women keeping pace at about two letter grades below the hardest male redpoint—which is pretty amazing, considering how many fewer women than men have climbed historically.
Graph: Hardest sport climbs for women (blue) and men (orange)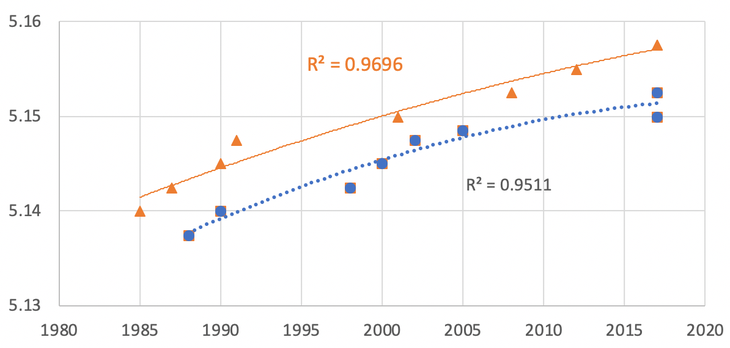 Hill expects this gap to continue closing as the female climbing population grows and self-limiting beliefs continue to dissolve. "Women know how to try hard now," she says.
A future indoors?
While psychological barriers account for much of the stagnation in climbing, simple physics will eventually halt progress. Many believe bouldering could be getting close. "Bouldering grades have been stuck around V16 since 2005," says Croft. There's a limit to how small holds can get and still be usable. At some point, we'll outgrow nature—and may need to turn indoors, pursuing the gymnastic, parkour-style problems that are still in their relative infancy.
Many of the world's top mixed climbers believe hard outdoor dry-tooling has reached its limit, as well. In outdoor dry-tooling, the moves may get bigger and the routes may get longer, but when you're climbing a roof with ice axes, there's a limit to how small holds can be without breaking under the torque of an axe. And when you're hanging onto an axe handle—essentially, a jug—your route turns into a game of endurance rather than difficulty. "Far and away the hardest routes these days are on artificial competition structures," says the Canadian ice climber Will Gadd, who spent years competing on the Ice Climbing World Cup circuit. "I don't think there's been a pure harder [dry-tooling] move on rock in a long time."
However, as far as sport climbing is concerned, Ondra remains optimistic. "It's not hard to find the next 5.16a [outdoors]," he says. "What is harder is to find something that's mind-blowingly beautiful and hard at the same time." A new line doesn't need to be aesthetically striking to drive grades forward (exhibit A: Silence).
Graph: Hardest known boulder problems, by year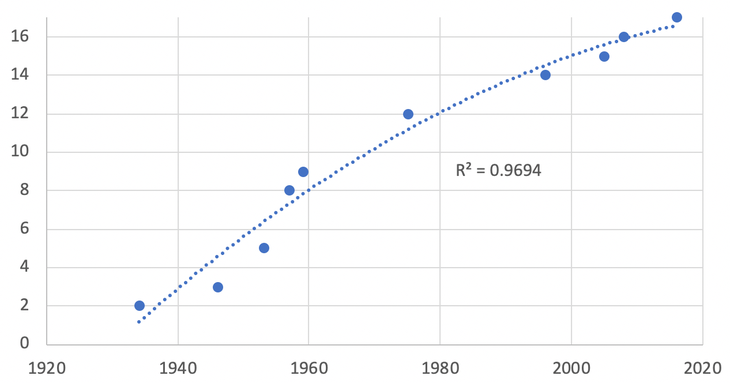 The real wave of growth
The good news? Pros may not be climbing exponentially harder, but the general public certainly is, says Croft. He largely credits the prevalence of gyms, which let us train consistently regardless of weather or conditions. Bechtel thinks the rise of youth teams has also played a role. "We hear a lot of people lamenting the death of the mentor system, but here's the thing: If you have a mentor who only climbed 5.10, and you really looked up to him, deep down you'll believe that you won't surpass his ability," Bechtel says. "With a youth team, you have all these kids who are willing to keep trying and pushing each other." Bechtel estimates that the average climber in the 1980s climbed 5.9. Today, it's around 5.11 or 5.12. In the near future, he expects that average to rise to 5.13a.
As for the upper limit? Consensus is that growth will be slow, but that it will continue. Hill, for example, predicts that an influx of sponsorship dollars post-Olympics could incentivize climbers to train harder or specialize more. She says that bigger sponsors could make it possible for more pros to train full-time (most pro climbers have at least part-time jobs) or to invest in tools like massage therapy, medical support, and international travel.
But, at the end of the day, a lot of it boils down to just waiting for the next freak, says Croft. The next Güllich. The next Bereziartu. The next Ondra—an outlier in both physical ability and confidence. "I think in 10 years we might see V18," Ondra muses. "I just don't believe that, at the moment, anyone is capable of doing it. But in 10 years? I have no doubt."