Aron Ralston, Climber and Subject of Film 127 Hours
Following his self-amputation and recovery, Ralston became a motivational speaker and continued climbing. Among other accomplishments, in 2005 Ralston became the first person to summit all of Colorado's 14,000-foot peaks alone and in winter.  
Heading out the door? Read this article on the new Outside+ app available now on iOS devices for members! Download the app.
This article is part of Climbing's ongoing Who's Who biographical study of climbing's all-time greats, achievers, and, in the case of Aleister Crowley, most notorious. 
---
Aron Ralston (October 27, 1975) is an American climber, skier, and amputee. Ralston became famous in 2003 after becoming pinned by a boulder in a slot canyon south of Canyonlands National Park, Utah. After spending five nights in the canyon, in danger of dying of dehydration, Ralston sawed his right arm off below the elbow to escape. The incident was famously depicted in the film 127 Hours. 
Following his self-amputation and recovery, he became a motivational speaker and continued climbing. Among other accomplishments, in 2005 Ralston became the first person to summit all of Colorado's 14,000-foot peaks alone and in winter.  
Early Life
Ralston was born in Marion, Ohio. He moved to Denver, Colorado at the age of 12, where he developed a passion for the outdoors, becoming an avid backpacker and skier during his high school years. He attended college at Carnegie Mellon University in Pennsylvania, working as a raft guide over the summers, and double-majored in mechanical engineering and French, with a minor in piano. 
Post-graduation, Ralston worked as a mechanical engineer for the technology company Intel in Arizona, Washington, and New Mexico for five years, before quitting in 2002 and moving to Aspen, Colorado to focus on climbing.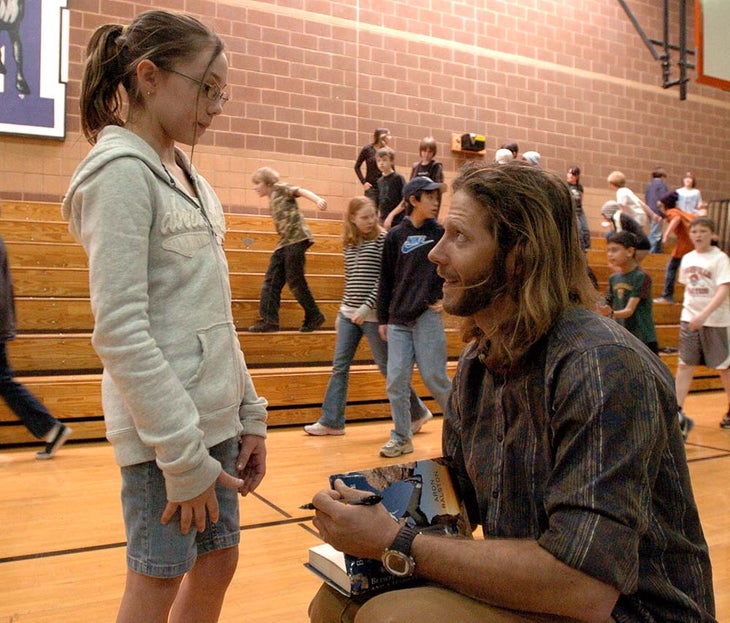 Accident
On April 26, 2003, the 27-year-old Ralston was canyoneering alone in Bluejohn Canyon. Bluejohn is a slot canyon in "The Maze" region, just south of the Horseshoe Canyon segment of Canyonlands National Park, in southeastern Utah. 
While scrambling down into a section of the canyon approximately three feet wide and 10 feet deep, an 800-pound boulder wedged between the canyon walls dislodged and fell onto Ralston's right forearm, pinning it against the wall.
He spent the better part of six days trapped in the sandstone canyon, slowly working his way through his remaining water and food (intended only for a one-day outing), while attempting to extricate his arm via various methods, all futile. 
He had not informed any of his friends or family about his intended whereabouts, so rescue appeared unlikely. On the fourth day, he made last-ditch attempts to amputate his arm but came up short, realizing that he needed to break the bones before attempting to cut through the arm, as the only cutting tool available to him was a cheap pocket knife attached to a multitool, which could not saw through bone. He resigned himself to death, videotaping goodbye messages for his family and scrawling his name, birthday, and presumed date of death into the canyon wall.
On the morning of the sixth day, however, Ralston realized that his arm had begun to decompose, and managed to break both his radius and ulna by wrenching the arm against the boulder. With the bones broken, he successfully amputated his arm using the knife, with CamelBak tubing functioning as a tourniquet. 
Following his self-amputation, Ralston scrambled out of the slot, rigged an anchor and rappelled 65 feet down into another branch of the canyon, and then hiked out. After hiking approximately six miles, he came upon a family, who alerted the authorities. Rescuers were already searching for Ralston at this point and had confined their search to the region around Canyonlands, so a helicopter was luckily already nearby for extraction. Rescuers reached Ralston approximately four hours after he cut off his arm. 
By the time he arrived at the hospital, Ralston had lost 25% of his total blood volume and over 40 pounds. Authorities later recovered the severed arm from under the boulder, which had to be hoisted out of the canyon using a hydraulic winch.
Aftermath and Later Life
Following his rescue, Ralston became a media celebrity, appearing on the Late Show with David Letterman, as a GQ "Man of the Year" and in Vanity Fair's "People of the Year." He later appeared on  The Today Show, The Tonight Show with Jay Leno, The Howard Stern Show, Good Morning America, and The Ellen DeGeneres Show, among numerous other media appearances. 
Some in the outdoor community felt Ralston's acclaim unjustified (media outlets frequently referred to him as a "hero" or "badass"), pointing to the fact that the incident could have likely been prevented had he notified family or friends about his intended plans or traveled with a companion.
Rex Tanner, team leader of Grand County Search and Rescue, the SAR outfit responsible for Bluejohn, told National Geographic how the media "never talked about how the guy got himself into trouble because he really made some poor decisions. What's kind of irritating is that rescuers have to go out and deal with those types of situations—a lot—and most of the time they're preventable." 
For many outdoor enthusiasts, Ralston's story was a graphic example of the importance of leaving a note before heading into the backcountry and/or utilizing the buddy system.
In 2004, Ralston penned an autobiography, Between a Rock and a Hard Place, detailing both his childhood and outdoor career, as well as the events of his entrapment in Bluejohn Canyon, self-amputation, and subsequent rescue. The work became a New York Times Bestseller and was later adapted into a film, 127 Hours, directed by Danny Boyle. The film brought Ralston (played by James Franco) and his story even further into the limelight. Released in 2010, 127 Hours was met with widespread critical acclaim and nominated for six Academy Awards.
Ralston received 127 Hours and Franco's depiction of him positively. "The movie is so factually accurate it is as close to a documentary as you can get and still be a drama," he told The Guardian. "I think it's the best film ever made."
He has since made a full-time career as a motivational speaker, delivering talks about his accident and the lessons it taught him. He has also spoken as a wilderness advocate, supporting causes including the Southern Utah Wilderness Alliance, Conservation Colorado, the Wilderness Workshop, and Paradox Sports. He volunteered with Mountain Rescue Aspen for approximately a decade during his time living in the town.
Ralston was married to Jessica Trusty from 2009 to 2012. The pair share a son. He also dated Vita Shannon, for a year (2012-2013), with whom he shares a daughter. 
Ralston currently lives in Boulder, Colorado.
Climbing Accomplishments
Aside from the incident in Bluejohn Canyon, Ralston is most famous for becoming the first person to solo all of Colorado's 14,000-foot peaks in winter, a long-term project that he finished in 2005. He began working towards this goal while living in Aspen, before his accident and self-amputation.

Ralston has also summited a handful of well-known high-altitude peaks, such as Argentina's Aconcagua (22,837 ft), Chile's Ojos del Salado (22,615 ft), and Argentina's Monte Pissis (22,283 ft), the three tallest mountains in the Western Hemisphere, as well as Denali (20,310 ft) and Kilimanjaro (19,341 ft), in Alaska and Tanzania, respectively.

More recently, he completed climbs and ski descents of Russia's Mount Elbrus (18,510 ft), China's Muztagh Ata (24,636 ft), and the Ecuadorian volcanoes Cotopaxi (19,347 ft) and Chimborazo (20,549 ft).