Brette Harrington, Leading Rock and Alpine Soloist, Prolific New Router
The American is a pioneering mixed and alpine climber, and one of the best female free soloists of all time.
Photo: Rich Wheater / Red Bull Media House
Heading out the door? Read this article on the new Outside+ app available now on iOS devices for members! Download the app.
This biography of Brette Harrington is part of Climbing's ongoing Who's Who biographical study of climbing's all-time greats, achievers, and, in the cases of Aleister Crowley and Leni Rienfenstahl, its most notorious and disreputable. See the links at the end of this article for more. 
Brette Harrington (1992) is an American climber. Harrington is known for her high-end (5.13+) trad sends, free solos, and prolific establishment of technical, committing alpine big wall climbs. She first achieved widespread fame as the first person to free solo the 2,500-foot Chiaro di Luna (5.11a) on the tower Aguja Saint-Exupery (8,400 feet) in Patagonia. 
Harrington was the partner of Canadian solo alpinist Marc-André Leclerc, from 2012 until his death in 2018. She featured prominently in The Alpinist, the award-winning biopic covering Leclerc's life and accomplishments, and was also the principal subject of Brette, a Reel Rock short film. 
Early Life
Brette Harrington was born in 1992 in Lake Tahoe, California, and began skiing from an early age, competing in slalom races from the age of five. As a teenager, she left home to attend the Holderness School, an elite New Hampshire boarding school near the White Mountains. At Holderness she trained in slopestyle skiing (the school was known for its ski team) and later discovered rock climbing, joining the school climbing club.
After graduating, Harrington moved to Vancouver, Canada to study at the University of British Columbia, becoming sidelined from slopestyle skiing at the age of 20 after a broken neck. She then began to focus on rock climbing and backcountry skiing, particularly around Squamish. She met Canadian alpinist Marc-André Leclerc shortly after she moved to Squamish (circa 2012), and he introduced her to alpine and ice climbing.
Climbing Career
In 2015, shortly after graduating from university in British Columbia. Harrington garnered international acclaim in the climbing world for making the first free solo of the 20-pitch Chiaro di Luna (5.11a) on Patagonia's Aguja Saint-Exupery. 
The 2,500 route had been soloed before, by Alex Huber, but Harrington's climb was the first time anyone (male or female) had soloed it without protection. It marked a rare solo for the Patagonian region (and the first-ever female free solo of a tower in the Fitz Roy massif). Chiaro di Luna was considered one of the preeminent free solo efforts of the era and catalyzed both an international following and sponsorships for Harrington.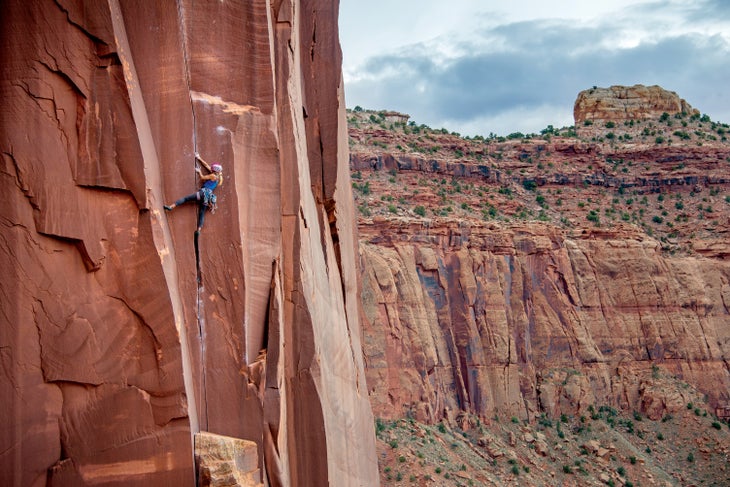 She and Leclerc made several other ascents in Patagonia on the same trip, and for the next several years (until the latter's disappearance on the Mendenhall Towers in 2018), the couple put up many hard lines together in British Columbia, Alberta, and Baffin Island, in addition to prolific Patagonian outings. Of note is the rock route Hidden Dragon (5.12b/c), on South Illusion Peak's (6,900 feet) Chinese Puzzle Wall, the first winter ascent of the North Face (M7+ 1,600 feet) of Ledge Mountain (6,444 feet) in Squamish, and the first ascent of Northwest Turret (5.13a, A2, 3,300 feet) on Baffin Island's Great Sail Peak (5,300 feet), the latter with Josh Lavigne as a third.
In addition to dozens of hard traditional rock climbs, Harrington has also pioneered many extremely technical, bold alpine lines. These include Life Compass (M5+ 5.10b, 3,000 feet) on the West Face of Mount Blane (9,820 feet) in the Canadian Rockies with Rose Pearson in 2018 and the 3,600-foot line The Sound of Silence (M8, WI5) on the East Face of Mount Fay (10,614 feet) with Ines Papert and Luka Lindič in 2019. 
Also in 2019, Harrington sent the 13-pitch Marc-André's Vision (5.12c) with Quentin Roberts. The route is a variation of Titanic (5.12b, 3,100 feet) on the Lower East Pillar of Torre Egger in Patagonia. The line was a paean to her former partner, the pair had planned to climb the formation together before his death.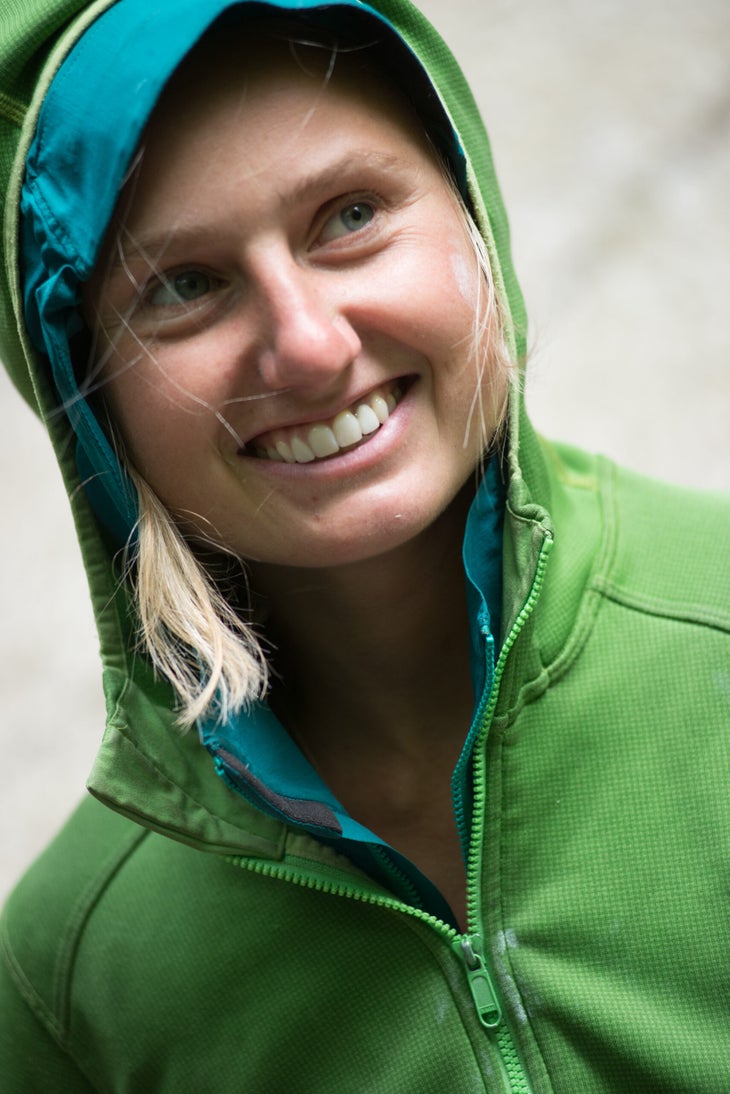 Film Appearances and Accolades
Harrington was the subject of the short film Brette, which premiered as part of the Reel Rock 11 film tour in 2016. The film follows her as she works Yosemite big walls with Leclerc, and leads up to her 2015 Chiaro di Luna solo in Patagonia. Nick Rosen, who co-directed the short film, said of Harrington that year, "What's special here is that we captured the first year of full-time climbing of a woman who is probably going to be a legend. She's on the trajectory of being the Steph Davis of her generation."
Harrington was named one of the top women to watch in sports by Forbes the following year, and two of her 2018 ascents were nominated for Piolets d'Or. She was awarded the American Alpine Club's Robert Hicks Bates Award "for outstanding accomplishment by a young climber" in 2019. 
Most recently, Harrington featured prominently in the 2021 biopic The Alpinist (also directed by Nick Rosen alongside Peter Mortimer). The documentary followed the life and climbs of her former partner Marc-André Leclerc. The Alpinist was nominated for two Emmys, winning one for "Outstanding Long Documentary."
Notable Climbs and Accomplishments
Grand Illusion

(5.13b/c), Sugarloaf, California. Second female ascent (2015).

Chiaro Di Luna

(5.11a, 2,500 feet) Aguja Saint-Exupery, Patagonia, Argentina. First free solo (2015).

Northwest Turret

(5.13a, A2, 3,300 feet) Great Sail Peak, Baffin Island. First first ascent with Marc-André Leclerc and Josh Lavigne (2016).

Auroraphobia

(5.13+, 1,200 feet) Waiparous River Valley, Alberta, Canada. First ascent with Marc-André Leclerc (2017)

North Face of Ledge Mountain (M7+ 1,600 feet) Squamish, British Columbia. First winter ascent with Marc-André Leclerc (2018).

Life Compass

(5.10b, M5+, 2,900 feet) Mount Blane, Alberta. First ascent with Rose Pearson (2018).

Shaa Téix'i

(5.11a, 3,600 feet) Devil's Paw, Alaska. First ascent with Gabe Hayden (2018).

The Sound of Silence

(M8, WI5, 3,600 feet) Mt. Fay, Alberta. First ascent with Ines Papert and Luka Lindic (2019).

Marc-André's Vision

(5.12c 3,100 feet), Torre Egger, Patagonia. First ascent with Quentin Roberts (2019).

Robert Hicks Bates Award, American Alpine Club (2019).

The Hammer and the Dance

(5.11 X, 2,300 feet) North Pillar, Neptuak, British Columbia, Canada. First ascent with Tony McClane (2020).

Just a Nibble

(5.10-, M6 R, WI5, 1,600 feet), North East Face, Mount Niblock, Alberta, Canada. First ascent with Dylan Cunningham (2021). 
BIOGRAPHIES OF NOTABLE CLIMBERS