Brooke Raboutou: An Eye on Olympic Gold
Heading out the door? Read this article on the new Outside+ app available now on iOS devices for members! Download the app.
Meet this unassuming college student—and pedigreed super-climber—who became the first American climber to qualify for the Olympics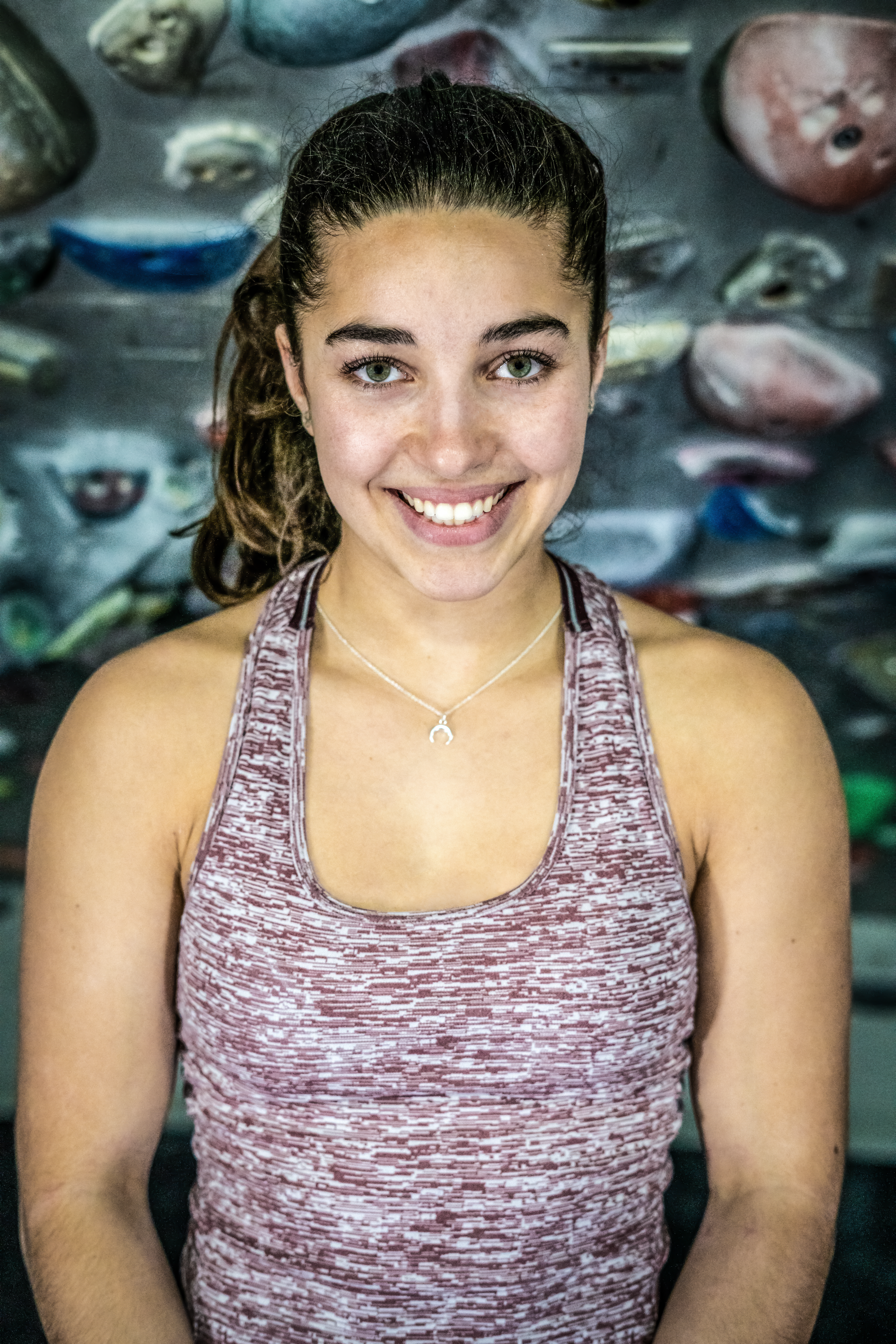 Brooke Raboutou grabs a 23mm edge—just 9/10 of an inch—with her left hand and pulls her chin above the wooden hangboard at the Mesa Rim Climbing Center in San Diego, California. Raboutou locks off with one arm, and then lowers slowly back down. It's early December 2019, the tail-end of the fall semester of her sophomore year as a marketing major at the University of San Diego where she has maintained a 3.8 GPA. As she rests between pull-ups, Raboutou quizzes herself on economics with flash cards. With the Tokyo 2020 Olympics on the horizon—for which she became the first-ever American competitor to qualify in the inaugural climbing competition—Raboutou can't afford any downtime.
Of course, in the months that followed, the world was thrown into coronavirus havoc. Climbing gyms, including Mesa Rim, would close. The Olympics would be postponed until summer 2021. (For more on the Games, visit climbing.com/competition.) And Raboutou, age 19, and her fellow Olympians would be forced to wait another year for their shot at a medal (all climbers who qualified will maintain their berth in 2021). But all this upheaval would not change three key truths: Brooke Raboutou is the first American climber to become an Olympian. She is perpetually busy and trains with persistence, whether in San Diego, at the USA Climbing Training Center in Salt Lake City, Utah, or quarantined at home in Boulder, Colorado. And she's still aiming for Olympic hardware.
Born in April 2001 to professional climbers Robyn Erbesfield-Raboutou and Didier Raboutou, Brooke started climbing at two years old, scrambling up angled structures that her father built. Brooke's brother, Shawn, three years her senior, was climbing too, well on his way to becoming one of Brooke's biggest influences. The Raboutous spent every summer climbing in Southern France, near Didier's hometown of Toulouse. In the fall and spring, the family would return to their home in Boulder.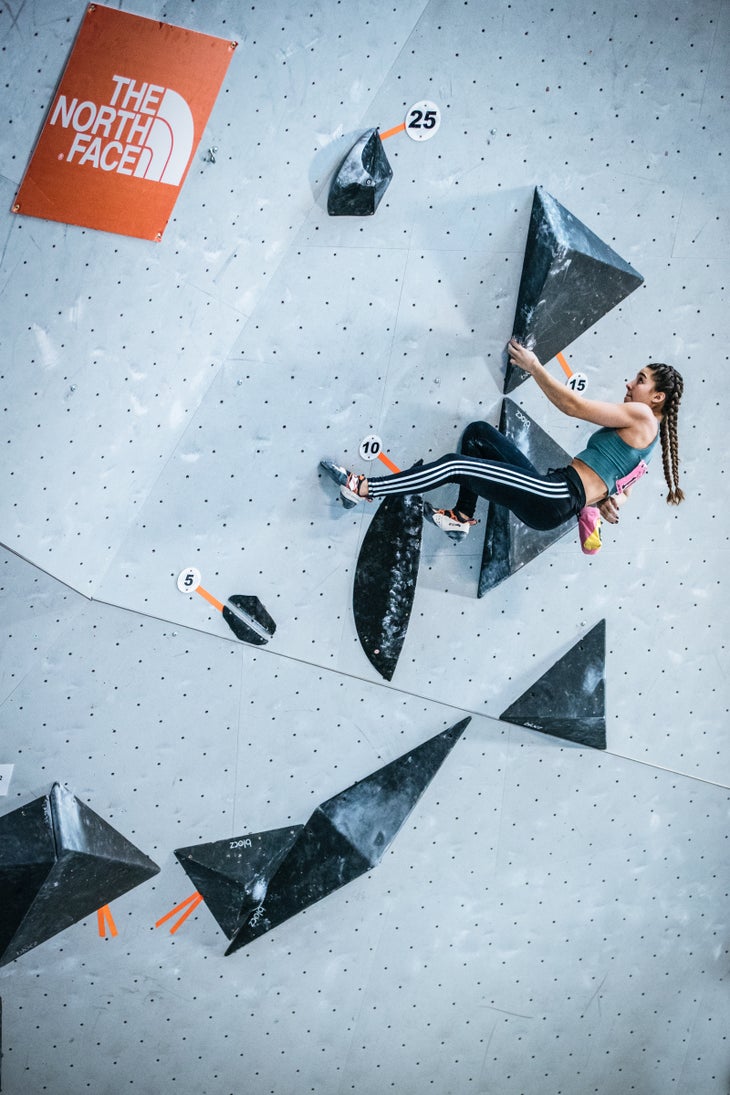 At age 11, Brooke became one of the initial members of ABC Kids Climbing, a youth climbing program that began in the Aughts in an upstairs room at the Boulder Rock Club and now has its own 7,200-square-foot training center nearby in town. Robyn, who won multiple World Cup competitions in Europe throughout the 1990s and an overall World Cup championship for the 1995 lead season, coached the team. Meanwhile, Didier, a former French national competition climber and among the initial 1980s wave of French sport climbers to redpoint 5.14, retired from competing and became the chief designer of ABC Kids' spatial training offerings—think obstacle courses, but for young climbers. Brooke climbed with an elite group, including Margo Hayes, Megan Mascarenas, Emily Harrington, Katie Brown, and Shawn. (An impressive climber himself, Shawn, now 22, made the first ascent of Off the Wagon Sit [V16] in Val Bavona, Switzerland, in 2018 and repeated Rocky Mountain National Park's Creature from the Black Lagoon [V16] in 2018 and Rocklands, South Africa's Finnish Line [V15] in 2019.)
As a child, Brooke climbed nearly every day. "What stood out the most with both Shawn and Brooke was their passion for the sport and their desire to try hard and take competitions seriously even at the early age of six," Robyn recalls of her children's focus at gym competitions around Colorado. The payoffs came quickly: Brooke became the youngest person to climb 5.14b when she sent Welcome to Tijuana in Rodellar, Spain, at 11 years old. Around the same time, she also sent Dead Serious (V10) in Hueco Tanks, Texas. Other accomplishments included Southern Smoke (5.14c) in the Red River Gorge and Fragile Steps (V13) in Rocklands.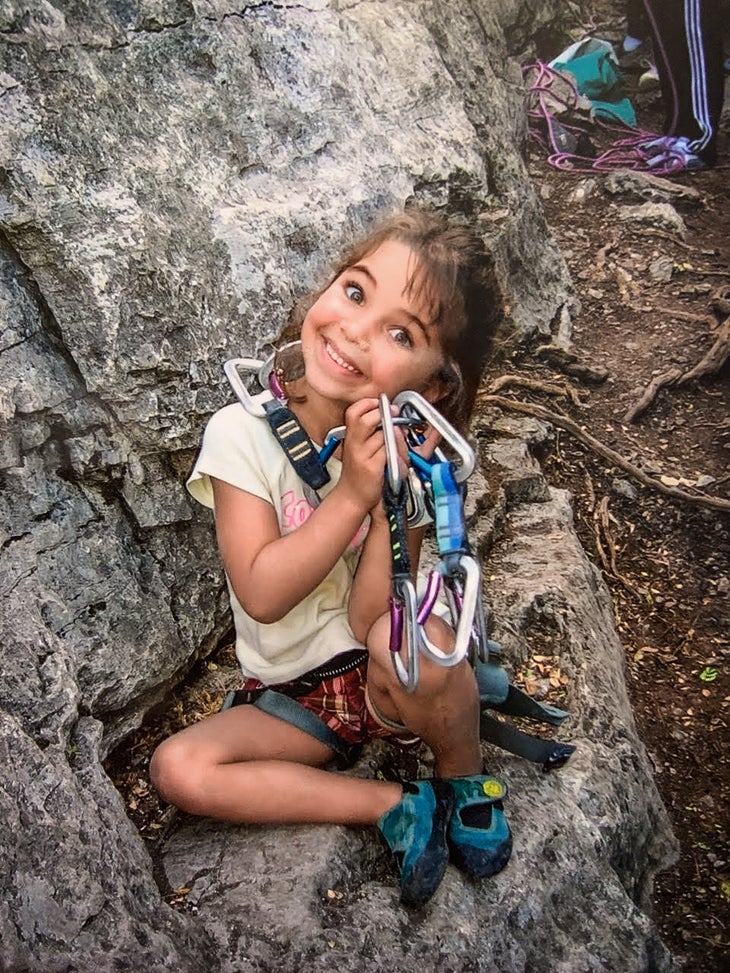 Even though she climbs hard outside, Brooke has always loved competing. "Because [competing] was fun, it became a passion," she says. In 2015, she earned silver in the Youth B age category for a Combined discipline (bouldering, lead, and speed) at the IFSC's World Youth Championships. At the following year's Youth Worlds, she won gold. This was the same year—2016—that climbing was confirmed as an Olympic sport. In the Combined discipline at the Youth Pan- American Championships the next year, she placed first. "I always wanted the combined title," Raboutou says, crediting her early experience in all three disciplines with landing her the Olympic berth.
Brooke's—and the rest of her family's—accolades became prologue this past summer at the Combined portion of the IFSC's World Championships in Hachiōji, Japan, where she qualified for Tokyo. There, Brooke placed sixth in speed climbing (clocking 9.129 seconds, only 2.134 seconds off the world record) in her second run against Poland's speed specialist, Aleksandra Miroslaw; tenth in bouldering; and seventh in lead climbing for a total score that placed her in ninth overall. An abundance of Team Japan competitors in the top eight spots surpassed that country's Olympic quota, which meant that while Brooke did not make the finals, she did punch her Olympic ticket. Other Americans would follow suit­­—Kyra Condie and Nathaniel Coleman qualified for the Games in Toulouse, France, in November 2019, and Colin Duffy qualified at the Pan-American Championships in Los Angeles in March 2020.
In late December 2019, Brooke modeled for her sponsor Adidas Terrex, as well as Sports Illustrated and Southwest magazines, and then did voice-over work for a Petzl video series on her Olympic qualification (the L'héritage and L'ascension videos from Louder Than 11). In between, she also took final exams—including that economics juggernaut—visited Boulder to spend time with her family, and trained at the USA Climbing headquarters in Salt Lake City. "I go to class, then I climb, then usually I have class again, then I come back and do homework and hang out with my roommates, then go to bed … and repeat," says Brooke. While she values education, she has also decided to take the spring 2020 semester off to train—and continues to do so even with the Games delayed. She plans to return to school this fall, and then take the spring 2021 semester off to train as well.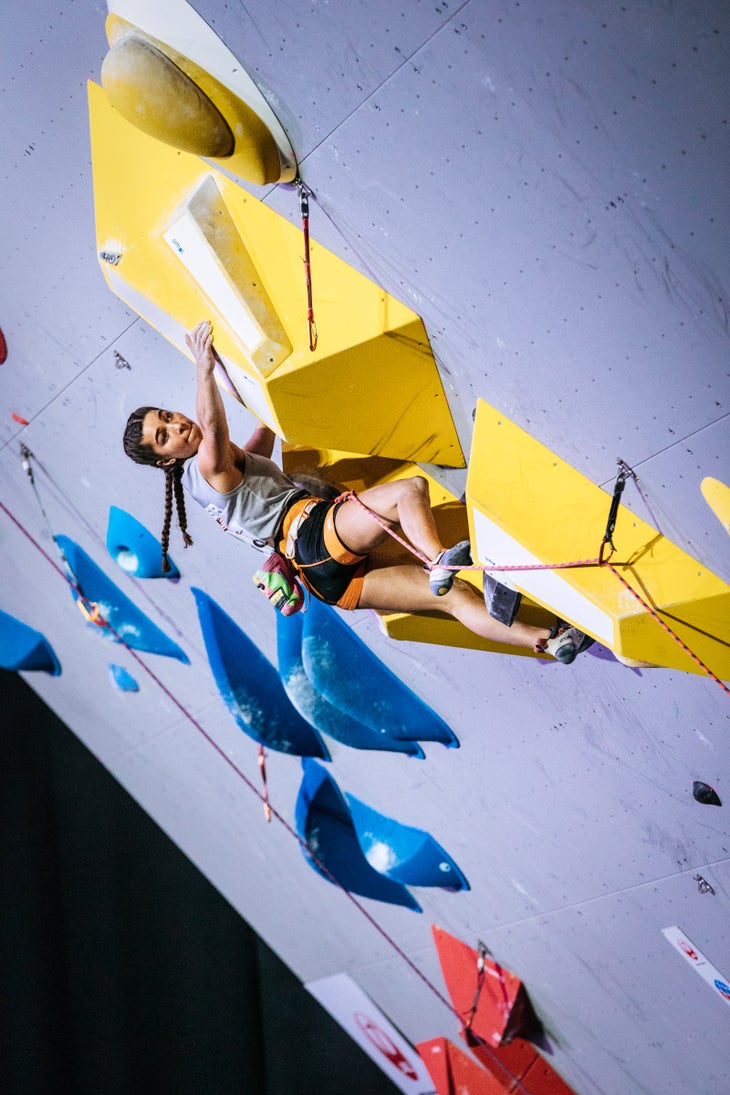 The Olympic postponement has brought unique opportunities: a popular takeover of USA Climbing's Instagram page and a chance to show fans how she trains at home. Two of Brooke's cheeky videos in March 2020—Tour de my house and Tour de my kitchen—helped spawn a social media craze of quarantined climbers sharing their own furniture-climbing footage. "I wanted to think of ways that I could cheer up my followers without using my home wall, since a lot of people don't have a home wall," Brooke says. "I was just thinking of ways that other people can stay active and in touch with climbing around their house without a home wall; the child in me came out."
Eventually, all the quarantining and training will be preamble to the Olympics themselves, and Brooke will be ready to compete—just like she always has been.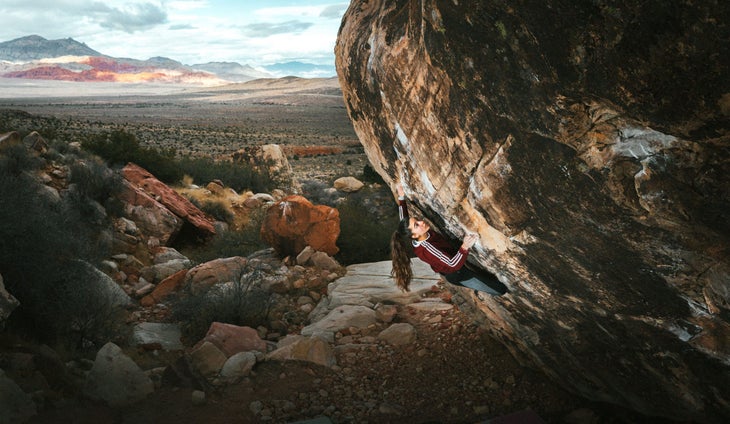 John Burgman is the author of High Drama: The Rise, Fall, and Rebirth of American Competition Climbing, which chronicles the history of American competition climbing.
Want to read the full interview? Then sign up for the Climbing Pass to unlock unlimited member content, as well as many other benefits.