Brooke Raboutou, Olympian, Climbed 5.14b At Age 11
The 21-year-old was climbing V10 by the age of nine and was the USA's first qualified Olympic climber.
Heading out the door? Read this article on the new Outside+ app available now on iOS devices for members! Download the app.
This article is part of Climbing's ongoing Who's Who biographical study of climbing's all-time greats, achievers, and, in the case of Aleister Crowley, most notorious. 
---
Brooke Raboutou (April 9, 2001) is an American climber. While Raboutou is primarily known for competition climbing, she was also the youngest female to climb 5.14b, at age 11, and is one of the few women who have bouldered up to V14 outdoors. Raboutou was one of 40 international climbers to participate in sport climbing's debut at the 2020 Olympic Games in Tokyo, and the first American to receive an invitation.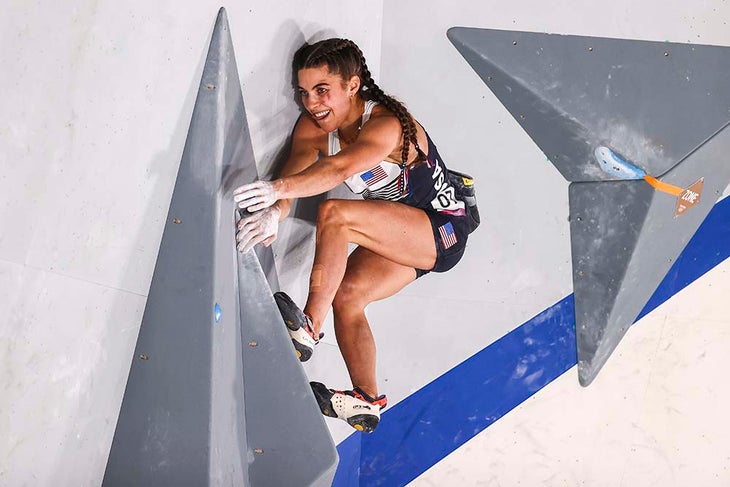 Early Life and Outdoor Climbing
Raboutou was born in Boulder, Colorado, to the American Robyn Erbesfield-Raboutou and French Didier Raboutou, two famous competition climbers. The former was the third woman to climb 5.14, and a four-time World Cup champion. The latter was a participant in the world's first international climbing competition (SportRoccia), as well as a winner of Arco Rock Master and several other international events, and a three-time World Cup champion. 
"Her parents were helping her up walls at the same time she was learning to walk," according to a Gym Climber profile, and Raboutou's first memory was climbing in diapers, at the age of two or three, on a home climbing wall in her basement. 
She and her older brother, Shawn (a well-known boulderer with sends up to V16), were members of the climbing team at Boulder's youth-specific climbing gym, ABC Kids Climbing. The team was founded and coached by their mother.
Raboutou's childhood career was spotlighted by a string of "firsts" that catapulted her into the limelight at an early age. By age nine, she was sending V10 and also became the youngest female to climb a 5.13b. The following year, she sent V11 and became the youngest female to climb 5.13d, and later became the youngest American and youngest female to climb 5.14a. At age 11, she became the youngest female to send 5.14b, with a send of Welcome to Tijuana in Rodellar, Spain. At the age of 14, she sent 5.14c, with the Joe Kinder classic Southern Smoke in the Red River Gorge.
Raboutou attended a charter school that combined two years into one, which allowed her to graduate high school early and attend college at the age of 17. In 2018, she enrolled at the University of San Diego, where she is currently majoring in marketing, though she has taken semesters off to train, particularly for the Olympics. 
In the future, she has expressed interest in opening her own climbing gym and coaching.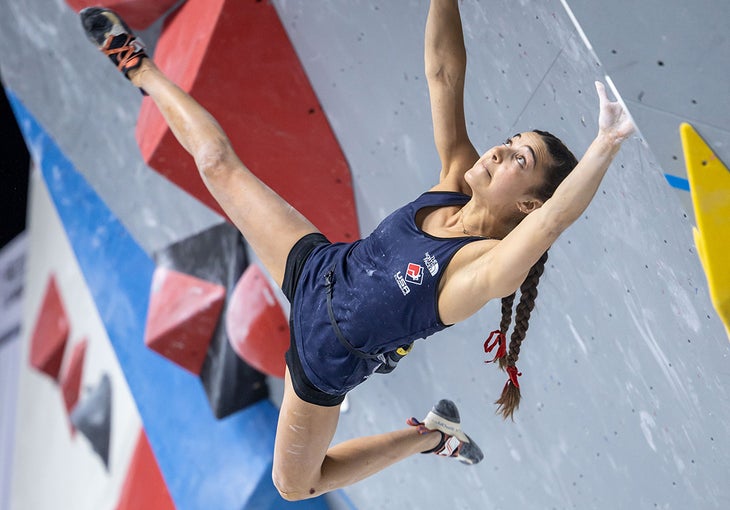 Competitive Career and 2020 Olympic Games
Raboutou was active in the national and international competitive climbing scene throughout her teens and stepped onto a variety of podiums at the IFSC Youth World Championships from 2016 to 2019. She was the 2016 Youth B Combined World Champion, 2017 Youth A Combined Pan American Champion, and the 2018 Youth A Lead World Champion. 
Though her results fell slightly in her later teens, enough that she was technically removed from Team USA at one point, Raboutou still earned a ticket to compete in sport climbing at the 2020 Olympic Games, following a ninth-place Combined finish at the Hachioji World Championships (an aggregate score based on her results of sixth in Speed, the 10th in Boulder, seventh in Lead).
She was the first American climber to receive an invitation to Tokyo, and as such, will remain the first American climber in history to qualify for an Olympic Games.
At the Olympics, she entered the finals in fifth place, alongside seven other competitors. She put up an especially impressive effort in the Boulder comp, coming in second behind Janja Garnbret. Though she didn't manage to top any other problems, she was the only climber to score zones on all three (save Garnbret, who topped two), and very narrowly slipped off just before clinching a top on both Problems 1 and 2. 
Her results in Speed and Lead held her back, however. Raboutou fell during her first Speed route, lost to Garnbret in her second, and beat Korea's Seo Chae-hyun on the third route. The latter effort, although a win, was the slowest Speed time recorded during finals, at 9.06 seconds, and she earned a seventh-place finish. During Lead, the final discipline, she fired up to the halfway point, but slipped on a long left-handed reach up to a pocket, coming off the wall and finishing sixth. 
As a result, Raboutou finished the Combined competition in fifth, behind Garbret, Miho Nonaka, Akiyo Noguchi, and Aleksandra Miroslaw.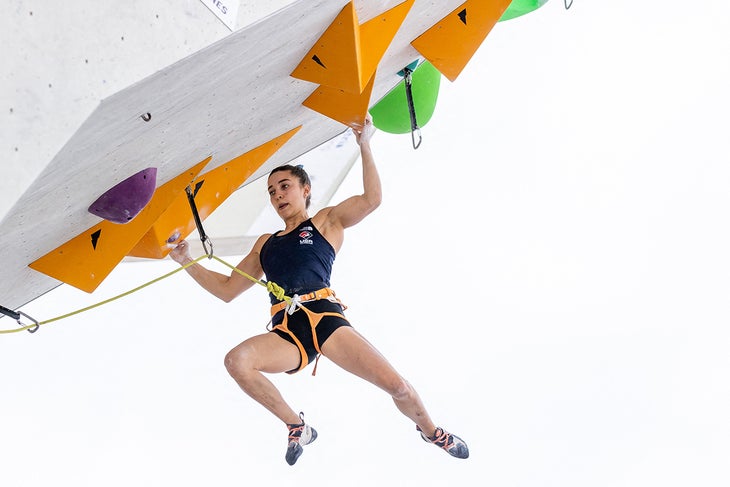 Recent Climbing
In the 2021 IFSC World Cup, Raboutou placed fourth in Boulder, 17th in Lead, and 21st in Speed overall. In the 2021 World Championships, she netted fifth-place finishes in both the Lead and Boulder brackets.
To date, she has also sent several V14 boulders, including Trieste, in Red Rock Canyon, Nevada, as well as the crimp line Jade, in Rocky Mountain National Park, and Muscle Car in Coal Creek Canyon. The latter, sent in May 2020, was her first of the grade. Another recent hard send was IUR (V14) in Switzerland in the winter of 2021.
Raboutou finished 12th in the Meiringen Boulder World Cup, the first event of the 2022 season, after topping one problem in the semi-finals. "To say I'm happy with my results would be far from the truth," she wrote on Instagram following the competition. "Despite the frustration, I always walk away from these events with a drive to work harder and apply everything I've learned. Overall, it was a blast to be back on the mats and travel with the best team (Team USA)."
Climbing Accomplishments
Youngest female (9) to climb 5.13b (2010).

Youngest female (10) to climb 5.13d (2011).

Youngest female and American to climb 5.14a (2011).

Youngest female (11) to climb 5.14b (2012).

Youth B Combined World Champion (2016).

Youth A Combined Pan American Champion (2017).

Youth A Lead World Champion (2018).

5th Place, Sport Climbing, Tokyo 2020 Olympic Games (2021).