By the Numbers: Margo Hayes and the Road to 5.15
Let's get ready to Rambla!
Photo: Greg Mionske, @Greg_Mionske
Heading out the door? Read this article on the new Outside+ app available now on iOS devices for members! Download the app.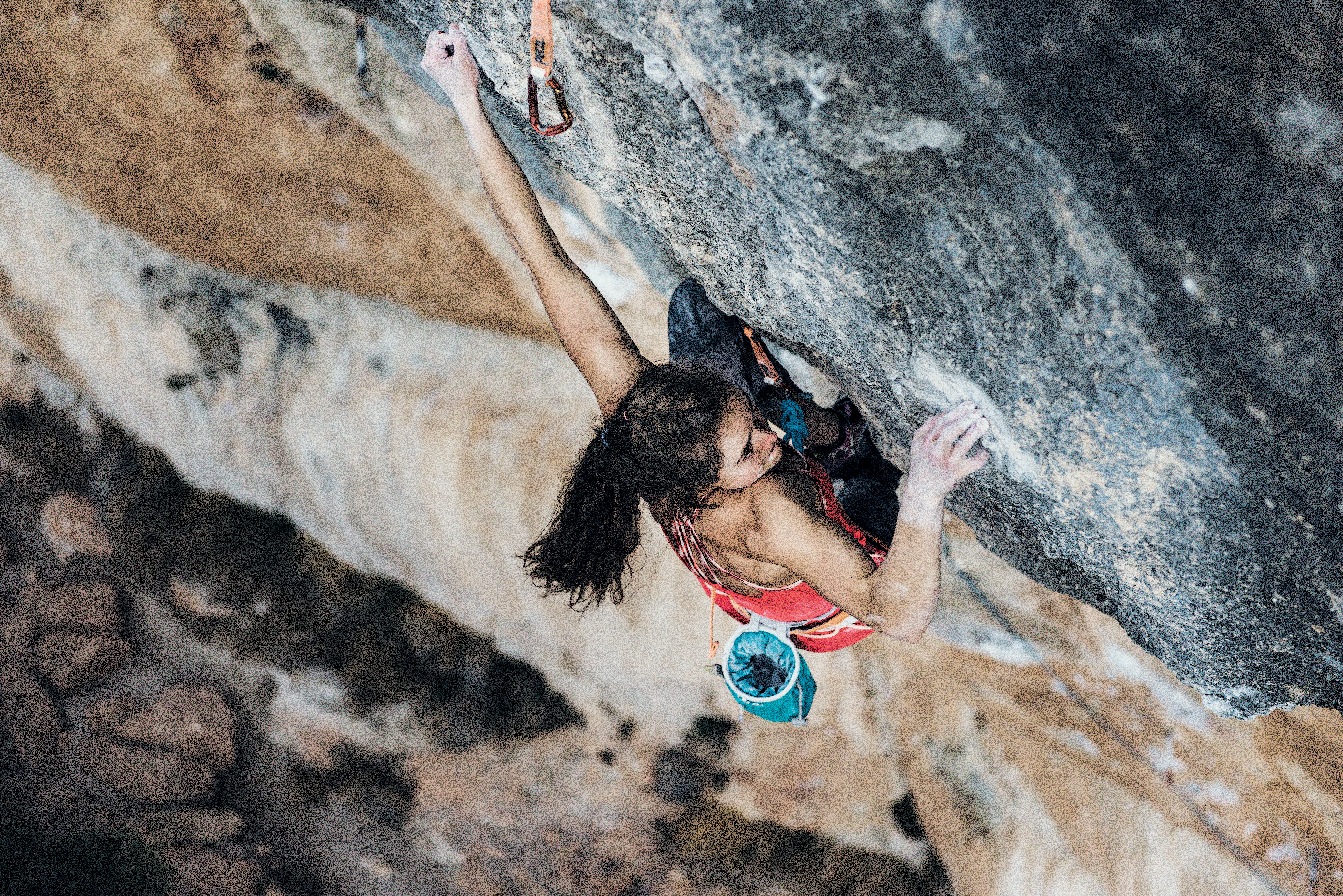 On February 26, Margo Hayes of Boulder, Colorado, became the first woman to send a consensus 5.15 with her ascent of La Rambla (5.15a) at the El Pati sector in Siurana, Spain. The benchmark route defines 5.15a/9a+. Alex Huber originally sent it to a lower anchor at 5.14c in 1994, but the full pitch wasn't redpointed until 2003, when Ramón Julián Puigblanque (Ramonet) put to bed a project that had eluded other top climbers, including Dani Andrada. "I am so grateful for those who had the vision, dedicated their time, and committed to making this beautiful line climbable!" says Hayes. The following facts and figures provide an inside look at her process.
14
The number of 5.14s Hayes climbed in the last year. On her 18th birthday in February 2016, Hayes set a goal: climb 14 5.14s before she turned 19. "I like figures, and their association with specific goals," says Hayes. "If I climbed enough 5.14s, I'd get a better sense of the grade." Ticks included Pure Imagination (5.14c) at the Red River Gorge and the first female ascent of Bad Girls Club (5.14d) at Rifle.
7th
Hayes's placing at ABS Nationals in February after taking first in semifinals and fighting through a difficult final round.
Five
The number of days per week Hayes bouldered to get ready for ABS Nationals and, ultimately, La Rambla. She would boulder 2 to 4 hours at the gym, and go on 1- to 4-mile runs throughout the week. "I did not specifically train for La Rambla; however, I was physically fit and I knew that my endurance would increase quickly once on the wall," she says.
3
The number of Boulder-based climbers, including Hayes, who were in Siurana to try La Rambla. Matty Hong and Jon Cardwell completed the trio. Recalls Hayes, "Matty was the first to send, and that was motivating. It was so inspiring; I had never seen anyone climb a 5.15 before." 
2nd
Hayes's results at the SCS Nationals in March a few short weeks after her ascent. After Hayes and Ashima Shiraishi tied in the final round, the podium was decided by their performance in the semifinals.
1994
The year Alexander Huber made the first ascent of La Rambla Original. After a hold broke, Huber lowered the anchors. Ramonet later sent the integral pitch. The route has since seen over a dozen repeats from the likes of Chris Sharma, Adam Ondra, and Alexander Megos.
7
The number of days Hayes spent working La Rambla before her redpoint.
35 minutes
The approximate amount of time Hayes spent on the wall on her redpoint. A sizable crowd was present to witness her ascent. "It was an amazing feeling when I could hear the cheers from across the canyon. We are part of such an amazing community," she says.
1
The number of women who have sent consensus 5.15. Though Ashima Shiraishi and Basque climber Josune Bereziartu have come close with ticks of 5.14d/5.15a, Hayes is the first woman to climb a confirmed, solid 5.15. Go, Margo!
One year
The amount of time Hayes spent researching La Rambla, watching videos, poring over pictures, and reading about the route's history: "I was inspired by its history, its length, and beauty," she says.
45 meters
The length of La Rambla—in other words, 150 feet of overhanging endurance climbing. 
Two
The average number of burns Hayes could give each day. On the second attempt of her seventh day, she sent. It was approximately her 17th attempt overall. "Although on my first attempt [of the day] I fell a couple of holds lower than my previous highpoint, I felt stronger on the route than I ever had before," says Hayes. "My fingers were bleeding, so I considered calling it a day, but I decided to give it another try, because, just maybe, the magic would happen."
5.12c
The grade Hayes warmed up on that morning. Mandragora sits in the sun all morning and is one of Hayes's favorite routes. Feeling ready to roll, she then went directly to La Rambla.