Cancer Survivors Reclaim Their Lives Through Rock Climbing
How one Colorado-based nonprofit uses rock climbing to help young cancer survivors live again
Heading out the door? Read this article on the new Outside+ app available now on iOS devices for members! Download the app.
This story originally appeared in the February 2015 issue of our print edition.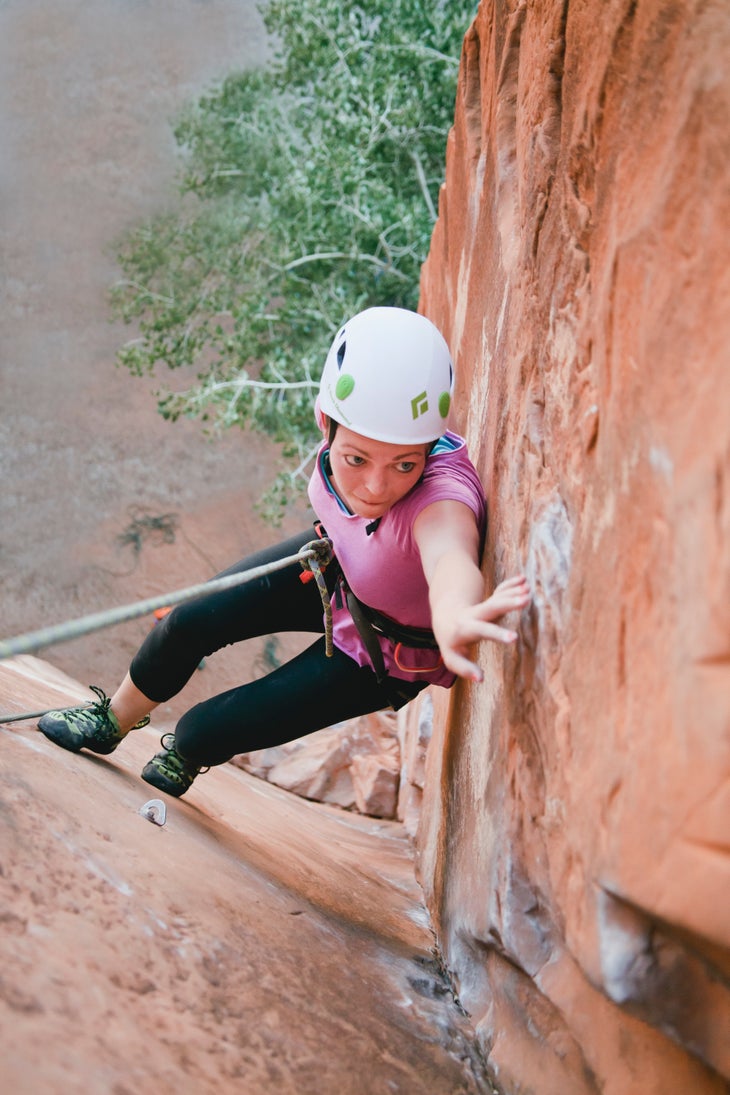 Sweat trickles down my back as I chalk up for the 30th time in half as many feet. It's pushing 90° on a cloudless day in Moab, and I'm wondering what the hell we were thinking coming to the desert in early September. Most climbers wouldn't dare brave the oppressive heat and blasting sun to climb slabby sandstone three feet from the road—not without complaining at least—but despite the grueling conditions, I hear laughter over my shoulder and glance back to see ear-to-ear grins on nine people just happy to be outside. Nine people just happy to be alive. 
"Raise your hand if you have cancer!" someone calls out to the dozen of us sitting around a huge kitchen table in La Sal, Utah. Surrounded by nine cancer survivors and fighters that I had met five minutes earlier, I wasn't quite sure how quickly to respond as someone who has never had cancer.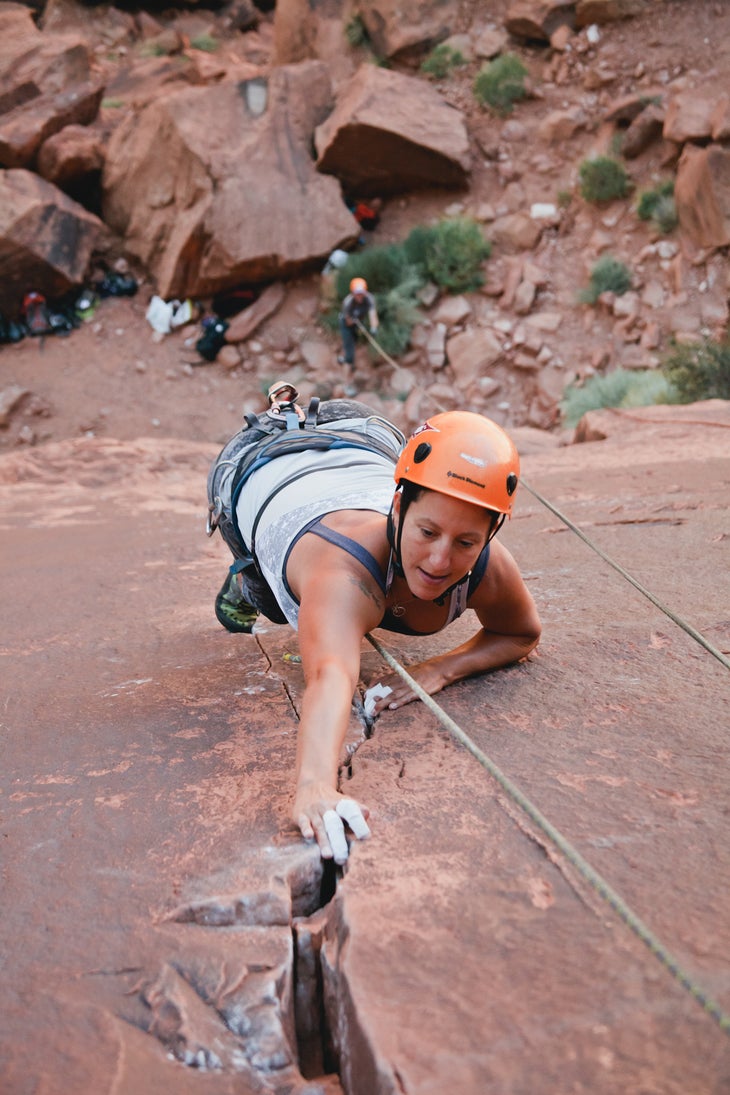 It was day one of a weeklong climbing trip in Moab with First Descents (FD), a Denver, Colorado–based nonprofit that provides free climbing, kayaking, and surfing trips to young adult cancer survivors in order to help them defy their diagnoses, reclaim their lives, and connect with others who are going through the same thing. I was tagging along to document the experience, so I knew everyone there had battled the disease at some point, but I wasn't sure what the attitude toward the C-word would be. Would we all—survivors and cancer-free folks alike—be lighthearted about it, discussing it casually with laughter and jokes, or would it be a heavy, sobering conversation only to be shared by those intimate with the disease's fury? One of the lead staffers was trying to get a head count of campers, so I sat back and tried to go unnoticed. Immediately someone with a hand high in the air yelled, "I knew she didn't have cancer—her hair's too long!" Time froze and my cheeks flushed when Boots, a 39-year-old mother of two, gave me a friendly nudge and the whole table broke out in hysterical laughter. Relief flooded my brain as I prepared for one hell of an eye-opening week.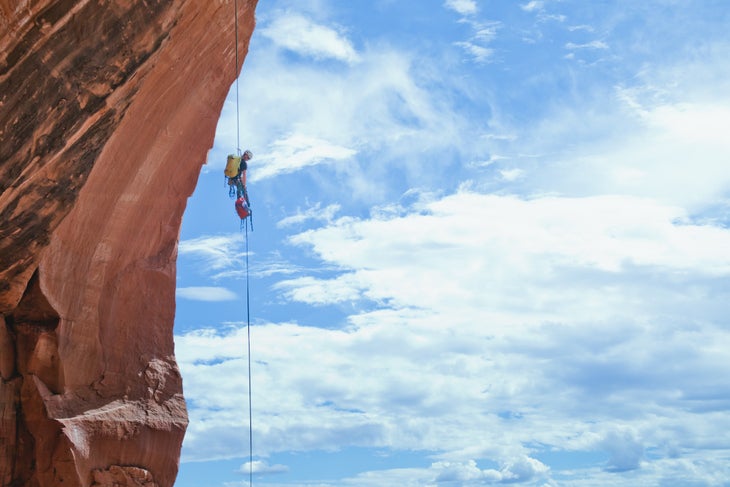 One of the first things anyone learns about First Descents is that they're all about nicknames. Once you show up at camp, whether you're a staffer, volunteer, or a camper, you have only a few minutes to self-prescribe your own nickname, or you're likely to get dubbed with an odd moniker, something that's probably embarrassing and off-putting to hear when it's yelled at you while you're climbing 60 feet up a wall. It wasn't until our fifth day at camp—when I had already felt someone's prosthetic breasts, heard a story about pooping after being so constipated from pain meds that you fill the toilet and have to move to the tub, and watched a beautiful girl lie down on the ground and spray scorpion venom from Cuba up her nose as a form of treatment—that I learned a single participant's real name. Yes, the nicknames are fun and silly, but it serves another more important purpose: Using a new moniker offers these cancer survivors a chance to leave behind their old life as "Jill who has cancer," and be whoever they want—totally label-free—for a week. It helps mark the beginning of a new life, post-cancer, one that doesn't have the same stigma and negativity of past experiences. So to that end, I will honor FD's tradition and use only nicknames in this story. (I'm Peanut, by the way.)
"Cancer is the easy part because you're so focused on it and that's all that matters. It's post-cancer life that sucks." —Madrona
In my 28 years of living, my only experience with cancer had been two grandmothers who both passed away from the disease and one close family friend who was diagnosed with breast cancer at the age of 35. Since my grandmothers were older and our family friend overcame her hard-fought battle, my misinformed view of cancer was that you either beat it and you live, or it beats you and you die. What I didn't know is that it's like a weed that can continue to plague your body, popping up years later even though you might have squashed it once, twice, three times before. Some of the participants had been battling cancer for years and years, in and out of the hospital, spending days, weeks, and months of their lives waiting for test results, hearing good news or bracing for bad news, and preparing for or recovering from surgeries, chemotherapy, and radiation. And with most of the participants heartbreakingly close to my own age, I couldn't wrap my mind around the fact that they sat here in the same place as me: college graduates, full-time jobs, families and friends, extensive travels, fun hobbies—the only difference is they had cancer and I did not. One camper was diagnosed in her junior year of engineering school, which she said "made classes very difficult and prevented me from doing things like an internship that would set me up for a good job in my field. I was busy having cancer when all my fellow young adult peers were living their normal lives." Through no fault of their own, this random disease had taken hold of their bodies, and for a good portion of their lives, it had ravaged them physically, mentally, and emotionally.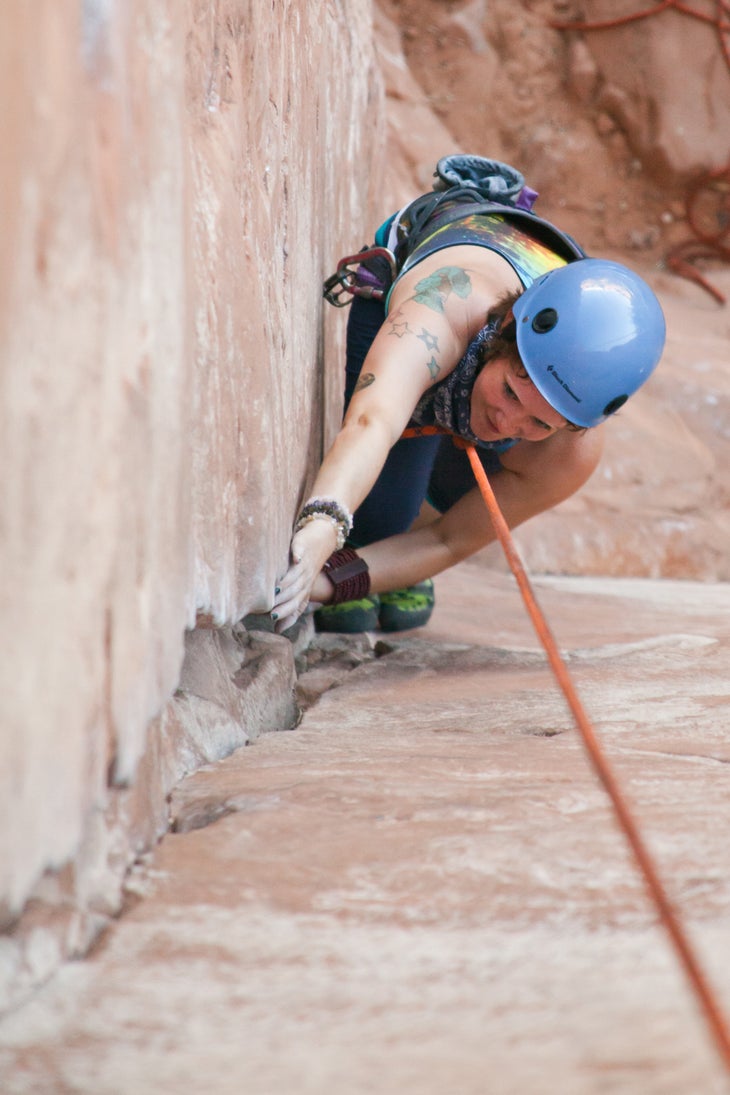 But like many of the campers echoed, the fight itself was almost easier than being labeled a "survivor." As one camper said, "After beating cancer, it's like, 'Oh, shit. What do I do now?!'" Another camper, 31-year-old Crush, said post-cancer life made her question her entire identity: "I was defined as a cancer patient for so long, but now I've finished my treatment, so who am I?" That's where First Descents comes in. These weeklong outdoor camps act as a catalyst to help young adults move past the label of "someone with cancer" and remember what it's like to be a "normal" young adult again. The activity options—climbing, surfing, and kayaking—offer them a chance to push themselves in a way that is rare in everyday lives filled with the frustrations of work and the stress of relationships. They've been told that they're fragile and broken for so long, and they've spent months surrounded by caretakers, so this physical and mental push helps build confidence and prove that, actually, they're not weak and frail. As a matter of fact, they've fought through one of the hardest experiences anyone could ever have to face, and they're much stronger for it. The motto of First Descents is "Out Living It," which I took to mean two things: 1) simply being active outside and living life to the fullest, and 2) beating, or "outliving," the disease and the lasting negative imprint it can leave.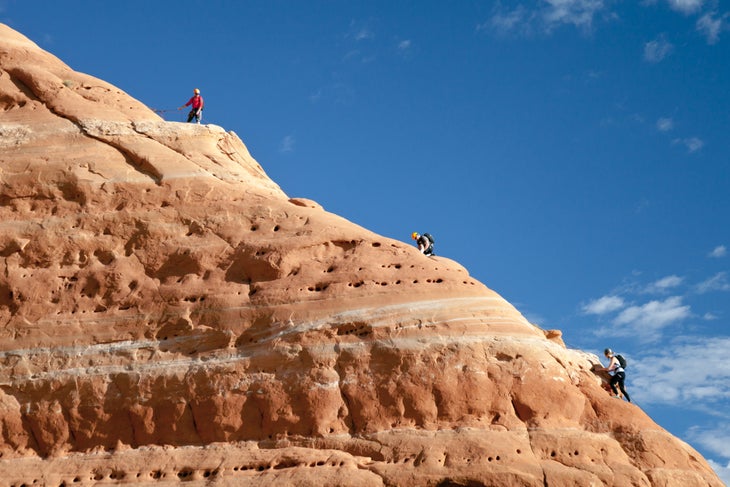 Founded in 2001 by professional kayaker Brad Ludden, FD started with just a few kayaking trips a year, but it grew rapidly and the organization has since added surfing and climbing to the activity roster. These sports are not only fun and take you to exotic places, but they are also appropriately challenging for first-timers. What I realized is that climbing in particular is an ideal mix of a physical and mental challenge that forces campers to put aside the conundrum of post-cancer life. By day two of climbing on our Moab trip, many grinning campers proudly displayed their bruised shins and bloodied fingers as proof that their bodies aren't frail any more. "Having cancer, especially at an age where I was supposed to be healthy and full of vitality, took away my ability to trust that my body won't fail me," 31-year-old Jupiter said about being diagnosed with colon cancer at 26. "Every time I go to the doctor to get a blood test or a scan, I am convinced it will have come back, even now four years out. Being able to crush huge rocks and push past the difficult climbs gave me back some sense that my body is mine again. Every time I made it to the top, I would look down and remember the times I slept on my couch because my body didn't have the strength to make it up the single flight of stairs to my bedroom or the times I was unable to take my dog for a walk."
"I think it's nice to be scared of something…else." —Jupiter
Despite having zero prior climbing experience, battling a fear of heights, and being a self-admitted city girl, Big A is always the first to volunteer for climbing, rappelling, belaying—you name it, she'll jump at the chance to be first. But her motives lack the bravado and egotism that can get newer climbers in trouble. Instead, she takes the guides' instruction very seriously, asks tons of questions, moves across the rock carefully and deliberately, and allows herself to show fear and emotion when she gets scared. It's the type of bravery and "not give a crap about what other people think" mentality that I can't help but admire. And for her, as well as the other campers, the psychological aspect of climbing is just as important as the physical. Climbing forces you to focus in so fully on what you're doing right at that very moment that everything else just sort of falls away. You can't make a grocery list or go through the talking points of your next work meeting while climbing, and similarly, you can't dwell on your recent radiation treatment or fret about your checkup next week while gripping small holds 100 feet off the ground. You have to live so completely in the moment that nothing else matters. One camper said she is used to thinking about her cancer a few dozen times a day because everything in her life has revolved around it for so long, and it's still such a prevalent part of who she is. Climbing provided a blissful freedom from that obsessively negative and hesitant thought, opening up room for joy and positivity about the future: "This is the first time I've felt sincerely and purely joyful and happy," said Crush, who came to camp less than three weeks after finishing her last radiation treatment for aggressive breast cancer.
"Life is so fun! The ability to be up and moving around and climbing on a rock is pretty amazing." —Coconuts
In 2009 at age 29, Coconuts started having headaches that made it feel like her head was going to explode: "I lost vision and thought maybe I had somehow died, that a tree limb had landed on me, that my head had been crushed like a pumpkin. It felt like I was hovering over my own broken, pained body. I was conscious, but unable to sense anything around me—a black hole." When the headaches continued for two more days, she went to see a doctor who refused to authorize an MRI scan. She insisted and got the scan 24 hours later; an hour after the scan the doctors called her in a state of pure panic—she had a huge mass in her brain and needed more scans immediately. A few days after that, she had a partially awake craniotomy, a surgery where she was put to sleep, her skull was sawed open, and then she was woken back up to perform a series of tests with electrodes on her brain, which help separate the tumor from healthy brain tissue. She was then put back to sleep while surgeons cut out the tumor, which they later diagnosed as an infiltrating astrocytoma.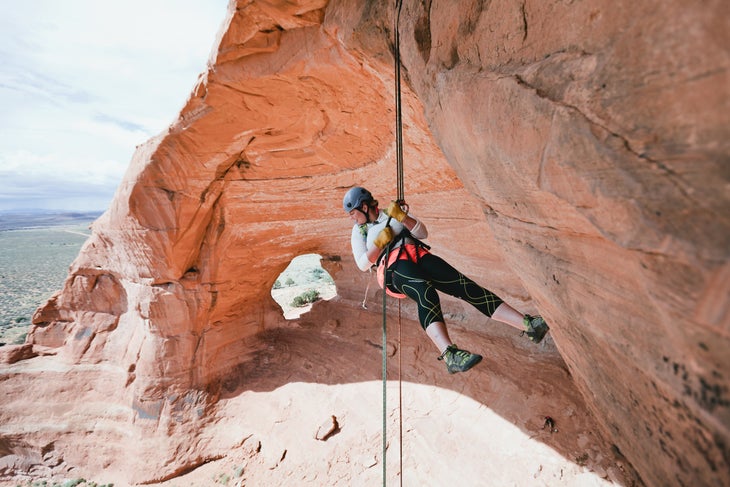 Thirty-six hours after surgery, Coconuts began deteriorating. She was not able to communicate and had no control over her body, not even her eyelids, although she was aware of what was going on around her. When doctors investigated this trapped state she was in, they found a myriad of issues, each of which could have been fatal by itself. "When I woke up from [the second] surgery, I couldn't speak more than a one-syllable word, grip things, or move my right side. My brain was horribly swollen, and it made me ridiculously simple-minded," she says. "The nurses told my family that I would never read again, or walk well, certainly never run. They said I would be 'simple' for life." Not the type to take no for an answer, Coconuts, with the help of her parents and her husband, Dan, started to relearn the alphabet, and after 10 months of speech and physical therapy, learned how to read again, as well as use a fork and a toothbrush. Five months after that, Coconuts ran in a 10k with hundreds of other people.
Within six months of the surgeries, the brain tumor had started to grow back, but Coconuts couldn't comprehend what was going on because of her minimal cognitive function. Doctors gave her no viable options—radiation, chemo, and surgery wouldn't help or weren't possible—and trying alternative diets and supplements did nothing for her; the tumor continued to grow. After being rejected from a trial study in the U.S., Coconuts traveled to Germany where she started dendritic cell therapy, and a few months later she started taking Escozul, a nasal spray that comes from scorpion venom. She also added off-label drugs that were proven to have an effect on gliomas (the parent classification of infiltrating astrocytomas), and with those treatments, Coco has been able to keep her tumor at bay for more than two years. "My doctors don't use the term 'remission' for brain cancer because they say it always comes back, but I feel like I'm in remission," she says. "Originally, I was given 4.5 years to live, and if we went by their projections, I should already be dead by now."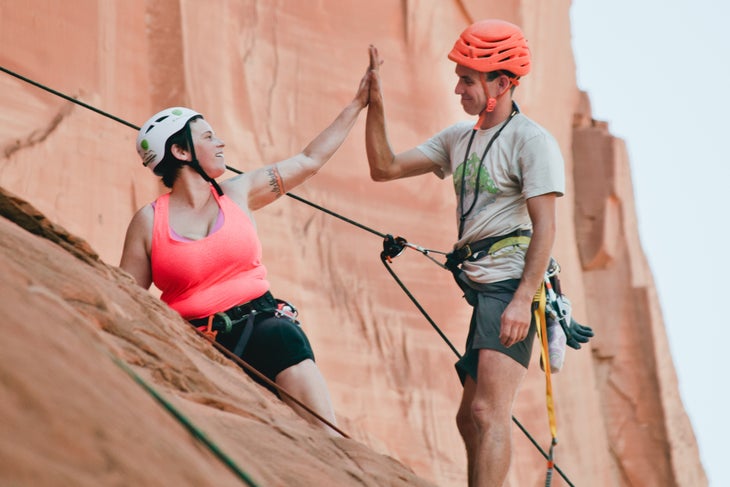 The gift of these FD trips is not only a motivational tool for getting past the scar that cancer leaves, it's also meant to be an unencumbered, just-plain-fun experience for people who seemingly got the short end of the stick. That's why FD provides food, lodging, guiding, equipment, and everything else at no cost to the participants; the only cost campers incur is the cost of transportation to camp, and FD provides numerous scholarship and fundraising opportunities so everyone has a shot at attending. Each participant must be medically cleared by FD's own board of physicians well in advance of the trip, and there's always at least one medical professional at every camp, whether it's a doctor, nurse, or emergency medical technician. Many campers suffer from various symptoms during their FD experience, including neuropathy (numbness on one side of the body as a result of chemotherapy), limited mobility, and seizures, and several of them are still in active treatment or recently finished, which comes with other health issues. Coconuts says, "I assumed I wouldn't be able to participate in all of the activities because of my meds, which must be kept refrigerated and administered every four hours. Instead, for the first time since starting my treatments, I wasn't alone. I wasn't the weird girl taking her medicine, or the girl stuck at home missing out on life."
"When I first arrived at the airport, I was filled with fear. I was afraid of dying, afraid I didn't know who I was any more, afraid others wouldn't understand me. But most of all I was afraid I wasn't going to be able to make it up that rock." —Crush
"Just a little bit farther, Crush. C'mon, fight for it!" I yell down to the petite but fierce girl from Michigan. I am positioned above her on a challenging 5.10 at Potash Road in Moab to shoot some pictures, and as it turns out, spray beta and give encouragement on the hardest route that anyone would attempt on the trip. Searching for the next hold, Crush turns her face up to me and all I see in her piercing blue eyes is an intense drive and motivation that sends chills down my spine, despite the heat. She does some elegant footwork that took me five years of climbing to master—it's her third day climbing, ever—before she reaches up, latches the hold, grunts a little, and pulls through with everything she has to get to the last few easy moves. Relief, satisfaction, joy, and accomplishment flood her face as she tops out, and although she fought exceptionally hard to get to the top of that route, I can tell that battle is nothing compared to other battles she's fought.
Most of the participants arrived with little to no climbing experience, and out of that lack of experience came a feeling common to both climbing and cancer—fear. Whether it was a fear of heights, the unknown, or failure, everyone got to camp scared of something, but it quickly became clear that many of the campers were refreshed by feeling the healthy, life-affirming fear that climbing provides, instead of the dark and hopeless fear that cancer evokes. Every day at the crag, all nine campers would put on their climbing shoes, tie in, and fight with every fiber of their being to get to the top of the wall. The unanimous reactions to reaching the chains on every route, whether it was 5.5 or 5.10, were the most victorious smiles I have ever seen on a person—more alight than any 5.15 climber you'd see in a big-screen climbing flick.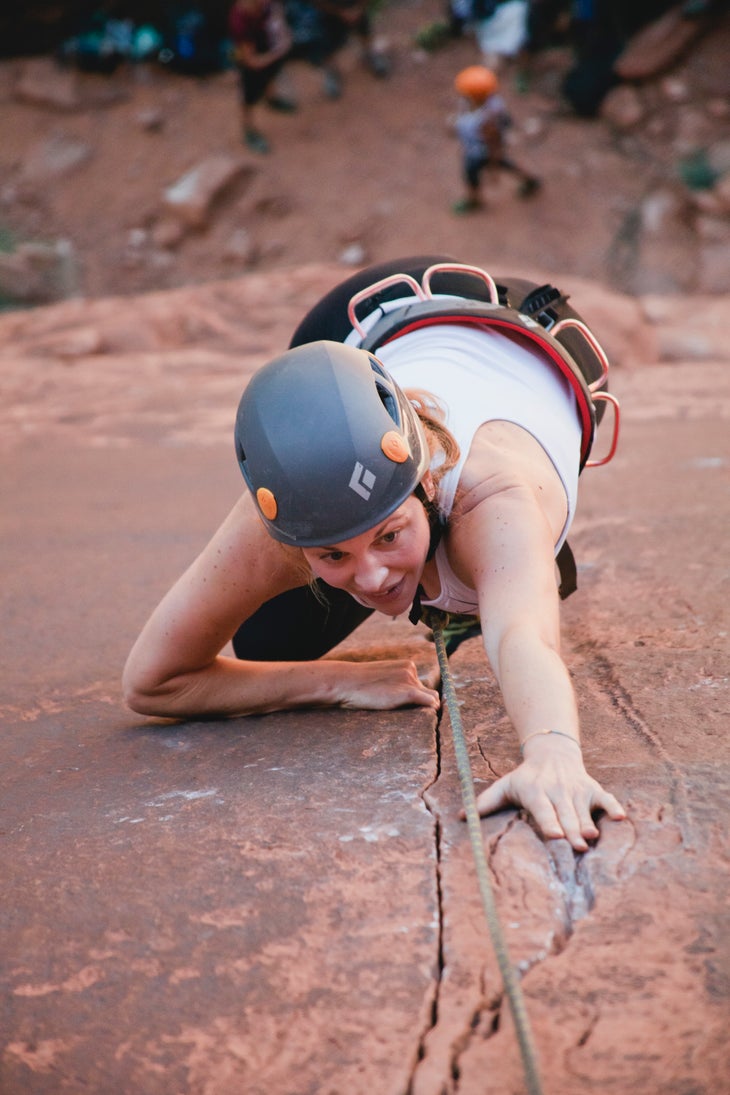 Over the course of five days, I watched the whole crew go from hesitantly stepping up to climb and nervously tying figure eights, faces tight with tension, to cracking jokes 65 feet off the ground in the middle of hard moves, getting right back on after big falls, and jumping at the chance to try the most difficult routes on the wall. As Crush wrote in a post-trip blog post, "[Getting to the top of the hardest climb] was a turning point in my climbing experience. I no longer looked up and wondered if I could do it. I looked up and wondered how I would do it." In my 12 years as a climber, it was hands-down the most inspirational group of climbers I've ever pulled down with. No one cared—or even asked once—about grades. No one cursed their own performance or got down on themselves when they couldn't do something. No one complained about the weather (it was 90° every day) or their skin or the rubber on their shoes not being sticky enough. Every moment of every day was met with huge smiles and constant laughter. When was the last time you had a climbing day like that? I can honestly say that I never had one before the trip or have had one since.
"I don't feel weird for the first time in a long time. Everybody gets me here, and that's a special thing."  —Coconuts
Connecting young adult cancer survivors to each other is another huge part of FD's mission. It's a healing experience to be able to share your most embarrassing, grossest, and sometimes hilarious episodes with others who have experienced the same thing. Everybody wants to be understood, and the camps create an environment of honesty and sharing that only a fellow cancer survivor can comprehend. "I had finally found myself in a place where I was understood and could understand," Crush wrote, "where my stories were not the exception but the norm." This connection also builds a level of trust that many of these campers have lost from their dealings with cancer; several had been burned by bad doctors in the past and deserted by friends and even family members in their time of need.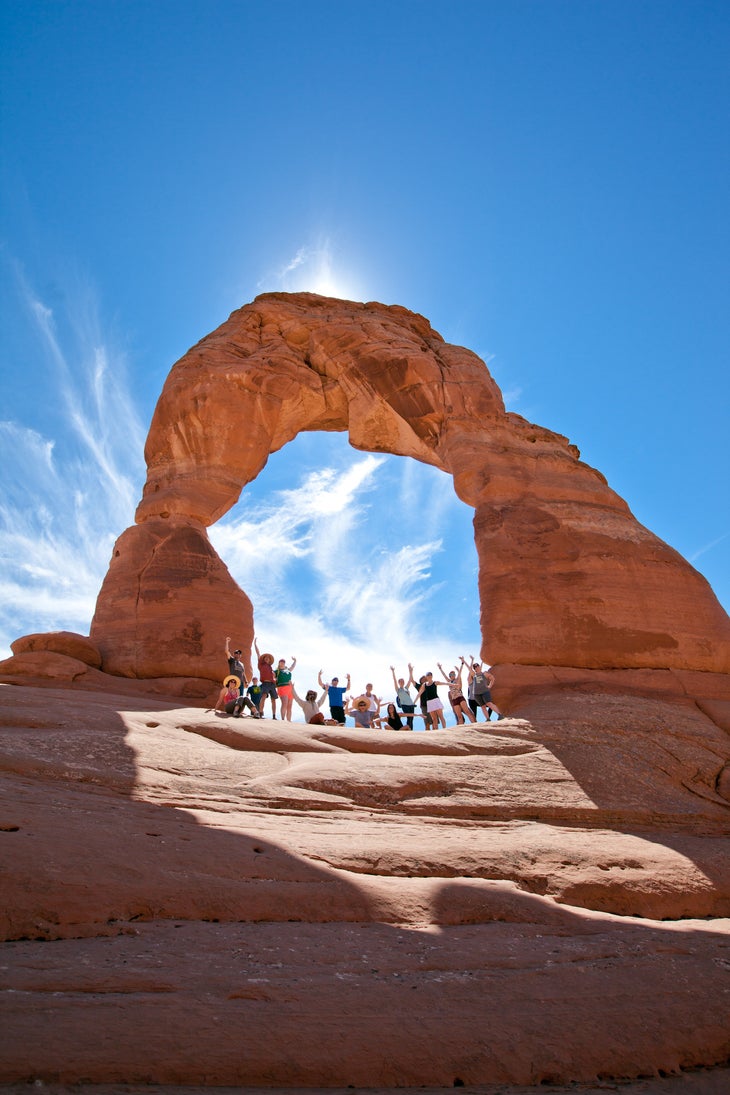 Climbing fits into that trust-building space, too, because you must trust that your belayer will keep you safe and that your climbing partners are looking out for you. "In order to survive, I had been forced to take my health into my own hands; I had to rely on myself," Coconuts pointed out. "But with climbing, you become glued emotionally to those around you, because you are forced to trust and rely on others…. You cannot manage alone." Because of this attitude, friendships formed fast, and after day two, my face was more sore from smiling and laughing than the rest of my body was from actually climbing. Nobody took anything too seriously, and these tough and wide-eyed newbies, who had not too long ago faced the darkest of days, woke up every morning with a pep in their step and a huge grin on their face. Jupiter described it quite poignantly as "a feeling of energy and connection between the nine of us cancer survivors that was palpable the moment we all arrived at camp." A stranger walking up to the constantly chuckling group might have thought we were a bunch of best friends reuniting after 10 years apart, who just also happened to be the test group for a new seratonin-laced happy pill.
"Just shut up and go do it." —Madrona
What I realized on this trip is that we as climbers are really good at giving back—to ourselves. With our own nonprofits like the Access Fund and the American Alpine Club, yes, you can volunteer your time or money to build trails, keep crags open to climbing, and erect porta-potties in parking lots, but in the end, doesn't that just serve us as climbers better? Doesn't that goodwill just get recycled back into the small climbing community that already exists? What if we put that time and effort into helping a group outside ourselves—imagine what our smart, competent, and hard-working tribe could accomplish.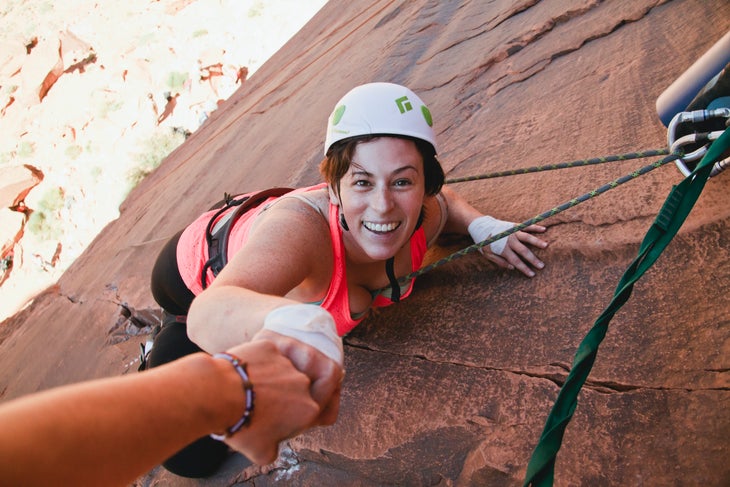 Before coming to Moab, Madrona, a spunky firecracker of a young woman, had been struggling with her intense and strenuous job at an animation studio because of "chemo brain," a common and lasting symptom from chemotherapy toxicity that involves changes in cognitive abilities, like difficulty remembering small details or keeping track of time. "I'm used to being a cannonball, a bull, blasting through my day with aplomb. It's hard to reconcile who I was with who I am right now," she says. "I left Moab feeling like the powerhouse I once was, with a bunch of dirt-covered, tough-minded, tender-hearted ass-kickers in my corner." Only a few weeks after returning to her home in Portland, Oregon, her employer let her go because she was inconsistent at work. When faced with this drawback, she channeled the strength she gained from her week with FD (after a good, hard cry in the car, she says) and made "the kind of decisions I would make climbing a crack. Thoughtful, deliberate decisions, working out what felt right, even though it wasn't obvious or expected." Through a Facebook group dedicated to our FD camp, Madrona told fellow participants of her unemployment and decision to pursue her passions of writing and painting. "The response I got was encouraging, affirming, and true. It was exactly the response I knew I would get from everyone, these people who saw me so clearly in just one week of climbing together."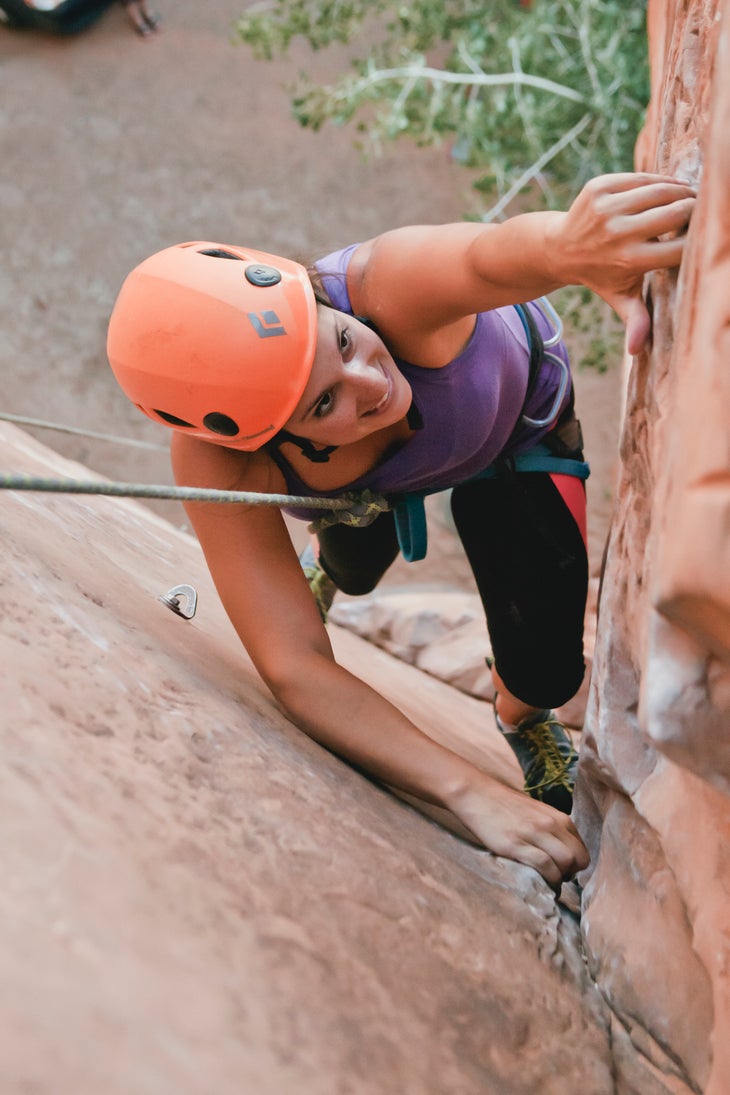 Organizations like FD improve lives by exposing people who need it most to this awesome but equally difficult thing we call climbing. Through those experiences, participants break out of their "cancer survivor" shell and realize the ability to choose their own label—including maybe even calling themselves a climber. More than half of the campers have climbed since the trip, and a few of them have purchased rock shoes and climbing gym memberships. Now, when I'm getting frustrated that I can't do a move or I keep falling, I tell myself that in the grand scheme of things, climbing doesn't matter. It's just this great hobby that gives me great exercise, lets me be outside, takes me to cool places, and allows me to hang out with my friends. I mean, climbing doesn't cure cancer, right? But on this trip, I realized that maybe climbing can help people in a bigger way. That's what I saw during my week in Moab with First Descents. I saw people who had overcome one of the greatest killers in modern times fall in love with our sport, not just because it's a fun way to pass the time, but because it gave them a way to continue fighting back and to regain control of their lives from this vicious disease. To outlive it, and be out living it.