Chattanooga's First Public Boulderfield Is Now Open
Lookout Mountain was seen as "off limits" by the city's Black communities—until local students helped reclaim the blocks.
Heading out the door? Read this article on the new Outside+ app available now on iOS devices for members! Download the app.
On an October weekend in 2019, over 200 climbers flocked from across the East Coast for the grand opening of the first public boulderfield within Chattanooga, Tennessee—the Wauhatchie Boulders. Families crowded around brand-new landing areas, crashpads were arrayed in a chromatic carpet, and firepits spit off heat for warming hands.
The unveiling of the sandstone blocks, tucked into the side of Lookout Mountain in the southwest corner of the city, was celebrated for creating accessibility, and sparked questions about what that means—the area was developed by high school students who'd never climbed before and who, just a few years earlier, hadn't felt welcome on those very grounds.
In one sense, Chattanooga is a microcosm of national currents. According to the Outdoor Industry Association's 2021 Outdoor Participation Trends Report, 75 percent of outdoor participants in 2020 were white (compared to 62 percent of the U.S. population) while only 9 percent were Black. Climbing is particularly monotone: Only 1.5 percent of USA Climbing members identify as African American, while mixed-race climbers make up just 4.7 percent.
For generations, Lookout Mountain was a highly visible totem of exclusivity. Rising like a ship's bow over the city—million-dollar mansions dotting the rim—Lookout is popular for rock climbing, hiking, and mountain biking. But for Chattanooga's Black communities, it might as well have been a painting—for viewing, not venturing.
"One day, I asked [our interns], 'How many of you have been to Lookout Mountain?'" says Robyn Carlton, the CEO of Lookout Mountain Conservancy (LMC), a land trust dedicated to the mountain's preservation. Not a single hand was raised, but a voice was: "None of us have been up here because none of us knew we could be up here," a student said.
Projects like the Wauhatchie Boulders help explode stereotypes about who belongs in the outdoors. It kicked off in 2017 as a partnership between LMC, Access Fund, and student-interns from the Howard School, a Chattanooga high school once labeled a "dropout factory" by the Associated Press. The sandstone boulders and surrounding park were developed almost exclusively by students of color—many of whom have since made outdoor recreation a permanent part of their lives.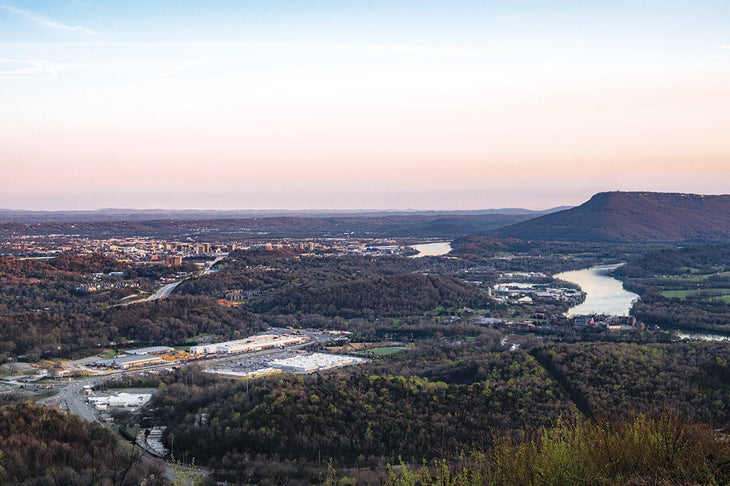 A highway runs through it
There's a lot to like in Chattanooga. The city is emerging for the startup and outdoor-sports crowds. Head an hour in any direction and you'll bump into world-class bouldering, some of the best sandstone crags in the Southeast, whitewater rapids, and countless hiking and mountain-biking paths. In town, Lookout Mountain blesses residents with over 100 trad routes at the Sunset Park crag, 125-plus boulder problems, and 30 miles of mixed-use trails. However, access to the big-money investments and natural benefits isn't shared by all.
"There are a lot of barriers to entry to getting outside here," says Kendall Martin, the founder of WeClimb, a Chattanooga nonprofit that uses climbing to introduce underserved youth to the outdoors. "If you lived in Brainerd or Hixson (communities within the Chattanooga metro area), I wouldn't say it's impossible to get to these places without a vehicle, but it's way more complicated than people realize." In the city, a lack of public transportation and gentrifying policies have cordoned off many historically Black neighborhoods, preventing residents from enjoying the in-and-out-of-town amenities.
"Chattanooga Way," the city's redevelopment strategy over the past few decades, has been lauded for revitalizing the downtown, but has also de-emphasized public infrastructure outside the urban core. Low coverage of public transport and few Bike Chattanooga stations—the affordable public bike-rental service—in lower-income zones, coupled with sidewalks that are either nonexistent or in disrepair, limit the mobility of residents beyond their neighborhoods.
Much of this stems from federal urban-renewal programs from the 1950s and '60s. According to a 2019 report from the nonprofit Chattanooga Organized for Action, Negro Removal in Chattanooga: "The federal government financed urban renewal to eradicate blighted housing in and near urban cores … to build interstate highways, new housing, and government buildings. Because roughly 2/3rds of those displaced were African American, critics referred to the process as 'Negro removal' … After 25 years of state-sponsored urban demolition, many American cities were radically altered."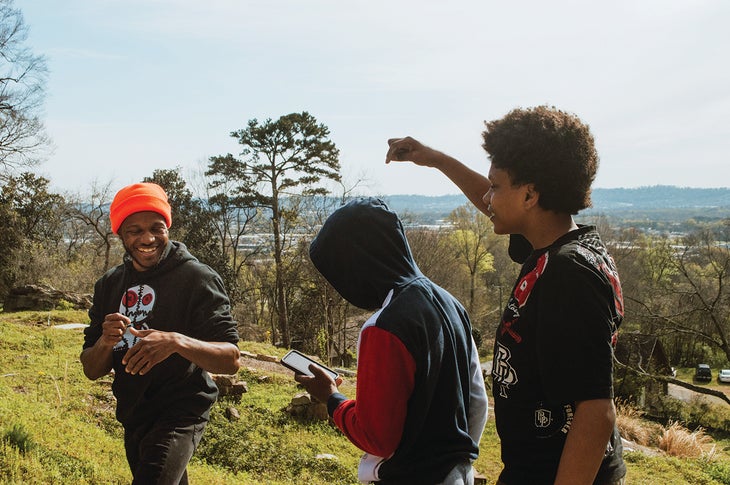 The rearrangement of Chattanooga came to a head in 1957 when the city's Westside Redevelopment Plan began forcefully removing more than 1,400 mostly Black families and individuals to open up prime property along the banks of the Tennessee River. A new neighborhood, Westside, was created for the displaced residents. It was full of public-housing projects and hemmed in by highways—of which the city built a lot. During this period, Chattanooga was eleventh in the U.S. for per capita spending on highway projects.
You can still see these dividing lines today. Simply head uphill from the Wauhatchie Boulders to the top of Lookout Mountain. Situate yourself at Point Park, where the Tennessee River turns, and look—down the barrel of a replica Confederate cannon aimed at downtown and the Southside neighborhood.
The historically Black Southside is bisected by, of all things, the Lee Highway—built during the urban-renewal period and named for the Confederate general, Robert E. Lee. North of the highway, downtown Chattanooga, dubbed the "Gig City," is a poster child for fiber-optic tech hubs, with sparkling new infrastructure and cafés on every corner. On the south side of Southside is the Howard School, where six in 10 of its students live in poverty.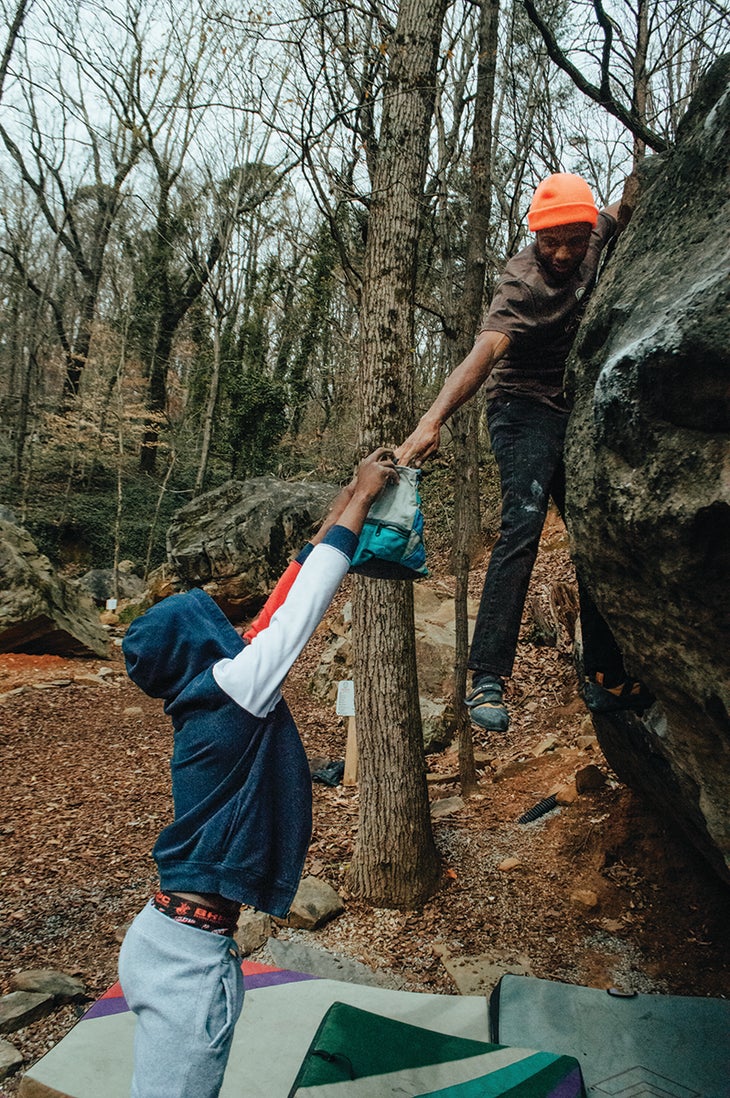 Chattanooga has one of the highest rates of income inequality in the nation, which interfaces with another suboptimal superlative: Southside has the second-fastest rate of gentrification in the States. Research from the Thomas B. Fordham Institute showed that the neighborhood shifted from about 10 percent white to 50 percent between the early 2000s and the 2010s—and is up to 70 percent today. The movement occurred almost exclusively north of the Lee Highway.
"These numbers are not the result of random market forces; rather, they are a direct result of policies implemented to attract new residents to downtown—more affluent, more educated, and mostly white," wrote Dr. Kenneth Chilton, a professor of economic policy at Tennessee State University, in Negro Removal in Chattanooga. The difference in development certainly couldn't be more black and white.
Creating a resource for all
The Old Wauhatchie Pike has historically been a public resource. A winding trail up the northeast ridge of Lookout Mountain, it has served as a byway: a trading route for the Cherokee, a supply line during the Civil War, and a moonshine motorway during the Roaring Twenties. Once modern highways came along, the Pike was closed to vehicles and fell into disuse. These days, footpaths split off from the original route and connect the Wauhatchie Boulders, situated among black walnut trees and the ruins of old homes.
Howard School interns at the LMC and the Access Fund have developed 27 boulders on the LMC-owned property. The pocketed sandstone varies between arcing slabs with striking rail features to overhanging lumps pockmarked by huecos, scoops, and pockets, with grades from V0 to V10-plus projects. Some classic boulders include the Slide, Bulge, Turtle, Edge, and the Cliffhanger, a bulging layer cake with sugary views of downtown.
The boulderfield is spread across roughly 25 verdant—and formerly derelict—acres of land. In the beginning, interns wrestled with curtains of kudzu so thick they blocked the sun. They excavated 100-years' worth of trash, including Coke bottles and car parts; cleaned, stacked, and relaid 36,000 antique bricks for walls, steps, and landing areas at the boulders; and removed 80-year-old privet shrubs as thick as tree trunks.
This was a rare instance in which the area could be established before climbers flocked, notes Zachary Lesch-Huie, the vice president of programs and acquisitions at the Access Fund, and the principal instigator for the project. The students built everything with sustainability in mind. At the Siri Boulder, Swahili for "Great One," for example, the students laid bricks 18 layers deep with two four-inch levels of gravel to flatten the terrain. When it rains, the water absorbs into the crush-and-brick base and then slowly seeps out, minimizing soil erosion.
In 2019, the LMC and the interns received the Access Fund's Climbing Advocate Award in recognition of their contribution.
Climbing toward access
According to Martin, of WeClimb, one of the main hindrances for BIPOC communities to getting outdoors is not recognizing it as an option. "If it's not something your parents do, or friends or people in your community do, how do you get introduced to it?" he asks.
Marie Mott, a Black activist and fourth-generation Chattanoogan who ran for city councilor in 2021, puts it this way: "I've been shocked learning that Chattanooga is a place where people come from across the globe for climbing." Mott began bouldering in the lead-up to the election. "I'd never seen a boulder in person. Some of those simple things you'd think people would enjoy—in our own city—it doesn't even come into their frame of reference," she says.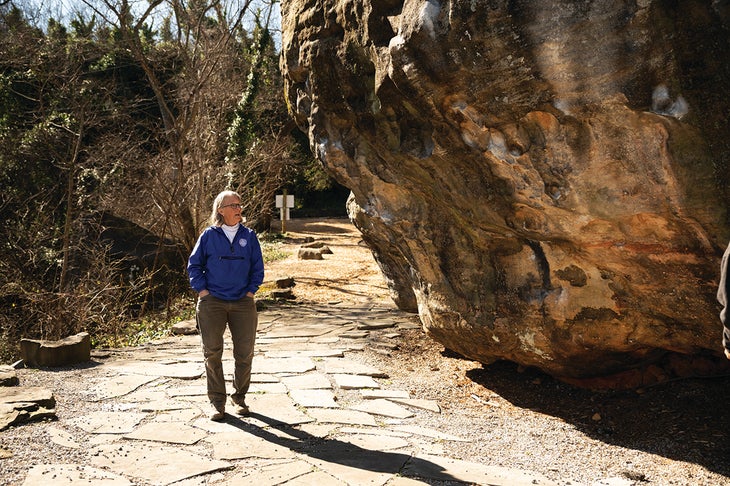 "That's for the tourists, not the poor kids," Mott adds. That is, until the LMC and WeClimb came along. Since launching in 2020, WeClimb has welcomed over 100 students from lower-income neighborhoods to climbing, while the LMC has worked with hundreds of interns over the years. For Domanique Rahman, former LMC intern, being introduced to the outdoors changed what he thought was possible.
"Growing up in Chattanooga, it's easy to feel like the world is only as big as those around you and that your future is limited to the day-to-day challenges you face," Rahman wrote in a blog post in 2019. When I asked him about that during a phone call, he shared, "To be able to go kayaking, mountain biking, climbing; to do things that we, quote-unquote, 'Don't do,'" he paused, "it completely changes everything." Rahman has since gone on to graduate school in Chicago, something he didn't consider prior to taking part in the LMC's internship program.
A legacy written in stone
The Howard students are proud of the resources they've created for the community. Because of the nearby Triple Crown hubs of Stone Fort, Rocktown, and HP40, the LMC internship team was unsure if the Old Wauhatchie Pike Boulders would get much attention. Now, though, the revamped park is popular among locals for a quick after-work session or a weekend-with-the-family outing.
With their work at the boulders, LMC's interns are following in the footsteps of concerned Black citizens who have fought to make Chattanooga more equitable throughout history. In 1960, Howard students walked into McClellan's on North Market Street to lead a peaceful sit-in at the segregated lunch counter, and jump-started the local civil rights movement. In 1980, Viola Ellison, Lela Mae Evans, Katherine O. Johnson, and Opal Lee Jackson sued KKK Klansmen in civil court after being shotgun-shelled downtown—one of the women's legs was pumped full of a hundred-plus pellets. They won their suit in 1982, and helped create an anti-Klan strategy that lawyers across the nation would go on to replicate.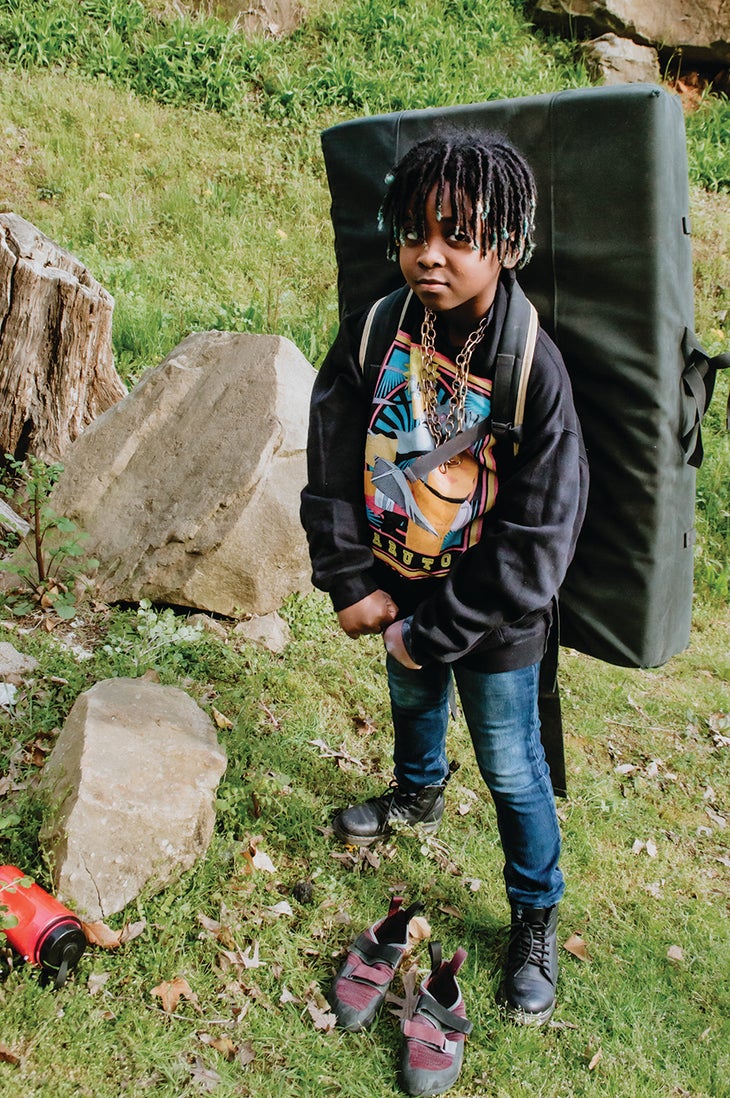 "We only want to tell certain stories in Chattanooga: We cleaned the air, revitalized the downtown, have the fastest internet. If we only tell the best parts, we miss out on the opportunity to make great change," says Mott, who up until 1991 wouldn't have been able to run for city councilor due to an election process that effectively eliminated Blacks from political life. The commission-style government was deemed unconstitutional by the U.S. District Court.
Chattanooga's narrative is being rewritten. But the questions are: By who? And for whom? While it has twice been named "Best Town Ever" by Outside, and was anointed "America's New Climbing Capital" by this very magazine in 2016, to make it the Best Town Ever for Everyone will likely take the efforts of a small group of concerned citizens.
Away from the chaos
On a crisp February weekday earlier this year, I sampled the Wauhatchie Boulders myself. I walked from our rented apartment in St. Elmo at the base of the mountain, taking a circuitous half-mile route—crossing two busy streets—to the Guild Trail and on to the boulders. The blocks sit tucked into Lookout Mountain in a kind of amphitheater. Once there, my mood shifted. I sussed out problems and tried hard as cars and 18-wheelers from I-24 rumbled by below. Minus the road hum, there was quiet—no birds, slight wind, a peaceful stillness uncommon in cities.
Martin agrees: "I go climbing to remove myself from the busy life of the city, to step away from the chaos and stress," he says. "For the students, it's literally about being kids—they like going outdoors to climb, and if they get bored, they go hiking and exploring, jump in the dirt, play in the creek, have fun. But even though some of the kids only live 10 minutes away, they didn't know the boulders were here."
How fortunate, then, that this outdoor space is available so close to downtown Chattanooga. I've never seen another climbing area like it in a city—manicured and cared for, early-spring green crocus buds pushing through the dirt. It felt comfortable and inviting; if only that were the case for climbers and would-be climbers in cities everywhere. But things are changing.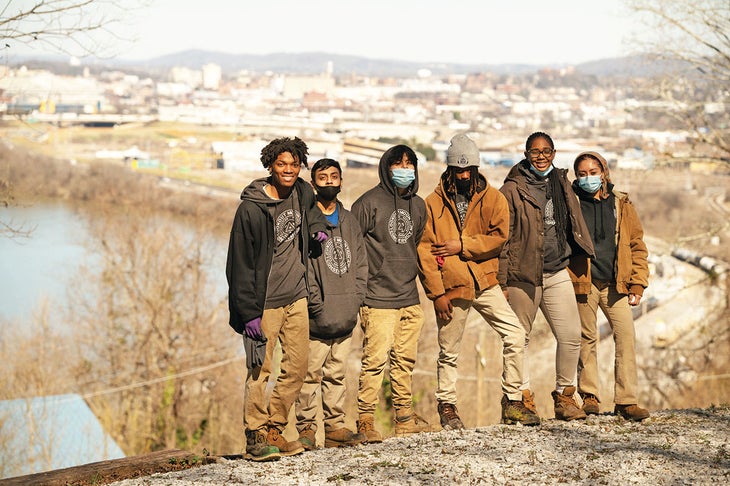 For more information about the LMC and WeClimb, go to lookoutmountainconservancy
.org and weclimb.org.
Aaron Gerry is a freelance writer and editor. His favorite type of climbing is bouldering, because it's mostly just sitting around.