Chris Sharma: A Lifetime of Climbing
Heading out the door? Read this article on the new Outside+ app available now on iOS devices for members! Download the app.
The following essay by Chris Sharma is from our new book Vantage Point—50 Years of the Best Climbing Stories Ever Told, an anthology of the most inspiring, thought-provoking, and humorous stories featured in Climbing Magazine over the past five decades. Each section opens with new text from a notable climber of that era, including Sharma, Beth Rodden, Jim Erickson, and more. Pre-order the book here.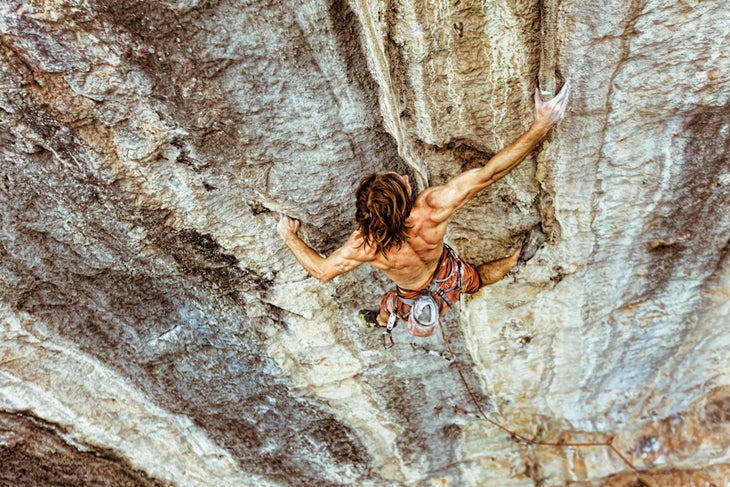 I was one of the first climbing-gym-generation kids. Up to that point, usually it was an uncle or a friend—a mentor—who introduced the next generation to climbing. My dad was a surfer and grew up in a different world. I always had a natural inclination for scrambling up trees, but I started climbing in gyms in the early 1990s because there was one close to my home in Santa Cruz, California.
There, at the Pacific Edge Climbing Gym, I met climbers who took me under their wing. To this day, I feel super grateful to them for showing me around Castle Rock, Pinnacles National Park, Yosemite, and beyond.
Out with friends at the boulders and crags, it felt good to be surrounded by nature. But back on plastic, it was often a different story. Here, the adults were taking themselves way too seriously. They dressed in Lycra and threw embarrassing wobblers at comps when they blew a sequence and fell. At first, I thought sport climbing and competitions were dorky.
But I loved getting out there and doing my best, like in 1994 when I competed in nationals at City Rock, going against heavy-hitters like Scott Franklin and Doug Engelkirk. Before I knew it I was winning, and it felt good to know I had finally found something I was good at. Tommy Caldwell, Beth Rodden, Katie Brown, and I made up this youth movement, bringing new blood to the sport. In 1995, all of us came onto the scene, and that changed things—we were kids out there just having fun and not thinking too much about the importance of clipping the chains, taking first place, or being top dog.
Around that same time, a small crew of dedicated boulderers including Fred Nicole, Boone Speed, and I visited places like Hueco Tanks, Texas, and Ibex and Joe's Valley in Utah, where we put up V12s and V13s—cutting-edge problems at the time. Meanwhile, bouldering had taken off in Yosemite, with problems like Jerry Moffatt's Dominator (V12/V13; 1993)—and that influenced me a lot. The hard-pushing, supportive vibe reminded me of when I was 13 or 14 and bouldering with Ron Kauk in Camp 4. Soon, finding bouldering FAs became my main focus. Unlike all the hard work of bolting and cleaning a new sport climb, with bouldering first ascents you need little more than vision, some crashpads, and a toothbrush.
I traveled to Europe when I was 16, and that opened my eyes to the world of hard sport climbing, there at the great, sweeping, legendary limestone walls of Buoux and Céüse, France. Soon after returning to the States, I made the first ascent of Boone Speed's longtime project Necessary Evil (5.14c) at the Virgin River Gorge in Arizona, the hardest climb in the country at the time—1997.
During those early years, I loved sport climbing and bouldering equally—and some trad, especially in Yosemite. But I wouldn't take sport climbing seriously until I got much older. Climbing is a lifetime thing, and as we grow and change, so do our interests. Over the years, I've followed a trajectory that's taken me from bouldering to sport to competitions, and back again.
From Blocs to Walls to Sea
I lived in Bishop, California, from 1998 to 2000, bouldering avidly and putting up new problems like The Mandala (V12) in the Buttermilks. I didn't want to just follow the lines that were set, but to embrace the creative process and author my own first ascents.
That process brought me to Jean-Christophe Lafaille's [1965–2006] ultimate project, the most perfect route out there, Biographie/ Realization in Céüse, which I redpointed in 2001, establishing the world's first 5.15a. Alex Huber's Open Air (1996) at Austria's Schleier Wasserfall could be the world's first 5.15; it's debatable. It was certainly the most difficult line in the world at the time.
After Biographie, I felt complete as a climber, and considered moving on to something different. But then I traveled to Mallorca and got my second wind for climbing with deep-water soloing (DWS): climbing ropeless above the sea. This emerging activity combined sport climbing, bouldering, and a dash of adventure. Soon I was pushing myself in a way that was once again unique and different.
DWS created a new form of climbing that felt so free. Growing up by the ocean as a kid, I felt comfortable in those surroundings, so the sport came naturally to me. After my first DWS experiences, where I repeated or established routes up to 5.13, I thought about my transformation on Biographie and began seeking out that next perfect, futuristic line. When I found Es Pontàs (5.15a), a natural sea arch off the coast of Mallorca in 2006, I sank everything I had into it. That 65-foot project took me three years to complete.
Driven by my love for DWS, I started organizing the Psicobloc comps—DWS competitions held on an artificial wall in Utah—in 2013. That's the same year Adam Ondra redpointed my project from 2009, La Dura Dura, authoring the world's first 5.15c. When the 20-year-old Czech phenom ticked it, I knew it was time to pass the torch. Now Adam has flashed 5.15a and redpointed 5.15d. Incredible.
Of the many talented climbers out there, Ondra, with his singular focus, quick, dynamic style, and heroic training sessions, perhaps best defines performance rock climbing in the 2010s. It's a decade that's seen the first redpoints of 5.15 by women (Margo Hayes and Angy Eiter, respectively, with La Rambla [5.15a] and La Planta de Shiva [5.15b], both in 2017), the world's first V17 (Nalle Hukkataival's Burden of Dreams; 2017), the world's first VI 5.14d big wall (the Dawn Wall, freed in 2015 by Tommy Caldwell and Kevin Jorgeson, then rapidly repeated the next year by Ondra), the first free solo of a VI wall on El Capitan (Alex Honnold's ropeless 2017 ascent of Freerider, 5.13a), insane mixed-climbing standards up to D16, and an explosion of light-and-fast, solo or two-person-team alpine blitzes like Honnold and Colin Haley's one-day repeat of the Torres Traverse in Patagonia in 2016.
Through it all, I've felt grateful to still be immersed in the sport I love. Over the years I've grown and changed, becoming a husband, father, and business owner, but climbing, as ever, is still about reinventing myself, being passionate, and finding the next life chapter. Today I embrace the spontaneity of climbing without pressure, and am careful to follow the playful side of the sport.
It's important for us all to see climbing as a personal journey and to realize how it can be about reaching for something just beyond your grasp. As the level gets higher and we get more young gym crushers, it's crucial to understand why we climb and also to share that journey with the next generation. Today, I share climbing with my daughter.
Now my main focus is finding out how hard I can push myself with pure sport climbing. As I dictate this, I'm in Oliana, Spain, looking up at La Dura Dura. It feels great to be out here surrounded by friends. In the distance, I can hear people cheering on someone as they complete their project. Their voices remind me how much has changed but also how much has stayed the same since I began climbing back in the 1990s. Ten years ago there were no routes here, and today there are 10 climbs rated 5.15. I'm happy to know I still feel that same stoke for climbing I've had since I was a teenager back in Santa Cruz.