Climb Like a Girl: Advice from Dawn Glanc
Veteran guide Dawn Glanc talks about the bright future of women in climbing.
Heading out the door? Read this article on the new Outside+ app available now on iOS devices for members! Download the app.
This article originally appeared in the October 2015 issue of our print edition.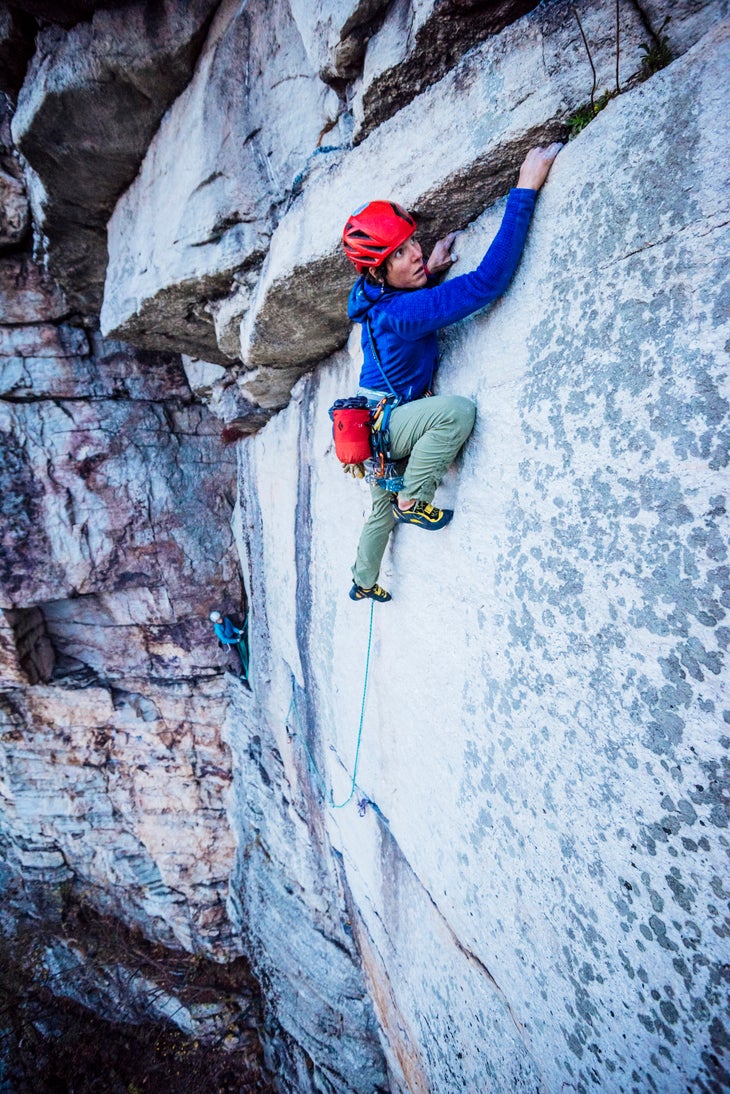 "I was better than all the guys—that was huge for me," Dawn Glanc says of her early days ice climbing in South Dakota more than 20 years ago. Now, an AMGA-certified guide since 1998, Glanc has led expeditions across the globe, including personal trips that resulted in notable first ascents in the U.S. and abroad. When she got her start, she noticed there were very few women out there getting after it, which she says pushed her even harder. Today, Glanc is helping usher in a new wave of lady crushers with her female-focused Chicks Climbing and Skiing  programs, and in her eyes, the future for climbing women is limitless.
Glanc points to the mindset of not having to be "one of the guys" any more as a reason that more women have been climbing over the last several years. When Glanc first started getting into the sport, it was her raw talent and love of the ice that fueled her, but not having many female counterparts forced her to try to fit in with the guys. "I didn't want to be treated differently," she says. "But that barrier is being breached by the new generation. They don't have to be one of the guys or feel limited in any way. We can take this sport wherever the hell we want. If a woman wants to be the first to climb 5.16, she can do it!"
One of the biggest stepping stones in getting to this mindset has been Chicks Climbing and Skiing, an organization that focuses on empowering women through ladies-only ice climbing, rock climbing, and skiing clinics. By offering a supportive and fun atmosphere, women are able to learn and advance their skills without the pressure of feeling like they need to be as strong as the dudes. Owned and operated exclusively by female guides, "Chicks" is now in its 16th year and offers programs of all skill levels and abilities across the country. Glanc rarely climbed with just women before, but while toprope soloing in Ouray Ice Park in Colorado, she heard groups of women talking and laughing on nearby routes. "I'd think, 'These are women I want to climb with!' I could see [the group dynamic], and I wanted to be a part of that." After winning the Ouray Ice Festival competition in 2009, Glanc's wish came true when she was asked to be a guide with Chicks. "It was like this Cinderella moment," Glanc says. "Within an hour of winning, I got the offer to work there." After one trip with them, Glanc saw how important that bonding environment was for her as a female climber and for the other participants. "It finally clicked with me how special and different it can be when women climb together," she says. "It has this indescribable power. It empowers you in a way that you'll never get when men are around."
This empowerment will continue with Glanc and the other owners at the helm (Kitty Calhoun, Elaina Arenz, Angela Hawse, and Karen Bockel), as they are planning big things for Chicks' future. Glanc points out that these programs aren't about holding hands and hugging, or on the flip side being competitive and comparing yourself to others. Instead they are about being supportive. "If you climbed a 5.13 and I only sent a 5.6—awesome, we both climbed today!" With so many strong women crushing, Glanc is thrilled to see what's to come: "It's time to start running with the ladies now."
How to Climb Like a Girl
1. Be Practical
It doesn't do a ton of good just to crank out a lot of pull-ups. I've been climbing for 20 years, and I've never had to do a deadhang pull-up. You're not going to climb an overhanging route by campusing it; that's poor technique. It's more important to train your core and improve your balance. Focus on doing things (yoga, Pilates, balance ball) that make you engage muscle groups you never even knew you had.
2. Invest
During your first few years in the sport, save some money and invest in learning. Get some professional instruction so you can jump right in and already know how to do all the systems safely and properly. Trying to learn from your boyfriend or guy friend or whatever—it complicates things, so get instructed by someone you don't have a previous relationship with. You'll advance so much quicker.
3. Body Awareness
The biggest advantage that women have over men is being more in tune with our bodies and knowing how to use them. Women tend to have a heightened sense of body awareness, so we know when to tighten our core or legs in certain positions. If you find this is not the case, try to pay closer attention to your balance and how your body feels on specific moves and individual postures; this alone can improve your climbing.
4. Keep a Routine
I try to keep things that I can control, like my coffee intake or what I eat, as in check as possible so at least those few things are normal every day. This allows me to face any abnormal situation confidently, like crazy weather or avalanche danger. Controlling the things I can keeps me in a sort of routine so I can be prepared for any unexpected trials and tribulations along the way. 
5. Laugh
No matter where I go around the globe, I take my sense of humor. That, along with acceptance, are the most important factors I've found for successful expeditions. Accept that your partner just did some gross thing that you don't like or that you've suffered 20 days in a row in a tent. Roll with it and embrace what's happening. If you can do those two things, you can travel anywhere in the world.