A Climber We Lost: Tina Fiori
Each January we post a farewell tribute to those members of our community lost in the year just past. Some of the people you may have heard of, some not. All are part of our community and contributed to climbing.
---
Join Climbing
Create a personalized feed and bookmark your favorites.
Join Climbing
Create a personalized feed and bookmark your favorites.
Join for free
Heading out the door? Read this article on the new Outside+ app available now on iOS devices for members! Download the app.
You can read the full tribute to Climbers We Lost in 2022 here.
Tina Fiorini, 50, March 26
Born and raised in Riverside, California, Tina Fiori began mountaineering in the late 2000s and started rock climbing in 2011. She was at home on the rock no matter the style of climbing, said longtime friend and climbing partner Patrick Moran, but she didn't care one bit for grade chasing. She just enjoyed big, hard objectives.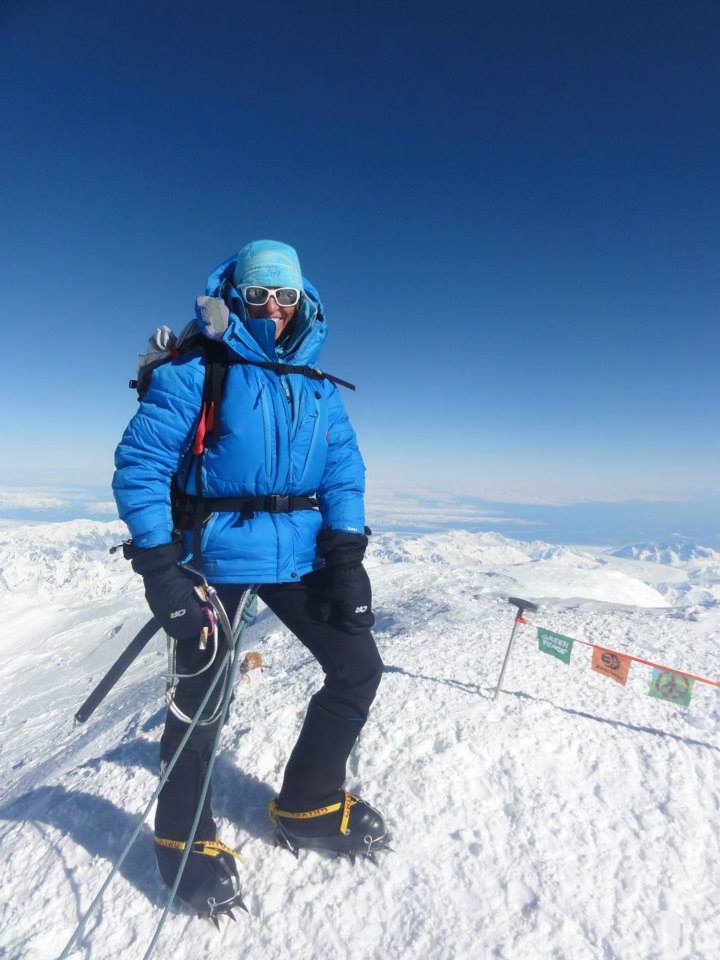 From frosty ramparts of Denali (20,310 feet), which she summited in 2013, to the notoriously brutal 10,000-foot Snow Creek on Mt. San Jacinto (10,834 feet), which she ascended on several occasions, to an expedition to Ama Dablam (22,349 feet), Fiori was in her element on rugged, endurance-heavy climbs and hikes, her friends said.
Another of her favorite climbs was a snow ascent of the iconic "Bloody Couloir" on Bloody Mountain (12,558 feet), which she tackled with Moran, Carmen Cendejas, and other friends. She was fond of many high peaks in the Sierra Nevada and had summited several peaks in the Palisades, including Sill, Polemonium, Starlight, and Thunderbolt.
"She just loved hardcore shit," said best friend Cendejas, smiling. Despite suffering from Raynaud's, a disease that results in poor blood flow to the extremities, Fiori was also especially passionate about ice climbing, and never let her symptoms hold her back from winter climbs or high-altitude objectives.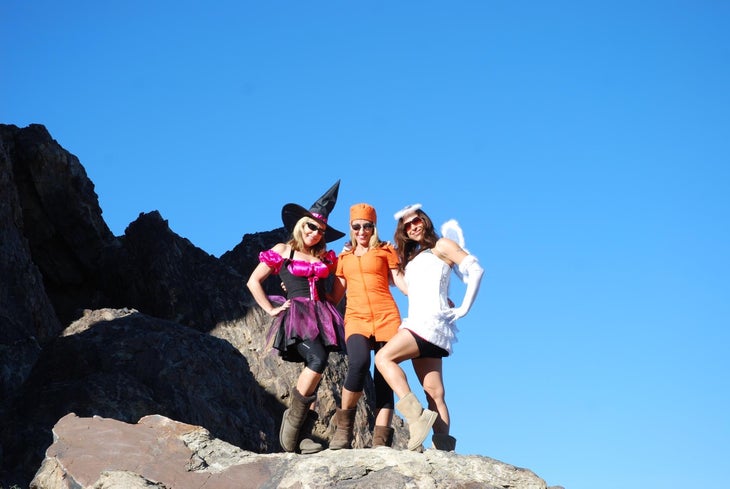 Fiori was well-known in the SoCal climbing scene, frequenting all the usual hotspots, from Tahquitz to J-Tree, but her recent passion was a little-known crag called Spy Mountain, out in the desert near Landers. Fiori had recently developed dozens of routes in the area, along with a group of other climbers including prominent J-Tree developer Todd Gordon. Another of her current goals was to free the 800-foot White Maiden's Walkway in Tahquitz, which she hoped to complete this autumn.
"Her answer to shitty things [in life] was going to the mountains, experiencing nature, and bringing people together," Cendejas said.  In addition to climbing, Fiori was an avid snowboarder and canyoneer.
"She always wanted respect for her abilities, and she had them," Moran said. "She could flip you off in a second though, if she ever thought you were dissing her," he added, laughing.
While she did her fair share of climbing and adventuring alone, Fiori was always keen to get out with friends, and regularly organized large groups for a variety of outings, including Rim-to-Rim-Rim hikes of the Grand Canyon and several jaunts up the famous Cactus to Clouds trail on San Jacinto.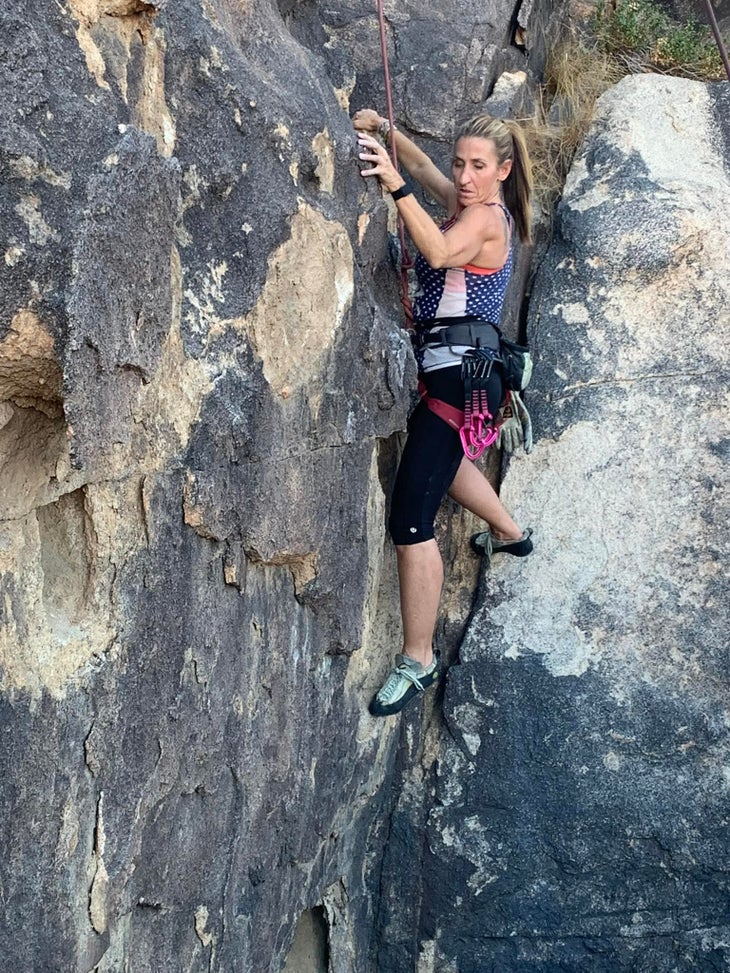 Cendejas spoke of how on one occasion she and Fiori charged up the majority of the latter route (which entails 10,300 feet of elevation gain and is often considered one of the most difficult day hikes in the Lower 48) two times in a single day. "Good, rad times!" Cendejas quipped. 
Fiori (50) passed away on March 26 after a ground fall while climbing near Sheep Pass Campground in Joshua Tree National Park. Fiori had just finished Turkey Terror, a 5.9 bolted route near Television Wall, which would have been her last line of the day. (The route's first ascentionists and a group of Fiori's friends have since organized to rename the line Tina's Last Dance in her memory.)
She was rappelling after cleaning the route when she suffered a ground fall from approximately 60 to 80 feet, Matt Himmelstein, one of the two climbers with Fiori, told Climbing by email. 
Following the fall, Himmelstein went for help and guided first responders to the scene while the other climber stayed with Fiori, providing care. She showed weak vital signs immediately following her fall, but first responders reported that she died at the scene.
While Himmelstein noted that he couldn't be sure which part of Fiori's rappel system failed, the rope fell with her and her ATC was properly threaded and attached to her harness, so it appears that she was fully prepared to rappel. She also distinctly called off-belay. 
"The anchors that we used for top-roping were solid, as were the bolts and hangers," Himmelstein added.  All components of the top rope anchor were on Fiori when she fell, indicating that she had completely finished cleaning the anchor before beginning to rappel.
"We believe Tina had cleaned the gear we were top roping off of and clipped into some slings of unknown age to lower herself," Himmelstein wrote in a Facebook post that he later shared with Climbing. "We suspect that the slings could not support her weight [and] failed…"
The other climber present at the time of the accident noted that pieces of the old slings were still attached to her rope, and following the incident, other climbers in their party returned to investigate and saw the webbing left at the anchors, confirming that it had indeed failed.
"All I can say is that sun and the other elements are not kind to soft goods," Himmelstein said. "Webbing is generally not sold in white. Please, if you are not sure of the rap setup, leave a bail biner or two. The cost of a $6 piece of gear is so trivially insignificant compared to the events of yesterday."
Moran remembers Fiori for her welcoming nature. "She was friendly to everyone, she was an all-inclusive person who was always willing to make people laugh, always humorous and kind."
"She was a gift to us," Cendejas added. "She was just the type of person who you could tell anything to and you wouldn't be judged. You could pour your heart out, and she would be there for you. She was the unconditional friend that was with you both when you were having fun and when bad shit was happening."
This wasn't just true in the mountains, but in everyday life as well. One of Fiori's childhood best friends passed from terminal cancer last year, and Cendejas fondly recalled how Fiori tirelessly cared for him in hospice, ferrying him to-and-from medical appointments and staying by his side daily up until his death.
"She had enthusiasm beyond all of us," Patrick said. "She just wanted to include everyone in this great joy of the outdoors. She was kind to the core."

"I'm going to always remember that smile."
Tina Fiori is survived by her mother and father, Darlene and James, her sister, Christina, brother-in-law, Jason, and a niece and nephew, Avery and Brayden. Fiori's family was immensely important to her, her friends said, and she was particularly fond of her niece and nephew. Fiori's family has requested that, in place of flowers or other methods of condolence, parties donate either to Joshua Tree Search and Rescue (JOSAR) or Riverside Mountain Rescue in Fio's memory.
—Owen Clarke
You can read the full tribute to Climbers We Lost in 2022 here.