Ordinary Heroes: Though He Was Killed by Rockfall, His Belay Hand Never Left the Rope
Photo: Naphakm / Getty Images
Note: This is part one of a 10-part story, which will be released weekly. Visit Ordinary Heroes to find the other parts as they are released.
Unless you're part of a search and rescue team, you don't head out for the day expecting to be thrust into a life-or-death situation. Heroism, like the accidents and epics that might prompt it, is something you can't plan for.
Yet because of experience and training, innate ability and fortitude, or just instinctive reactions in moments of crisis, average climbers can respond to deadly emergencies in extraordinary ways. With courage, calm, stamina, strength, and ingenuity, on a day when nobody expected anything but the simple pleasures of climbing, they end up saving a life.
What would you do in a similar situation? How would you perform? Research psychologists have determined that heroes share a few common traits: Many are open to new experiences, dependable and disciplined, extroverted, compassionate, and emotionally secure. They usually have strong feelings of morality and responsibility. In addition, according to a 2012 article in the Wall Street Journal, "Heroes tend by nature to be hopeful, believing events will turn out well. They consciously try to keep fear from hampering their pursuit of goals, and they tend to block out the possibility of injury or material loss." They sound a lot like climbers.
We combed through dozens of stories of climbers helping other climbers to find the five amazing examples reported here. Hopefully you'll never have to respond to a similar crisis. But if the proverbial shit hits the fan, it just might help to know that other climbers have been there before.
Part 1: A Proper Belay
Peter Terbush
Glacier Point Apron, Yosemite Valley
June 1999
"Never take your brake hand off the rope." That lesson is drilled into every climber from the first day he or she ties in, yet it's all too easy to witness climbers disobeying this fundamental rule simply to swat a fly or reach for a snack. Now imagine keeping your brake hand on the rope even as you stare death in the face.
The Scene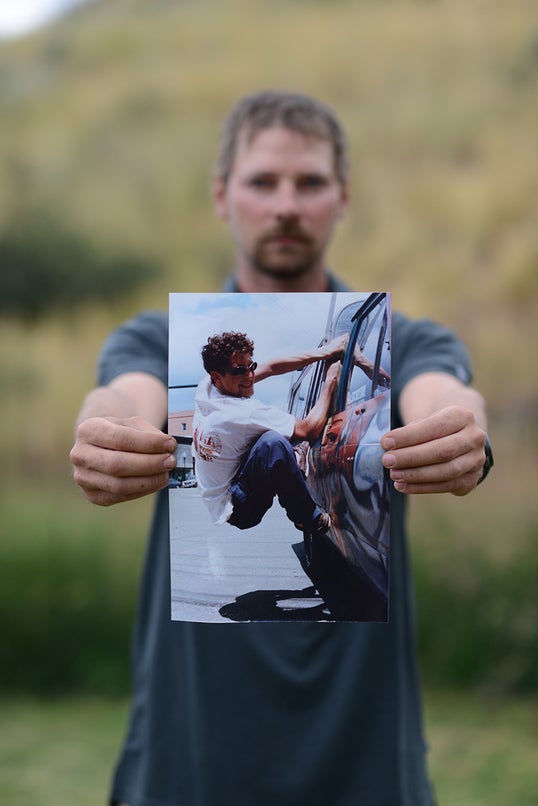 On a warm evening in June, Pete Terbush and two friends, Joe Kewin and Kerry Pyle, were climbing Apron Jam, a single-pitch 5.9 on Glacier Point Apron in Yosemite. All in their early 20s, they had met in Colorado, where they had attended Western State Colorado University. Pyle led the climb as Terbush belayed and Kewin hung out at the base. It's easy to imagine their chatter, rehashing the climbs they'd done and making plans for the summer. Far overhead, mayhem was about to erupt.
As Pyle neared the two-bolt anchor on Apron Jam, an estimated 525 tons of rock broke loose from the cliff more than 1,000 feet above the climbers. The rockfall originated several hundred feet to the right, but as the blocks fell, they shattered into thousands of pieces and sprayed the slabs and talus below. Kewin ran to the foot of the wall and took shelter as best he could. Pyle scrambled up the last few feet to the anchor, clipped a quickdraw to each bolt, and started tying a knot to clip in. But as rocks pelted down around him, several pieces hit him in the head—he was not wearing a helmet—so he just grabbed onto the quickdraws, pressed himself against the cliff, and tried to hang on. The tag line he had trailed for rappelling was severed right below his knees, and his scalp was severely cut. Pyle nearly fainted but did not fall.
When the barrage stopped, Pyle yelled down to see if his friends were OK. Kewin said he was alright, but Terbush had taken a direct hit to the head.
The Response
In his last minutes, no doubt torn between seeking cover and making sure his friend stayed on belay, Pete Terbush held his position and kept his brake hand firmly on the rope. "Joe had to pry Peter's hands from the rope in the locked position just to release it from the belay device, in order for me to rappel back down," Pyle said. "Had I fallen, he would have held me, even after death."
John Dill, the longtime Yosemite climbing ranger and rescuer, wrote of Terbush's final moments in Accidents in North American Mountaineering: "We'll never know his thoughts or intentions, but he did know that his partner was still on belay. Whether deliberate or instinctive, he stayed put, maintaining that belay at the expense of his own safety."
In a eulogy, Dr. James Terbush said his son Peter "grew up reading about heroes. We have an entire shelf of hero books at home, and Pete had read most every one." The family had traveled widely when Peter was growing up, and he and his dad climbed together in the Himalaya. "While in India we came upon an accident where a bus had rolled off a cliff and down the side of a mountain," Dr. Terbush said. "The passengers were scattered all over. Since we were some of the first people there, Peter and his Singaporean friend Justin took charge and rigged a climbing rope over the edge, rappelled down, and began to assist the injured back up to the road. His mind was filled with examples of heroism under circumstances of great danger—he was ready when the time came."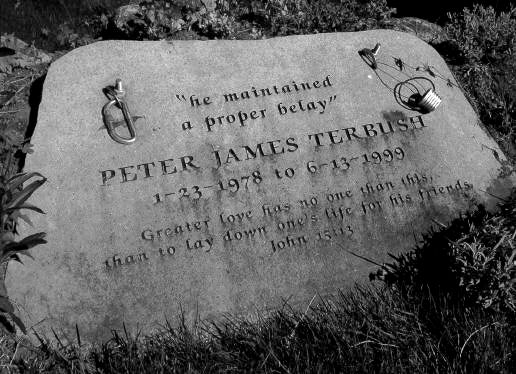 Afterward
Kerry Pyle, who runs a custom woodworking company in Gunnison, Colorado, has developed vertigo—possibly hereditary, no cure yet—over the last couple of years and hardly ever climbs. He has lost touch with Kewin, who moved back to his home state of New York. In 2001, Western State, the three men's alma mater, launched the Peter Terbush Memorial Outdoor Leadership Summit, a week-long program held each June to train collegiate outdoor leaders in rock climbing and mountaineering. Thanks in part to gifts from the Terbush family, participants receive $1,000 in scholarship assistance. In 2002, in the nearby Black Canyon of the Gunnison, several students from the Leadership Summit established Peter Terbush Tower (5.11-), a five-pitch route to a previously unclimbed summit. An e-book on Terbush's story is available on Amazon.