Climbers In "The Rescue," Latest Film from Chai Vasarhelyi-Jimmy Chin
The cave divers are reminiscent of climbers, in their focus and individuality, and they have an unimaginable task. Then, amid the film of this critical operation, onto the screen appears a longtime climber, Josh Morris, one of six climbers from different countries who played key roles in the mission.
Heading out the door? Read this article on the new Outside+ app available now on iOS devices for members! Download the app.
You thought Free Solo was gripping, emotional. The Rescue, out now from Chai Vasarhelyi and Jimmy Chin, is almost unbearable—and the filmmakers call it their hardest effort yet.
In 2018 the world watched worriedly as rescue efforts stretched on and on for 12 boys from a Thai soccer team and their coach, trapped in the Tham Luang Cave, northern Thailand, by early monsoonal flooding. As it turned out, seven area climbers, one of them an American who has spent 22 years in Thailand and speaks fluent Thai, were an integral part of the demanding mission.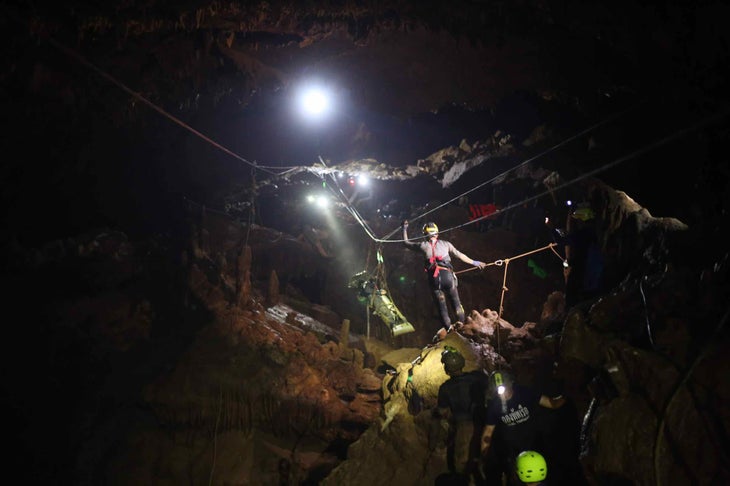 Josh Morris, 46, and founder of Chiang Mai Rock Climbing Adventures (CMRCA), says, "The skills we developed climbing, guiding, bolting, developing, caving and working in rescue put us in a unique position to help with the Tyrolean part of the cave rescue, and my Thai skills helped me communicate key concepts with senior leaders."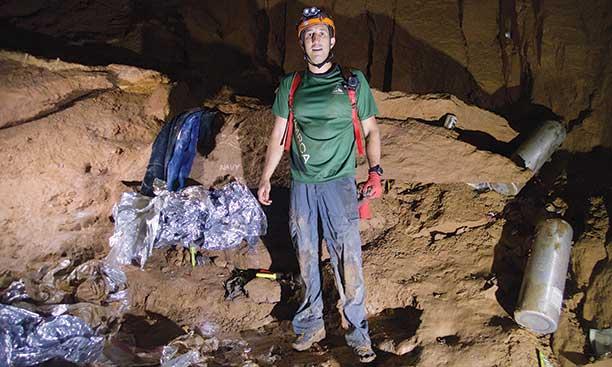 The rescue took place over 17 harrowing days. In 2019 this writer read Against All Odds, a memoir co-authored by Dr. Richard Harris, Australian anesthesiologist and cave diver, who, when asked by his diver friend at the rescue site to consider coming and sedating the children for them to be swum out unconscious, thought the idea was crazy. The book details his and the other divers' wrenching decisions in the ensuing days. What were all the options? If this in the end was the only one, could it be done? Exactly how and with what and how much? Could Dr. Harris as a person, father and doctor bear it if children died? His career would be ruined; he was told he might even go to prison in Thailand. What if the first child died—do you send a second out? A question for all the divers was, if many or any children died, could they ever forgive themselves? I could not stop talking (ask my coworkers) about the book after reading it, nor then about this keen and searching documentary film, released in October.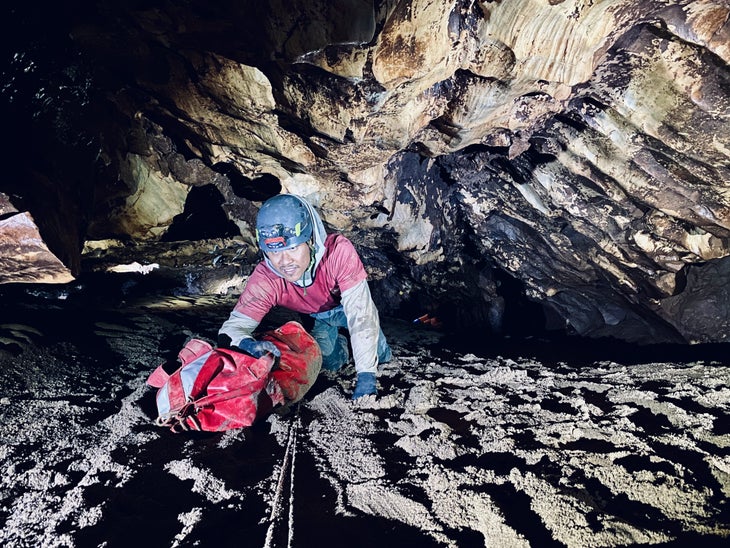 While the Thai Navy Seals gave the cause their ultimate effort, as the oxygen in the cave diminished and amid the threat of more rain, the diver-rescue job went to a crew of experienced hobbyist cave divers, by their own accounts a band of mavericks or misfits—"They've lived outsiderish lives, they're all very intelligent… and level-headed when they're in the moment," as Chai Vasarhelyi, director-producer of The Rescue, says in a Variety interview—whose particular skills and years of amassed discipline exactly suited this task, and who had the courage to risk it. The effort was led by the British divers Rick Stanton (who also published a memoir, Aquanaut, in 2021) and John Volanthen.
The cave divers in the film reminded me of climbers, especially early pioneers, in their individuality and dedication to an unconventional sport. Then—unexpectedly—onto the screen popped a familiar face, that of Josh Morris, a climber. He'd written an article for this magazine 20-plus years ago, had published a guidebook to climbing in northern Thailand; I had worked with him.
Originally from Utah, Morris had arrived in Thailand in 1999 as a Princeton University graduate, teaching English with the Princeton in Asia program and taking an intensive language course. He married a Thai woman, Khaetthaleeya "Kat" Uppakham (now Morris), they are raising two children, and only this past week they opened the Progression Climbing Gym. CMRCA, his and Kat's guiding outfit, has expanded under the Progression brand to include wilderness medicine, education, rescue work, corporate trainings, route development, and international exchanges, having run two such with the Colorado Mountain School, in Boulder and Estes Park. Morris's brother-in-law, Noppadom (known as Taw) Uppakahm—an experienced caver-rescue worker certified by the National Cave Rescue Commission, a Rescue3 instructor, and veteran of the exchange to Colorado—was one of the first rescuers called to the site, on June 24. He was joined by Archan (Toto) Nawakul, Adithep (Thep) Imarn, and Jarudech (Jojo) Tongnak, all climbers trained in high-angle rescue. (Toto Nawakul and his partner, Jane Numchan, a former Thai national climbing team member, run a shop and guiding outfit, Railay Rock Climbing, in Railay, where he is involved in rescue.)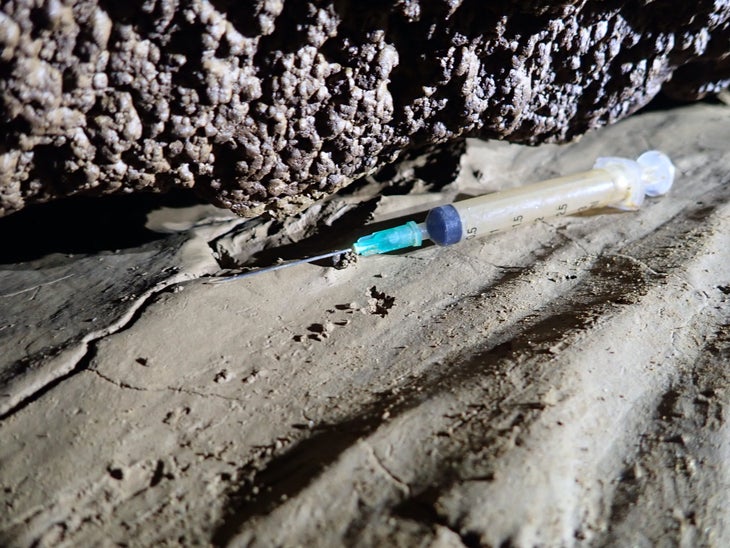 On July 1, Morris sent two staff instructors—Surachet (Add) Kongsingh, a Thai climber, EMT and AMGA rock guide who had also attended the exchange to Colorado; and Mario Wild of Austria, a climbing and caving guide—to the site. The next day Morris, too, drove the four hours there, to offer help with translating and in any other way. At first all the climbers helped seek cave passages, entrances, and options for rescue, but as days passed and Morris met with a commander and then top military, he realized that the best way to help was as a liaison between Thai government officials, the U.S. Air Force and Navy, divers from different countries, and others. Morris could translate, coordinate and communicate rescue plans and options, and understood Thai ways and approaches. The other six friends moved inside to cave 0perations.
The Thai boys and their devoted young coach were trapped a mile and a half in, and the rescue took place in a series of chambers, the deepest in the cave being chamber nine, where the dive began. Noppadom Uppakahm and the team installed a belay at a squeeze section in chamber three, where the divers were to come out and the litter carries begin, and set two Tyroleans in chamber two, half a mile from the entrance, using ropes, bolts and drills. The highlines, set above rough ground and sloping trails that contoured up the sides of the caves, were 15 and 50 meters, respectively, and litters would be clipped to them.
This article is free. Buy a membership and you'll receive Climbing in print, plus our annual special edition of Ascent, and unlimited, ad-free access to all our online content.
July 6 and 7 were decision and prep days, and July 8 was the first of what became three dive-rescue days.
"That day was intense," Morris says. "I showed up early to be ready, and I was pulled into a meeting with Thai officials, and I attended all the dive meetings. I watched Dr. Harris teach all the divers how to give an injection. He asked if anyone had done it before, and only one person had, and … I thought, 'Uh-oh, do I have some role in this, are we going to kill some kids?'" Morris knew that whatever he was feeling, the divers were experiencing at a far deeper level.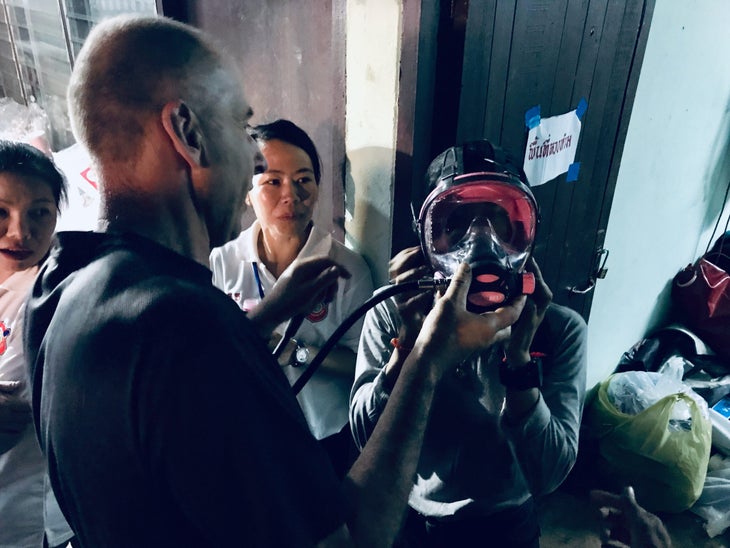 In all the meetings he'd had on July 6, his message to authorities had been words to the bleak effect of: "I can't give you any guarantee, the only guarantee is that if you don't dive everybody will die, and if you do, some of them will have a chance. I'm sorry. You have two choices, both are terrible, one is just worse. We don't know how many could survive. It could be one, it could be six."
He says, "Nobody thought it could be all 13."
Later, as shown in a scene in the film, he choked up (as did I and the whole theater) as he translated the thanks of a number of parents to the divers who had risked so much.
Ultimately, when asked what he has learned from the experience, Morris says: "I had this climbing company, and admittedly I was sometimes asking myself, 'What am I doing, what is my contribution to the world? Is it all about climbing, which, yes, is about the environment and conservation, but also very much about the individual and people's next send … Wow, I'm in my 40s, what am I really doing here?'"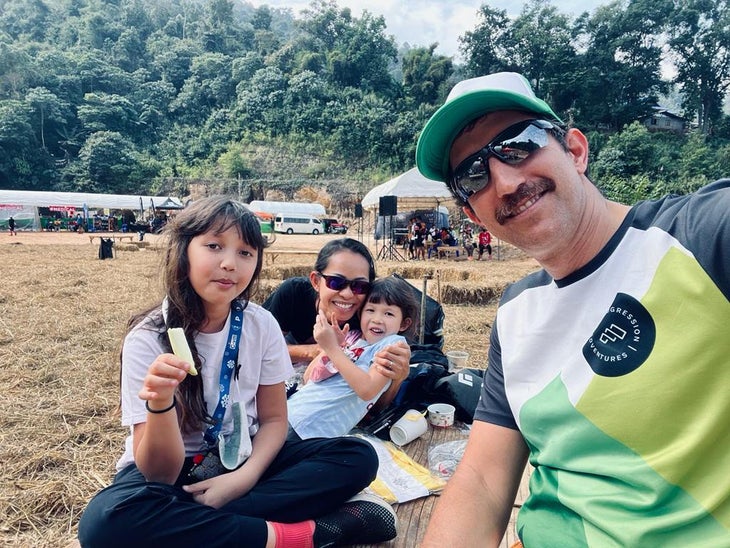 His takeaway connects with that of the divers in the film. "In all of this stuff that we had been doing, pushing to bring in standards of guiding and wilderness first aid and exchange programs …. my skill set became all of a sudden not about climbing but: Thai skills and engagement with senior leaders and government officials, the cross-cultural setting, even what I've learned in my marriage, and all we've all been doing as teams. Every one of us played a critical role. If you're always training and working and taking risks and opportunities to grow, then actually your stuff does matter, and sometimes it's needed. I had a whole team that had been doing nothing but preparing for this."
The systems—the belay and the systems the children in their litters were clipped into—worked perfectly. This blog post details the efforts.
I really can't say enough good things about this film, about our understanding (as viewers) of the pressures and dread possibilities, even about the graphics that show the underground swimmers' positions. Be warned, you will be petrified even if you've "read the book" and know just about every emergency that will arise. As climbers you may particularly relate to the tasks. As people, you will be just as affected, and pained, by the trust in a child's face as he is put … under.
---
Chin and Vasarhelyi won a 2019 Academy Award for Best Documentary Feature for Free Solo. The Rescue was short-listed for this year's Academy Awards, one of 15 selected from 138 eligible films.
Jimmy Chin is an accomplished climber of decades, and Chai Vasarhelyi, a documentary filmmaker who was his partner in making Meru as well as Free Solo, is a skier and mountain-sports person, leading to their understanding of what Chin calls "fringe lifestyles." Vasarhelyi in the Variety interview called this film, her eighth, the "hardest" to make.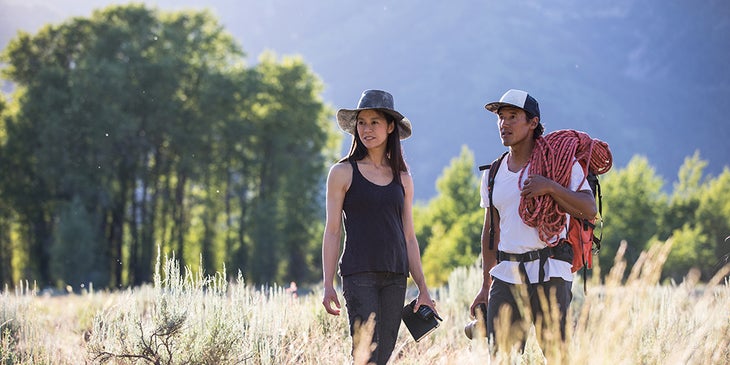 Chin agrees with that designation. He says in an email: "Every film has its challenges, and this one seemed to have many insurmountable issues—the fact that there was only a couple known minutes of footage of the main rescue beyond chamber three, the investigative and forensic exercise of putting together all the fragmented pieces of the story and perspectives to create an accurate timeline, corroborating all the details, finding all the footage gathered from hundreds of sources, negotiating for two years to get the footage from the Thai Navy SEALS, endless interviews over Zoom, etc. We got the Thai Navy SEAL footage two weeks after our picture lock date."
The husband-wife team suddenly had to sort and translate nearly 90 hours' worth of footage. "We had a finished film," Chin says, "then had to break it apart." Making a film during COVID had already created huge and continual problems. They finished just days before the world premiere at the Telluride Film Festival.
Chin praises Morris in "managing the delicate politics to enact the rescue," and all the climbers in fixing and managing the lines for the rescue from chamber three out.
He continues: "This film was important to us because we felt it was an important reminder of what moral courage and generosity look like. Given the times and the divisiveness we are seeing in the world, here was a story about our common humanity and how people with different cultural backgrounds, belief systems, and countries could come together and achieve the impossible."
Nominations for the 94th Academy Awards, with five films named from each category, were announced on February 8. Variety had called Best Documentary Feature "this year's most wide-open race."  In the end The Rescue was not nominated to proceed to the final selection, but that changes nothing about the film. As Chin says, "We told the story the best we could."
The Rescue is out from National Geographic, playing on Disney+. See the trailer here:
See also:
Chai Vasarhelyi: On the Making of "Free Solo" with Alex Honnold and "And the Oscar Goes to Free Solo"  (both membership exclusive).
And: The First Time Jimmy Chin Nearly Starved With Conrad Anker