Climbing for Change: A Brief History of Action Climbing
Heading out the door? Read this article on the new Outside+ app available now on iOS devices for members! Download the app.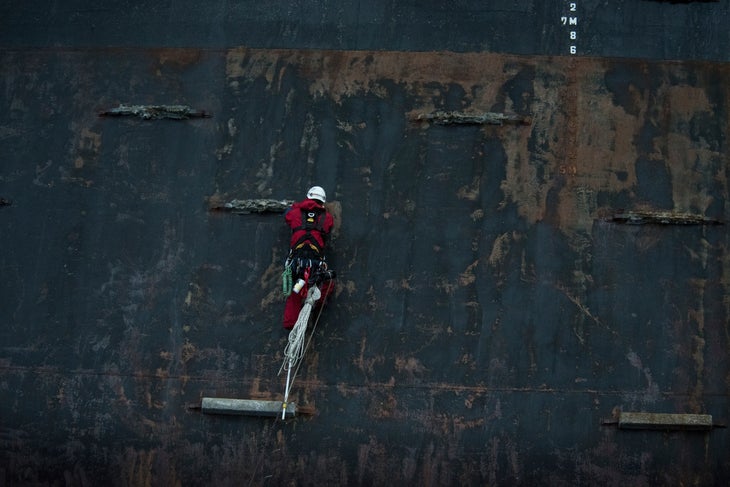 Late in the summer of 2010 I found myself hanging from a fixed rope in the middle of rural Minnesota. I was blindfolded, trying to move laterally from one fixed line to another using loops of accessory cord tied into prusiks. Why? To stop global warming.
That was my formal training in action climbing. Over 10 days at a camp in the midwestern woods, I learned how to build anchors, rappel, perform rescues, and tie a lot of knots. The camp catapulted me deeper into a world of environmental activism, but also proved to be an unexpected pathway to rock climbing. I had climbed a few times before, but it wasn't until I became an action climber that I really started climbing rock and began to learn about the the relationship between climbing and activism.
The formal history of action climbing starts in 1978 when New Zealand activists staged the first "tree sit," climbing high into the trees to stop logging in an area now known as Pureora Forest Park. That same year Joe Healy, a then 25-year old navy veteran and Greenpeace activist, scaled the Sears Tower in Chicago to protest whaling.
"It's the world's biggest animal and it's dying, and it seemed like the worlds tallest building was a good place [for the protest]," Healy told the Chicago Tribune.
His ascent took four hours. Healy drew on his self described, "four years of mountaineering experience" and used what the paper described as "homemade brackets," a kind of aid climbing system that hooked into grooves on the outside of the building used by window washers.
"The first generation of action climbing definitely came from people who were climbers from other worlds—rock climbers, cavers, mountaineers, etc," Matt Leonard, a climate change activist who has participated in, and trained people for, action climbing for over two decades explains. "They took those skills and pioneered creative ways to apply them to activism."
Leonard, who now works for the climate change group 350.org and the vertical dance company Bandaloop—alongside climbing legends like Hans Florine and Peter Mayfield—describes how action climbing formed into a discipline in itself through the 1980s.
"The '80s were an incredibly creative era, as techniques and systems were refined, bold action ideas were brainstormed—I'm sure many around a campfire or crag—and then some big risks were taken to carve new ground of what was possible."
By the 1990s, action climbing started to get codified, with formal trainings and safety considerations on par with, if not exceeding, those for rope access work.
"A lot of people don't realize that we do pay attention to safety standards, we do recognize there are going to be risks to partake in these activities," Basil Tsimoyianis, a long time Greenpeace action climber and manager of the website Rope Guerrilla, explains.
Rope Guerilla, self described as a "a project dedicated to activists, rebels, and radicals in the vertical world" is a window into the world of climbing activism. It compiles resources, describes actions in detail, and dives deep into climbing-as-protest. According to the site, there are four main goals for action climbing; photo ops, direct communication, occupations, and blockades.
"You can't buy an ad on the front page of the New York Times, but I've been a part of several activist climbing actions that got full-color, above-the-fold coverage," says Leonard. "And of course, climbing also has been instrumental in direct action—giving activists new tools to protect old growth redwoods from bulldozers, stop illegal whaling ships, shut down polluting coal power plants, and much more."
Most people probably know, or at least have seen, climbing actions like the 1999 banner hang at the World Trade Organization protests in Seattle. For a long time, the main use of climbing in activism was to hang banners like that one. But recently, like the early trend in rock climbing, action climbing is adopting a sort of ground-up ethic.
"A lot people are familiar with banner hangs, and those still happen a lot, but I think people are trying to move beyond that," Tsimoyianis explains. "Bottom-up climbing allows for the story to be unfolded."
In April 2015, six climbers boarded Shell's Polar Pioneer when it was en-route to drill for oil in the Arctic. It wasn't the first time that Greenpeace had climbed something like this, but the Polar Pioneer ascent started with what Tsimoyianis describes as "a section of aid climbing that many would try to avoid." Using a stick clip, a hook and a caving ladder, a climber led his way up the side of a moving oil rig in the middle of the Pacific Ocean.
"The fact that this style of climbing was done on a moving vessel at high seas is extraordinary," Tsimoyianis wrote.
In some ways, this move towards ground-up action climbing is a call back to Healy's 1978 ascent. But, as Tsimoyianis argues, it also connects to something deeper, something that ties into climbing's growing appeal.
"[Ground-up climbing] draws the attention of people who are fascinated by that, whether they're climbers or not."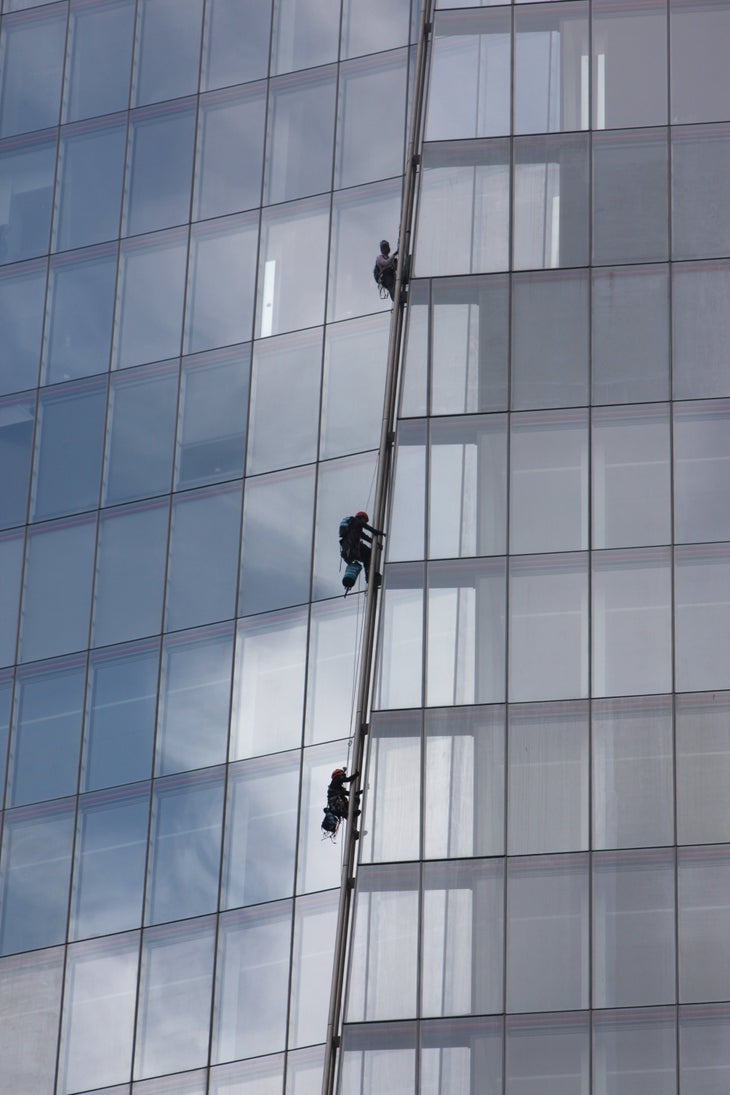 Perhaps the best example of this, was the 2013 ascent of the London Shard by an all female group of Greenpeace climbers. The ascent unfolded over 16 hours, during which they held the rapt gaze of international media. When they topped out and unfolded their "Save the Arctic" banners, the media coverage was global, competing in scale with Tommy Caldwell and Kevin Jorgensen's 2015 ascent of the Dawn Wall.
Action climbing sits in a complex space between climbing and politics. For me, learning how to climb a rope and drop a banner was a pathway into the climbing community. For others, like Tsimoyianis, action climbing was a way to use skills he learned on the rock to express his politics. For a lot of climbers, action climbing is probably little more than hippies on ropes. But, whatever the case, it's a part of the climbing world. And, who knows, Alex Honnold is an environmentalist who dedicated part of his memoir to buildering. Maybe we'll see him freesolo Healy's 1978 route in a Greenpeace t-shirt someday.