Crusty Corner: Should Climbing (And Climbing Magazine) Be Political?
Heading out the door? Read this article on the new Outside+ app available now on iOS devices for members! Download the app.
Crusty Corner is a column written by Climbing Editor Matt Samet, a climber of 30 years. When he's not at the gym or the rocks trying to stave off the inevitable performance decline of middle age, you can find him in his basement playing Xbox.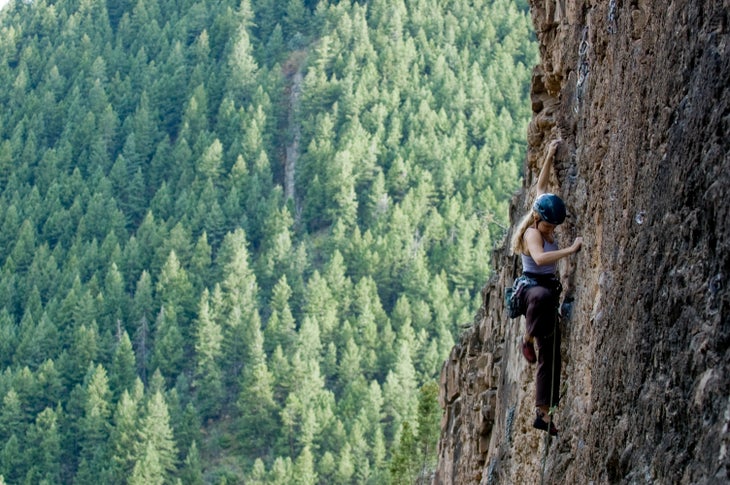 I've been on this planet long enough and climbing long enough to know that a difference in political opinion should never stand in the way of a familial relationship or a good climbing partnership. We don't all share the same beliefs, and that's OK. I've often been surprised by how well I get along with people who, the more I learn about them, have political views different from my own. For the record, I'm an independent, and as a skate-punk kid from the 1980s have always had anarchic leanings. The more I interact with power structures and bureaucracies, the less I want to have to do with them or their adherents, and I have a deep suspicion of those in power and their motives: Are they psychopaths who rose to office in order to further their own wicked agenda? Or did the job and its many temptations simply make them this way?
Yes, I'm cynical about politicians and our government. It's hard not to be. The scandal and the corruption and the ineptitude never end.
What does all this have to do with climbing, you're wondering, queuing up to fire over an irate missive: "Keep politics out of the magazine!" "Stick to climbing!" "Cancel my subscription!" Well, everything and nothing.
When I became a climber, 30 years ago, climbing was a scruffy underdog of a sport—and no, this isn't simple nostalgia for some bygone era when the only ringing you heard at the crag was produced by clacking hexes, not someone's smartphone synching up with their helmet-cam Facebook Live feed of an imminent slab whipper. It really was that way.
Down in the New Mexico scene, we all knew each other, and you rarely met someone at the cliffs whom you didn't already know or who wasn't at least the friend of a friend. Moreover, the crags were empty. Dead empty. The first time I went to Hueco Tanks, in spring 1988, was with the New Mexico Mountain Club. Three older married guys—Jim, Bill, and Rod, all engineers at Sandia National Laboratories—and I, a high-school kid, climbed flared cracks and easy hueco romps on the Front Side. Nobody else was climbing—nobody. There was a little bit of chalk on the Mushroom Boulder and the smaller satellite boulders near it. Hmm, looks like people boulder on these rocks, I remember thinking. It's probably a fun little area. I cajoled Bill into trading spots. Without crashpads we didn't get very far, and my thrutchy technique ensured that my tips were soon hamburger.
As such a small sport where nobody was earning any money (yet) and that still, as ever, required huge amounts of leisure time, climbing attracted a fringe element: the outliers, the dropouts, the iconoclasts, the rebels, the barely employed and barely employable. You could count the number of rock gyms on one hand, and there were no youth teams or comp series, no Internet and no online guidebooks. To become a climber, you had to work for it—to find a local mountain club or a mentor to whom you'd then apprentice yourself, on the rock, because there was only the rock. With this "society outside society," and with free and wall climbing having evolved in sync with 1960s and 1970s counterculture (think of the Camp 4 denizens who spent more time on El Cap than they did working, having fled the proxy wars, conformity, and soul-sucking materialism on offer by the mainstream), the sport tended to be left-leaning, steeped in drug culture (beer, weed, and psychedelics) and reality avoidance. Until the recent gym boom, which has created a mass pipeline of new climbers of all stripes, my experience, at least anecdotally, bore this trend out, especially among the hardcores and the lifers—the types who lived in their car all season at Rifle or moved to a city for the climbing, not for work. None of us cared to fit in; in fact, we took pains not to.
So, with a sport that's been traditionally left-leaning, in a country where both schools of political thought—right and left—at least in theory have a right to exist, should the climbing media be running political or opinion or think pieces? And if so, which way should those pieces lean? In the traditional leftward direction, or in both, in recognition of the fact that climbers are not the narrow subculture they once were?
Or do we all go climbing to get away from this crap, and is there, as we here at Climbing are so often reminded after running a political piece, "No place in the magazine for this"? (I'm sure we'll see more than a few of these in the comments below.)
I don't pretend to have the answer, but I can say with certainty that our sport is no longer small enough to be apolitical. None of us can afford to pretend so. There has been a huge increase in the number of climbers, which has brought access issues to the forefront—and when land management meets rock climbing, politics will necessarily be involved. On the national level, we now have the Access Fund and American Alpine Club lobbying for climbing access and rights in Washington, DC, and on the local level, various climber organizations interfacing directly with land managers to keep crags open and relationships healthy. So much hinges on climbing being seen as a legitimate sport, and climbers as contributing members of society.
No matter where you land on the political spectrum, it's hard not to be alarmed by the land-use decisions being made by the current administration. From the scaling back of and opening to resource extraction at Bears Ears National Monument in Utah, which includes areas of deep importance to Native Americans and climbers alike, to a biased anti-science agenda that precludes even the discussion of climate change (As I wrote this, it was 68 F in Boulder, Colorado, in January, the time of year when we typically have crisp 35-degree temps and snow on the ground), things are not moving in a climber-friendly direction. Or take this article, which popped up in my Facebook feed as I wrote this piece: "A Trojan Horse Threatens the Nation's Parks." In it, we learn that a bill, HR 4558, that seems, innocuously, to establish the new Escalante Canyons National Park and Preserve within a chunk of land in the former Grand Staircase Escalante National Monument, is actually a Trojan horse in terms of land management. Effectively, it would site control of the park with a "management council" comprised of federal and local appointees and potentially open the park to commercial and industrial development. Taking federal lands, owned by us all, and ceding them, to a large extent, to local control, would, said the National Parks Conversation Association, "undermine the meaning and value of a national park"—it could open control of this park, and possibly all others, to vested local interests who may be more interested in making a quick buck off resource extraction than in long-term preservation.
Think these sorts of things don't affect you? Well, think again. Access to the cliffs to climb is, unfortunately, not an inalienable right; it can be revoked by a landholder—public and private alike—at any time.
In 2006 in Carbondale, Colorado, a group of us developed a long fin of conglomerate sandstone at Thompson Creek, a deep, Ponderosa-filled gulch west of town. Carbondale is a great place to live, nestled in a wide, sunny basin at the base of the symmetrical pyramid of Mount Sopris, considered one of Colorado's most beautiful summits. But it had fuck-all for local cragging: Rifle and Independence Pass are both an hour away, and the local bouldering, Redstone, is only fit for autumn photo shoots, unless you fancy slick pebbles embedded in dried mud. But here, finally, we had found a good post-work crag, and we quickly bolted 45 modest routes; while pumpy, none of the climbs were harder than 5.12+, and most were in the 5.10–5.11 range. The cliff was on Bureau of Land Management land, so we figured we were fine.
One day, a geologist and a BLM agent took a field trip out there—the area is a geologic anomaly—and saw our hardware. Things went downhill quickly, with the local BLM office tracking us down, informing us that the zone was an "Area of Critical Environmental Concern" (which was not signed at the trailhead, and only researchable online with much effort), and that the bolts had to go. Using specious reasoning based on user numbers compiled at Rifle, they told us that 45 climbs meant potentially 90 climbers—a climber and a belayer on each route—which, somehow, this dusty, rocky gully could not sustain. Never mind that this was a scruffy local cliff that would probably see 20 people, max, on a busy autumn weekend. Our impact was going to destroy the place! Worse yet, one BLM employee, with a straight face, informed us that he used to toprope at some local choss heap where he grew up, and It only had five routes, which was more than enough for us—why do you guys need 45?
After many meetings and after forming the Roaring Fork Climber's Coalition, an agreement was reached: all but one-third of the routes were to be stripped of their hangers, and the area would have a voluntary user cap, to be tracked daily by a sign-in sheet at the trailhead. Years later, Thompson Creek has seen its climbs restored and no longer has a cap, so there has been good progress on that front. But one thing we learned during those meetings, and through the local news, was that there was a backdrop to this all that we weren't aware of: The BLM also wanted to open the Thompson Divide, which included Thompson Creek, to oil leasing, and likely didn't want to have to deal with pesky climbers back there. Given that the road in and out was a narrow dirt track that turns to innavigable clay when wet and that heavy machinery, if wells were drilled, would be traveling it frequently, perhaps they simply didn't want us or our cars in the way. And so: "Let's ban climbing—see ya later, rock hippies!"
So, you see, climbing, land use, and politics do interface, and elections do have consequences: They put in power the people who make the decisions about and hire the staff to oversee our public lands. As a climber, when you knowingly vote for someone who wants to privatize public lands or denies climate change or has an anti-recreation bias (take Utah State Representative Mike Noel, who blamed the 2017 Brian Head wildfire in his state on federal logging restrictions and said, "When we turned the Forest Service over to the bird- and bunny-lovers and the treehuggers and the rock-lickers, we turned our history over"), you are probably shooting yourself—and all of us—in the foot. It doesn't really matter which way you lean politically; poor policy decisions can visit real, and sometimes permanent, damage upon the landscapes we climbers visit and love. In a flash, access to a beloved crag can be revoked, maybe forever. And so, I do believe it is incumbent upon the climbing media to call these things out—it's in fact our job.
What you do with the information from there is your decision—it's still a free country, after all. However, don't blame the messenger. Whatever your personal politics, I'd ask you to consider the rock and the mountains and the sport we all love the next time you step into the voting booth.   
Read more Crusty Corner.