Eat to Send: Emily Harrington on Nutrition, Body Image, and the Perfect Breakfast
For big objectives you need big energy, who would know better than Emily?
For years, Emily Harrington lived in a perpetual state of bonking.
By the time Harrington was 19, she had notched her third U.S. national championship win, had just placed second in Worlds, and was working on her first 5.14a, Zulu, in Rifle, Colorado. (She would ultimately become the second U.S. woman to send 5.14b two years later.) Her climbing career was taking off big time, but physically, she was barely getting by.
"I wasn't eating enough. As a younger climber, I used to heavily restrict my carb and fat intake,' Harrington explains. As a result, her energy levels were chronically low. "I think I got lucky that I never got seriously injured as a result, but it did affect my mental health and my relationship with climbing significantly," she says.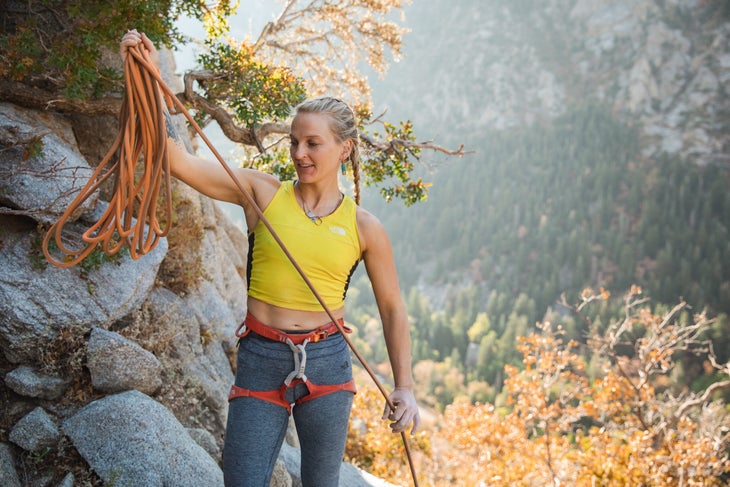 It wasn't until Harrington started going on big expeditions in her 20s that she realized the importance of proper nutrition. She started eating more and making sure to start each day with a good breakfast. Over time, her body image and mental health began to improve. And it paid off: When she fed her body what it needed, she was amazed. She finally had the energy she needed to take on the massive routes she's become known for.
Case in point: On November 4, 2020, Harrington became the first woman to free all 41 pitches of Golden Gate (5.13b, 3,000 feet) in under 24 hours. Her ascent also made her the fourth woman ever to free El Cap in a day. The achievement is hard to overstate, especially given the length and difficulty of the route: Four pitches are graded 5.13- and more than a dozen others are 5.11 or 5.12.
On a hard, timed objective like this, proper nutrition was paramount to success, Harrington says.
"I had breakfast at midnight to start climbing at 1:30 AM," Harrington says. "That was Kodiak Cakes Protein Oatmeal with berries and peanut butter." Once she started climbing, she was careful to eat every hour—a mix of bars, nuts, dried fruit, crackers, and beef jerky. "My strategy was to constantly feed myself to avoid bonking but never too much to upset my stomach," she says. And it worked: Harrington finished the route in 21 hours and 13 minutes, well under her 24-hour target.
Today, Harrington doesn't measure her food or count calories. She snacks often, eats dessert most days, and tries to listen to her body. "I eat pretty much everything," she says. "But personally, I love breakfast the most." When asked about her go-to morning meal, she's quick to answer: Kodiak Protein Oats or Kodiak Buttermilk Power Cakes, usually with yogurt or nut butter. (Oh, and at least two cups of coffee.) That balance of carbs, fat, protein, and caffeine early in the day gives her the building blocks she needs to do what she loves. Plus, taste is a big part of feeling satiated. Beginning a climbing outing with something as delicious and filling as protein-packed buttermilk pancakes is a great way to start off on the right foot.
Of course, individual needs vary widely from person to person and from objective to objective, Harrington says. But a route doesn't have to be long for an athlete to benefit from better nutrition and proper caloric intake.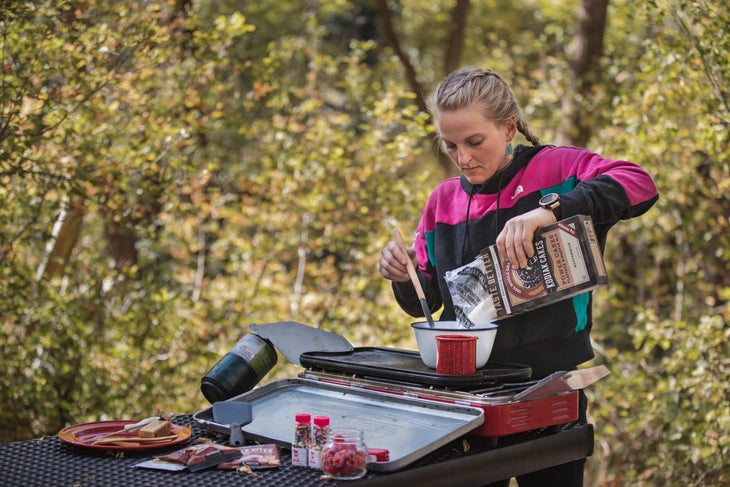 Even before a day of sport climbing, Harrington is careful not to skimp on breakfast. "My favorite breakfast is Kodiak Buttermilk Power Cakes with almond butter, raspberries, Greek yogurt, and maple syrup as toppings," Harrington says. "Then, I tend to snack throughout the day." Harrington says she rarely eats a real lunch. Instead, bars, dried fruit, and nuts provide her with a constant source of energy to try her hardest without feeling weighed down.
That was her strategy while working on Oliana's Mind Control (5.14b/c), which she sent in May, 2018, at age 31. First established by Chris Sharma, Mind Control connects pockets and tufas over 150 feet of gorgeous, blue- and gold-striped limestone. It's demanding, and to send, Harrington needed long-lasting fuel to power her up the wall for hard move after hard move. Smart nutrition was essential.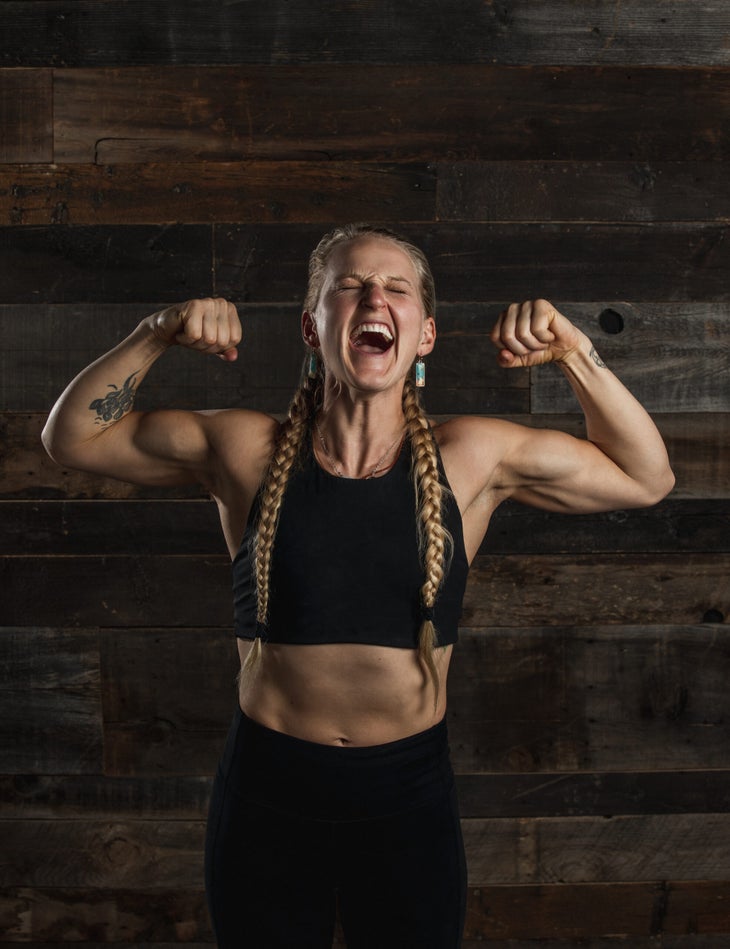 Over the years, Harrington has applied the same takeaways to all kinds of adventures. In 2016, she climbed up and skied down Cho Oyu, the sixth tallest peak in the world, with her partner Adrian Ballinger. And just recently, she went on an expedition to Kyrgyzstan to explore the country's remote granite big walls.
Between hard rain, high winds, and freezing temperatures, each trip offers more challenge—and more beauty than the last. And each one would have been unfathomable for the young Harrington who was restricting her calories and counting carbs.
Today, Harrington is still dialing in her nutrition strategy, but her focus is on choosing foods that are both delicious and nutrient-dense—things like Power Cakes at breakfast or Kodiak Homestead Style Cornbread at dinner. In a nutshell, "I try to eat all kinds of foods and be open to listening to what my body needs," she says. "And most importantly to not overthink it."
After all, the more energized her body feels, the more she can push herself on the wall. And the less time she spends thinking about her food, the more time she has to dream about climbs to come.